These 26 hair products have won a Woman & Home hair award this year
Announcing the winners for 2020!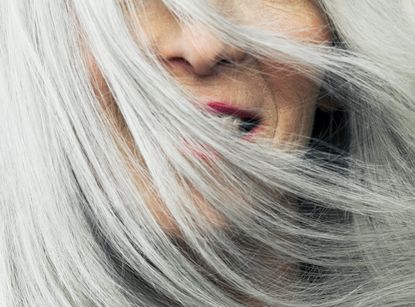 woman&home newsletter
Sign up to our free daily email for the latest royal and entertainment news, interesting opinion, expert advice on styling and beauty trends, and no-nonsense guides to the health and wellness questions you want answered.
Thank you for signing up to Woman & Home. You will receive a verification email shortly.
There was a problem. Please refresh the page and try again.
We all want amazing hair. But it can be hard to find the right products just for you. Our panel of seven industry professionals bring you their recommendations – from products that enhance colour to those that boost volume or give you a shinier blow-dry.
Every woman has different wants and needs for her hair, which is why we've focused on real hair concerns to find you products that really do work.
We considered hundreds of the best products on the market to whittle the list down to the very best you can buy.
The winners were chosen by a panel of industry experts chaired by Beauty Directors Sarah Cooper-White and Charley Williams-Howitt, saying,
'We are thrilled to announce the launch of woman&home's very first hair awards. This kicks off what will be an annual awards celebrating the very best the hair industry has to offer.'
Catherine Westwood, Editor-in-Chief of woman&home magazine, says,
'woman&home readers are grown-up women who want to look fantastic every day – and where better place to start than with your hair? It's for this reason we decided to launch our hair awards.'
Charley Williams-Howitt adds, 'We wanted our first hair awards to feel as inclusive as possible, which is why, instead of using models, we've used real women who have real hair needs and who want products that really work.'
The award categories
There are six award categories:
Hair care
Hair tools
Hair health
Hair colour
Hair styling
Hair salon
Our panel of expert judges
Charley Williams-Howitt, Beauty Director
Sarah Cooper-White, Beauty Director
Andrea Mclean, Award-winning TV broadcaster and journalist
Nicola Clarke, A-list colourist at John Frieda
Jennie Roberts, Hair stylist to the stars
Sally-Ann Tarver, Specialist trichologist
Karine Jackson, Expert in hairdressing, styling and colouring
The Woman & Home Hair Awards 2020 winners
Shea Moisture Jamaican Black Castor Oil 482ml
#1 Best daily shampoo Shea Moisture Jamaican Black Castor Oil Strengthen & Restore Shampoo, £12.99 Jennie Roberts says, 'Great if you use lots of products, as it cleanses hair and scalp really well. My hair felt super clean and I didn't need to wash it again for a good few days.'
Aveda Nutri-Plenish Conditioner
#2 Best daily conditioner Aveda Nutriplenish Conditioner, Light Moisture, £27.50 Catherine Westwood says, 'Very effective at replenishing dry hair with moisture, even when using only a small amount.'
OGX Hydrate + Defrizz Kukui Oil Conditioner 385ml
#3 Best frizz conditioner OGX Beauty Hydrate & Defrizz + Kukui Oil Conditioner, £6.99 Jennie Roberts says, 'Amazing for repelling humidity to beat frizz and smooth texture. It's also a super price point for such great results.'
Grow Gorgeous Curl Defining Leave-in Butter 200ml
#4 Best afro conditioner Grow Gorgeous Curl Defining Leave-in Butter, £25 Jennie Roberts says, 'Gives amazing long-lasting curl definition – mine were left looking bouncy all day.'
VIRTUE Restorative Treatment Mask 50ml
#5 Best intensive conditioner Virtue Restorative Treatment Mask, £64 Nicola Clarke says, 'Fantastic for dry hair, this protein-rich formula restores your hair back to health.'
L'Oreal Professionnel Serie Expert Vitamino Color Shampoo
#6 Best colour care shampoo L'Oréal Professionnel Serie Expert Vitamino Color Shampoo, £13.40 Charley Williams-Howitt says, 'Transformed my hair into a shinier, glossier version of itself. It felt softer and more conditioned too.'
Living Proof Color Care Conditioner 236ml
#7 Best colour care conditioner Living Proof Colour Care Conditioner, £24 Charley Williams-Howitt says, 'Forms a protective barrier around dyed tresses to help colour remain vibrant for longer. Definitely something I would invest in.'
#1 Best hairdyer – joint winner ghd Helios Professional Hairdryer, £159 Sarah Cooper-White says, 'Performance wise, it's amazing – super fast and powerful. It cuts drying time and left my hair looking smooth and shiny.'
Dyson Supersonic Hairdryer
#2 Best hairdyer – joint winner Dyson Supersonic Hairdryer, £299 Charley Williams-Howitt says, 'Expensive, but design and function justify the cost. My hair was dry in half the time and my arm didn't ache afterwards thanks to it being so lightweight.'
#3 Best innovation ghd Platinum+ Styler, £189 Sarah Cooper-White says, 'Easy to use and small enough to get to baby and short hair. Hair stays sleek in-between washes.'
Kent Large Porcupine Cushion Brush
#4 Best brush for styling Kent Brushes CSML Classic Shine Mixed Large Bristle and Nylon Cushioned Brush, £34 Catherine Westwood says, 'Super light, reaches all hairs and grabs onto them to give a super-smooth result.'
#5 Best brush for detangling Limited Edition Manta with Zoë Irwin, £25 Sarah Cooper-White says, 'Light, flexible and moulds to the shape of your head. It doesn't pull, so untangling knots is never painful.'
T3 Whirl Trio Interchangeable Styling Wand
#6 Best curler/waver T3 Whirl Trio, £325 Charley Williams-Howitt says, 'Heats up quickly and I love the inbuilt stand. Multifunctional, so you can create any kind of curl by attaching a new head.'
L'Oreal Professional Steampod
#7 Best straighteners L'Oréal Professional Steampod 3.0, £235 Karine Jackson says, 'This revolutionary device uses steam technology instead of searing heat to help shape your hair. And it worked. My hair looked fab and the style really lasted.'
Nanogen Hair Thickening Keratin Fibres 30g
#1 Best for hair loss Nanogen Keratin Hair Fibres, £18.95 Sally-Ann Tarver says, 'Sticks to hair and scalp without chemicals, polymers or irritation for an instant look. I used it on a few patients and they were really happy with the effect – hair looked thicker and scalp no longer visible.'
Viviscal Women's Max Strength 60's
#2 Best supplement Viviscal Maximum Strength Hair Growth Supplement, £51.99 Sarah Cooper-White says, 'This is extensively tested and loved by lots of experts, including me. It gets results.'
Umberto Giannini Grow Scrub Scalp Scrub
#3 Best for scalp health Umberto Giannini Grow Scrub Vegan Exfoliating Scalp Scrub, £9.25 Sally-Ann Tarver says, 'This rich, natural scalp and hair moisturiser has no polymers or silicone. My hair shone after use. It's something I'd genuinely continue to use.'
OPPIK Coloured Hair Thickener 144g
#1 Best instant colour Toppik Coloured Hair Thickener, £18.95 Andrea McLean says, 'This does what it promises. So simple to use, it made my hair look noticeably thicker and washed out easily afterwards.'
Schwarzkopf Color Expert Colour & Protect Hair Dye
#2 Best permanent Schwarzkopf Color Expert Colour & Protect Hair Dye, £6.79 Sarah Cooper-White says, 'If you can't get to the salon, this is the next best thing. The added Omegaplex – a professional anti-breakage technology – and hyaluronic acid protect hair.'
#3 Best root touch-up Color Wow Root Cover Up, £28.50 Nicola Clarke says, 'I've worked with this palette for many years and the mirrored compact makes it so easy to use. Apply the powder and let it set before styling hair. This stops you getting any residue on your skin or fingers.'
Clairol Natural Instincts Conditioning Colour
#4 Best semi-permanent Clairol Natural Instincts Conditioning Colour, £6.99 Charley Williams-Howitt says, 'Easy to apply thanks to the no-drip formula, and my hair looks glossier than it did prior to colouring. Loved the natural colour – almost like a professional gloss.'
Living Proof Full Dry Volume Blast Spray 238ml
#1 Best volumizer Living Proof Dry Volume Blast, from £10 Andrea McLean says, 'Delivers instant lift and texture that lasts. It smells good, there's zero crunchiness or stiffness and it brushes out easily too.'
Batiste Dry Shampoo Original 200ml
#2 Best dry shampoo Batiste Dry Shampoo, Original, £2.99 Sarah Cooper-White says, 'I've tried so many other brands over the years but always come back to Batiste. A quick burst banishes oily roots and gives lifeless hair a speedy refresh without any water.'
Kerastase Elixir Ultimate Oil
#3 Best smoothing/straightening Kérastase Elixir Ultimate Oil, £44.50 Catherine Westwood says, 'This rich serum de-frizzes without leaving hair feeling like it's full of product. If you suffer from frizz it's worth the investment.'
Authentic Beauty Concept Working Hairspray
#4 Best hairspray Authentic Beauty Concept Working Hairspray, £23.15 Karine Jackson says, 'A super-fine aerosol hairspray that holds a style firmly without any stickiness.'
Bumble and Bumble BB Curl Defining Creme
#5 Best curl definer Bumble and Bumble BB Curl Defining Creme, £24 Catherine Westwood says, 'Defines curls to perfection, like no other product I've tried. You only need to use a little bit so will last for ages.'