Best shampoo bars—swap plastic bottles for the new eco alternative
Lather up! These shampoo bars suit all hair types for clean, shiny, glossy hair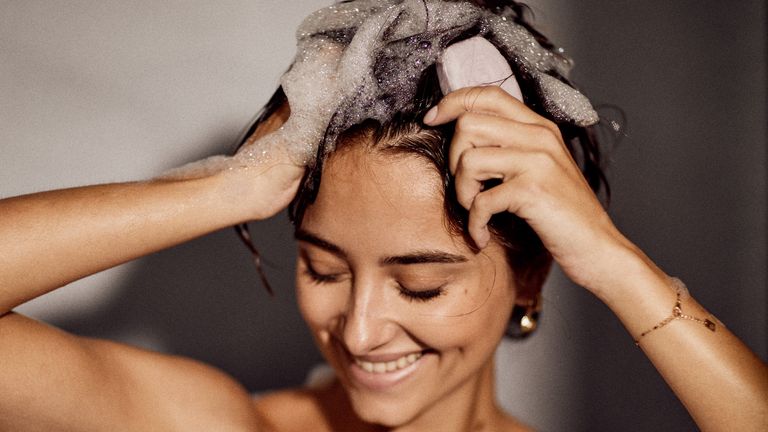 (Image credit: L'Occitane)
Shampoo bars aren't always the easiest sell. It can be hard to find the right shampoo for your hair, and once you've discovered a formula that works, why change?
Shampoos have come conveniently packaged in plastic bottles for years, and there's no denying that they are quick and easy to use with a wide choice of the best shampoo and conditioner formulas to care for any hair type, whether you've got dry, frizzy hair or need to care for color after an at-home hair dye session. But as responsible consumers, we all need to start becoming more aware that many of the products we've known and loved for years aren't the most sustainable. And if you're one of the 46% of people in the UK feeling guilty about your plastic consumption according to a recent YouGov Survey, perhaps it's time to seek out the brands pioneering the new plastic-free, solid shampoo bars.
Shampoo bar benefits for your hair
Making small changes to our beauty regimes can lead to big differences for the environment. Shampoo bars have become an easy way for beauty brands—and us—to become more sustainable. There are many different formulas to suit a wide range of hair types. Unlike a traditional bar of soap that you might use to wash your hands, most shampoo bars are made from highly concentrated, natural oils and some of the best vegan beauty and plant-based ingredients without any harsh additives that can cause damage or dryness.
Not only is the outer cardboard packaging of a shampoo bar much easier to recycle than traditional plastic bottles, but they're also great for your bank balance, too, with many of the bars lasting five times longer than their plastic bottle equivalent. One shampoo bar can equate to three 350ml bottles of the liquid version. Solid shampoos take up less space in your bathroom and are handy to throw in an overnight bag. Plus, their formulas work for the whole family.
But if you're going to ditch your normal bottle of shampoo, which bar should you choose? We created a list of the best shampoo bars for a whole range of different hair types, including dry hair, curls of every curl type, problem scalps, and colored locks such as balayage hair that need extra protection.
The best shampoo bars for every hair type
Garnier Ultimate Blends Shampoo Bar
Best for all hair types
Specifications
vegan: no
cruelty-free: yes
formulation: 94% plant based
Reasons to buy
+
Great shape
+
Rich lather
+
Fruity scent
With a range of formulas to suit all hair types, this range offers something for everyone. Each bar has a delicious scent, and the creamy lather and silky finish leave hair feeling clean and fresh but not dry. But what is so pleasing about this bar is its shape. The gentle curve is easy to control and can be used to really massage the scalp.
Wedo No Plastic Shampoo Bar
Best shampoo bar for curly hair
Specifications
vegan: yes
cruelty-free: yes
formulation: no sulfates, silicones and artificial dyes
One bar will last up to 80 washes, and the formula is 95% natural as well endorsed by Cruelty-Free International and the Vegan Society. This would be particularly good for thick or curly hair that doesn't get weighed down by products. Keep it in the protective box after use, or it will turn mushy in the shower and make a mess.
Ishga Shampoo & Body Bar
Best shampoo and soap bar
Specifications
vegan: yes
cruelty-free: yes
formulation: free from SLS
Reasons to buy
+
Luxury scent
+
Great for body too
This is one of the pricier shampoo bars we tested, but you can tell it's luxurious as soon as you open the box. The bar itself smells incredible and makes you feel as if you've been transported from your shower to a relaxing spa. It lathers well and can be used to cleanse your body, too, making it a great option for travel or if you are short on space in your shower caddy. A less nourishing formula if your hair is longer or on the dry side
Ethique Tone it Down Purple Solid Shampoo
Best for blondes
Specifications
vegan: yes
cruelty-free: yes
formulation: palm oil free
Reasons to buy
+
Tones and washes
+
Cruelty-free and vegan
Brassiness is the bane of every blonde's life. This neutralizes the yellow tones in blonde and silver hair, so the color looks bright and salon-fresh for longer. Ethique shampoo bars are also cruelty-free and vegan, palm oil-free, and ingredients are ethically sourced. Although this particular shampoo bar is specifically for blondes, the brand has a solid bar for every hair type and need.
L'Occitane Intense Repair Solid Shampoo
Best shampoo bar for dry hair
Specifications
vegan : no
cruelty-free: no
formulation: silicone and sulphate free
Reasons to buy
+
Highly nourishing
+
Ethically sourced ingredients
Hair dye, excessive brushing, and heat styling can take their toll on the condition of our hair, and often a concern with using shampoo bars is whether they will be nourishing enough, but this one certainly is. This formula hones in on brittle, broken hair with essential oils, Vitamin E, and oat amino acids that repair split ends and reinstate softness. The herbal scent may not be to everyone's taste, but we loved it.
Grüum Har Nourishing Solid Shampoo Bar
Best for dull hair
Specifications
vegan : no
cruelty-free: no
formulation: no SLES, Parabens or EDTA
Reasons to buy
+
Long lasting
+
Very hydrating
Hand made in England, this bar is enriched with healing, nourishing coconut oil, and smells good enough to eat - but please don't try that. It also lathers up a treat, working its way into a rich and creamy foam that leaves hair impressively shiny and silky. One bar is equivalent to two bottles of shampoo and lasts up to 60 washes, so it's a great value choice too.
Earth Kind Tea Tree & Eucalyptus Shampoo Bar for Improved Scalp Health
Best shampoo bar for dandruff
Specifications
vegan : yes
cruelty-free: yes
formulation: sulfate-free
Reasons to buy
+
Soothing formula
+
Treatment and shampoo in one
Ask any hair expert and they will tell you beautiful hair always starts with a healthy scalp. This sulfate-free formula won't strip the scalp and hair of its natural oils, but also soothes itchy scalps, protects from flakes with natural oils, and has an antimicrobial effect to reduce dandruff. A treatment and hair wash in one.
Lush New Shampoo Bar
Best shampoo bar for thinning hair
Specifications
vegan: no
cruelty-free: yes
formulation: vegetarian, natural ingredients
Reasons to buy
+
Great lather
+
Active botanicals
Reasons to avoid
-
Clove scent could be divisive
Shampoo bars may seem like a new concept, but Lush invented them more than 20 years ago. They've thrown all this expertise into this new formula, which has earned rave reviews for its rich lather and thickening abilities. Clove and cinnamon energize the scalp, while nettle and peppermint promote healthy hair growth to boost volume in fine hair. The distinctive scent of clove and cinnamon may not be for everyone.
Kind2 Shampoo Reinvented The Sensitive One
Best sensitive shampoo bar
Specifications
vegan : yes
cruelty-free: yes
formulation: natural fragrances, natural colours
Reasons to buy
+
Soothing ingredients
+
Great for sensitive scalps
The last thing you want to do with a sensitive scalp is to aggravateed it with harsh ingredients in certain shampoo bars. This bar has a PH-balanced, fragrance-free formula that is gentle enough for those with eczema and psoriasis. It's enriched with chia seed and camellia oils to soothe touchy, itchy, burning scalps. If your scalp is oily, this gentle formula may not be enough to leave it feeling clean.
Odacite 552M Soap Free Shampoo Bar
Best shampoo bar for fine hair
Specifications
vegan : yes
cruelty-free: yes
formulation: No preservatives, GMOs, parabens, petrochemicals, phthalates
Reasons to buy
+
Light yet nourishing
+
Great for fine hair
Named after the 552 million plastic shampoo bottles that end up in landfills every year, this shampoo bar is aimed at every hair type, but we think it would be particularly good for fine to medium thickness hair. It's made with a moisturizing blend of coconut, argan, and castor oils that leave hair soft rather than weighed down.

Percy & Reed All Lathered Up Cleansing Shampoo Bar
Best shampoo bar for oily hair
Reasons to buy
+
Luxurious scent
+
Foamy lather without sulfates
Free from SLS, silicone, and parabens, this lathers up brilliantly compared with other shampoo bars to leave hair feeling clean, fresh, and nourished. The distinctive 'Percy & Reed' fragrance is always a hit - it's energizing, bright, and really sets you up for the day. As with many shampoo bars, you will need to store it in a dry area between uses, or it can turn mushy.
Sustainable beauty—how shampoo bars can help
Combatting plastic usage has become a huge trend, with attitudes to single-use plastic bags, disposable plastic straws, and packaging shifting dramatically. But it's not just food packaging or plastic shopping bags putting the environment at risk. Those lotions and potions in your bathroom can be as bad as the plastic straw in your fizzy drink. Buying beauty products in single-use plastic pots, bottles and jars have been the norm for a long time, but 70 percent of the waste from the beauty industry is through packaging alone*. The beauty industry produces more than 120 billion units of packaging each year, most of which isn't recyclable and often ends up in landfills or the ocean**. Plus, our bathroom waste accounts for between 30% and 40% of landfill waste each year, and it can take up to 500 years for a plastic shampoo bottle to decompose.
It's not just a problem with packaging either; some beauty ingredients can't be removed from wastewater, so they end up polluting our waterways and the sea. Synthetic fragrances, silicones, and surfactants are some of the more serious offenders. Once we've washed our hair in the shower, many ingredients will go straight down the plughole and out into our oceans, harming marine life. For example, Triclosan is an antibacterial agent sometimes found in shampoo. It's been found to be toxic to algae, and the FDA in the US have banned the sale of products containing it. Research is still ongoing into the effect silicones have on the environment, but it's thought that they can accumulate in aquatic food chains, making them toxic for fish and other organisms.
* United States Environmental Protection Agency **Zero Waste Week Report
Stephanie Maylor is a Beauty Editor working across five national magazine titles, with almost 15 years' experience in the industry. She has written for many brands, including woman&home, Grazia, Now, More!, Fabulous, NW, Woman, Woman's Own, Woman's Weekly, Essentials, Best, Chat, and OK! online.
In 2010 she launched her own beauty blog, which was shortlisted for Best Beauty Blog in the 2011 and 2012 Johnson & Johnson Beauty Journalism Awards. She has interviewed many high profile industry experts and celebrities including Alesha Dixon, Twiggy and Christina Hendricks.