The best purple shampoos to beat brassiness, picked by our beauty team
Team w&h edits the best purple shampoos for fresh and bright blonde, balayage and grays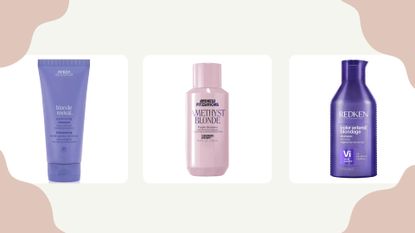 (Image credit: Future)
Finding the best purple shampoo is, on paper, a pretty straightforward search. You're not looking for anything that ground-breaking – all you need is something that will wash your hair that contains a toning purple pigment. A pretty simple brief, right?
There are only so many types of purple shampoo and people who want to buy them. If you're looking for the best purple shampoo it's very likely you have a blonde or gray hair color and want a product to cool down yellow, brassy tones. What's more you probably already use the best shampoo and conditioner for your hair type, so have some idea what you like. But while all violet shampoos aim to perform roughly the same function (toning for blonde hair) there are variations on the theme, each with its own unique merits, or lack thereof. So, it's still helpful to get an expert steer on which are worth your time, and which are better off down the plughole.
And speaking as a new-ish member of the blonde club, finding the best purple shampoo was as important for me as finding the best hair masks (thanks to bleach making my strands drier than the Sahara). Having experimented with a roster of buys at varying price points and wreaking havoc on my white bathroom tiles in the process, I can confidently that the eight buys below are the best purple shampoo options out there.
How to pick the best purple shampoo for you
Why you can trust Woman & Home Our expert reviewers spend hours testing and comparing products and services so you can choose the best for you. Find out more about how we test.
While primarily marketed at bleached blondes, purple shampoo also works well on grey hair, balayage hair and highlights, while brunettes should seek out blue shampoo for brown hair. Choosing the best purple shampoo means thinking about your hair type. Have you got frizzy hair or a long hairstyle that requires extra nourishment to prevent split ends? Are you a regular swimmer and need something to help you nail how to get chlorine out of hair? you need something Some purple shampoos include hydrating or repairing ingredients, while some are purely focused on packing in as much pigment as possible.
How much you can spend is also an important consideration. They can vary hugely in price, but does spending more really get you the best purple shampoo? The short answer is no – where your product sits on that price spectrum will probably be reflected in the extra ingredients and luxurious packaging, but rarely in the strength of pigment. If all you want is to tone down warmth in the hair, affordable purple shampoos can be as effective as luxury brands.
The best purple shampoo, chosen by our beauty team
1. Kerastase Blond Absolu Bain Ultra Violet
Best purple shampoo overall
Specifications
RRP: $36/£23.80
Extra benefits: Hydrating hyaluronic acid combined with illuminating properties
Accompanying products: A whole range, including a mask, conditioner,serum, oil and heat protector.
Reasons to buy
+
Can be used frequently
+
Nourishes hair while toning
+
Great lather
+
Now available as a handy refill bottle.
I'm a huge fan of Kerastase shampoos - my hair always looks a little bit sadder when I don't use them (what can I say, my hair has expensive taste). This takes the top spot for versatility, effectiveness, and ability to adapt to anyone's needs. It works just as well on brightening wiry greys as it does to add luminosity to bright new babylights. It also lathers beautifully, so feels more like a traditional creamy wash than a toning product. Plus, it works impressively quickly - adding instant swish and a brighter tone after just one wash.
And how often should you use purple shampoo anyway? While I'd argue against washing with any purple shampoo every day, this feels gentle enough that you could use it most of the time without over-toning or drying your hair out. Price-wise this isn't hugely affordable, but as with all Kerastase's shampoos, the ultra-rich formula means you only need to use a tiny amount for every wash, giving you more bang for your buck.
2. Pureology Strength Cure Blonde Shampoo
Best salon quality purple shampoo
Specifications
RRP: $33.50/£21.20
Extra benefits: UV filters, rose and sandalwood fragrance
Accompanying products: A conditioner.
Reasons to buy
+
Protects and tones
+
Intense pigment
+
Helps strengthen hair
+
Nourishing ingredients
The salon-first brand packs a lot of punch into their offering to the best purple shampoo market. As well as hyper-concentrated violet pigment (watch those splatters!) it also contains a UV shield to protect hair from the environmental dulling that causes brassiness in the first place. There's also a series of natural oils and seed extracts to nourish and undo the drying effects of hard water on hair plus oil-unclogging skincare acid, salicylic acid for extra scalp freshness.
The thick vegan-friendly cream has the appearance of a low-foam formula, but works into a decent creamy lather while depositing plenty of cool-toned toners onto the hair. And while the heady rose and sandalwood scent is an unusual choice for haircare, which usually errs towards fresh and fruity scents, I couldn't get enough of it. It smells like your poshest, best scented candle, in the best way possible.
3. Andrew Fitzsimons Purple Brass Toning Shampoo for Blonde Hair
Best drugstore purple shampoo
Specifications
RRP: $14/£10
Extra benefits: Moisturises and strengthens hair bonds.
Accompanying products: A conditioner, a mask and a leave-in spray.
Reasons to buy
+
Affordable
+
Suitable for curly hair
+
Vegan-friendly
I have to admit, before I tested anything from this range from the Karadshians' go-to hairstylist Andrew Fitzsimons, I had quite low expectations. As with some celebrity or celeb-adjacent ranges, it's ingrained in me to try out products with a gentle pinch of cynicism. Let me tell you, that cynicism was washed down the plughole with the first wash with this shampoo.
The bright violet tone was to be expected, but what I didn't expect was how soft my hair felt afterwards. Sometimes, even when it comes to the best purple shampoo you expect a little dryness as side-effect to the toning, but there wasn't even a hint of it with this affordable buy. It makes me confidently recommend it for almost all hair textures and curl types - something you couldn't do with a lot of the other drugstore options. From just one use my hair looked brighter but also felt smooth and sleek. If you try one purple shampoo, make it this one.
4. Aveda Blonde Revival Purple Toning Shampoo
Best natural purple shampoo
Specifications
RRP: $30/£23.50
Extra benefits: Silicone free, 96% naturally-derived, vegan friendly
Accompanying products: Conditioner
Reasons to buy
+
Very strong pigment
+
Gorgeous scent
+
Sulfate-free formula
Fans of Aveda hair care will find everything they know and love about the brand present here - the gorgeous, natural herbal fragrance, a low-foaming formula without sulfates and silicones and an almost exclusively natural ingredients list. Add to that some incredibly powerful purple pigment and you have yourself an excellent toning shampoo.
When I say the pigment packs a punch, I mean it - you would really only want to use this once or twice a week max, for up to three minutes at a time. Many will see this as a great thing because it gets the job done. It also doesn't foam up due to the lack of sulfates, which might feel alien to anyone used to sudsy surfactants. But it is less drying to the hair and has the benefit of stopping the pigment from spraying a Rorschach test all over your tiles. Expect instant iciness of tone and a fresh scent that lingers all day.
5. Amika Bust Your Brass Cool Blonde Repair Shampoo
Best purple shampoo for platinum hair
Specifications
RRP: $26/£18
Extra benefits: Strengthening
Accompanying products?: A conditioner, a mask, moisture & shine cream
Reasons to buy
+
Intense pigment
+
Tones while fortifying fragile hair
+
Pleasing packaging
+
Vegan friendly
Reasons to avoid
-
Said to be drying on some hair types
I've really enjoyed using Amika's products, and not just because of their aesthetically pleasing packaging (what can I say, I love an Instagram-worthy bathroom shelfie). Their hardworking, fuss-free products are designed to work for all hair types and textures, and their blonde range is one of the heroes of the brand.
The thick texture means it's not as messy as some other blonde shampoos, and it works up to a rich lather easily. My hair felt really clean, and I didn't feel it was particularly drying. However, some reviews mention that's a factor, so that's something to consider if your hair errs towards dryness and frizz. It's worth mentioning that the accompanying conditioner is particularly excellent, which helped boost moisture while leaving my highlights looking brighter and fresher.
6. Shu Uemura art of hair yubi blonde anti-brass purple shampoo
The best purple shampoo for shine
Specifications
RRP: $49/£33.55
Extra benefits: Gel-cream texture, moisturising white peony
Accompanying products: A conditioner and a mask, plus travel size versions
Reasons to buy
+
Saturated pigment
+
Excellent moisturization
+
Splatter-proof texture
Providing you can afford to spend just shy of $50/£34 on a shampoo, there are lots of reasons why you should go for it with this one. As you'd expect from Shu Uemura Art Of Hair, it includes a considered list of luxurious Japanese ingredients. This includes white peony for antioxidant and moisturizing properties and an ultra-intense tone created by a Japanese ink manufacturer, which delivers icy violet pigment deeply into the hair.
On testing, the standout differences between this and your average purple shampoo were texture and shine. The formula is a gel-cream and feels more rigid in the hand, with a holding quality that helps it cling to the hair, rather than spray all over your shower tiles. This means a little goes a longer way than you'd expect. It also left our hair feeling silkier than many of its contemporaries, without the tugging we've come to expect when brushing and a lovely reflective shine, even after air drying hair.
7. John Frieda Shimmering Silver Shampoo
Best purple shampoo for gray hair
Specifications
RRP: $7.19/£5.99
Extra benefits: Silvergloss technology for shine
Accompanying products: A conditioner
Reasons to buy
+
Boosts shine and tone
+
Specialized care for grays
+
Great value
+
Pleasant lather
Reasons to avoid
-
Pale purple pigment won't suit all
Most purple shampoos market themselves at blondes, despite probably being used on just as many gray heads of hair as highlighted ones. How refreshing then to see a violet wash catering specifically to the gray-haired market and doing it very well. This contains a pared-back pale violet pigment to gently neutralize yellow tones whether you're transitioning to grey hair or have been full-blown silver for years. Crucially, the tone is brightened, but without tipping it over into blue rinse territory.
Toning aside, a decent proportion of the formula is given over to moisturizing and gloss-boosting ingredients, which shows in the nice sudsy lather and pleasant shimmer on the hair after drying. We found the tone to be ashy rather than ultra-icy, which very warm blondes who want punchy purple pigment may find off-putting, but it's a winner for silver hair or gray-blended colors like herringbone highlights.
8. Redken color extend blondage shampoo
Best professional purple shampoo
Specifications
RRP: $24/£20
Extra benefits: PH balanced, wheat proteins
Accompanying products: A conditioner, a mask, and a foam
Reasons to buy
+
Very intense pigment
+
Non-drying formula
+
Good value
Redken is beloved of salon colourists everywhere, and once you try this professional-grade purple shampoo you'll see why. At home, you'll notice the intense pigment right away, an inky almost-aubergine that requires careful rinsing from the tops of your ears after washing. The benefit of this is, of course, ultra-effective icy toning with just one wash. The formula also boasts a PH-balance and wheat proteins for condition. While I didn't have silky soft hair afterwards, it was manageable and didn't feel remotely brittle.
As an aside, this isn't the cheapest shampoo on the list but that price is for a generous bottle hat you only need use once a week, so it does represent a good deal. It's also worth noting that Redken has another version of the much-loved formula (in a subtler lilac bottle) that's formulated with Vitamin C to deep clean and leave hair looking brighter. That one's geared more towards making your color cleaner - whereas this original is more about brightening and toning.
What does purple shampoo do to hair?
Now, the science bit. According to Michael Shaun Corby (opens in new tab), Global Creative Director at Living Proof (opens in new tab), the premise is simple. "Purple is on the opposite side of the wheel from yellow, which means they are complementary colors. You might remember from school that complimentary colors cancel each other out. This means that purple shampoo neutralizes any yellow tones in your hair, leaving hair looking cleaner and brighter."
When should you not use purple shampoo?
Jack Cunningham-Rose (opens in new tab), Education Consultant for Redken & Pureology explains, "Purple shampoos are not needed straight away after your color has been done, however as soon as you feel that you are starting to lose the tone or that you feel it is looking yellow/brassy then you can start to introduce it." He continues, "If you have darker hair and you are not a blonde client, then a purple shampoo is not going to do much for you as they are aimed at blonde heads of hair."
Does purple shampoo make your hair lighter?
A common misconception is that purple shampoo makes your hair lighter - this just isn't possible without bleach. Corby explains, "Even the best purple shampoo isn't a lightener, instead, it neutralises brassiness in light-coloured hair. Purple shampoo pushes these yellow tones aside to reveal a cleaner, brighter hair colour, which may be why it appears lighter. Another benefit of purple toning shampoo is its ability to do away with dull hair. A hair toner can give hair back its lustre and natural sheen."