Transitioning to gray hair: a pro colorist explains how to grow in your grays, step-by-step
Ready to ditch the dye and begin transitioning to gray hair? Here's how to do it seamelessly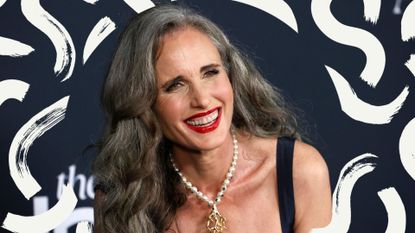 (Image credit: Future/Getty images)
Turning gray is one of life's inevitabilities, which leads to two choices: dye your roots or start transitioning to gray hair. And while gray-phobia was historically part of our cultural psyche, the tide has now turned and so many stylish women are showing how glam growing in grays can be.
"More and more celebrities are embracing or showing their gray hair color - from Andie MacDowell to Tia Mowry," says Wella Professionals Colour Trend Expert Zoë Irwin. "Erin O'Connor went through a stage growing out her gray hair, this is something I call statement gray. One of the UK poster girls for gray hair is Vogue's Sarah Harris, who has been going gray since she was 20. In both an obvious and subliminal way this will permeate through culture and inform what is 'normal.'"
Perhaps you've recently started going gray and want to welcome this new era in the most flattering way possible. Or perhaps you have been using at-home hair dye or home highlight kits to cover your gray for years and are ready for something new. Either way, this expert guide reveals everything you need to know about transitioning to gray hair smoothly and seamlessly.
Transitioning to gray hair: what you need to know
How to start transitioning to gray hair
Rome wasn't built in a day, and neither was a shiny silver mane. Bear in mind that the transition can take several trips to the salon with months of growth in between. "If you have a few inches of gray, the lengths and ends of your hair need to be artificially lifted so the contrast isn't as obvious," explains Katie Hale, Head of Color at Charles Worthington Salons. "I'd do a full head of babylights (ultra-fine highlights) or finely sliced balayage, so it blends better with gray."
Have a consultation with your colorist beforehand to ensure you're both on the same page and to see if herringbone highlights or the balayage hair technique will work best for you. There are so many factors to a color change and a good colorist will take you on that journey.
Also, consider your budget, as transitioning to gray hair can be costly if you enlist the help of a pro. "If you've spent years getting a quick root tint every few weeks, bear in mind a color change will cost more because you'll spend longer in the salon," says Katie. You'll need to see your colorist every 10 to 12 weeks and have costlier, more intricate color services. But remember: gray hair will be lower maintenance and less costly in the long run.
How long does it take to grow in grays?
Subtly switching to gray hair can take time. "It really depends on the starting point," says Katie. "If you've been coloring your hair very dark, then this journey will take much longer than if your hair is lighter." The length of your hair is a factor too. "If you're going through the process of changing your color, I always say to clients that they may need to compromise on their cut," advises Katie.
With that said, techniques are getting better - and faster - all the time. "Colorists like Jack Martin in the US are becoming gray hair specialists and taking people gray on one day rather than them waiting for their hair to grow out," explains Irwin. However, for the majority of us, this will not be a speedy process.

Short hair can take as little as six months, while long hairstyles can take up to a year or more to go 100% gray - which is the perfect excuse to try that short hairstyle you've been eyeing up. "And remember, the darker your hair when you begin, the more color will need to be applied to blend and lighten it to your gray roots," adds Katie. "This can leave your hair very dry, so the more you are prepared to cut off, the better - to help your hair look and feel in good condition."
Dos and don'ts
Do use temporary root concealers
This is the easiest way to disguise regrowth in between salon sessions.

Do change your parting
It sounds odd but you could have more gray on one side of your head than the other. Switching your parting up or creating a zig-zag parting can help soften lines.

Don't dye your roots
Don't be tempted to give up and reach for the dye. Your colorist needs a good few inches of regrowth to work with, so be patient and wait it out.

Do invest in the right products
Coloring already processed hair makes it very dry. Use a deep-conditioning treatment once a week to strengthen it. Our guide to K18 vs Olaplex may help you pick between the market's two most deeply reparative treatments.

Don't get stuck in a makeup rut
Be brave and try bolder colors. "When you embrace the beautiful tones of gray hair it creates a neutral frame around your face, so it's an opportunity to boost the color in your makeup, " says Caroline Barnes, International make-up artist and Max Factor Ambassador.
How to care for gray hair as it grows in
Condition is everything, as gray hair can be naturally drier and more coarse. It can also take on unwanted brassy hues especially with UV, pollution and chemical exposure (as anyone who has ever panicked over how to get chlorine out of hair can confirm) So it is crucial to keep it in good nick as you make the switch.
"Gray hair does not sometimes grow out the way you want it to, and once you have gray hair you can't just leave it. it can go yellow, grow out patchy and also have a change in texture that's not that desirable" explains Irwin, who recommends Wella's True Gray In-salon services, to replenish, soften and tone gray hair. Choose from 15-minute Express Silver Glow or 30-minute Silver Glow, for a more intensive anti-brass and shine-enhancing treatment.
At home, encourage growth with supplements, protect and preserve a silver hue with sun protection and violet toners, or have fun with temporary sprays to create the trending blue gray hair color. Finally, give it a big drink of moisture with the best hair masks plus shine-boosting finishing products.
Our beauty editor recommends...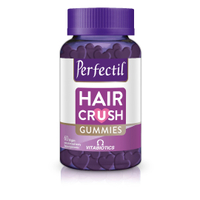 Perfectil Hair Crush Gummies | RRP: $19.99/£19.95
When your desired look rests on the new hairs growing in right now, it makes sense to focus on making them the healthiest they can be. These gummies contain biotin, zinc, and selenium, which is basically the holy trinity for healthy growth - plus they taste like candy.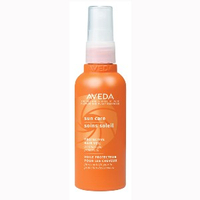 Aveda Sun Care Protective Hair Veil | RRP: $36/£22.50
Gray hair is more sensitive to the UV damage due to its lack of pigment, so spritz this on when the sun is strong. It won't leave hair feeling at all lank or greasy but you can feel comfortable in the knowledge that your hair is protected from damaging UV rays.
---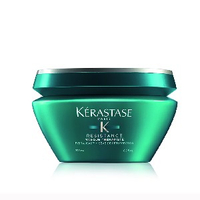 Kérastase Resistance Therapiste Masque | RRP: $46/£36
This protein-based treatment will help to keep hair feeling strong while it undergoes a color transformation. It has a buttery texture that penetrates processed hair to restore elasticity and keeps coarse growth full of moisture. Apply to just-shampooed hair, leave for as long as you can then rinse thoroughly.
---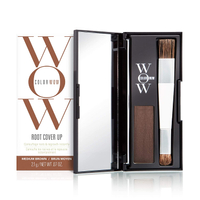 Color Wow Root Cover Up Powder | RRP: $34.50/£29.50
The best root touch up products can make the process of going gray a bit easier. This one comes in a range of realistic shades and blends away grays until your next wash. It's waterproof, and the firm brush helps you work it right into the area needed, unlike messy sprays.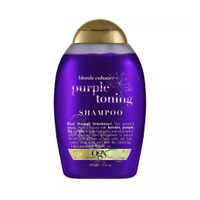 OGX Blonde Enhance Purple Toning Shampoo | RRP: $7.99/£8.99
With purple pigments, this shampoo neutralizes brassy tones in gray and white hair but isn't nearly as drying as some purple shampoos can be. The great thing about this is that it works instantly. Just massage into wet hair, leave for a few minutes then rinse thoroughly before applying your regular conditioner.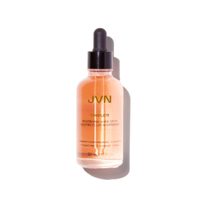 JVN Complete Nourishing Shine Drops | RRP: $22/£19
Gray hair can struggle to shine, so make serums and oils a priority when styling. This silky oil contains vegan squalane plus jojoba and various other featherweight oils to gently nourish dry strands and offer a glassy shine. Take heed of the name and apply sparingly - a drop or two is easily enough for your whole head.
---
woman&home thanks Katie Hale of Charles Worthington Salons for her time and expertise.
Stephanie Maylor is a Beauty Editor working across five national magazine titles, with almost 15 years' experience in the industry. She has written for many brands, including woman&home, Grazia, Now, More!, Fabulous, NW, Woman, Woman's Own, Woman's Weekly, Essentials, Best, Chat, and OK! online.
In 2010 she launched her own beauty blog, which was shortlisted for Best Beauty Blog in the 2011 and 2012 Johnson & Johnson Beauty Journalism Awards. She has interviewed many high profile industry experts and celebrities including Alesha Dixon, Twiggy and Christina Hendricks.