Transitioning to grey hair: how to make it as seamless as possible
Are you ready to ditch the dye and begin transitioning to grey hair for good? Here's everything you need to know about going grey gracefully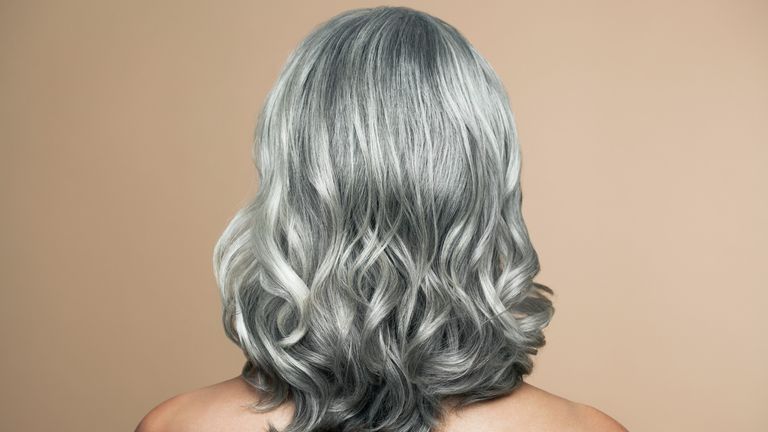 (Image credit: Andreas Kuehn / Getty images)
Turning grey is one of life's inevitabilities, which throws up two choices: dye your roots or start transitioning to grey hair.
You may not remember your first kiss or the name of the family goldfish but we bet you remember spotting your first grey hair, glinting in the sunlight. Given that a sliver of silver usually appears before our very first wrinkle, it can be a stark reminder of the fleeting nature of youth.
It might seem a bit dramatic but grey-bashing has been a part of our cultural psyche for decades. Of course, this doesn't apply to men, for whom a smattering of salt and pepper hair makes them appear distinguished and debonair.
But ladies, you'll be glad to hear the grey tides are a changing. Letting your hair go 100% grey is no longer something to avoid, and certainly doesn't have the stigma attached to it that it once did. But just because you're letting your hair go au natural, doesn't mean you can neglect it. Silver hair can turn brassy, so a purple-neutralizing shampoo is a must. The texture can also seem a little more on the wiry side—nothing one of the best hair straighteners can't sort!
If you've been coloring your grey for years but are contemplating growing it out, here's everything you need to know on transitioning to grey hair smoothly and seamlessly.
How to start transitioning to grey hair
Rome wasn't built in a day, and neither was beautifully shiny silver hair so don't expect your colorist to transform it in within a few hours. "If you have a few inches of grey, the lengths and ends of your hair need to be artificially lifted so the contrast isn't as obvious," explains Katie Hale, Head of Color at Charles Worthington Salons. "I'd do a full head of baby lights (ultra-fine highlights) or finely sliced balayage, so it blends better with grey."
Have a consultation with your colorist beforehand to ensure you're both on the same page and to see if highlights in hair or the balayage hair technique will work for you as you transition. There are so many factors to a color change and a good colorist will take you on that journey.
Consider your budget, as it can be costly if you enlist the help of a pro. "If you've spent years getting a quick root tint every few weeks, bear in mind a color change will cost more because you'll spend longer in the salon," says Katie. You'll need to see your colorist every 10 to 12 weeks, but remember: grey hair will be lower maintenance and less costly in the long-run. Which means you'll have extra pocket money to spend on a lunchtime tweakment or on the best mascara. Win win!
DOs and DON'Ts of transitioning to grey hair
Do use temporary root concealers
This is the best way to disguise regrowth until you can get to the salon.

Do change your parting
It sounds odd but you could have more grey on one side of your head than the other. A zig-zag parting can help soften harsh lines.

Don't dye your roots
Don't be tempted to give up and reach for the dye. Your colorist needs a good few inches of regrowth to work with, so be patient and wait it out.

Do invest in the right products
Coloring already processed hair makes it very dry. Use a deep-conditioning treatment once a week to strengthen it.

Don't get stuck in a makeup rut
Be brave and play with bolder colors. "When you embrace the beautiful tones of grey hair it creates a neutral frame around your face, so it's an opportunity to boost the color in your makeup, " says Caroline Barnes, International make-up artist and Max Factor Ambassador.
How long will it take to transition to grey hair?
Transitioning to grey hair can take time. "It really depends on the starting point," says Katie. "If you've been coloring your hair very dark, then this journey will take much longer than if your hair is lighter." The length of your hair is a factor too. "If you're going through the process of changing your color, I always say to clients that they may need to compromise on their cut," advises Katie.

Shorter hair can take as little as six months, while longer hair can take up to a year or more to go 100% grey—the perfect excuse to check out some short hairstyles. "And remember, the darker your hair when you begin, the more color will need to be applied to blend and lighten it to your grey roots," adds Katie. "This can leave your hair very dry, so the more you are prepared to cut off, the better—to help your hair look and feel in good condition."
Best buys for transitioning to grey hair
Aveda Sun Care Protective Hair Veil 
Grey hair is more sensitive to the sun due to the lack of pigment, so spritz this on when the UV rays are strong. Keep it in your handbag in the summer to top up throughout the day. It won't leave hair feeling at all lank or greasy but you can feel comfortable in the knowledge that your hair is protected from those damaging UV rays.
---
Kérastase Resistance Therapiste Masque
This protein-based treatment that will help to keep hair in good nick while it undergoes the color transformation. It has a delicious buttery texture that penetrates over-processed hair to restore elasticity and reinstate the healthy swish that evades dry, straw-like tresses. Apply to just-shampooed hair, leave for five minutes then rinse thoroughly.
---
L'Oréal Paris Magic Retouch Precision Instant Concealer
A spray-on root touch up makes the transitioning process a bit more bearable. This one comes in a range of shades and will conceal great roots until your next wash. Hold the can about 10cm away from dry roots then mist evenly across the parting. Go easy—you can always add more but you'll never be able to take away once you've sprayed. 
---
Color WOW Color Control Toning & Styling Foam
The pale lavender foam banishes yellow hues and gives your style hold, like a mousse. Apply to towel-dried hair before styling, and work through the lengths and ends. It won't stain your hands like other anti-brassiness buys. 
---
PRO:VOKE Touch of Silver Brightening Purple Shampoo
With purple pigments, this cult shampoo neutralizes brassy tones in grey and white hair. It also works a treat on blonde and highlighted hair. You'll be able to see visible results after just one wash. Massage into wet hair, leave for five minutes then rinse thoroughly before applying your regular conditioner. 
---
woman&home thanks Katie Hale of Charles Worthington Salons for her time and expertise.
Group Beauty Director Sarah Cooper-White has almost 20 years experience as a beauty journalist. She has written for many well known national magazines, newspapers and brands including Woman & Home, Woman, Woman's Own, Woman's Weekly, Boots, Tesco, ELLE, InStyle, The Mirror, The Sun, Prima and Top Sante.
Sarah's love for beauty started at a young age when she used to make up her own face masks and 'perfumes' in the kitchen made from herbs and flowers she'd grown in the garden! As a student she often blew much of her student loan on Ruby & Millie make-up and Lancome skincare and her signature look was a sparkly eyeshadow, even in the daytime (it was the 90s!).
But it wasn't until her first proper job in magazines, as the Features Assistant at ELLE magazine, where she realised you could actually BE a beauty journalist and there and then she decided that was the job for her. Since then she's met hundreds of talented and inspiring people from hairstylists and dermatologists to biochemists and aestheticians and loves passing on their incredible knowledge through her writing.
The power of beauty, whether it be make-up, haircare, skincare or fragrance, to make someone feel more confident, happier and generally better about themselves fascinates Sarah and she's a strong believer that beauty and self care is not a frivolous thing but essential to better mental health, empowerment and confidence.
After being diagnosed with skin cancer in her 20s, Sarah developed a passion for skincare and is constantly on a quest to educate people about the importance of looking after their skin. She'll never say never to Botox but believes that a good skincare regime (as well as staying out of the sun) is one of the best investments you can make for your future self.