K18 vs Olaplex: which cult hair-repair treatment reigns supreme?
We break down the differences and benefits of K18 vs Olaplex - can the hyped new mask measure up to a classic?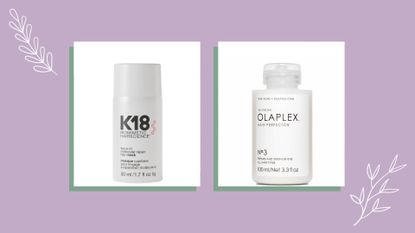 (Image credit: K18 and Olaplex)
Two treatments are battling it out for the hair repair spotlight: K18 vs Olaplex. Both work in a different way to most haircare (more on that later) and both have garnered quite the fanfare. But which reigns supreme? We put the hair heroes head-to-head to find out.
A decade ago, every single one of the best hair masks and the best scalp treatments focused on treating the outside layers of the hair cuticle only. Then, in 2014, along came Olaplex—a revolutionary bond builder for hair that works from the inside out to repair damage and strengthen strands. It soon became a staple at every major salon with stylists, beauty editors, and A-listers alike waxing lyrical about its mane-changing results.
Since then, several beauty brands have tried to replicate Olaplex's patented technology, but none could rival the restorative powers of the cult brand - until now. Launching in 2020, K18 offered up an alternative at-home hair mask, that also works on a molecular level, to restore and repair lackluster locks while salons were closed. It was quick to impress and many are now wondering, which is the treatment for damaged hair to beat between K18 vs Olaplex? We've got answers.
K18 vs Olaplex: Which treatment is best?
What are K18 and Olaplex?
Between 2014 and 2018, the Olaplex line featured three products: No.1 (an additive used during color application in-salon to reduce damage), No.2 (an active cream treatment that's applied to hair post-color, in-salon), and No.3 (a diluted version of No.2 that clients can take home). It's the latter, the No.3 at-home treatment, that remains a best-selling, cult classic despite the brand going on to launch sone of the best shampoo and conditioners, a hair mask, and several other at-home strengthening treatments.
More recently arrived on the hair scene is US-born K18. Currently a one-product wonder, the K18 Leave-In Molecular Repair Hair Mask promises to repair damage from bleach, color, chemical services, and heat - restoring strength, softness, and bounce to hair. As with Olaplex No.3, K18 is an at-home treatment - but it's also used in several salons across the globe.
How does the science work for each?
Developed by Californian-based scientists, Olaplex's famous formula is powered by a single active ingredient: Bis-Aminopropyl Diglycol Dimaleate. This ingredient, which is patented and exclusive to Olaplex, permanently rebuilds broken disulfide bonds in hair, reducing damage from chemical services as well as the damage caused by heat styling even the best hair straighteners and best curling irons plus environmental aggressors.
Also backed by scientists, K18 stars a single hero ingredient: the brand's patented K18 peptide. This peptide boasts a unique sequence of amino acids that deeply penetrate hair to reconnect broken keratin chains for smoother, stronger strands - like a souped-up at-home keratin treatment that also repairs. While the hero ingredients differ, both K18 and Olaplex work from the inside out to heal damage from bleach, color, chemical services, and heat. Want to go even more in-depth on the science bit? Our Beauty Editor's K18 review has a deep dive on ingredients.
Key differences between K18 vs Olaplex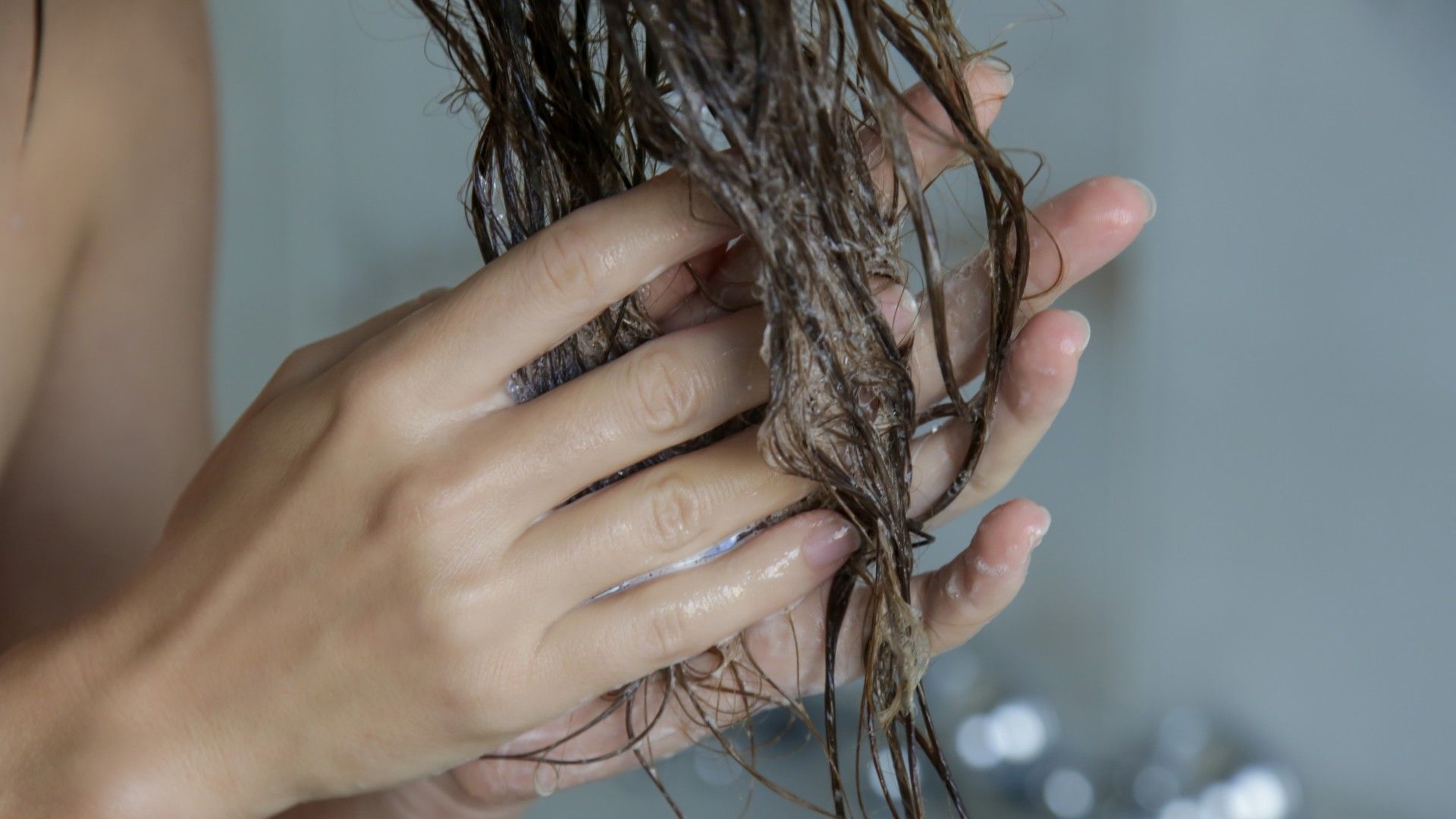 Application: K18 is a leave-in formula - best applied to freshly shampooed hair that's been towel-dried. Olaplex No.3 is a pre-shampoo treatment that's designed to be left on for ten minutes before being washed out.
Ingredients: Bis-Aminopropyl Diglycol Dimaleate in Olaplex rebuilds broken disulfide bonds, while the K18 peptide in K18 repairs broken keratin chains.
Time: While Olaplex No. 3 should be left on for ten minutes or more, K18 should be left to sit for four minutes before styling as usual.
Price: Olaplex No. 3 retails for $28/£26 for 100ml and K18 comes in at $75/£55 for 50ml.
Hair type: Both treatments are suitable for all hair types.
Results: Both hair treatments have the power to transform tresses, delivering silky soft strands that look healthier with every wash.
K18 vs Olaplex: W&H verdict
Olaplex No.3 is the original bond-building treatment with impressive, patented hair tech and results that speak for themselves. So many of the best hair products have tried to replicate this tech but have fallen short. Except, of course, for K18. While the ingredients differ, the patented K18 peptide is just as impressive - rebuilding and repairing damaged keratin chains which form the primary component in our hair.
The main differences between the two treatments are price and application. Costing $28/£26 for 100ml, Olaplex is by far the cheaper option out of the two. However, with the K18 mask, you'll find that a little really does go a long way - with two pumps proving more than enough to cover a whole head, providing you have a medium hairstyle or shorter.
The K18 comes up trumps for ease of use. The mask is designed to be applied post-shampoo and left for four minutes before styling as usual, without rinsing. Olaplex No.3 is a pre-shampoo treatment that can be applied directly to towel-dried hair for 10-minutes and then rinsed out with shampoo and conditioner before styling.
Overall, you can't go too wrong with either of these mane-changing treatments that are a brilliant addition to any hair care regime. If your hair is colored, dry, or damaged - give these treatments a whirl, pronto - you'll be blown away by the results. As for which one is best - we're going to cheat and call it a draw.
K18 vs Olaplex: Shop the haircare heroes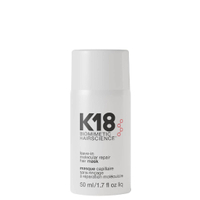 (opens in new tab)
K18 Leave-in Molecular Repair Hair Mask | RRP: $75/£55 for 50ml
Pricier, yes, but also faster and arguably easier to use than Olaplex. This new hair hero is fabulous on any hair type in need of some love, and we look forward to seeing what else is coming from the hot new brand on the block.
---
Emma Stoddart is a freelance beauty journalist and self-confessed skincare aficionado with over five years' industry experience. Emma has worked for some of the UK's top women's titles including Net-A-Porter, Stylist and Grazia. Her experience spans online and print as well as producing editorial shoots with some of the industry's biggest artists, including Val Garland. Asides from working with them behind the scenes, she's also had the chance to interview the likes of Patrick Ta, Pat McGrath, and Sam McKnight for all their insider tips and tricks.