ghd Platinum+ vs ghd Gold – a beauty editor's thoughts on which top-rated styler to buy
We compare the premium ghd Platinum+ vs ghd Gold – two high-tech stylers, but which one is best?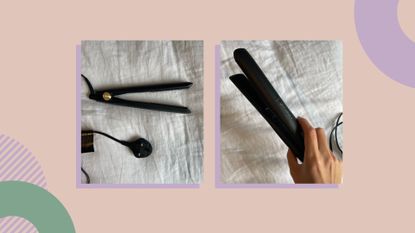 (Image credit: Future/Emma Stoddart)
After a new styler? Allow us to help as we compare the ghd Platinum+ vs ghd Gold to see which tool is best. ghd is a trusted brand that's home to many of the best hot tools in the biz. But with so many models to choose from, it can be a tricky task trying to find the one for you.
Styling tools have come a long way in the past few years. Using the latest technology to regulate heat, we no longer have to sacrifice hair health for a sleek style. Now, the best hair straighteners and best hair dryers deliver salon-worthy results without scorching strands. One brand that's led the way is ghd, whose offering includes a variety of models to cater to different hair types and needs. Two cutting-edge tools that have racked up countless 5-star reviews are the ghd Platinum+ and ghd Gold.
First came the Gold, which quickly became a best-selling styler after landing on our shelves in 2011. Then came Platinum+ which made headlines in 2018 (the year it launched) for being the world's first-ever 'smart' straightener. Here, we put the two tools head-to-head to see which is the best ghd hair straightener. Spoiler alert: it's a close call.
How we tested the GHD Platinum+ vs GHD Gold
Prior to writing this, our tester had only ever used the ghd Original IV straightener (shocking, we know). But our motto is if it ain't broke, don't fix it. While the Original has undoubtedly stood the test of time, it was about time we took the newer models for a spin. To ensure a fair test, we styled half our hair using the Gold and the other half using the Platinum+ to directly compare the results. We looked at how the design differed, how easy they were to use and whether smart technology really made a difference. To see if both models cater to different needs, we also consulted other testers with hair types including short, curly, and very thick hair.
ghd Platinum+ vs ghd Gold, by a Beauty Editor
Specifications comparison
Swipe to scroll horizontally
| Header Cell - Column 0 | GHD Platinum+ | GHD Gold |
| --- | --- | --- |
| Temperature settings: | 185ºC | 185ºC |
| Weight: | 0.4kg | 1.1kg |
| Cord length: | 2.7m | 2.7m |
| Available colors: | Black, white, Cobalt Blue, Scarlet Red, Rose Gold, Powder Pink | Black, Moon Silver, Powder Pink |
| Auto shut-off: | After 30 minutes of inactivity | After 30 minutes of inactivity |
| Added extras: | Ultra-zone predictive technology, and precision milled, ultra-gloss floating plates | Dual-zone technology, gloss finish floating plates |
| Review rating: | 4/5 | 4/5 |
ghd Platinum+ vs ghd Gold: Design
ghd Gold design
If like us, your first ghd straightener was the original styler, you'll probably remember the classic yellow ceramic plates. Newer models, including the ghd Gold and ghd Platinum+, have swapped them out for sparkly, metallic grey versions that look (and feel) sleeker. For the Gold, the plates measure 9cm long and 2.5cm wide and boast a straight edge. Note that they're floating plates, meaning they're not 100% attached to the styler which allows for some movement and flexibility.
The smooth, rounded barrel shape of the Gold resembles that of the Platinum+ and, because of this, both tools can be used to create wavy hairstyles and bouncy curls as well as sleek styles. Both stylers feature a power button on the inside of the handle that illuminates when turned on. And as with most ghd stylers, there are no variable heat settings as all stylers reach the brand's identified optimum styling temperature of 185 degrees.
The straighteners are reasonably lightweight (weighing in at 1.1kg) and we found that when styling our fine strands, we didn't get that dreaded arm ache. There's also a generous 2.7-meter swivel cord that allows you to reach hard-to-style sections (mainly the back) as well as your mirror from across the room. We love how these straighteners look and feel – sleek, stylish, and professional.
ghd Platinum+ design
On first impressions, the Platinum+ and Gold look very similar with their curved, barrel designs and metallic grey plates. But on closer inspection, we spotted a few key differences. Firstly, the two-piece hinge seen on the Gold model has been updated on the Platinum+ with a 'wishbone' hinge and a single curve. This gives the styler an overall sleeker look and helps improve control as you can open and close the tool effortlessly without pulling or catching hair.
Another difference between the two stylers is the weight. The Gold weighs 1.1kg, while the Platinum+ is just 0.4kg. Because of its lightweight design, we found that the Platinum+ is easier to handle and maneuver – especially on curly and thick hair types. Plus, despite being lighter, it boasts a larger barrel shape than the Gold which is ideal for styling large sections of hair as well as creating loose curls and beach hair waves.
Both tools have floating plates, and both feature a 2.7-meter swivel cord. They also both come with an in-built timer that turns them off automatically after 30-minutes of inactivity to give you peace of mind when styling in a hurry. While the Gold comes in a choice of black, silver, or pink – the Platinum+ is available in a wider array of hues, including black, white, red, blue, gold, and, our favorite, powder pink.
User experience
ghd Gold
In terms of usability, both these stylers really impressed our tester. It's very clear to see how advanced the newer models are in comparison to the Original. While the Original can occasionally pull and tug hair, both the Gold and Platinum+ feel silky smooth, gliding through strands effortlessly. When styling fine hair that's slightly wavy, we found the Gold styler smoothed each section in just two passes. Thick or naturally curly hair may require a few more passes to achieve a super straight style.
It's worth noting here, that the Gold doesn't feature ionic technology which may be problematic for hair that's prone to frizz. If you do have frizzy hair, consider a different model that does feature this technology. While it's relatively lightweight, this styler may eventually cause arm ache for anyone with thick, long hair that takes a while to style. Overall, the Gold is easy to use, and the rounded sides are a great bonus for anyone who wants to create curls and waves, too.
ghd Platinum+
The Platinum+ is a cut above the rest. The featherweight design, large plates and rounded barrel shape make hair styling so seamless. No longer do you need to put hours aside for getting ready – this tool makes it so quick and easy (and enjoyable). One pass is all you need to get a smooth finish while still maintaining body and movement. Both our fine and thick-haired testers got on with this tool, saying it cut styling time in half (a big tick).
It's also really easy to create bouncy curls and loose waves with this styler. Where the barrel and plates are slightly larger than the Gold, you get a bigger curl that's full of body. Oh, and because of its large plate size, this is easily one of the best straighteners for curly hair, allowing you to grab more hair in each pass. While both stylers glide effortlessly through strands, this one has the edge with its curved ceramic plates that never ever catch or snag. And because of the wish-bone hinge, you have more control when opening and closing the plates.
GHD Platinum+ vs GHD Gold: performance
ghd Gold
The best thing about these newer tools is how quickly they heat up. The Gold reaches the optimum temperature of 185 degrees in just 25 seconds. You'll know once they've heated up as the styler lets you know with a beeping sound. Clever, right? Once hot, the tool maintains its heat with something called 'dual-zone technology'. What this means is that the styler has two, instead of one, heat sensors to ensure heat is evenly distributed from root to tip for super smooth results.
The outer casing of the Gold can get quite warm and, in some cases, too hot to touch. This is where the cool tip comes in. If you're creating curly hairstyles, use this cool tip to control the barrel when rotating it down the length of your hair. The cool tip is also useful when styling hard-to-reach sections at the back. The downside? The plates aren't the widest or longest we've tested. If your hair is especially thick or curly, we'd recommend giving the ghd Max Hair Straightener a whirl. The extra-large plates will significantly cut down styling time.
ghd Platinum+
Scrap 25 seconds, the ghd Platinum+ heats up in a record time of 20 seconds. Impressive! Again, the styler will let you know once it's ready with a clear beeping sound. Like the Gold, the temperature remains consistent but instead of the Gold's 'dual-zone technology', the Platinum+ features something called 'ultra-zone technology'. According to the brand, this technology allows the styler to recognize your hair's thickness as well as the section size, and speed that you are styling to adjust the power and temperature accordingly.
While we can't see this technology in action, we can say that hair felt smoother and looked shinier after a few days of use, and never looked over-styled or damaged. As for the casing, the Platinum+ is insulated, meaning it stays cool all the way around. It's just the ceramic plates that heat up. This is great for those days when you're styling in a hurry as you don't run the risk of accidentally scorching skin. This styler works equally well when straightening, curling, and waving hair. A true multi-tasker.
Results comparison
ghd gold results
In terms of results on the hair, we didn't see too much difference in the ghd Gold vs Platinum+ styler. Both stylers work exceptionally well, smoothing strands with minimal effort required. With a sleek, streamlined design, the Gold is a great hair investment for fine-to-medium hair. It gets to work quickly, straightening (or waving) small sections of hair. After use, locks look smooth and feel soft. We also found our hair kept its style over the course of the day without kinking or frizzing.
ghd platinum+ results
For super speedy results, turn your hair to the Platinum+. The 'smart' styler grabs onto medium sections of hair, smoothing strands in one pass. After use, hair looks noticeably smoother and shinier. When compared to the Gold, we found the Platinum+ has the edge – lending locks a glossy finish that wasn't as noticeable with the Gold. A great choice for fine-to-thick hair types, this styler grabs onto larger sections of hair and works faster than the Gold. As with the Gold, we found our style stayed put all day (and night) long.
GHD gold vs GHD platinum: the verdict
Both ghd stylers are seriously intelligent tools that feature advanced technology. When compared to the Original styler, these tools are in a league of their own – delivering salon-worthy results at record speed without significantly damaging or snagging strands. Both tools feel luxurious to hold and will certainly look the part on top of your dressing table.
When choosing between the two, we'd say the Platinum+ takes the lead, just. Its wishbone hinge and insulated casing make it a bit more user-friendly. With that said, there is a significant price difference (the Platinum+ costs £70 more than the Gold) and it's worth considering your hair type, too. For those with thick, coarse, or naturally frizz-prone locks, the Platinum+ is definitely the clear choice, as it makes for faster styling. Dry or damaged hair types will also benefit from the styler's ultra-zone technology which means tresses are not exposed to excessive heat.
But if your hair is fine and/or easy to manage, there's no reason the Gold wouldn't meet all of your hair needs and save you a few pennies in the process. Still can't decide? Read our full ghd Platinum+ hair straightener review. You may also find our Dyson Corrale vs the ghd Platinum+ helpful.
Emma Stoddart is a freelance beauty journalist and self-confessed skincare aficionado with over five years' industry experience. Emma has worked for some of the UK's top women's titles including Net-A-Porter, Stylist and Grazia. Her experience spans online and print as well as producing editorial shoots with some of the industry's biggest artists, including Val Garland. Asides from working with them behind the scenes, she's also had the chance to interview the likes of Patrick Ta, Pat McGrath, and Sam McKnight for all their insider tips and tricks.
With contributions from