The best root touch up products for when you can't get to the salon
Our tried and tested edit of the best root touch up sprays, powders, and crayons for every hair color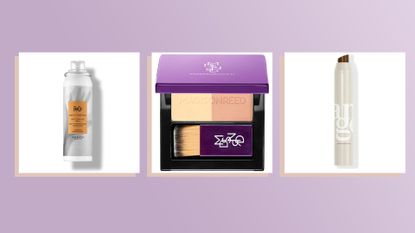 (Image credit: Future)
woman&home newsletter
Sign up to our free daily email for the latest royal and entertainment news, interesting opinion, expert advice on styling and beauty trends, and no-nonsense guides to the health and wellness questions you want answered.
Thank you for signing up to . You will receive a verification email shortly.
There was a problem. Please refresh the page and try again.
The best root touch up products are meant to unify your hair, whether you need to disguise regrowth, keep your color fresh, fill in a sparse hairline or you're looking to cover up grays.
The benefits of a root touch-up product are that they help maintain your roots in between at-home hair dye sessions or color appointments such as highlights in hair. They're non-damaging and keep your color looking fresh. Essentially, they're an effective way to blend your roots with the rest of your hair and increase the space between hair appointments, which can save you time and money in the long run.
Root touch up products come in a variety of forms—sticks, sprays, powders, and pastes, to name a few. We know it can be challenging to find the right one that looks natural and doesn't require colorist-level skill to apply, so we've tried, tested and rounded up the best root touch ups in every texture, for every hair color.
How to pick the best root touch up product for you
Why you can trust Woman & Home Our expert reviewers spend hours testing and comparing products and services so you can choose the best for you. Find out more about how we test.
Color match: Many of the best root touch up formulas come in a variety of shades, and it's important to choose one that's as close a match as possible to your hair color. According to Gökhan Vayni (opens in new tab), hair specialist at Vera Clinic, this begins with due diligence on your part. "To color match your roots, it is best to thoroughly research the root touch-up products and colors available," he says. "Many product's packaging will include the color on the box, but if you're unsure, it may be beneficial to buy two colors that are the most similar to your hair."
Consider textures: For more control and a precise application, consider a root touch up powder, which allows you to swipe it onto targeted areas and build up on product (versus something like a spray, which disperses product all at once). Sprays are a good option for those who need a product that can apply quickly and doesn't require two hands. Finally, root touch up products also come in stick and marker form, which are best for those who require slight to moderate coverage, be it on the hairline or to conceal a few strands of gray hair color.
Apply like a pro: When it comes to applying root touch up sprays, celebrity colorist and founder of eponymous beauty line Rita Hazan recommends holding the can six to eight inches away from your head and spraying in a continuous motion, like you would most of the best hair styling products that are applied dry such as dry shampoo or hairspray.
The best root touch up products, chosen by our beauty team
1. Rita Hazan Root Concealer Touch Up Spray
Best root touch up overall
Specifications
RRP: $12/£20
Number of shades: 5
Formula callouts: Waterproof, transfer-proof, free of ammonia and peroxide
Reasons to buy
+
Doesn't interfere with relaxers or straightening treatments
+
Buildable pigment
+
Travel-friendly size
Rita Hazan's famed Root Concealer Touch Up Spray is a fan favorite—and for good reason. Besides the fact that it's reasonably priced, it comes in several shades to suit a variety of hair colors and is formulated with neutral tones for simple color matching. If your hair is very dark or almost black, Hazan recommends using the dark brown/black shade—any other shade of light to medium brown should use Light Brown. "Dark blonde is for honey-sandy blondes while Blonde is for buttery-platinum blondes. Finally, Red is universal for all shades and tones of red," says Hazan.
During testing, we found the waterproof formula to be easy to apply, long-lasting, and very buildable. It was also extremely fool-proof to use. We were able to spray it precisely onto our hairline without any mess or skin transfer. Hazan attributes this to the pinpoint nozzle, which "is designed to spray directly on your part and hairline," she says. We also found the color coverage nicely opaque, with the lighter shades offering an aspect of toning for blonde hair. It was also extremely long-lasting, even when we got caught in a rain shower. Top marks.
2. Oribe Airbrush Root Touch-Up Spray
Best luxury root touch up
Specifications
RRP: $32/£30
Shades: 5
Formula callouts: Rice starch, vegan, color and keratin safe
Reasons to buy
+
Quick-drying powder formula
+
Doubles as a dry shampoo
+
Protects against UV
Reasons to avoid
-
Brown shade leans orange
Looking for something to cover up your roots, mask dirty hair, and soak up excess oil? This root touch-up spray from Oribe checks every box, delivering the oil-absorbing properties of rice starch for instant freshness, much like the best dry shampoo, along with the benefits of microfine mineral colorants for the ultimate coverage. The formula also acts as a UV absorber, which can help protect your color from fading.
Upon testing, we were impressed by how quickly the formula dried, how well the color blended, and how it gave third-day hair that 'just washed' look. Though the formula comes in five shades, we did find the Dark Brown hue can lean somewhat orange when applied to cooler toned brunette hair. So you may benefit from a lighter application approach if your hair is brown.
3. L'Oreal Magic Root Cover Up
Best budget root touch up
Specifications
RRP: $10/£9.99
Shades: 10
Formula callouts: Color safe, ammonia and peroxide free
Reasons to buy
+
Non-sticky
+
Easy to apply
+
Gives maximum coverage
Reasons to avoid
-
Difficult to remove from skin
Think of this root touch up product from L'Oreal like one of the brand's famously budge-proof waterproof eyeliners: once it sets, it won't smudge, but it will be difficult to manipulate so make sure you take your time applying it onto your hair (and not your skin).
It comes in a whopping 10 shades, and we love the variety and how easy it is to find the perfect match. During testing we found that it dries quickly and didn't transfer onto our pillowcase—it also didn't leave behind a sticky residue and actually maintained the texture of our natural hair. All in all, for the price, this is an excellent buy that offers natural-looking coverage for the hairline and grown-out roots.
4. Dphue Root Touch-Up Kit
Best permanent root touch up
Specifications
RRP: $32/£27.50
Shades: 6
Formula callouts: Low ammonia, color safe, free of parabens and sulfates
Reasons to buy
+
Permanent formula
+
Suitable for all hair types
+
Good color matching
Reasons to avoid
-
Requires precise application
While most root touch ups offer a temporary, wash-out formula, if a more permanent solution to your grays is what you're after, check out this kit from Dphue. It has everything you need including the touch-up color, developer color activator, mixing bowls, gloves, processing cap, and applicator brush, which makes it pretty foolproof even if you're not an expert in how to dye your own hair.
The kit covers up to one inch of grays and roots, and contains plenty of formula which we found was easily enough for two applications (you'll only need to use the second once you experience new hair growth) Because this is more of a salon-quality product and so much more than a temporary wash-out product, we found that you need to spend a bit more time and effort to be precise with application. A quick fix, this is not.
5. Color Wow Root Coverup Powder
Best root touch up powder
Specifications
RRP: $35/£29.50
Shades: 8
Formula callouts: Waterproof, no parabens
Reasons to buy
+
Doesn't transfer
+
Long-lasting formula
+
Comes with a dual-sided brush
Reasons to avoid
-
Doesn't work as well on freshly washed hair
Color Wow's Root Coverup Powder is beloved by many—in fact, the product has over 7,000 5-star reviews on Amazon for its ability to provide impressive coverage and staying power. It comes with a dual-ended brush (a smaller end and a larger end) suitable for a variety of areas depending on the type of coverage you're looking for.
During testing we found that this worked well when filling in the gaps in the hairline, giving the impression of thicker hair, and performed equally as well on random gray hairs. The formula also didn't transfer onto our scalp, skin, or fingers when applying, which is unusual for any temporary root cover. Do keep in mind that if your hair is freshly washed, it may not stick as well, but on the whole, it lasts extremely well.
6. L'ange Root Touch-Up Stick
Best root touch up stick
Specifications
RRP: $25 (US only)
Shades: 4
Formula callouts: Transfer-resistant, no alcohol, sulfates, or parabens
Reasons to buy
+
Glides on easily
+
Natural matte finish
+
Good for all hair types
Reasons to avoid
-
Could use better shade options
If you've never heard of a root touch-up stick, let L'ange's glide-on formula show you a thing or two. It fakes a thicker, fuller hairline after a few quick dabs and dries down to a natural-looking, matte finish.
We went into testing thinking that because it's a stick product, it's likely to transfer, but the formula proved us wrong and lasted until it was washed it out with our best shampoo and conditioner (impressive!). It was also simple to apply in a few short strokes and a few minutes of drying time was all we needed to see a difference. One thing we'd prefer to see is more shade options, specifically for those with red hair.
7. Style Edit Root Concealer Touch Up Spray
Best root touch up spray for color matching
Specifications
RRP: $25/£30
Shades: 5
Formula callouts: Contains color-adaptive pigments, color safe
Reasons to buy
+
Rain and sweat resistant
+
Self-adjusts to match hair color
+
Adds a shiny finish
Reasons to avoid
-
Sprays won't suit everyone
You'd be hard-pressed to find something this root touch up product can't do. Not only does it hide grays and regrowth, but it adds a lustrous, commercial-like gloss to strands as welll—perfect for anyone wondering how to get shiny hair in addition to covering up your roots.
What makes the formula unique is that it features color-adaptive pigments that are designed to stick to the hair fiber and self-adjust to your hair color. Of course, choosing one out of the five available shades gives the self-adjusting aspect a head start, but ultimately we did find that the formula blended nicely into our hair color for the most natural-looking finish of the lot. Check this out if you're into basic sprays but want something that goes the extra mile.
8. Madison Reed Root Touch Up Duo
Best root touch up for light hair
Specifications
RRP: $32 (US only)
Shades: 6
Formula callouts: Free of titanium dioxide, parabens, phthalates and gluten, made with keratin, argan oil and ginseng root extract
Reasons to buy
+
Can be used on brows and roots
+
Lasts over 60 uses
+
Includes 2 brushes for precise application
Reasons to avoid
-
A little expensive given the size of the product
It can be tricky finding a root touch up product that caters to those with light hair, particularly with multi-tonal salon color such as balayage and babylights. But Madison Reed's Root Touch Up Duo proves it doesn't have to be a daunting task.
The product is available in five shades, and each compact comes with two suitable shades, a mirror, and two brushes to make for an easy, no-fuss application process. We found combining the two shades, although trickier than a spray and go, also gave our hair more of a natural multidimensional finish than others on the list. And while the compact is small, the powders are highly pigmented enough that a little goes a very long way, so it should still last well. Plus, we love a good dual-purpose product, so the fact that this can be used on the roots and to create defined eyebrow shapes makes it a major front-runner in our book.
9. R+Co Bright Shadows Root Touch-Up Spray
Best root touch up for dark hair
Specifications
RRP: $26/£27.45
Shades: 7
Formula callouts: Free of parabens and sulfates, formulated with pearl extract, biotin, mica, and tapioca starch
Reasons to buy
+
Doesn't transfer
+
Easy to apply
+
Not sticky
Reasons to avoid
-
Can harden hair if you use too much
Have dark brown or black hair? It can be surprisingly tricky to find the best root touch up for deeper tones compared with blondes, but this pick from R+Co is sure to have a color match for you. There are several options for those with darker hair, including a Light Brown, Medium Brown, Dark Brown, and Black. Besides this, its formula features a cocktail of hair-benefiting ingredients: pearl extract to induce glossy shine, biotin to support thickness, and tapioca starch to absorb excess oil (third day hair, anyone?).
With that said, this does require a little skill to apply well. During testing, we realized that applying root touch up sprays is an art, and should be done by holding the bottle a few inches away from your face. We found that if we sprayed it too close to the roots, our hair felt hard and crunchy in the area it was applied. Go lightly, and this will reward you with excellent coverage and great shades.
10. Clairol Permanent Root Touch-Up
Best root touch up dye
Specifications
RRP: $9/£6.49
Shades: 14
Formula callouts: Permanent, non-drip formula
Reasons to buy
+
Only takes 10 minutes
+
Color lasts up to three weeks
+
Comes with a precision brush for easy application
Reasons to avoid
-
Must leave on longer than 10 minutes for gray hairs
If you prefer to have a more long-term solution to your grays or roots, a dye is what you need. Thankfully, you don't have to be a trained hair stylist to use Clairol's Permanent Root Touch-Up, which is why we appreciate the formula so much for newbies.
Our tester was a first-time hair dyer and found it to be fool-proof to use: the bottles were labeled so it was easy to figure out what was to be mixed, the precision brush made for neat application, and a simple rinse after ten minutes was all that was needed afterward, not even shampooing!. It also comes in 14 shades, which is the most out of any other option on our list. This is a great product to incorporate into your hair maintenance routine if you find yourself in need of consistent color retouching.
---
woman&home thanks Rita Hazan and Gökhan Vayni for their time and expertise
Michelle Rostamian is a Los Angeles-based beauty writer with 10 years of experience in the beauty industry. She began her career as a publicist, content writer, and social media manager, representing beauty brands and industry professionals. Currently, she is an editor and writer on all things makeup, beauty, skincare, and lifestyle. Michelle graduated from the University of California, Los Angeles with a B.A. in Communications. She has bylines at Cosmopolitan, Elle, Marie Claire, Allure, The Zoe Report, HelloGiggles, Yahoo, Byrdie, Well+Good, Reviewed, Women's Health, Runner's World, The Girlfriend, and more.