Your at-home hair dye questions answered–plus the best products and tips for salon color at home
Mastering at-home hair dye is easy once you know where to start. We've got the answers to your most-asked color questions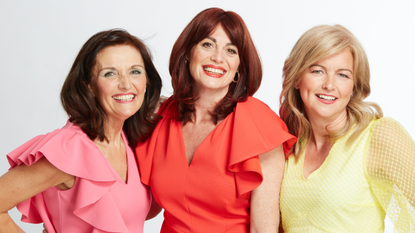 (Image credit: Jo Webster)
At-home hair dye has a number of benefits. It's cost-effective, there's no appointment required, and the whole process can be wrapped up in under an hour—all from the comfort of your own bathroom.
The downside is that you're missing out on the expert eyes and experience of a hairdresser who will not only be able to guarantee spot-on application (they have the advantage of being able to see the back of your head!), but who also advises on suitable shades and root growth too.
Our point? Don't be afraid to ask your usual hair stylist questions about at-home hair care and hair dye. From which are the best hair straighteners between the Dyson Corrale vs GHD Platinum to home blow-dry tips to whether the L'Oréal Professionnel SteamPod 3.0 is worth the investment, your hairdresser likely has an opinion. Which is exactly why we asked the best in the business for their top tips for at-home hair dye, so together we could answer some of your most pressing color queries.
At-home hair dye—everything you need to know
What hair color suits me
Arguably, the trickiest part of coloring your hair comes before you've even picked up the box: picking the right shade. It's a skill that colorists hone over years of practice, so it's no surprise that it feels overwhelming to the uninitiated.
In the salon, Katie Hale, colorist at Charles Worthington, uses a number of indicators to help choose the right tone for each of her clients. She'll pick up on things such as the clothes and jewelry color they wear to identify whether your skin has warm or cool tones and, if in doubt, enlists the help of a handy fan of color swatches.
"Not using the correct tone (warm or cool) will dramatically change the appearance of your skin," she explains. "If you've ever had brunette hair and it made your skin look drained and pale, the reason could possibly be that the wrong tone of brown was used."
But what about if you're picking your own shade and wondering "what color should I dye my hair?". "A good place to start is to think about the natural color of your hair as a child, how your hair looks in the sun or the color it is when you're feeling your best," says Sophie MacCorquodale, hair colorist at Salon Sloane. "Eye color, how your skin tans, your personality, and how much you want to invest in your hair are all factors in choosing the right color, too."
"If you're standing in the supermarket aisle and thinking, 'which at-home hair dye color is for me?' stick close to your natural shade," adds Clairol UK ambassador and hairdresser Michael Douglas. "One shade darker, one shade lighter, or the same depth, and you're not going to go far wrong. If you're really worried about making a mistake, stick to a semi-permanent color, then you can always top up regrowth with the best root touch up products. It won't lighten your hair, but it will make the color darker or deeper." Extra bonus tip: semi-permanent dyes leave hair impressively shiny.
Natural hair dye
Unfortunately, the term "natural" isn't regulated within the beauty industry so people can mean different things when they say "natural hair dye." The term often refers to products that use things such as henna and other plant dyes to color hair, but it can also be used to describe products that don't contain ammonia or peroxide.
Let's start with plant-based color and henna. "The major con," according to Sophie, "is that they develop with oxygen, so the coloring process is not controlled. With chemical colors, the color is activated by a processing agent such as hydrogen peroxide, so the products stop developing after around 40 minutes. With henna, the color doesn't stop developing, which is why your original red hair idea can keep getting redder and black hair gets darker." The shade ranges tend to be more limited with henna dyes too.
Next, "chemical-free" color. Long-lasting hair color that's free from ammonia is relatively easy to find, but most at-home permanent hair dyes still contain peroxide. Why? Because it makes the coloring process far more efficient.
"I've spoken to a lot of chemists who develop at-home hair dye, and they have looked at alternatives to peroxide and ammonia," says Michael Douglas. "But the bottom line is you don't want to compromise on the effectiveness of the product by just putting in alternative ingredients that don't actually work as well."
If you are fearful of a chemical overload, stick to semi-permanent dye, hair toners, and pigment-packed shampoos instead. "The pro of dyes without a development solution is that they can make your hair look super shiny, freshen tone, and camouflage grey a little. The only real con with these is that if your hair is damaged and porous, the color may last a little longer." Chances are, though, if you've chosen the color, you probably like it, so that's not always a bad thing.
Best hair color to cover gray
First, let's establish why gray can be so difficult to color. "Gray hair has no color pigment, so it's not really gray at all; it's white," explains Sophie MacCorquodale. "If you imagine painting a white wall brown, it usually takes a few coats. The same principle applies with stubborn white hair."
The best hair color to cover gray will depend on the result you want. "Semi-permanent color will give you about a 50% blend on grays," says Michael Douglas. "What that means is, if you took a single strand of white hair and colored it with semi-permanent, you could get 50% coverage on a single strand." What it doesn't mean is that if you're 50% grey, you'll get 100% coverage on those parts. The result of a semi-permanent is a soft, blended finish, but you'll have to re-apply regularly to maintain the coverage.
Permanent color will cover 100% of greys, but you'll get a harsher root line as your regrowth comes through. "People often say that their grey goes a bit orange when they use an at-home hair dye on their roots, so if that's the case for you, choose a shade with an ash tone to it."
"If you're struggling to get the color to cover your gray, the more product you put on, the better. You can develop it for an extra 10 minutes too. You can't go too overboard, as once the developer in permanent color oxidizes, it can't do any more. As at-home hair dye stops oxidizing at around 40 minutes, even if you left it on for an hour, it would only do 40 minutes worth of work." If you're still finding the gray is being stubborn, try a darker shade next time.
How to apply hair color
Before you start applying your at-home hair dye, first consider the cleanliness of your hair. "There's something called the acid mantle, which is a mixture of sweat and grease that sits on the scalp," explains Michael Douglas. Shampooing washes this away, which means your skin has less protection from potential irritants in the dye. Ideally, hair should be on day 2 or 3 when coloring.
As for the application itself, precision is key. "The better you can apply it, the more superior the result will be," continues Michael. "Start by applying it to the most important areas to you. This is usually the temple, hairline, and parting, as these are the bits that you see the most. Or, apply it to the greyest areas first, as the color will be on those areas for longer." We'd recommend dividing your hair into sections, especially if it's thick, to ensure an even coating.
To avoid missed spots, Michael recommends working with two packs at once. "Mix them both at the same time so they can develop at the same rate. Then, if you ever feel like you're running out, you've got another. The more you put on, the better too." Once you're comfortable you've coated those must-reach areas, use a comb to ensure even distribution across the mid-lengths and ends.
Highlighting at home
According to Katie Hale, home highlight kits have disaster written all over them. "The technique takes years of training to perfect, and not only could you end up with patchy blobs, but mismanaged bleach can cause extreme breakage."
"Using any lightening products at home is always risky," adds Sophie MacCorquodale. "This is because you need to also lift the red and orange pigments (known as pheomelanin) from the hair. If you have dark hair, the pheomelanin is extra stubborn and will turn your hair orange or yellow. Often home hair colors are not capable of removing these tones." Risk of orange hair aside, at-home hair dyes will only lighten by 3-4 shades max, so they are unlikely to reward you with the beachy blonde you're hoping for.
Still, want to switch up your shade? "What those with lighter hair and long layers can do is get a very blonde color and paint some onto the ends," advises Michael Douglas. "It's a nice way of adding a bit of texture, is simple to do, and the margin for error is not that great." It'll help you achieve a more convincing color, too, as naturally, the ends of your hair will always be lighter than the lengths and roots.
Does hair dye expire?
When you find a product you love, we understand the temptation to stock up in bulk. Unfortunately, everything has an expiry date, and that box dye you just found at the back of your bathroom cupboard could be past its best.
"I'd say if at-home hair dye has not been used in 3 years, then it is time to not use it," says Sophie. "Peroxide is usually the first ingredient to expire, so you will find that the color doesn't develop properly. If you have any doubts, test it on a single strand of hair first. This will save the disappointment of a product not working after you've applied throughout."
To get the most from your coloring products, store them in a cool, dry place away from direct sunlight. As long as it has remained fully sealed, there's no reason why hair dye cannot be used right up until the expiration date on the box.
How to get dye out of hair
To avoid a dye disaster in the first place, don't stray too far from your natural hair shade when using at-home hair dye. "I think that if you color your hair, you should do everything possible to make it look like you haven't colored it," advises hairdresser Luke Hersheson. "It's like good botox. You don't want people to be able to spot that you've had it done." Box dye will only alter your hair by 2-3 shades, so manage your expectations and leave extreme color changes to your hairdresser.
If you have taken the plunge and your DIY color shake-up hasn't gone as planned, the best port of call is your hairdresser. "Removing color is one of the most technically difficult services," says Katie Hale. "There are so many rules that professionals need to adhere to, so cutting corners could get messy. You may think you're saving money by removing the color at home, but if it goes wrong, you could be spending more money on correcting it and also on a huge batch of protein products to get your hair back in top condition."
If you're desperate and can't get an appointment, there are at-home color removers available.
Semi-permanent color is far easier to remove. "As long as it has been used correctly, it will wash out," explains Michael Douglas. "The only problem is if you've used it on top of highlights or porous hair, as it can fall into the cortex of the hair and stain. In most cases, applying anti-dandruff shampoo to dry hair and leaving for 10 minutes before shampooing and conditioning will do the trick."
The best at-home hair dye products to try now
Clairol Nice'n Easy Creme Permanent Radiant Colour
Best at-home hair dye for a natural finish
Specifications
RRP: £6.49
Shades: 54
Key features: Oil infused formula, conditioners at each step
Lasts : Permanent
For home hair color with a natural finish, Nice'n Easy is hard to beat. The cream texture makes it easy to control and apply.
Josh Wood The Miracle System
Best at-home hair dye for hair health
Specifications
RRP: £29
Shades: 11
Key features: Ammonia-free, toning shade shot, Vitamins B3, B5, Omega 3 and 6
Lasts : Permanent
This clever system floods the hair with moisture as it colors, leaving hair soft, swishy, and full of shine—one of the best at-home hair dye packages on the market.
It's Pure Organics Herbal Hair Colour
Best natural hair dye
Specifications
RRP: £10.95
Shades: 9
Key features: Certified Organic, chemical-free
Lasts: Permanent
Keen to give herbal color a go? This won't lighten, as it doesn't contain bleach, but will leave hair with a tint.
Wella Colour Fresh Mask
Best colour-boosting mask
Specifications
RRP: £16
Shades: 11
Key features: Toning and glossing, silicone-free, fades true to tone
Lasts : Temporary
One of the best color masks we've tried, this deposits plenty of pigment—as well as a hefty dose of shine—onto the hair. Use every time you wash your hair, until you reach your desired shade, then once a week after that for maintenance.
Clairol Natural Instincts Conditioning Colour
Best for covering grey
Specifications
RRP: £6.99
Shades: 37
Key features: Non-drip, 80% naturally derived, aloe vera and coconut
Lasts: Semi-permanent
For a blended grey without strong regrowth lines, this semi-permanent color provides a natural-looking finish. It's completely vegan and free from ammonia too.
Color Wow Root Cover Up
Best root cover
Specifications
RRP: £28.50
Shades: 8
Key features: Total grey cover, water-resistant, wax and dye-free
Lasts: Temporary
Worried about touching up your roots at home? Give this a go instead. It's easy to use, mess-free, and washes out at your next shampoo.
Bleach London No Bleach Bleach
The best lightener
Specifications
RRP: £8
Shades: 1
Key features: Bleach-free gentle lightening, conditioning mask included
Lasts: Permanent
No bleach is without its risks, as it can still leave hair dry and brittle. This one works to minimize damage, though, and is suitable for untreated hair that's light brown or blonde.
Davines Heart of Glass Sheer Glaze
Best blonde hair toner
Specifications
RRP: £22.50
Key features: Hydrates, glosses, adds styling hold
Lasts: Temporary
Instead of reaching for the bleach, consider perking your existing color with a brightening treatment like this one. It delivers amazing gloss and shine and can even be used by brunettes.
Colourless Hair Colour Remover Max Effect
Best for removing hair dye
Specifications
RRP: £9.99
Key features: Strips pigment, fragranced
Lasts: Permanent
A good product for hair that's taken on too much color. Stick carefully to the pack instructions, and don't be surprised if orange tones creep through. Follow up with a nourishing hair mask to restore moisture lost through the process.
Patch tests
If you're using at-home hair dye, a patch test is non-negotiable. In fact, it's a legal requirement in all UK salons.
"Patch tests are so important as a small minority of people can have an extreme allergic reaction [to a product]," explains Michael Douglas. Reactions are mainly caused by PPD, a molecule found in permanent dyes. "The statistics are that 1 in every 2 million applications will result in a reaction," continues Michael. "So you're so more likely to have a reaction to eating peanuts, strawberries, or eggs than you are from coloring your own hair." That being said, there have been fatalities, so you can never be too careful.
Although unsubstantiated at this stage, there are also concerns within the industry that Covid-19 could cause an increase in allergic reactions. "Originally, the guidance was that patch tests were to be carried out on all new clients and every 6-12 months on existing clients," explains Sophie MacCorquodale. "This is as medical conditions, the physiology of the body and hair products can all change during this time."
"However, this has been increased to every visit as we don't know the lasting implications of Covid-19 on the hair, skin, and body. What we do know is that many people's immune systems have been over-stretched fighting the virus, and this can affect the scalp. As a result, there is some suggestion that long-term Covid increases sensitivity to allergens."
Not sure how to carry out a patch test with at-home hair dye? It's simple. Apply a small blob of dye to the skin behind your neck at least 48 hours before you plan to use your color. This gives the body plenty of time to react. If, after that time, there has been no flare-up around the area, you can assume the product is safe to use.
Jess Beech is an experienced fashion and beauty editor, with more than eight years experience in the publishing industry. She has written for woman&home, GoodtoKnow, Now, Woman, Woman's Weekly, Woman's Own and Chat, and is a former Deputy Fashion & Beauty Editor at Future PLC. A beauty obsessive, Jess has tried everything from cryotherapy to chemical peels (minus the Samantha in Sex and The City-worthy redness) and interviewed experts including Jo Malone and Trinny Woodall.