How to dye your own hair at home: a step-by-step guide with colorist Josh Wood
How to dye your own hair at home and and achieve a salon-standard finish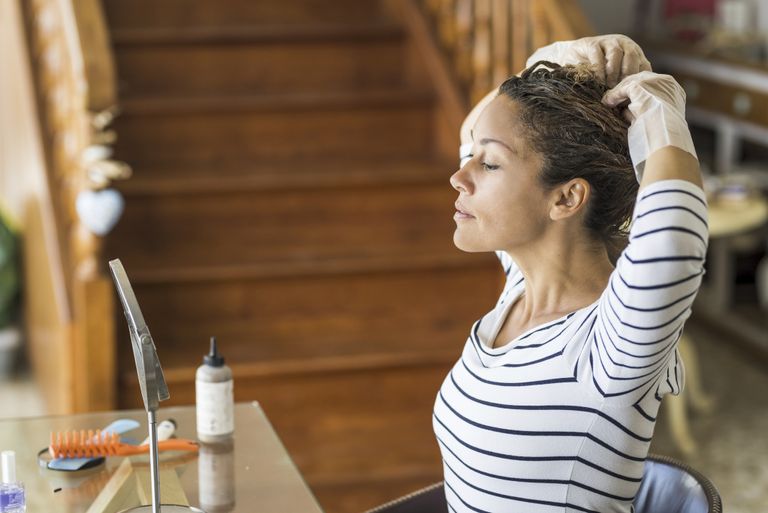 (Image credit: Getty Images)
Some say picking a shade is the trickiest part of learning how to dye your own hair (warm or cool tones—help!). But it's the prep and application that often leave us stumped.
From patch tests to trying not to stain your T-shirt, towels, and bathroom tiles in the process, a lot goes into the DIY hair dyeing process. That's probably why so many of us choose to visit a salon for complicated color and stick with easier hair techniques at home, like a sleek blow-dry with the best hair dryer. 
Then again, much as we'd probably all love to come in for a balayage hair appointment every six weeks, life doesn't always work that way; perhaps you aren't able to get to the salon as often as you'd like, or maybe you simply prefer to DIY with home highlight kits. Either way, we've consulted expert colorist and esteemed W&H Hair Awards judge Josh Wood to bring you this step-by-step guide to creating salon-quality hair color at home. 
How to dye your own hair: Josh Wood's 5-step guide
Josh suggests a simple five-step approach to dyeing your own hair at home. You will need:
Wide-toothed comb to detangle hair
Dye comb or brush
Plastic clips to section hair
Old T-shirt or towel to catch any spills
Vaseline or petroleum jelly 
Box dye of choice
Optional: mixing bowl, hand gloves if not included in box dye
Step 1: Don't skip the patch test.
Regardless of your natural hair—be it short, long, a wavy hairstyle , or a bob hairstyle—the crucial rule when using any hair dye is to ensure it isn't going to cause a reaction. As formulas can change and allergies can develop without warning, it's important to do this every single time, even if you have used the brand before. 
Need more help with color choice? Your skin tone and the seasons can give a good jumping-off point for the best hair color to try.
Once you've got your ideal color locked in, it's time to prep your station and get to work. "Make sure you do a patch test and ideally a strand test. Then you're ready to begin," advises Josh. 
Wear an old shirt or put a towel around your shoulders in case of any spills, and use the disposable hand gloves included in the box before handling any dyes, chemicals, or developers.
Step 2: Divide and conquer.
"You should use a wide-toothed comb to brush out your hair beforehand; smooth hair means you won't get clumps of color or missed patches. Then, split your hair into a 'hot cross bun' style, i.e. four sections.
"When you begin to color and learn how to dye your own hair, you should endeavor to keep your sections neat so that it's easy to keep track of which parts have been colored and which haven't. To section the hair as you go along, you can use the comb, or even just the tip of the color bottle." Ed's tip: You can also use hair clamps or plastic alligator clips to help keep the rest of your hair in place while working section by section.
Step 3: Rethink your technique.
"I personally recommend using the 'dotting method' when applying color. Practically, this means squeezing the bottle and dotting the color on in a line along your section parting, and then rubbing the dots in to your roots for maximum coverage. Technique really is everything. The trick here is to take your time and really make sure you've caught every last grey. Stubborn greys tend to appear around your hairline, so it's worth paying particular attention to this area when you apply your color."
Step 4: Tackle the back.
"Coloring the back of your head is, undeniably, the hardest part of home hair coloring, especially when you're alone. Your ideal situation is, obviously, to have someone else to look over your work and let you know if you've missed any parts. 
"However, you can create equal results yourself taking some time and using a hand mirror. Naturally, you will rely on 'feel' more when it gets to the back of your head, but if you use the double mirror method (a hand held mirror reflecting the back of your head into a larger mirror), you will be able to see clearly if you've missed a spot."
Step 5: Gently remove any stains. Done!
"There are a couple of ways to avoid color staining the skin. If you are at home, Vaseline works well. You can also purchase barrier cream from pharmacies. The best way to stop staining is to not leave the color sitting on the skin for too long. 
"Wet a cotton round and carefully wipe around the hairline, being careful not to scrub the color off the hair. If you have left the color on and it has stained, lather shampoo on cotton wool and rub quite vigorously. Alternatively, use some skin toner, as this works well too." 
Ed's tip: You can also prevent staining to begin with by applying a thin layer of Vaseline around the hairline, temples, and nape before Step 1. You're done!
woman&home thanks Josh Wood for his time and expertise.
Jess Beech is an experienced fashion and beauty editor, with more than eight years experience in the publishing industry. She has written for woman&home, GoodtoKnow, Now, Woman, Woman's Weekly, Woman's Own and Chat, and is currently Deputy Fashion & Beauty Editor at Future PLC. 
She caught the magazine bug during a stint as Fashion Editor of her university newspaper alongside her English degree, and hasn't looked back since. As for the fashion bug, that came as part and parcel of growing up in the 90s, but the less said about that the better!
Jess' average day in the office is spent researching the latest fashion trends, chatting to industry tastemakers and scouring the internet to bring you this season's must-buy pieces - as well as advice on how to wear them. Weekends are equally fashion-focused, and Jess has been known to visit no less than five Zara stores in a single day in search of the perfect occasion dress. 
The only thing that comes close to a buzz of finally tracking down that much-coveted dress is the joy of discovering a new beauty wonder product or hero ingredient. A beauty obsessive, Jess has tried everything from cryotherapy to chemical peels (minus the Samantha in Sex and The City-worthy redness) and interviewed experts including Jo Malone and Trinny Woodall.