Best toner: 14 easy liquids that smooth, hydrate and boost glow
Our beauty team selects the best toners for every skincare need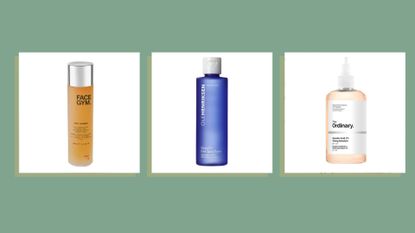 (Image credit: Future)
woman&home newsletter
Sign up to our free daily email for the latest royal and entertainment news, interesting opinion, expert advice on styling and beauty trends, and no-nonsense guides to the health and wellness questions you want answered.
Thank you for signing up to . You will receive a verification email shortly.
There was a problem. Please refresh the page and try again.
The best toner will help to bring your skin back to its natural pH level after cleansing, prime it for serums and moisturizers, and many offer additional benefits with targeted ingredients to address specific concerns.
If you don't already use a toner, then crowbarring this extra step into an already-time-consuming routine might seem unnecessary. Experts do agree that, historically, even the best toner wasn't entirely essential. "Toners were previously used to remove whatever was left behind of your make-up after using your best cleanser," explains Cosmetic Doctor Dr Sonia Khorana. (opens in new tab) "However, cleansers are pretty good at doing this job now, and most are also pH-balanced."
Luckily, toners work harder these days too. "Today toners can be a lot of things, from hydrating to refining to exfoliating," says Dr Marie Drago (opens in new tab), microbiome expert and founder of Gallinée. Indeed, toners are no longer a one-size-fits-all and contain active ingredients similar to those you'd find in a supercharged serum or the best night cream. There are toners that target pigmentation and mottled patches, others that gently exfoliate, improving skin texture and luminosity. And if you're prone to redness, there are gentle, cosseting versions that will slot into a skincare routine for sensitive skin too.
How we tested the best toners
Why you can trust Woman & Home Our expert reviewers spend hours testing and comparing products and services so you can choose the best for you. Find out more about how we test.
When it comes to skincare, it can be challenging to find what works for you. Toners are particularly tricky if you have sensitive or blemish-prone skin that tends to reject new products, so experimenting to find the right one can be a daunting process. That's why we tried out some of the best toners on the market, testing them on various skin types and including them in our skincare routines for at least a week to see how each performed when used consistently. This guide will help you to determine which product will work best for you and what results you can expect to see, as well as any potential complications to bear in mind.
The best toner for all skin types, chosen by our beauty team
1. Pixi Glow Tonic
The best toner for most people
Specifications
RRP: $29/£18
Key ingredients: Glycolic acid, aloe vera, red ginseng
Designed to: Exfoliate and brighten lacklustre skin
Reasons to buy
+
Alcohol free
+
Boosts luminosity
+
Smells great
Reasons to avoid
-
No downsides, we love it
Pixi Glow Tonic is a cult skincare staple that has acquired legions of adoring fans thanks to its ability to switch on the skin's glow like a light switch. The 5% glycolic acid formula unglues the bonds that lock dead cells to the surface to purge pores, smooth skin and accelerate cell turnover. All this exfoliating goodness is offset by soothing aloe vera to keep skin feeling nice and comfortable.
All of this together made make-up application a much smoother task—even the best foundation can look a little uneven if your skin texture isn't quite right, but after using this my base seemed to sit better on my skin, looking more even and natural. From the very first evening, my face looked a lot perkier, and within a week I was waking up to noticeably brighter, healthier-looking skin. This is a great toner to have in your arsenal when your skin is looking a little fatigued and dull.
2. Face Gym Skin Changer
The best expert toner
Specifications
RRP: $48/£38
Key ingredients: Succinic Acid, Quince Leaf Extract, Upcycled Pumpkin Extract
Designed to: Target congestion, blemishes, dullness and dehydration
Reasons to buy
+
Exfoliates and hydrates in one
+
New-to-market formula
+
Gets to work quickly
Reasons to avoid
-
Pricey compared to other toners
Face Gym has changed the skincare game with its offering of 'Workout' facials, beauty treatments designed to target the forgotten muscles in your face for increased lift and contouring. Alongside these innovative studio workouts, the brand also has an impressive range of at-home tools and products you can trust to keep your skin looking its best between appointments.
Skin Changer essence-toner hybrid is one of the brand's star products, and it does exactly what it says on the tin. After patting into the skin it takes a few minutes to dry down fully and creates a plump, just-moisturized feel to the face. Skin is also left ever so slightly tacky to the touch, which quickly fades, forming the ideal base for the rest of your skincare routine. After testing this for a few days, my skin looked brighter and felt more hydrated, and with long-term use, you can expect less breaking out and faded hyperpigmentation too. It's unscented but has a lovely, naturally fresh aroma plus the premium frosted glass packaging is just an added bonus.
3. The Ordinary Glycolic Acid 7% Toning Solution
The best heavy duty toner
Specifications
RRP: $10/£8
Key ingredients : 7% glycolic acid, amino acids, aloe vera, ginseng and tasmanian pepperberry
Designed to: Improve skin radiance, texture and clarity
Reasons to buy
+
Vegan & cruelty free
+
Works fast
+
Affordable
Reasons to avoid
-
Probably too harsh for sensitive skin
When we say heavy-duty, we mean it. This toner will tackle all of your skincare woes quickly and effectively - however, this probably won't be suitable for sensitive or overly dry dehydrated skin. Best for those who are acne prone, or have stubborn scarring or rough texture that just won't budge, this ridiculously affordable toner from The Ordinary is one of the best out there.
Glycolic acid is a holy grail ingredient for many skincare junkies, particularly those who suffer from breakouts, due to its ability to help you shed dead skin cells. It is also a multi-use product, with many fans of this toner using it to help prevent ingrown hairs or reduce odor under the armpits (yes really!) On my acne-prone skin, I find that using this toner every other day is plenty to keep my breakouts at bay without over-drying. For best results, use your hands to gently pat it into the face and allow it to dry before applying other products.
It is best to use this toner in the evening, and be sure to use your best facial sunscreen every day when using this (or any type of glycolic acid) as it makes you more susceptible to sunburn.
4. Ole Henriksen Glow2OH Dark Spot Toner
The best toner for fine lines and dark spots
Specifications
RRP: $34/£25
Key ingredients: Lactic acid, witch hazel water, lemon and sugarcane
Designed to: Treat dark spots, fine lines, wrinkles and visible sun damage
Reasons to buy
+
Multi-use product targeting lines and skin clarity
+
Vegan
+
A little goes a long way
Reasons to avoid
-
More expensive than other drugstore toners
When it comes to fine lines and deep-set sun damage, it can often feel like no amount of skincare will reverse these signs of ageing. That is until you stumble across this toner. Ole Henriksen has made a name for itself in the skincare world, largely thanks to a brightening and glow-inducing range of products that always deliver on results - and this toner is no different.
Part of a PM range designed for use in a skincare night routine, this product is designed to be used after cleansing in the evening and followed up with the brand's barrier booster essence that will reveal a lit-from-within glow the next morning. For best results, use a cotton pad to sweep the product across the face and remove any excess dirt or build-up that your cleanser didn't quite tackle.
This toner has a lemony fresh scent that makes you feel squeaky clean and absorbs super quickly into the skin. You may feel a slight tingly sensation when first applying, but this is common with AHA products that really work. It is also suitable for sensitive skin, so what's not to love?
5. L'Oréal Revitalift 5% Pure Glycolic Acid Peeling Toner
The best drugstore toner
Specifications
RRP: $19.99/£14.99
Key ingredients: Glycolic acid, watermelon fruit extract
Designed to: Smooth skin texture and reveal glowing skin
Reasons to buy
+
Ideal for skin prone to irritation
+
Suitable for daily use
+
Fresh scent
Reasons to avoid
-
Slightly tricky applicator
Another one of the best toners that features acne-fighting glycolic acid, this is a less harsh alternative to The Ordinary's formula, for everyday use. Ideal for those with sensitive skin who need something effective without damaging the face, this peeling toner works to gently exfoliate and reveal a radiant complexion.
Immediately after using this, our skin didn't feel dry or stripped, in fact, this refreshing formula replicates the sensation of splashing your face with water. However, don't use that as an indication that you can skip your best face moisturizer. Follow up with your favorite cream to re-hydrate and lock in that glow.
One thing to bear in mind is that the texture of this toner is more watery than others, so comes out of the bottle pretty quickly. Be mindful of this when applying, particularly if you use your hands instead of a cotton pad.
6. Gallinée Face Vinegar
The best probiotic toner
Specifications
RRP: $35/£23
Key ingredients: Prebiotics, postbiotics
Designed to: Soothe and brighten
Reasons to buy
+
Softens from the first use
+
Soothes sensitive skin
+
Removes leftover make-up amazingly well
+
pH balanced
Did you know that human skin has one million microbiomes per square centimeter? In nourishing this bacteria with pre- and probiotic skincare, you can strengthen the skin barrier, which translates to smoother, brighter, more resilient and healthy-looking skin. This toner is like plant food for your microbiome, giving those good guys the perfect environment to thrive. We'll admit, the idea of face vinegar didn't exactly have us at "Hello" but rest assured, there is only the faintest tang as you splash it on a cotton pad, and you won't notice it at all once it's swept over your skin.
I am lucky in that I don't have particularly sensitive skin, but in winter it can get a little tight, dry and flaky, all traces of which vanished within days of using this tonic. My skin felt so soft after each daily sweep, and after a week my complexion looked a lot brighter and clearer. What was particularly impressive was how much extra make-up it managed to purge from my pores. As a faithful double cleanser, I never thought I'd need this extra step in my regime but looking at the grimy evidence on the cotton pad has completely convinced me that I need a toner going forwards. And this one is a great, suits-all option.
7. Philosophy Microdelivery Resurfacing Solution
The best toner for uneven skin tone
Specifications
RRP: $40/£28
Key ingredients: Vitamin C, glycolic acid, niacinamide
Designed to: Exfoliate, brighten and smooth
Reasons to buy
+
Makes skin look glowy
+
Evens out mottled skin tone
+
Gentle exfoliation
Reasons to avoid
-
Pump can be a little messy
People generally fall into two camps—those who love the satisfyingly abrasive feel of a face scrub and those who prefer the softly-softly approach of skincare acid liquid exfoliants. But even those in the former group might be swayed by this daily resurfacing tonic and its baby-like softening effect on the skin. I have always loved the 'feels like it's really doing something' aspect of a physical exfoliator, and Philosophy's groundbreaking at-home, two-step Microdelivery Peel Kit set the bar on that product type. This new liquid variant contains a good dose of resurfacing actives (the 4% alpha-hydroxy acid blend is gentle enough to use daily) but simultaneously boosts skin hydration.
It has a pump dispenser, a bit like some nail polish removers, which should make things easier by giving you the option to saturate a cotton pad one-handed, but the applicator is a little bit haphazard. Once you apply it, the liquid glides across the face without the slightest tingle despite the presence of glycolic acid, which will be a relief to those with sensitive skin. If you're worried that this liquid exfoliant might leave dry skin even drier, don't be. There is zero tightness. In fact, this leaves skin plump with moisture after each application, thanks to the welcome addition of hyaluronic acid.
8. Liz Earle Instant Boost Skin Tonic
The best toner for dry skin
Specifications
RRP: $23/£16.50
Key ingredients: Aloe vera, calendula, cucumber
Designed to: Replenish thirsty skin
Reasons to buy
+
Alcohol-free formula
+
Suitable for sensitive skin
+
Deeply hydrating
Reasons to avoid
-
Leaves skin a little tacky
If plant-powered natural skincare is important to you, treat your skin to this tonic, created back in 1995. It has a lovely, soft botanical scent, fragranced with a blend of essential oils, which belies the naturally active ingredients within the formulation.
Don't be thrown by the gentle, radiance-enhancing botanical ingredients. This toner produces tangible results. Even after double cleansing, it removed a lot of extra muck on the cotton pad. When the skin feels slightly tight and uncomfortable after cleansing, this tonic cures that symptom—a testament to its pH-balancing credentials, replacing stiffness with a soft and sated feeling. Aloe vera offers instant refreshment and cucumber extract provides a calming, cooling effect. If you have a regime already filled with high-powered actives in serums and creams, this gentle and soothing tonic will be a sympathetic pairing.
9. Hylamide Pore Flush
The best toner for enlarged pores
Specifications
RRP: $11/£12
Key ingredients: Bridewort bioderivatives, natural marine polymers
Designed to: Purge pores and minimise their appearance
Reasons to buy
+
Alcohol-free formula
+
Mattifying effect
+
Immediate pore-minimising results
Reasons to avoid
-
Spray won't suit everyone
This toner would make a strong choice for skincare for oily skin or combination skin. The mist takes a two-pronged attack on pores. First, it flushes out congestion and then it reduces sebum overactivity—both of which result in pores eventually appearing smaller. It also provides a more immediate effect by forming a natural marine-derived matrix over the face to constrict pores instantly, and I'd say there definitely was a slight improvement from the get-go.
I don't have excessively oily skin, and yet my pores are perceptible from outer space. Well, maybe not, but I've always been aware of them. This spray-on mist is directed straight onto the skin. In one respect, this is great. It's quick, easy, and doesn't require a cotton pad. However, I found the spray a little gung-ho, so it took a couple of minutes for my skin to dry. Plus, my pores are confined to my T-zone and cheeks, so a spray makes it a little trickier to target those areas. Expect it to take a good few weeks to really see the full effect of a good pore flush but it's definitely worth the wait for oily types.
10. The Inkey List PHA Toner
The best toner for sensitive skin
Specifications
RRP: $10.99/£9.99
Key ingredients: Polyhydroxy acids, niacinamide, aloe barbadensis leaf juice
Designed to: Gently exfoliate and brighten dull, rough, sensitive skin
Reasons to buy
+
Gentle formula
+
Reasonably priced
+
Leaves skin extremely soft
Polyhydroxy acids (PHAs) provide gentle exfoliation on the skin's surface and are ideal for congested, dull and rough complexions. PHAs also have humectant properties, meaning they help your skin attract and maintain moisture. So if you're weighing up AHA vs BHA, which are often associated with side effects such as dryness and irritation, PHA could be worth a try instead. These polyhydroxy acids help to enrich the complexion as they slough off dead skin and clear out pores.
I can certainly speak to its gentle approach. I didn't experience a hint of tingling or stinging, and my skin felt comfortable afterwards, rather than gagging for serum and moisturizer. Of all the toners on this list, this left my skin with the softest, silkiest feeling, and a glow akin to having emerged from a facial. Some reviews say it has visibly helped users who are learning how to get rid of acne scars, and while I don't have much in the way of scarring, my skin already feels less bumpy and rough.
11. Scientia Peach & Glow Hydra Skin Tonic
The best toner for pigmentation
Specifications
RRP: $33.12/£24
Key ingredients: Tranexamic acid, Matrixyl 300, glycerin, bakuchiol
Designed to: Target pigmentation and brighten
Reasons to buy
+
Aesthetically pleasing
+
Enhances radiance
+
Feels refreshing
Reasons to avoid
-
Peach scent may be polarising
This splash-on tonic is immediately inviting, from the delicate pastel packaging to the weighty glass bottle. Even the font is beguiling. Once all the aesthetics are taken in, there's the scent of peach for the senses to contend with. It's quite subtle, like one of the best lip balms in a fruity summer edition, but others may find it a bit sweet for their liking. The website recommends squirting the tonic into the palms of your hands and sweeping it directly over your skin. They say this means that lovely peachy nectar won't be soaked up by your cotton pad, which is true, but it can be a little messy.
The formula itself is enriched with collagen-boosting Matrixyl 3000 (the famous peptide also found in No7 Protect and Perfect Serum) and tranexamic acid, a hot-right-now ingredient that reduces skin discoloration and fades pigmentation—perfect to help atone for past sun damage. The generous splash-on application meant my skin looked radiant, juicy and dewy immediately. It was also plump and bouncy to the touch and ironed out creases around my eyes very nicely. I hope it can do the same for my post-sun freckles too.
12. Zelens Provitamin D3 Fortifying Mist
The best toner for protecting skin
Specifications
RRP: $74/£48
Key ingredients: Provitamin D3, Hyaluronic acid
Designed to: Support a healthy skin barrier to protect against environmental aggressors
Reasons to buy
+
Can be layered under and over make-up
+
Tops up thirsty skin
+
Strengthens the skin barrier
Reasons to avoid
-
Spritz was a little direct
Perfect for those living in a high-pollution, urban environment, this spray-on shield helps bolster the skin against environmental aggressors. The star ingredient is an encapsulated form of provitamin D3, which is converted to vitamin D when exposed to sunlight. This helps to support the skin barrier function, keeping goodness locked in and irritants and pollution locked out.
It's a spray-on formula, which means you can top up throughout the day whenever you need a big slurp of moisture and an extra layer of environmental defense. However, I found the applicator to be a little too direct so I preferred to spray it into my palm and press it into my skin, which seemed to work well. Expect skin that's juicy with moisture and that looks a lot brighter and healthier with every spritz—it's perfect for dehydrated skin and my current desk staple for hydration top-ups.
14. La Roche-Posay Effaclar Clarifying Lotion
The best toner for blemish-prone skin
Specifications
RRP: $17.93/£12.50
Key ingredients: Lipo-hydroxy acid
Designed to: Remove blackheads and minimise pores
Reasons to buy
+
Unlikely to irritate
+
Curbs excess oil
+
Dermatologist-recommended
Reasons to avoid
-
Slight tingling sensation
The worry with astringent toners is that they will be a little too efficient at eliminating excess oil, and will leave skin feeling stripped and tight. That is far from the case with La Roche Posay's hypoallergenic, minimalist formula, which has been specifically developed with reactive skin in mind. So yes, it helps to regulate oil production, prevent blemishes and unblock pores but not at the cost of irritating or drying out the skin.
It was amazing (and hugely satisfying) to see how much residue came off my face when using this toner after cleansing, and my pores certainly looked less gapingly obvious. With a complexion that errs on the dry side, I may not be the target audience for this toning lotion but my skin felt refreshed, softer, and looked more refined—proving that every skin type can benefit from gentle clarifying.
---
How to choose the best toner for your skin type
While most experts agree that healthy skin doesn't hinge on using toner, liquid skincare does offer worthwhile perks. The key is to choose a formulation tailored to your skin type or concern.
If you have visible pores: Nothing is going to physically tighten and constrict your pores, not even the most alcohol-laden toner. However, what an astringent acid toner does is thoroughly de-gunk pores, purging whatever residue and oil might emphasize their appearance. They can also be a little more gentle than most acid products, so in this case the answer to the big question - how often should you exfoliate your face - can be up to three or four times.
If you have sensitive skin: The skin barrier is your skin's frontline defense, keeping moisture locked in and irritants locked out. A weakened skin barrier can lead to redness, irritation, and sensitized skin. Strengthening this outer layer is crucial for healthy skin, and can be supported by the right toner, according to Dr Marie Drago who recommends choosing "a slightly acidic toner to help rebuild the skin barrier".
If your skin is off-balance: Your skin's pH level sits around 5.5, while water has a level of 7, which means that splashing your face after cleansing can throw your skin off-kilter and cause issues such as redness, excess oil, or flaky skin. Choosing a gentle acid-based toner can work to bring the skin back to a comfortable pH level.
If you're dehydrated: Hydrating toners make your skin more receptive to any serums and creams you apply thereafter. When water affects the skin's pH, your moisturizer has to work harder to restore equilibrium before it can begin treating dehydration. A supercharged toner can address the PH issue and give skin an easily-absorbed early moisture boost.
Toners can also be referred to as essences, tonics or waters. Once you've found the best toner for you, apply it on a daily basis, either splashed onto a cotton pad (reusable for extra eco points) or sprayed directly onto the skin. Always apply to dry skin after cleansing and before other skincare, to make your best eye cream or best retinol cream even more effective.
Stephanie Maylor is a Beauty Editor working across five national magazine titles, with almost 15 years' experience in the industry. She has written for many brands, including woman&home, Grazia, Now, More!, Fabulous, NW, Woman, Woman's Own, Woman's Weekly, Essentials, Best, Chat, and OK! online.
In 2010 she launched her own beauty blog, which was shortlisted for Best Beauty Blog in the 2011 and 2012 Johnson & Johnson Beauty Journalism Awards. She has interviewed many high profile industry experts and celebrities including Alesha Dixon, Twiggy and Christina Hendricks.