Pixi Glow Tonic: Everything you need to know about this hero beauty product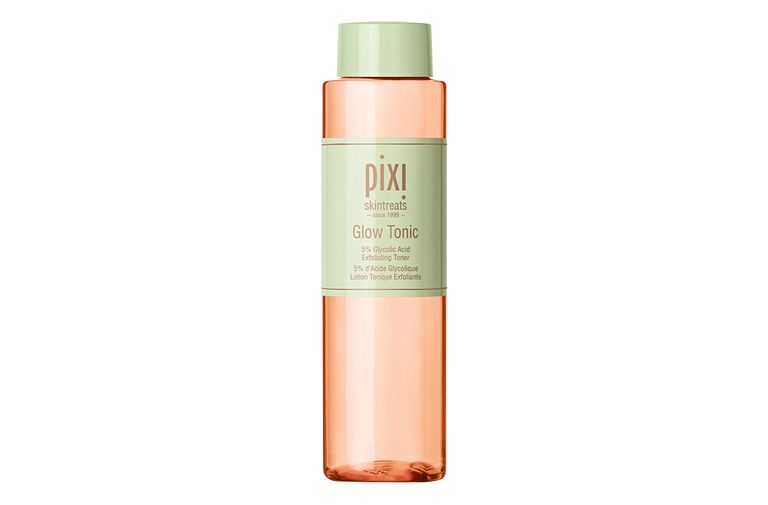 Pixi Glow tonic is one of those beauty products that's so widely adored it's almost become cliché to say you love it.
But tropes exist for a reason and with this cult liquid exfoliator it's with very good reason – this stuff is brilliant.
Beauty Editors have it on repeat order, supermodels rave about it and facialists recommend it to their clients. Plus, at £18 for 250ml it's about a third of the price of your average superstar serum.
But what exactly is Pixi Glow Tonic, and how did it become a modern beauty hero? We reveal all...
Everything you need to know about Pixi Glow Tonic
What is Pixi Glow Tonic?
Pixi Glow Tonic is a liquid exfoliator that shifts dead cells and smooths rough skin texture via it's main active ingredient, glycolic acid. As well as glycolic, the ingredients list is an all-star cast designed to soften and hydrate, like glycerine and aloe vera plus ginseng, which has antioxidant benefits to brighten.
It's this combination of nourishment and exfoliation that makes this product such a universal hit.
There are many acids out there but glycolic is generally regarded to be the gold standard. It's an alpha hydroxy acid that works by loosening the joins between dead cells so they naturally shift away from your skin's surface.
It can also help stimulate collagen production over time and, thanks to that exfoliation, help your other products penetrate more deeply.
Glycolic often crops up in hardworking but slightly scary 'peel' products, blended with other strong actives for maximum skincare satisfaction but also the potential for irritation.
By including glycolic in a fairly robust concentration (5%) but also ensuring to soothe and quench the skin, Glow Tonic manages to offer both instant satisfying radiance and peace of mind that it won't aggravate your skin.
How do I use it?
Easy, just drop it onto a cotton pad and swipe it over your face. Use it on just cleansed skin and let it sit for a minute before going onto your hydrating serums or creams. It might tingle a little, but nothing extreme.
It claims to be gentle enough for daily use, and many people do use it daily, but tempting as it may be I'd recommend aiming for 2-3 nights a week. This means you can go ahead and use other active products on alternate nights, say retinol, without overstimulating your skin.
It's also worth remembering that as exfoliation exposes all those peachy-fresh skin cells, hence the glow, you should always wear SPF the following morning.In all honestly you should wear SPF all the time full stop, but that's another bit of beauty nagging for another story.
What do the experts say about Pixi Glow Tonic?
Pixi Glow Tonic may be pleasingly affordable, but that doesn't stop celebrities who have their pick of the world's priciest products raving about its radiance boosting benefits.
Case in point: Supermodel Jourdan Dunn, who told Intothegloss.com "I'm hooked! I just love the feeling that it leaves on my skin. It exfoliates as well, so I feel like it's really doing its job".
Noted skincare fanatic Kim Kardashian revealed her love in a post on her app, saying "You can still find really effective skincare items without having to spend a lot of money."
It's not just celebrities who're hooked. Aesthetician, skin expert and all-round beauty guru Caroline Hirons is known to pull no punches when it comes to skincare – if she raves about a product, it's worth paying attention.
She first posted about Pixi Glow Tonic on her blog back in 2012 , saying, 'The Glow Tonic is an oil-free, alcohol-free, gentle but astringent toner.
'Heavy in aloe vera, it also contains witchhazel to tone and firm, smooth the appearance of the skin and soften the texture. Ginseng aids the natural supply of oxygen to the cells and horse chestnut stimulates the skin and circulation.
'Glycolic loosens the excess accumulation of dead skin cells and thus exfoliates. It says for normal to dry and older skins but this will help all skin types in my opinion.'
Sold!
Where can I buy Pixi Glow Tonic?
As well as being ultra affordable, Pixi Glow Tonic is ultra simple to get your hands on. It's available at Pixibeauty.co.uk and in Pixi stores, as well as Marks & Spencer's beauty halls, Boots and several online beauty retailing sites.
The classic 250ml bottle will last you several months depending on how often you use it. Or if you are a die-hard fan/trying to reduce your plastic usage there is also now a supersize 500ml bottle available.
Plus there is a smaller 100ml for £10, ideal for first timers wanting to give it a try, and pads at £20, meaning you needn't go without Glow Tonic on-the-go.
We continually check thousands of prices to show you the best deals. If you buy a product through our site we will earn a small commission from the retailer – a sort of automated referral fee – but our reviewers are always kept separate from this process. You can read more about how we make money in our Ethics Policy.
SHOP HERE: Pixi Glow Tonic
Classic size
Cult Beauty
|
Payment plans available
|
£18
£18
|
Payment plans available
|
Cult Beauty
Supersize bottle for long-term users and those cutting down on plastics usage
Cult Beauty
|
Payment plans available
|
£32
£32
|
Payment plans available
|
Cult Beauty
Mini bottle for travelling and first-timers
Look Fantastic
|
Discount codes available
|
£10
£10
|
Discount codes available
|
Look Fantastic
Pre-soaked pads to take on-the-go
Look Fantastic
|
Discount codes available
|
£20
£20
|
Discount codes available
|
Look Fantastic
Powered by Woman and Home
About our deals
Such is the success of this cult product, Pixi has created several other variants of Glow Tonic designed to tackle specific skin concerns, including Rose, Vitamin C and the latest, Collagen Tonic which we've reviewed here.
It seems the Glow Tonic family will keep going from strength to strength, and no wonder. This unbeatable combination of effectiveness, ease of use, price and expert approval means it's always on my dressing table, and should be on yours too.
As woman&home's Senior Beauty Editor, Fiona Mckim has tried more products than she's had hot dinners and nothing makes her happier than raving about a brilliant beauty find on womanandhome.com or her instagram grid (@fionamckim if you like hair dye experiments and cute shih-tzus)

Fiona joined woman&home as Assistant Beauty Editor in 2013, working under legend Jo GB, who taught her everything she needed to know about the industry (clue: learn about ingredients and employ extreme cynicism).
In a previous life, Fiona studied journalism back home in bonnie Scotland and honed her skills as a magazine features writer, with a brief and terrifying stint on the showbiz gossip pages of a tabloid newspaper in between. She's a skincare fanatic who can't resist adding an extra step to her routine if it's all the rage in Japan, loves fragrance, has fun with makeup and never turns down the chance to test a new hair tool. Basically, she loves it all.

When not slathering herself in self tan or squinting at a tiny ingredients list on a moisturiser, you'll probably find Fiona enjoying something to do with food - cooking it, eating it, cajoling her friends into trekking across London to try a hyped pop-up in a dirty car park.