How to get brilliant balayage hair according to a Hollywood colorist—plus our fave balayage looks
You've got balayage hair questions and we've got the answers.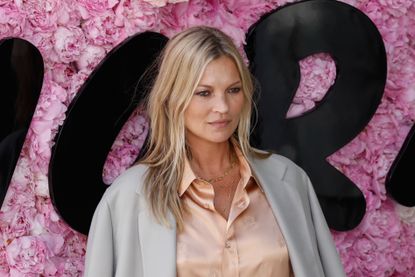 (Image credit: Getty Images)
Balayage hair is one of those beauty terms that many of us have heard of, but fewer can accurately define. Do you know how balayage works, what the differences between balayage and highlights are, and which one would be best for your hair? Let's find out.
This blonde hair idea originated in France, as most of the good ones do, and roughly translates as "to sweep" or "sweeping" en français—which offers a pretty good idea of what's involved. Essentially, hair dye is painted on sections of the hair freehand, without foils, caps, or any other kit that would create a rigid pattern.
This freewheeling method means two things: Firstly, balayage hair really needs to be created in a salon by an expert colorist with an eye for placement. This is not a technique to be attempted at home. It also means balayage can be adapted to suit any hair color, texture, and styling preference. As the placement is so bespoke, it can also be combined with other techniques, such as balayage with money piece. It looks as good on low-maintenance, "blast with the best hair dryer and go" hair just as it does a masterfully constructed messy bun or wavy hairstyle to show off those multifaceted tones.
Et voilà: With balayage hair, the rule is there are no rules—except that freedom of placement, of course. The rest is down to you, your hair, and your colorist.
What is balayage hair?
"Balayage hair is a freehand technique which is painted on visually to create a more contemporary feel," explains Salon Sloane colorist Sophie MacCorquodale, who has created color for Gucci campaigns and also happens to be the beautifully-balayaged Scarlett Johansson's preferred colorist when in the UK.
"I work with my clients to achieve multi-dimensional color, whereby a bespoke color and tone is developed for each client. Most natural hair has lots of different tones, and by using this technique, we respect and enhance that."
"The beauty of balayage is it doesn't have to start at the root; you can just add color to the ends or lighter around the hairline to frame the face. A combination of lighter at the ends and hairline, slightly darker at the roots going to blonder at the ends also works really well." This also creates a more low maintenance color, which means you can space out appointments and simply use the best root touch up products if you wish to cover grays.
Balayage hair on dark hair
Much like highlights, we tend to associate balayage hair with blondes. But actually, this subtle color technique is a perfect way to add a bit of interest to darker hair, according to Neil Maclean, Founder of Neil Maclean Hair Studio.
"What's great about cinnamon balayage or adding copper tones into your hair is that you can keep any light strands from the sun, blending coffee hair colors and bronze tones throughout the hair to add warmth and depth to your color," says Neil. Chocolate balayage is another beautiful way to incorporate a multi-tonal look into brown hair, as is the lighter, ashier mushroom blonde tone, both of which are huge hair trends for 2023.
"During your next appointment, ask your colorist for advice on the best tone to suit your skin and current hair color. The result should be a glossy, multi-dimensional look," says Maclean.
Getting the most out of your balayage appointment
When booking an appointment for balayage, try to bring in a few pictures of a color you like the look of, either on a celebrity, from social media, or from the handy gallery at the end of this page! Then your colorist can factor in your visual tastes while using their expert eye to create a bespoke look.
"When a client asks for balayage, I consider skin tone, eye color, and hair color in order to choose the tone to flatter all aspects of the face," says Sophie. After your consultation, your colorist will mix up a bespoke color, paint it onto the hair and leave it to set or "cook" in much the same way as highlights. The color is then washed off, and your new balayage tones are revealed.
Naturally, the type of balayage you have determines the appointment time, but as any blonde that's tried home highlight kits will know, these color services are rarely super-speedy. "The time it takes depends on how much color the client wants to achieve, whether they want a completely new look or a little lift. But I would say approximately one and a half to three hours," says Sophie.
Of course, not every balayage appointment needs to be a total color overhaul, as proven by the launch of Speedy Services at L'Oréal Professionnel salons . This menu of 45-minute color fixes includes Halo Highlighting to refresh tired lights and Boost Your Balayage, which uses the tactical placement of lighter and darker effects around the face and jawline for a quick color revive.
Does balayage damage hair?
The beauty of balayage is that it's designed to work with your hair, not against it. But there's no getting away from the fact that any color process, particularly those that lighten the hair, can cause hair damage. This makes it ultra-important to take good care of your 'do in between appointments.
"There is always some form of damaged caused when bleaching as you're using alkaline agents to lift the hair," explains Harriet Muldoon, Colorist at Larry King Salon. "However, there are steps and treatments to do at home to maintain strength. The new Redken Acidic Bonding Concentrate regimen is a game-changer for all those who color their hair. It's formulated with citric acid, an alpha hydroxy acid that helps protect weak bonds and improve the hair's strength and resilience after a bleach or color service."
"I'm always a big fan of the Olaplex range," says Sophie. "Particularly the 0 and step 3, which work on retaining the bonds within your hair shaft, so the structure of the hair and hair health is optimum."
"Sisley Hair Ritual Colour Perfecting Shampoo prolongs and stops the color from fading after repeated washes, so hair feels light, soft, and shiny. I would also recommend Sisley Regenerating Hair Care Masque—this regenerates and strengthens damaged hair, leaving the hair feeling nourished and hydrated."
If you notice your balayage dulling over time, avoid the temptation to retouch at home with any permanent dyes—you'll risk ruining all the expertly-placed balayage your colorist worked so hard to create.
Instead, use toners to ensure lightened hair stays fresh-looking. Shampoos are a low-cost way to work toning into your routine and are effective without being too fussy. Purple works best for blondes, blue for brunettes.
Balayage hair inspiration
woman&home thanks Sophie MacCorquodale of Salon Sloane, Neil Maclean of Neil Maclean Hair Studio, and Harriet Muldoon of Larry King Salon for their time and expertise.
Beauty Editor, womanandhome.com
As woman&home's Beauty Channel Editor, Fiona Mckim has tried more products than she's had hot dinners and nothing makes her happier than raving about brilliant finds on womanandhome.com or her instagram grid (@fionamckim if you like hair experiments and cute shih-tzus). Fiona joined woman&home as Assistant Beauty Editor in 2013 under industry legend Jo GB, who taught her everything she needed to know (learn about ingredients and employ extreme cynicism). She has since covered every corner of the industry, from interviewing dermatologists and celebrities to reporting backstage at Fashion Week and judging the w&h Beauty Awards.