I tried balayage with money piece and it's the best blonde color I've had in years
w&h beauty editor explains all about balayage with money piece – the salon color technique that's trending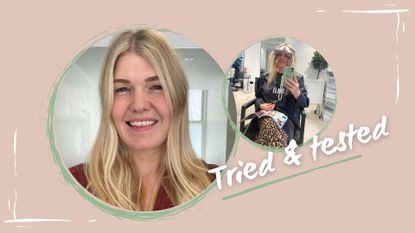 (Image credit: Future/Fiona McKim)
Hair color has gotten a bit jargony of late. Take balayage with money piece for example. I tried both services smooshed together in one appointment (along with some 'teasylights' and 'backwash balayage' thrown in for good measure.) You're probably reading all of this lingo thinking, you had what now? Allow me to decode and explain, because – trust me – you want to know about this technique.

Both balayage hair and the money piece are in the highlights family, but are more like distant cousins of your classic full head of foils than close-knit sisters. They also sit at opposite ends of the aesthetic spectrum, balayage being ultra-natural and low-maintenance, and the money piece a bright, statement look.
But it's when these two come together that the magic happens. They create something we unnatural blondes can only dream of as our bleached and brutalized strands hit our silk pillowcases: a hair color that is strikingly bright but grows out in the easiest, most life-friendly manner. What is this witchcraft? I can hardly believe it myself. Here's why trying balayage with money piece means I may never go back to boring old highlights again.
Balayage with money piece, explained
What is balayage with money piece?
A quick lesson in hair lingo: balayage with money piece is a combination of freehand-painted lights through the hair and a visibly brighter section at the front. To get technical, balayage "involves a hand-painted, bespoke color, through the mid-lengths to the ends to cleanly lift the natural tone," says Nick Willis, Master Stylist at Charles Worthington Salons. Whereas, according to Creative Colorist and Booksy Ambassador Pedro Plastic, the money piece is, "a contrasting chunky piece of color closer to the scalp on the front panel of your hair,"
Combining the two gives a first impression of ultra-fresh blonde, then a more blended look overall that grows out like a dream (if you're weighing up highlights vs balayage, a lack of obvious regrowth is one of the strongest points in balayage's favor.) "The aim is to work with your natural root color to allow for a more seamless look when it's grown out," explains Anna Alford (opens in new tab), creative colorist at STIL Salon who created the look for me. "By having more face framing brightness it allows you to feel like you're blonde but with less commitment to needing your color done every 6-8 weeks."
What happened when I tried balayage with money piece
Since opting to battle my natural mousy hue aged 15, I've spent years pinballing between wanting to be the brightest, most peroxide-packed blonde (and dealing with the upkeep consequences) Then wanting an easy life and going so rooty and natural I'd likely be described as brunette in a game of Guess Who.
So when I visited Chelsea's STIL Salon (opens in new tab) and explained my hopes and dreams of a bright yet low-maintenance color, it was with the understanding that, realistically, never the twain shall meet. But Alford had other ideas, combining balayage and a subtle money piece. "It was created using a mixture of teasylights, which is a gradient highlight that works by softening the root to create a more natural result," explains Alford, who added, "balayage closer to the hairline, so it feels soft but with a bolder pop of color through the front."
If that wasn't enough, we finished with backwash balayage – an if-you-know-you-know method of applying potent lightener for just a few minutes through the mid-lengths and ends. "This freehand technique gently invigorates already-blonde hair with a cleaner, brighter feel," explains Alford. It would be a smart choice for anyone with a long hairstyle and layer-upon-layer of highlights that have gone a bit solid and dull through the ends.
Several hours in the salon later, how's the result? Party in the front, luxury business in the back. The first impression is that bright pop of blonde that also happens to neatly disguise my gray badger stripe, but the all-over effect is soft, blended, and expensive-looking. A month on it's looking fresh, with a little help from my best purple shampoo, and growing out discreetly – no dullness, no aggressive root line. After a lifetime of hoping, waiting, and wishing my (highly unrealistic) blonde dreams appear to have come true.
Can you have a balayage with money piece on dark hair?
Absolutely. Although it's associated with blondes, balayage with a money piece on dark hair can be very flattering. "This technique can be used to create contrast and add some creativity to your color," agrees Plastic. "You can make it thinner or thicker depending on the look that you want. I'm also seeing a lot of customers incorporate creative colors, making the look even more effective."
As with any hair color, all you really need is a good stylist who will tell you what's achievable and adapt the trend to suit your natural tone, texture and personal style. "Many of my clients of all ages are requesting a money piece, be it subtle babylights, or chunky statement lightening around the face," agrees Willis. "If my clients want a more playful and edgy look, I like to place foils around the hairline for a striking money piece. Or to achieve a subtle blend. I use a freehand visual smudging technique where I place slices of hair on a balayage board and paint on the pre-lightener."
Go bold, go subtle, or like me go for the most intricate possible look incorporating every single technique your colorist can throw at it. You'll never look back.
Beauty Editor, womanandhome.com
As woman&home's Beauty Channel Editor, Fiona Mckim has tried more products than she's had hot dinners and nothing makes her happier than raving about brilliant finds on womanandhome.com or her instagram grid (@fionamckim if you like hair experiments and cute shih-tzus). Fiona joined woman&home as Assistant Beauty Editor in 2013 under industry legend Jo GB, who taught her everything she needed to know (learn about ingredients and employ extreme cynicism). She has since covered every corner of the industry, from interviewing dermatologists and celebrities to reporting backstage at Fashion Week and judging the w&h Beauty Awards.