Gorgeous gray hair color ideas for every shade—from salt and pepper and platinum, to ash and silver
Gray hair color has never been cooler—whether natural or otherwise. Find your perfect hue with our roundup of the best gray hairstyles, and learn how to keep them looking shiny and fresh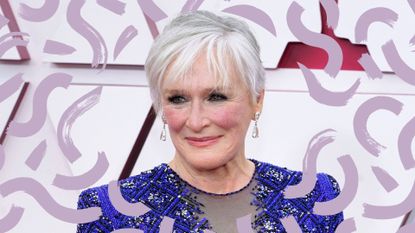 (Image credit: Future/Getty Images)
Everyone gets gray hair color at different paces and ages; it could be as early as your twenties when you notice your first grays, or as late into your seventies and eighties. As we age, pigment cells within our hair follicles die, zapping that hair strand of its melanin and rendering it a more transparent color such as gray or white. It's a natural occurrence that we can either embrace, enhance, or cover-up, depending on preference.
Recently, beauty and hair trends and celebrity movements such as herringbone highlights have found more and more people in the gray camp, and if you're a proud member of #TeamGray, here's to making the best of what nature has to offer! In terms of hair color, it's certainly an easy hairstyle to consider, seeing as you will need very minimal maintenance to keep it looking fresh and vibrant.
There's no guaranteed route to a full head of gray hair either (but read our guide to transitioning to gray hair for the process to be as seamless as possible). And grayed hair also tends to be a different texture from your natural hair color—so as you get more gray strands, tweaking your routine to keep hair smooth, moisturized, and yes, non-brassy, is also important. When adapting your regimen you'll likely find that hair toner becomes one of the most important hair products in your arsenal, because of it's ability to add shine and neutralize unwanted tinges.
Speaking of brassy, hair experts have a bit to say on keeping grays crisp and cool-toned. "There are so many factors that make gray hair look dull and start to go yellow—the sun, chlorine, and wind are just a few, and until now there have really been limited options to keep it looking its best," says Zoë Irwin, Wella Professionals Color Trend Expert. But all that's changing now, here's how.
What you need to know if you plan to dye your hair gray
If you're going gray naturally then skip this section and jump straight to our color inspiration and maintenance tips.
However, if you've decided to dye your hair gray rather than wait for it to turn naturally, then a different set of rules apply. You'll likely have to pre-lighten or bleach your hair a lot to achieve the lighter look—a process that can be rather damaging to the hair when not cared for correctly.
"The best way to maintain bleached gray hair is by adding protein and moisture to the hair. I recommend using a reconstructing mask like Wella Professionals Fusion Intense Repair Mask," says Zoë. "It's important that the hair has some softness, and this is what reconstructing masks give: You need softness and glide, so when your hair is touched with a brush or when you blow-dry it, you don't damage it." Making sure this is supplemented with the correct tools, like the best hair dryer for your hair type, is also helpful to make sure any damaging elements are kept to a minimum.
To keep the tone looking great, you have to do maintenance at home as well as in-salon. "Toning is not just something that is done in the salon—my clients want to keep their hair looking fresh between visits, so I always send them home with a Wella Professionals Color Fresh Semi-Permanent Color (the only color I would ever recommend people use themselves at home), the best root touch up products or a pigmented mask," advises Zoë.
15 inspiring gray hair color ideas
Short gray ideas
Gray hair color and short cuts are a perfect match, as the overall effect is sharp, chic, and sophisticated. From curls to close-cropped pixie haircuts, there's a plethora of choice.
1. Spiky pixie crop
A short and spiky pixie is a stylish look that you can just wash and wear.
---
2. Natural curls
Wear your natural gray curls in a chic cropped length.
---
3. High top
Blast your roots with a blow-dryer for a few seconds to help gain volume.
---
4. Side sweep back
Open up your features by sweeping your fringe area back and to the side.
---
5. Big waves
Emphasize your natural silver highlights with a wavy 'do.
Gray bob ideas
Medium hairstyles and bob hairstyles are considered the most popular lengths across the board, due to their versatility and ease of wear. This length also works for all face shapes, making it a safe choice for those with gray hair color.
---
6. Platinum side parting
A flirty side fringe and lob length complement a bright hue.
---
7. Gray highlights on a lob
Blown-out perfection! Show off your subtle layers with this perfectly coiffed style.
---
8. Straight bob
Natural air-dried texture gives some interest to a straight bob.
---
9. Graduated bob
Encourage a fuller look by asking for a stacked (i.e. higher in the back) bob.
---
10. Full bangs
A full fringe is youthful and on-trend.
Long gray hair ideas
There's a misconception that older women should shy away from long hairstyles, but this is an outdated stereotype that we're more than willing to put to rest (you can read why we think people should stop telling women over 40 to cut their hair). If you've got full, enviable length, show it off! With gray hair color, it's also a good idea to opt for layers if you have straight hair to maintain a fuller effect.
11. Long layers
Lighter silver streaks near the hairline are a fun play on the "money piece" face-framing trend.
---
12. Loose waves
The perfect mermaid hair situation on a glistening hue.
---
13. Salt and pepper hue
A lovely two-toned 'do is flattering on longer wavy hair.
---
14. Total texture
Take your wash-and-go to another level with a bright gray color.
---
15. Side plait
A boho side braid adds interest in gray hair.
---
Tips for maintaining a gorgeous gray hair color
Following these steps from Zoë will keep your gray look fresh and healthy:
Get regular trims: Do have a regular haircut and ask your stylist to add more layers or cut the ends blunt for a fuller effect. Short hairstyles can also look healthier, especially if your strands have started to get drier and finer.
Avoid chlorine: Don't go into the swimming pool or the sea without adequate color or heat protection.
Get a gloss: Do look at having an in-salon glossing treatment to add shine, neutralize any yellowness, add contrast to your gray hair, and make your eyes pop.
Blow-dry like a pro: Do learn how to style your hair. Gray hair can easily look lank, so taking the time to learn how to blow-dry hair will be time and money well spent.
Invest in a toner: If you haven't had an in-salon toning service (Wella Professionals True Grey Silver Glow is one that Zoë recommends), don't worry: There are loads of at-home toners, also known as the best purple shampoos, that can help maintain that crisp, clean, cool-toned gray hue. Just be careful to use as recommended, as using a toning shampoo too frequently can give hair a too-blue tint (which washes off too, so no biggie!). Once to twice a week is generally fine to neutralize any brassiness or yellowish hints.
Try highlights: Don't balk at the idea of spicing up your hue. Balayage hair highlights, lowlights, and babylights can each give brand-new dimension and depth to gray hair. Although there are home highlight kits available and loved by DIY coloristas, we recommend seeing a professional stylist if you're relatively new to the highlight game.
woman&home thanks Zoë Irwin of Wella Professionals for her time and expertise.
Sign up to our free daily email for the latest royal and entertainment news, interesting opinion, expert advice on styling and beauty trends, and no-nonsense guides to the health and wellness questions you want answered.
Keeks is a London-based beauty writer and content creator. She has worked with titles including Cosmopolitan, VOGUE, Refinery29, Red, Elle, OK! and woman&home. While she has a well-rounded beauty obsession, her specialism is all things hair.
When she's not testing the latest hair tool on camera or waxing lyrical about styling tips, you'll find her re-watching old episodes of Real Housewives of Beverly Hills (or New York or Atlanta). She loves a social scroll as well as a romantic book, but nothing beats Sunday afternoon lunches with her friends and family. You can catch Keeks on all social platforms @keeksreid.