2022 hair color trends—all the inspiration you need for a fresh hue
Looking for ideas on hair color trends? The experts reveal what shades we should be asking for now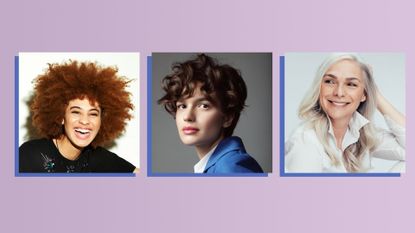 (Image credit: Getty images)
The new hair color trends of 2022 are fresh, creative, and, at times, unexpected. Whether you're looking to refresh your color or completely overhaul your look, the woman&home beauty team has grilled some of the hair industry's top colorists and stylists to bring you this comprehensive guide to the hair color trends to know now.
You don't need to be a hair expert or top colorist to know that leaving the salon with freshly dyed and blow-dried hair is a feeling like no other. And the good news is, if you're looking for easy hairstyles (who isn't?), this year's hair color trends are, on the whole, a pleasingly low-maintenance bunch. Whether you're generally a wearer of short hairstyles, want to add dimension to curly hairstyles, or prefer the versatility of medium hairstyles, there's a fresh new hue to suit you.
So if you're wondering what color should I dye my hair? Or questioning which shade will suit you, step this way. From highlights in hair to balayage hair and a rich pumpkin spice hair color, these hair color trends and expert tips could just inspire your next big color change.
The 2022 hair color trends to know about
---
1. Candle Blonde
"2021 has seen people prioritizing their hair health and scalp care, moving towards more natural-looking hair finishes, perfectly blended so that you can't see where the color starts or finishes," explains Adam Reed, UK Editorial Ambassador for L'Oréal Professionnel. "As we move into 2022, this will take a new shape with blondes and we'll see the desire for root to tip 90's blonde hair coming back, with strong highlights beautifully blended for a seamless and brightly toned color."
Colour expert and founder of STIL Salon, Christel Barron-Hough, seconds this and predicts 'Candle Blonde' will take off. "Candle blondes are perfectly balanced with bright creamy hues and delicate honey handpainted strands to create the perfect soft blonde," she says.
Our beauty editor recommends...
---
2. Cacao Tones
"We're going to see a real strength in hair color tones as we come into 2022 with incredibly rich and warm hues," says Adam Reed. "Chocolate brown brunette will get even deeper and almost become a cacao tone."
"The beauty of this look is the versatility and wearability that can be toned cooler or warmer depending on each individual," adds Reed. Wondering what is hair toner and if you should try it at home? "Always have a thorough consultation with your colorist prior to a hair color change," advises Reed.
---
3. Renaissance red
"We are going to see the return to a very softened red tone, an auburn color that's more like a renaissance red," Zoe Irwin, ghd Global Ambassador tells us. "It's a softened, much more golden tone and not hyper-pigmented." This could work especially well with curly hairstyles and natural hairstyles for a truly gorgeous renaissance look.
As you may have spotted, many an A-LIster including Margot Robbie, Gigi Hadid, and Charlize Theron have embraced this tone. "Red works really well with the seasonal tones and feels like something fresh and uplifting. When the copper and red tones become more golden-based, it makes them extremely flattering for many skin tones, so it's a very wearable shade," agrees Irwin.
Our beauty editor recommends...
---
4. Artisan Black
In keeping with the natural hair color trend that's set to soar in 2022, Christel Barron-Hough expects to see more of her clients opt for what she's dubbed artisan black. "This look is achieved by handcrafting hues of artisan black color on the roots, and merging it into deep brown tones through the length," explains Barron-Hough.
"The depths and tones are merged together in a raw and untouched way to create a color that looks un-colored." To really show off the dark intensity, Barron-Hough recommends creating deep beach hair waves in the hair (by using a tool like the Amika Deep Waving Tool or via plaits) to create a feather-like texture.
Our beauty editor recommends...
---
5. Rose Gold
"Rose gold, a combination of pink hair with golden hues, has been around for some time yet it will peak in popularity in 2022," says Paco Latorre, creative director at Live True London. "Adding lightness and brightness, this color softens the face."
To get the look, Latorre says hair must already be lightened. "It's impossible to apply rose gold directly to the hair, as it needs a light base to grab onto. Pick between highlights vs balayage as a hair-lightening service to prep. "Be it brunette with a low balayage or money piece in the front, to blonde with highlights or a full head of bleach, rose gold can be adapted to all needs. If your hair is naturally red, you can lighten a few pieces and apply the rose gold afterward to give some more movement and definition."
Our beauty editor recommends...
---
6. Triple-hued blonde
Balayage has been rising in popularity for a few years now, so it's no surprise that our next trend is a variation on the classic hand painting technique. "Within balayage, the trend now is the double-hued or triple-hued blonde, where toning for blonde hair is used to create a multi-tonal effect adding light, warmth, and gloss to the hair after lightening," Zoë Irwin confirms.
Requiring far less upkeep than traditional to the root highlights with foils, Irwin has noticed an increasing desire for balayage that works with the clients natural base and roots. "Clients are requesting an 'undone blonde' and a youthful, cool vibrancy to the face. Honey and butter blondes are a huge trend for 2022. Strawberry blonde and warmer tones also work really well in this method."
Our beauty editor recommends...
---
7. Copper tones
We're putting it out there: Copper tones will always be in fashion, but particularly so in 2022. "Burgundy was big for 2021, but for 2022 it's all about grown-out copper tones that are low maintenance, glossy and vibrant," says Francesca Dixon, Creative Director at Hari's Salon.
"The overall look is softer than traditional copper and elevated by the option to choose warm pops of pink, peach, or yellow tones, which give the result of a sunset-like finish. This is a simple yet effective way to change your color that we'll also see in blondes too, with beautiful strawberry tones coming through," says Dixon.
Our beauty editor recommends...
---
8. Money piece highlights
An exciting trend is the money piece—those 'light at the front' color styles that you're seeing everywhere (and, should we say, a throwback to late '90s hair). But, for the avoidance of doubt, you don't need to be as young as Billie Eilish or Dua Lipa to get in on this trendy style.
"As '90s trends become more mainstream, clients are looking for the front hairlines in balayage to become much lighter and prominent, which gives a balayage a more modern feel," Zoé Irwin explains. "Referred to in LA and New York as money piece highlights, they give an instant update to a blonde." Although they are seen a lot in blonde hair, money-piece lights work on just about every color. "These bespoke techniques are important because they cannot be emulated at home; this is about craft and placement and the skill and eye of a trained hairdresser," Irwin adds.
Our beauty editor recommends...
---
9. Pastel hues
Fancy something fun and low maintenance? Try a semi-permanent pastel wash. Take note from Josh Wood, expert colorist and founder of Josh Wood Colour. "What I am seeing from our community of color clients is that self-expression through hair color is huge," says Josh Wood. "In 2020 and 2021, people were experimenting while working from home with pink or blue hues—and I really don't think that's going anywhere fast."
Obviously, you'll need a pre-lightener and permanent dye to achieve a vibrant color, but for a glaze or wash effect home products can be very effective and low-risk. "I love these colors so much that I made my own sophisticated versions of pastels. There seems to be a lot of people wanting to go lighter to accommodate these soft pastel shades."
Our beauty editor recommends...
---
10. The single streak
Another hair trend we're expecting to see a lot of is the single streak, also known as the 'mallen streak'. A pop of color or bleached section at the front of the hair can really elevate your overall look—Michelle Visage is a great example of doing this right with her gray hair color mallen streak through black. This is also a pretty low-maintenance look and works with a multitude of shades.
Francesca Dixon says, "This is a simple yet effective way to change your color, that we'll also see in blondes too, with beautiful strawberry tones coming through."
Our beauty editor recommends...
---
11. '60s golden highlights
Who doesn't love nostalgia when it comes to hair and beauty? "Golden hair color is going to be massive in 2022 and it's the perfect new year look to bring some warmth," says Adam Reed. "Think beautiful corn-colored, burnished, and rich tones that ooze liquid gold for a strong hue." This works particularly well on long hairstyles, although for full '60s style try it on a pixie haircut.
"Everyone is looking for minimal, low-maintenance color so it's all about highlighting techniques that will blend beautifully and last," said Francesca Dixon. "The '60s golden blonde is a great example, as it can be recreated with lots of baby-lights that are close to one shade to give the illusion of an all-over color—but will last longer with very subtle regrowth." If nostalgia is your bag, pair this vintage look with some '60s makeup like eyeliner flicks and pale lip gloss.
Our beauty editor recommends...
---
12. Temporary color flash
If you want to trial the bright hair trend without a big commitment, a temporary hair color could be the way to go. "With the change in seasons comes the desire to try something new. This is where we'll see more crazy creative shades being used, like pastels, rogue blonde, and short-term dips," says Tracy Hayes, colorist Saco Hair. It is It's worth noting that temporary brights will show up better on blonde and fair hair. It is worth noting that temporary brights will show up better on blonde and fair hair.
Fancy trying a new color at home? If you have the skills you could try one of the best home highlight kits to achieve a flash of color. In terms of shade this year there's an unlikely muse—and it's in your fruit bowl. "Food references such as lime green, strawberry red, and juicy orange add a thrilling mix of tones and are a refreshing change in comparison to the dusky pinks and muted reds we saw last year," says Hayes.
Our beauty editor recommends...
---
13. Back-to-basics balayage
Balayage has to be the biggest hair trend of the last decade. Not only has it provided a sun-kissed and graduated look to longer tresses, but balayage for short hair and balayage blurring have seen an increase in popularity, with stylists and customers alike favoring natural, grown-out highlights time and time again.
"Balayage continues to dominate but returns to its original, softer form. It's all about the ends of hair looking like they've been naturally sunkissed and a gentle graduated look. I don't see this trend going anywhere for 2022 and beyond, either," Hayes told us. She said of subtle highlights, "Bespoke tones, lights, and shadows, expertly painted and perfectly matched to skin tone and eye color, will always be a winner."
Our beauty editor recommends...
---
14. Gray blending
If you've been thinking about transitioning to grey hair, now's the perfect time. "Gray blending is going to be a movement in hair—in fact, it's the new balayage" Zoë Irwin, legendary colorist, and Wella Professionals Color Trend Expert told woman&home. "I've seen a huge number of women wanting their hairdressers to work with their regrowth, and gray blending uses techniques to work with gray hair, rather than cover it. Babylights and balayage can both be used to blend gray into an overall look and give it a more natural result."
Zoë Irwin adds that statement gray is another big trend this year, with women everywhere including Andie MacDowell and Isabel Marant embracing their natural hue. "It's all about using your gray hair as a statement," she continues. "This doesn't mean that you don't go to the hairdressers—gray can take on all sorts of tones, making it as impactful and beautiful as possible."
Our beauty editor recommends...
How to keep hair color trends fresh at home
---
If you've tried out one of these hair color trends, some aftercare will help you preserve that just-left-the-salon hue—and it's all about hydration.
---
woman&home thanks Christel Barron-Hough of STIL Salon, Adam Reed of L'Oréal Professionnel, Paco Latorre of Live True London, Zoë Irwin of Wella Professionals (opens in new tab), Francesca Dixon at Hari's Salon (opens in new tab), Josh Wood of Josh Wood Colour (opens in new tab), Nicky Clarke of Nicky Clarke Salons (opens in new tab), Richard Ashforth of Saco Hair (opens in new tab), and Tracy Hayes of Saco Hair (opens in new tab), for their time and expertise.