2021 hair color trends—all the inspiration you need for a fresh hue
Looking for ideas on hair color trends to take to your next salon visit? We asked the experts what their favorite looks are right now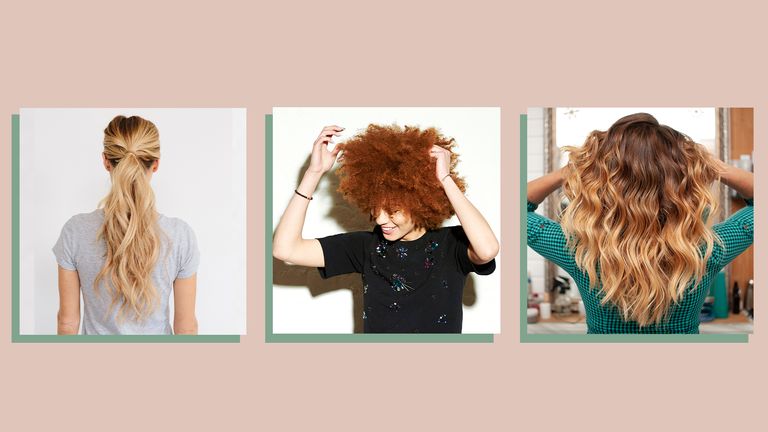 (Image credit: Future/Getty)
The new hair color trends of 2021 are fresh, creative, and, at times, unexpected. Looking to refresh your color or completely overhaul your look? The woman&home beauty team has grilled some of the hair industry's top colorists and stylists to bring you a comprehensive guide to the best hair color trends the year has to offer.
After a bit of a hiatus from our colorists and hair stylists, 2021 is truly the year to experiment with a whole new shade or simply refresh your signature color—whether you're a short hairstyles woman or prefer the versatility of medium length hairstyles. Because you don't need to be a hair expert or top colorist to know that leaving the salon with freshly dyed and blow-dried hair is a feeling like no other.
The 2021 hair color trends to know about
Whether you fancy copper hair, pastel hues, or want to ease yourself into embracing your natural gray, these are the hair color trends to note now—and take along to the salon.
If you're questioning which new shade will suit you, take a look at our handy guide—what color should I dye my hair? You might also want to take a look at our guide to at-home hair dye if you're attempting a new look at home (though we advise proceeding with caution for some of the bolder looks!)
---
1. Gray blending and statement gray
If last year saw you embracing your mature strands like never before, you were actually on to something. "Gray blending is going to be a movement in hair—in fact, it's the new balayage hair," Zoë Irwin, legendary colorist, and Wella Professionals Color Trend Expert told woman&home.
"I've seen a massive number of women wanting their hairdressers to work with their regrowth, and gray blending uses techniques to work with gray hair, rather than cover it. Babylights and balayage can both be used to blend gray into an overall look and give it a more natural result. There are also products I use, like Wella Professionals Illumina Color, that gives a sheer result, taking the edge off the gray without hiding it totally."
Zoë Irwin adds that statement gray is another big trend this year, with women everywhere including Andie MacDowell and Isabel Marant embracing their natural hue. "It's all about using your gray hair as a statement," she continues. "This doesn't mean that you don't go to the hairdressers—gray hair can take on all sorts of tones that you don't want it to and colorists are experts in making sure it's as impactful and beautiful as possible."
---
2. Renaissance red
Not only are warm red tones seriously uplifting, but they work at just about any time of year, meaning your hair will see a smooth and seamless transition into the Fall months.
"We are going to see the return to a very softened red tone, an auburn color that's more like a renaissance red," Zoë Irwin tells us. "It's a softened, much more golden tone and not hyper-pigmented. A lot of models are embracing it, as well as the fashion crowd. This works really well with the seasonal tones and feels like something fresh and uplifting. When the copper and red tones become more golden-based, it makes them extremely flattering for many skin tones, so it's a very wearable shade."
---
3. Triple-hued blonde
Blonde balayage will always be super popular, so it's no surprise that our next trend is a variation on the classic painting technique. "Within balayage, the trend now is the double-hued or triple-hued blonde, where different toners are used to create multi-tonal blonde adding light, warmth, and gloss to the hair after lightening," Zoë Irwin confirms.
"A big change is that clients may have far more of their natural roots than they would have seen before. This has led to a desire to work with their natural base more, with balayage becoming more requested than the traditional 'to the root' highlighting with foils method. Clients are requesting an 'undone blonde' and a youthful, cool vibrancy to the face."
She continues, "Honey and butter blondes are a huge trend for summer. Strawberry blonde and warmer tones also work really well in this method of creating double- or triple-hued blondes, and become far more requested as they appeal when used as a color wash on lightened pieces."
---
4. Copper tones
We'd go out on a limb and say that copper tones will always be in fashion, especially when it comes to our hair, but it's definitely true of 2021 hair trends. "Burgundy was big for 2020, but for summer 2021 it's all about grown-out copper tones that are low maintenance, glossy and vibrant," says Francesca Dixon, Creative Director at Hari's Salon.
"The overall look is a lot softer than traditional copper and elevated by the option to choose from warm pops of pink, peach, or yellow tones which give the result of a sunset-like finish. This is a simple yet effective way to change your color that we'll also see in blondes too, with beautiful strawberry tones coming through."
---
5. Money piece highlights
An exciting new trend is the money piece—those 'light at the front' color styles that you're seeing everywhere (and, should we say, a throwback to late '90s/Y2K hair). But, for the avoidance of doubt, you don't need to be as young as Billie Eilish or Dua Lipa to get in on this trendy style.
"As '90s trends become more mainstream, clients are looking for the front hairlines in balayage to become much lighter and prominent, which gives a balayage a more modern feel," Zoé Irwin explains. "Referred to in LA and New York as money piece highlights, they give an instant update to a blonde."
Although they are seen a lot in blonde hair, money-piece highlights work on just about every hair color. "These bespoke techniques are important because they cannot be emulated at home; this is about craft and placement and the skill and eye of a trained hairdresser," Irwin adds.
---
6. Pastel hues
"What I am seeing from our community of colour clients that are online is that self-expression through hair colour has been such a huge thing this year," says Josh Wood, expert colourist and founder of Josh Wood Colour. "People were experimenting while working from home with pink or blue hues—and I really don't think that's going anywhere.
"I love these colours so much that I made my own sophisticated versions of pastels. There seems to be a lot of people wanting to go lighter to accommodate these soft pastel shades."
---
7. The single streak
Another hair trend we're expecting to see a lot of is the single streak, also known as the 'mallen streak'. A pop of color or bleached section at the front of the hair can really elevate your overall look—Michelle Visage is a great example of a gray-on-black look done right. This is also a pretty low-maintenance look and works with a multitude of shades.
Francesca Dixon says, "This is a simple yet effective way to change your color, that we'll also see in blondes too, with beautiful strawberry tones coming through."
---
8. '60s golden highlights
Who doesn't love nostalgia when it comes to hair and beauty? '60s style reigns supreme decade after decade, and 2021 is set to see a resurgence of the '60s golden blonde look (think Sharon Tate). Team baby golden highlights with relaxed waves for the ultimate beachy style. This works on long hairstyles, medium hairstyles, and short hairstyles equally well.
"Everyone is looking for minimal, low-maintenance color so it's all about highlighting techniques that will blend beautifully and last," said Francesca Dixon. "The '60s golden blonde style is a great example, as it can be recreated with lots of babylights that are closer to one shade throughout the whole hair to give the illusion of an all-over HD color—but will last longer with very subtle regrowth."
If nostalgia is your bag, you might want to take a look at our guides on '70s makeup and '80s makeup trends that are still just as relevant today.
---
9. Temporary flashes of bright colour
If you want to trial the bright hair trend without a big commitment, a temporary hair color could be the way to go. "With the change in seasons comes the desire to try something new. This is where we'll see more crazy creative shades being used, like pastels, rogue blonde, and short-term dips," Tracy Hayes, colorist for globally-acclaimed hair brand Saco Hair told w&h.
Semi-permanent shades allow you to trial more adventurous hair color trends for the season, but it's worth noting that temporary brights will show up better on blonde and fair hair.
And which bright shade should you opt for in 2021? Well, this year there's an unlikely muse... food! "Food references such as lime green, strawberry red, and juicy orange add a thrilling mix of tones and are a refreshing change in comparison to the dusky pinks and muted reds we saw last year," Hayes explained.
---
Back-to-basics balayage
Balayage has to be the biggest hair trend of the last decade. Not only has it provided a sun-kissed and graduated look to longer tresses, but balayage for short hair has also seen an increase in popularity, with stylists and customers alike favoring natural, grown-out highlights time and time again.
"Balayage continues to dominate but returns to its original, softer form. It's all about the ends of hair looking like they've been naturally sunkissed and a gentle graduated look. I don't see this trend going anywhere for 2022 and beyond, either," Hayes told us. She said of subtle highlights, "Bespoke tones, lights, and shadows, expertly painted and perfectly matched to skin tone and eye color, will always be a winner."
Out of all the hair trends, subtle balayage is the best for easing back into the salon chair. "Balayage is great for lifting lockdown hair and give a more subtle-looking refresh," Nicky Clarke of Nicky Clarke Salons, told us.
Maintaining your hair color at home
---
If you've tried out one of these hair color trends, there are some aftercare tips that will help you preserve that just-left-the-salon fresh hue—and it's all about hydration. The experts recommend:
"Use a hydrating mask in place of your usual conditioner—to rehydrate hair and maintain a glossy appearance," co-founder of Saco Hair, Richard Ashforth, told w&h. "I recommend Saco Haircare's Supernature Intense Hydrating Mask."
"For a once-a-week treatment to keep hair healthy—apply the masks on slightly damp hair and wrap in a light towel, in order to trap in heat and open up cuticles in the hair, and wear overnight," Ashforth said.
"Try a booster treatment like 'Hair Botox'—an innovative 'miracle treatment' applied like a mask, which offers benefits including smoothing, de-frizzing, revitalizing and protecting hair color," Nicky Clark, of Nicky Clarke Salons, told us.
---
With all of these incredible 2021 hair color trends, you're spoilt for choice for hair makeover ideas. We predict you'll be calling your hair stylist in 3... 2...
woman&home thanks Zoë Irwin of Wella Professionals, Francesca Dixon at Hari's Salon, and Josh Wood of Josh Wood Colour, Nicky Clarke of Nicky Clarke Salons, Richard Ashforth of Saco Hair, and Tracy Hayes of Saco Hair, for their time and expertise.