'60s makeup: fun, modern ways to wear this swinging, mid-century beauty look
How to wear iconic '60s makeup looks like graphic liner and pale lips and give them a modern, fashion-forward spin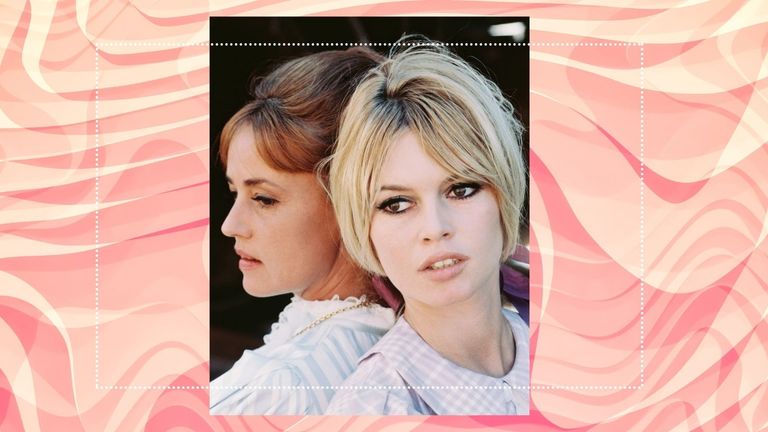 (Image credit: Future/Getty Images)
If you were lucky enough to have experienced '60s makeup firsthand, then you probably know what a revolutionary time in beauty it was. Coined the "London Look," '60s mod makeup—from the word "modernist"—was trailblazed by quirky youth-targeted British stores in Carnaby Street, Kings Cross, and Portobello Road. Specifically, beauty brands Mary Quant and Yardley of London rode the mod wave and had super-popular models Twiggy and Jean Shrimpton model their products and showcase the now-iconic white shadow/black crease look that has since become the defining look of the era.
The birth of shows like Top of the Pops and the global success of The Beatles, Motown, and rock n' roll also gave music a huge influence over pop culture and fashion trends. Famous Beatle girlfriend and model Pattie Boyd, singer Cher, and girl group The Ronettes also played a big part in defining '60s makeup looks, with their penchant for graphic cat-eye liner, feathery, spiky eyelashes, and pale pink lips gaining a lot of traction in the mainstream.
These British invasion-inspired looks may be decades old, but chalk it up to the cyclical nature of beauty trends (or, hey, good old-fashioned nostalgia) and we're now seeing a resurgence in retro '60s eye makeup make the rounds, and unsurprisingly so. Our current situation as of late puts a lot of the spotlight on the eye area, and what throwback could be more fitting than the era of graphic liner and over-the-top lashes?
Another thing to note is the predilection towards a finished (mask-proof?) face, which, along with '60s eyeliner, was also a big trend back in the day. What was then achieved via meticulously applied powder (it actually outdid sales of liquid and cream foundation during the Swinging Sixties) is now accessible via the best foundation innovations we have today, which can span the gamut from long-wearing liquid to pore-smoothing and nearly invisible.
Whether it's graphic liner or pastel lids and lips, we're all about that ultra-fun, groovy vibe, and best yet, any one of these looks are easily tweakable into a modern iteration sure to make a major statement.
'60s makeup: looks we love
1. Graphic eyes
One of the most popular throwback styles of the year has been the return of graphic mod '60s eyeliner, a style heralded by the poster girl of the Look of London herself, Twiggy. The look consisted of white or pale eyeshadow paired with black liner on the crease, accentuated with a healthy smattering of spiky bottom lashes.
Instead of your run-of-the-mill cat-eye (which we do have a soft spot for, don't get us wrong), why not take the '60s-inspired route and trace your eyes with a bold, playful, mod outline instead, like Kim Kardashian West? Start off with applying eyeshadow in a light color all over the lid, then trace the crease, i.e. where you feel your eyeball, with black eyeliner and extend past the outer lids as you would in a regular cat-eye technique.
---
2. Pale eyeshadow
There's something inherently ladylike and also alternatively rebellious about the pale blue shadow trend, which started gaining ground in the mid-'60s with the help of first-generation influencers like model Jean Shrimpton. Although blue seemed to be the shade du jour, other pastels colors like mint, lemon, and even all-out white were sported across the board, favored for the contrast it gave to the heavy liner and lashes that accompanied it.
Actress Lily Collins shows how the pale shadow throwback can veer into modern territories. Instead of a sharp liner along the lashline, opt for accentuating the lashes instead and keep the eyeshadow diffused all the way to the crease.
---
3. Spiky lashes
Are you ready to try your hand at one of the most polarizing trends of the season? '60s-inspired spiky lashes, as seen here on fallen actress Sharon Tate, have a love-hate reputation among beauty lovers everywhere, but we're all about a modern-day version of the look for a totally retro-inspired vibe.
The secret to creating an intentionally spiky look is all about which mascara you choose (we list out some of the best mascaras in the 'biz in case you're on the fence about formulas). To get a flirty look that's more waifish ingenue (and less A Clockwork Orange) similar to Mila Kunis' take, hold a mascara wand vertically and run it across your bottom lashes, being careful to remove any clumps. Alternatively, bottom strip lashes are also available with this particular style, and you can also reinforce the look with a few strategic strokes of your eyeliner on the outer corners.
---
4. Powdered face
Here is a '60s makeup trend that lines up with our #skingoals. A flawlessly finished complexion is that magical combination of smooth and matte and gives the illusion of 100% perfect skin, courtesy of powder foundation. Patty Boyd favors a peaches-and-cream approach to her own base, seamlessly blending her blush outwards from her cheekbones.
Queen crooner Adele is famous for her 1960s-inspired makeup aesthetic, and with good reason. Her signature powdered look pairs supremely well with that grown-up eye, making us want to learn how to apply foundation as perfectly.
---
5. Pastel lips
Nothing says '60s makeup like a pale shade of lipstick in pink, peach, or coral, or even a stark white equivalent. This look may be reserved for the bold and/or daring, but it promises to bring an instant boost of Ronettes-esque confidence and stage appeal.
For the full-on look, we recommend grabbing a tube of pale peach lipstick, as on Lana del Rey, to instantly give yourself some vintage '60s makeup vibes. To make the most of your creamy-matte lip color, make sure to prep by exfoliating and hydrating your lips beforehand to ensure a smooth, non-flaky finish. Bonus points for lip liner!