How to apply eyeliner: expert tips for neat, flattering liquid or pencil liner
Three makeup artists reveal how to apply eyeliner like a pro.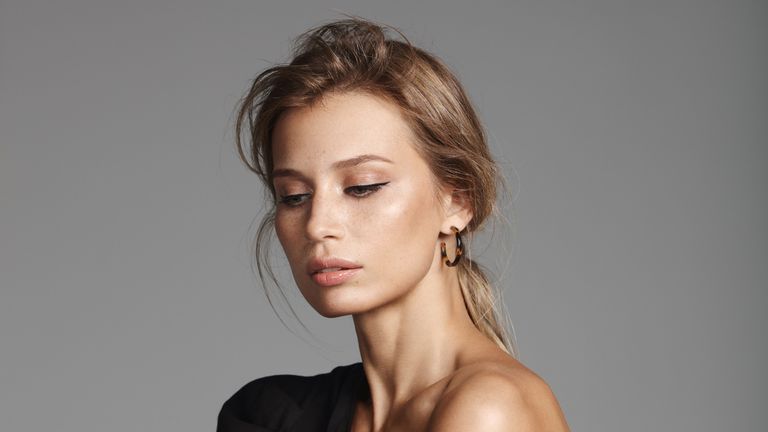 (Image credit: Getty images)
Learning how to apply eyeliner is one of those life goals some of us would happily spend one of three wishes on should we encounter a magic lamp. World peace, unlimited champagne and the ability to draw perfect feline flicks every time? Yep, sounds good to me.
Whether you are a habitual liner wearer or have been scared off by unsuccessful attempts, gaining solid eyeliner skills is an ambition that - unlike a free champagne tap - is very much achievable for all. All you need to do is pick the right product, learn which look will flatter your eyes then take on board a few professional application tricks.
And what if it all goes wrong? That's fine too. Much like loading on the best mascara the road to eyeliner success is littered with smudges and wonky lines. Even the pros keep a clean-up kit handy for when the inevitable happens, so just know that whatever comes your way we've got you covered.
Picking a liner - pencil vs liquid and gel
The first step in learning how to apply eyeliner is much the same as learning how to apply concealer or pick the best foundation - a lot rests on selecting the best eyeliner for you. Broadly speaking eyeliners fall into three categories; pencils, gels and liquids, which then branch out into their own little subsets of felt-tip style nibs, inky pen pots, paint-on vinyls and more.
"Both pencil and liquids are wonderful and depend on your choice of result. Just as you do not wear the same clothes every day, this is the same with make-up," says A-list make-up artist Ruby Hammer.
"Pencils are more forgiving and can be blended or set with a matching eye shadow for longevity and more emphasis. Liquid liners are dramatic by nature, so once you get the hang of using them they are great – my Precision Liquid Liner has the best nib for control. Perhaps use a pencil to start out and build your confidence."
Carly Utting, National Artist at MAC Cosmetics agrees that pencils offer more margin for error, "Lining the eyes with a soft pencil liner can give you the same defined look as a liquid, but with a softer, more romantic feel. This might give beginners more confidence without the 'hold your breath and hope for the best' fear of using a liquid liner."
Your third option, gel, offers the glossy, lasting pigment of a liquid but is usually painted on from a pot with a brush. Despite appearing a bit more fiddly than pencils or liquids, gels can actually be very beginner-friendly as they glide on smoothly and work particularly well on creased or less firm eyelids.
Generally, the softer the eyeliner, the more experimental you can afford to be with shades. Browns, warm coppers, aubergine and forest greens might look a bit extreme as an opaque liquid line, but can look beautiful and subtle in smoked-up pencil or creamy gel form.
Bobbi Brown Long-Wear Gel Eyeliner
Zoeva 317 Wing Liner Brush
MAC Eye Kohl in Costa Riche
Ruby Hammer Precision Liquid Liner
How to apply eyeliner for your eye shape
How and where you place your liner depends on eye shape, facial structure and skin type. If you have puffy eyes or creased lids it can feel like you have a tougher job learning how to apply eyeliner, but some clever little tweaks will keep it flattering.
"If you worry that eyeliner doesn't compliment the shape of your eye, it may mean you just haven't found the right product or style for you," explains Carly. "Makeup should evolve the way our faces do. As I have gotten older, I use a softer brown pencil and place it in the top outer corner rather than a full black line across the whole eye. I'm still defining my eye, but now I use it as a way of lifting the eye and adding a more fluttery feel."
Ruby agrees the basic principles can be adapted to any eye. "Follow your natural eye shape, keep the liner close to upper lash line, and kick it upwards at the end to lift the eye up. If you have creased eyelids, you can still wear eyeliner. Just keep it close to your lash line and in between the hairs and skin - no need for dramatic wings."
Of course, applying eyeliner isn't all about what nature gave you, it should represent your personality too. "Think about what you want your eyes to say," says Carly. "Twiggy used liner to create a doe eyed look by taking her liner from start to finish and bringing it lower on the outer corner. Adele uses liner in a more cat eye solid flick to elongate her eyes, Sophia Loren used liner to enlarge her eye shape by including a bottom liner. Have a play around, try different styles and have fun!"
How to apply eyeliner - the technique
Before you start
No matter which product you're using, a steady hand will serve you well, advises Ruby.
"Do not rush or hold the eyeliner too tightly, steady your elbows on a surface or tuck them into your body. Keep your eyes open and not tightly shut - and use a magnifying mirror if it helps."
Tweezerman Tweezermate 10x Lighted Mirror
Technique one - liquid liner
Don't be intimidated by liquid, Carly Utting's pen liner technique can help even the wobbliest pair of hands channel the inner artist.
"Hold the pen horizontal and flat to your eye with the tip facing your nose. Using the tip of the pen, start in the very inner corner of your eye. Lightly drag the pen slowly towards your outer eye and stop."
"If you wish to create a flick this should be placed where your last eyelash would be. Switch the angle of your pen so the tip is facing your ear and draw your flick, this can then be joined with your liner."
Technique two - gel liner
Gel eyeliner is many makeup artist's choice for superior control and a high-impact look. Follow Bobbi Brown's protocol for flattering gel eyeliner.
"Begin by lining in the middle of the lash line and move to the outside corner of the eye. Gently lift the lid to get close to the eye. Apply the liner in smooth strokes. Make sure you apply the eyeliner generously enough to be visible when the eyes are open to make the most impact."
"Next, apply the liner all the way to the inner corner of the eye. Make sure the eyeliner is thicker at the outer corner, gradually thinning the line toward the inner corner. Line the whole way across the eyelid to open up your eye and make it look bigger."
"Try not to leave space between the eyeliner and the lash line. If, after application, there is a small space, fill it in with the same shade of powdered eyeshadow."
Technique three - pencil liner
Pencil liners have a naturally smudgier look than their fluid friends, which makes them more novice-friendly.
"The great thing about using a pencil liner is that is doesn't have to be neat!" explains Carly. "If using a pencil, look to simply dot or scribble along the lash line to fill in the gaps between your lashes, don't try and draw a straight line."
"Then using a brush like the MAC 219 Pencil Brush, softly run the brush back and forth over your scribble to break up the product and soften the line. This will give definition in a quick and easy way."
What do do if you make a mistake
Don't panic. There's no need to wash the whole thing off and start from scratch, tempting as that may be. Having a few tools handy for swift clean-up will make it feel less stressful when the inevitable happens.
"Keep a few pointed Q Tips - I like the ones from Muji - and micellar water for tidy ups," advises Ruby. "Or you can tidy up the edges with concealer and a fine brush."
As with most things in life, it's prudent to apply the philosophy that mistakes will happen but it's how you deal with them that counts.
"If you're anything like me, eyeliner and mistakes come hand in hand!," laughs Carly.
If a pro make-up artist can accept the odd error then so can us mere amateurs - so go forth, try not to get flustered and define those beautiful eyes!
As woman&home's Senior Beauty Editor, Fiona Mckim has tried more beauty products than she's had hot dinners and nothing makes her happier than raving about a brilliant beauty find on womanandhome.com or her instagram grid (@fionamckim if you like hair dye experiments and cute shih-tzus)

Fiona joined woman&home as Assistant Beauty Editor in 2013, working under legend Jo GB, who taught her everything she needed to know about the industry (clue: learn about ingredients and employ extreme cynicism).
In a previous life, Fiona studied journalism back home in bonnie Scotland and honed her skills as a features writer at publications including Junior and Prima Baby, with a brief and terrifying stint on the showbiz gossip pages of a tabloid newspaper in between. She's a skincare fanatic who can't resist adding an extra step to her routine if it's all the rage in Japan, loves fragrance, has fun with makeup and never turns down the chance to test a new hair tool. Basically, she loves it all.

When not slathering herself in self tan or squinting at a tiny ingredients list on a moisturiser, you'll probably find Fiona enjoying something to do with food - cooking it, eating it, cajoling her friends into trekking across London to try a hyped pop-up in a dirty car park.
Come to think of it, the hot dinners and beauty products are probably about even.