Mascara vs eyeliner: which one is best for the look you want?
Weighing up mascara vs eyeliner? Top makeup artists to break down the differences, types, and how to use each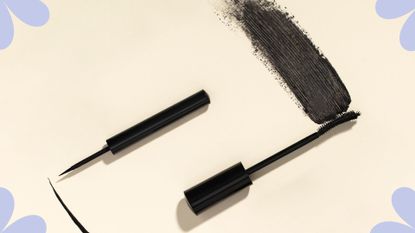 (Image credit: Future/Getty images)
Mascara vs eyeliner sounds like a strange comparison, but perhaps you are foraying into the joyful world of makeup for the first time and wondering about the unique benefits of each beauty buy.
In which case, you probably have questions. What kind do you need? What are the effects of the best mascara versus the best eyeliner? Do you always need to wear them together? All perfectly valid queries that we're going to answer in this guide. While some beauty comparisons, such as foundation vs BB cream, are easier to make because they are similar products that lend themselves well to different situations, mascara and liner are two pretty distinct products.
"Mascara and eyeliner are both great tools for enhancing the eyes and creating a more dramatic makeup look," says makeup artist Joy Adenuga, founder of makeup brush brand ByJoyadenuga. "However, they have slightly different effects on the eyes, and the specific type and placement of eyeliner can also make a difference." Our detailed guide to both of these core eye makeup products will break down the benefits of both and which to use, when.
Mascara vs eyeliner: which one is best for the look you want?
What can you do with mascara vs eyeliner?
"Mascara is designed to darken and lengthen the lashes, which can make the eyes appear more open and defined," says Adenuga. "It can also add volume and thickness to the lashes, which can create a more dramatic look. Eyeliner, on the other hand, is designed to define and shape the eyes," she continues. "It can be used to create a range of different looks, from a subtle, natural look to a bold and dramatic cat-eye. Depending on the type and placement of the eyeliner, it can make the eyes appear larger, more elongated, or more rounded."
The color of eyeliner you choose will also have an effect on the overall look of your eye. "A light-colored eyeliner makes eyes appear more open and brighter, [while] a bright or dark-colored eyeliner makes eyes appear more defined and pops your eye color," says Bobbi Brown PRO makeup artist, Jennifer Oliver. "Brown is a great option for beginners, as it's softer and more forgiving of mistakes than black."
Generally speaking, extending liner or shadow out in a wing helps elongate the shape of the eye, but our guide on how to apply eyeliner breaks down three key application methods. "A universally flattering way to apply is to tight-line," Oliver advises. "I do this to everyone! This technique involves applying in-between the top eyelashes to fill in any gaps. It really thickens the look of eyelashes and defines the eye in a very subtle, but noticeable way."
Types of mascara and eyeliner
Lets get some backgrond on mascara vs eyeliner. Both of these eye makeup staples come in different shapes, sizes and formulas. Mascaras, applied to your lashes to add definition, come with various different shaped mascara wands as well as varying by formula and finish:
Length, volume, or curl: Lots of mascaras will boost all three to some extent, but many mascaras will enhance one of the three particularly well, if you're keen to add more of one in particular.
Tubing mascara: Unlike traditional formulas that can be prone to smudging, the best tubing mascaras coat the lashes in 'tubes' that will stay put until soaked off with warm water.
Waterproof mascara: Traditional mascara has a reputation for being terrible at withstanding water (just picture a classic movie crying scene), but the best waterproof mascara formulas stay in place come rain, sea, pool, or tears.
Our beauty editor recommends...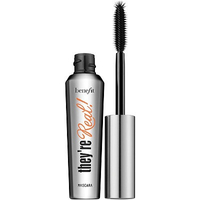 Benefit They're Real! Mascara | RRP: $28/£25.50
A great all-rounder that boosts volume and lifts lashes, the brush also features a rounded spiked tip that's great for nailing how to apply mascara to the inner and outer corner lashes.
Eyeliner, on the other hand, comes in lots of different formula types – some waterproof, some not – which vary in terms of the results and ease of application:
Pencil: Fairly easy to apply. Can be gel, that stays in place well, or smudgier kohl.
Pen: Fine felt tips that are great for creating a sharper wing.
Liquid: Ideal for feline flicks but requires a steady hand.
Gel: Comes in a small pot and is applied with a separate makeup brush.
Our beauty editor recommends...
Do you always need to use both mascara and eyeliner?
This completely depends on your personal preference; we love wearing the two together as they complement each other brilliantly and both help define and accentuate your lashes and eye shape. But although they go hand in hand, you don't need to wear both if you don't want to or you don't feel that one suits you. Mascara is often worn without eyeliner, but that's not to say that you can't wear liner without mascara, whether you don't feel that your natural lashes need enhancing or it's simply a look you like.
Mascara vs eyeliner: the W&H verdict
As we touched on these products serve different purposes, so if you're completely new to one or both, it's largely about experimenting to find your favorite products and looks. A little touch of mascara can give you a nice confidence boost on a day when you don't want a full face of makeup, while eyeliner looks can add a nice amount of definition – and both can be worn alone or together, or layered up for a more glamorous look.
"Ultimately, the effect that mascara and eyeliner have on the eyes depends on a variety of factors, including the type and placement of the products, as well as your individual eye shape and features," says Adenuga. "Experiment with different products and techniques to find the look that works best for you and enhances your natural beauty."
Lucy is a UK-based beauty journalist who has written for the likes of Marie Claire, Cosmopolitan, OK!, Women's Health and more, as well as contributing to woman&home. Her work covers everything from expert skin and haircare tips to the latest product launches and the show-stopping beauty looks spotted backstage at London Fashion Week. During her career she's interviewed some seriously famous faces, from Little Mix to Drag Race royalty The Vivienne, as well as chatting to the industry's leading hairdressers, dermatologists and make-up artists.