42 inspiring eyeliner looks to suit every occasion and flatter every eye shape
From a classic flick to adventurous graphic styles, these eyeliner looks will get your creative juices flowing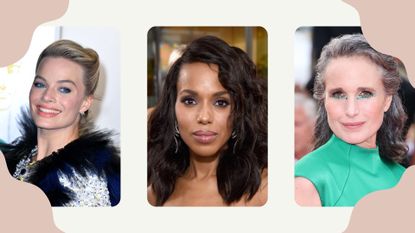 (Image credit: Future/Getty)
Playing around with eyeliner looks will help you break out of your makeup comfort zone. You can go wild with a graphic design or keep it chic and classic with a winged cat eye – there really is a style to suit everyone.
If you're already a pro at applying makeup and boast a steady hand, intricate eyeliner looks will come easily to you and can look spectacular. Equally, keeping it simple by using your best eyeliner or even best eyeshadow stick to subtly thicken up the lash line can look just as striking and might be all the glamour you're looking for.
While a slick of the best mascara you own might be enough to give you a boost of confidence. adding in an eyeliner can really open your eyes up and take your look to the next level. It also makes a sexy, smudgy way to take your look into the evening, or into a new season, say for fall makeup looks. To help you achieve an array of eyeliner looks, we've asked the experts for their top tips on how to apply eyeliner like a pro and curated the most inspirational liner looks for you to choose from.
How to create eyeliner looks like a makeup artist
Find your formula: There are lots of choices when it comes to eyeliner. Waterproof formulas are brilliant for oily eyelids or watery eyes, kohl liners are great for smudging and creating a smoky eye, liquid liners are good for intense pigment and crisp lines, while gel liner is perfect for precise flicks.
Choose a brush: Liquids and kohls are their own applicator, but the best makeup brushes for gel or cream might be a fine liner brush or a slanted/angled brush. "I love to use gel liner with a slanted brush," says makeup artist, Lou Dartford. "Use the flat side of the brush to 'push' the liner really into the roots of your lashes to create depth. I also like to change the angle of the brush to use the point for precision work."
Hold your gaze: "My top tip is to mark in your eyeliner shape with your eyes open," Dartford suggests. "Look straight ahead into a mirror and use your bottom lash line as your guide to lift the eyes. Often if you draw your flick with your eyes closed, when you open the shape is too low and can drag eyes down."
Practice, practice, practice: Trying your hand at a precise eyeliner look can seem daunting, but, as with any beauty trend, the key to nailing it is putting in the work. Experiment with different styles of brush and formulas, and try your looks out on low-risk days like a lazy Sunday. It'll be a lot less stressful than saving your first attempt as an accompaniment to a mother of the bride hairstyle, for example. Equipment can go a long way too - the best makeup mirrors with lights and magnifying elements can make all the difference.
42 inspiring eyeliner looks we love
1. White waterline
Instantly brighten tired eyes with a slick of light eyeliner, ran along the waterline. This easy makeup look is really effective and can neutralise redness while also making eyes appear bigger. We recommend opting for a flesh-toned pencil, rather than bright white, for a natural-looking finish.
2. Orange accents
Have some fun with your eye makeup and add a hint of bright orange liner to the inner and outer corners of the eyes. A great way to experiment with colour, this look requires minimum effort. To keep all eyes on the eyes, ensure the rest of your makeup is paired-back.
3. Soft smoke
To recreate this romantic eye makeup look, call upon a brown kohl pencil and apply it above the upper lash line and below the lower lash line before smudging it in with your fingertips to create a soft, smoky finish. Complete the look with a fuller flutter c/o your best mascara.
4. Baby wings
For a subtle take on the classic winged eyeliner look, apply a liquid black eyeliner along the lash line before taking it out slightly to create a short feline flick. Easy-to-do, this eyeliner hack will elongate eyes and add a touch of drama without feeling 'too much'.
5. Sunshine lids
Yellow eyeliner may sound a little out there but when paired with a natural makeup look, it can look sophisticated and chic. We recommend investing in a liquid formula for this – and don't be afraid to go thick with the line, it will really make those peepers pop.
6. Heavy kohl
If your searching how to apply eyeshadow to create a smoky eye look, consider using a kohl pencil instead. Simply swipe a creamy liner, in a bronze or brown hue, all over your lids (and don't worry, the messier the better) before smudging it in with fingertips.
7. Power pink
Make a statement with neon pink eyeliner placed on top a slick of black liner. The two-toned effect is seriously striking. To dial it up for evening wear, combine with your best pink mascara, drench your eyelids in glitter or use a cream shimmer shadow.
8. Silver smoke
You can't beat a classic silver smoky eye look. Take inspiration from Kerry Washington and apply black kohl along the waterline as well as a liquid liner above the lash line. To brighten eyes, add a silver shimmery highlight to the inner corners of the eyes.
9. Sunset shades
Create a warm makeup look using sunset shades like red, orange and pink. We love this deep orange liner and coral eyeshadow combo. After some eyeliner assistance? Try watching a cat eye makeup tutorial first.
10. Graphic lines
Elevate a simple graphic eyeliner look by connecting the outer corner to a line in the eye socket, in much the same way as creating the trending siren eyes look. It's a great way of spicing up your eye makeup and making more of a feature of a chic black liner. Just remember to keep the lines super thin and crisp, so liquid liner is probably best for this.
11. Icy white
When we think of eyeliner we automatically think black or brown but opting for white can add a touch of un-traditional glamour. It looks fantastic on everyone but particularly great on deeper skin tones.
12. Go green
The best eyeshadow for brown eyes will be a color that brings out the orange-gold flecks in your irises - but why stop at eyeshadow? Branch out with your eyeliner and get creative with a pop of color.
13. Reverse eyeliner
The eyeliner look that's popping up all over social media is the reverse liner. This 60s makeup inspired trend is all about accentuating your bottom lash line, rather than the top. To get this look we suggest using a short smudging brush to blend out a creamy kohl liner.
14. Silver sparkle
Get glam and add a stripe of silver to the lids. This looks phenomenal on tanned summer skin but go for a gold color if you've got an olive complexion as this will flatter your skin tone best.
15. Warm bronze
A black eyeliner can look harsh on mature eyes but brown is a little more forgiving. Wing it out and connect the bottom lash line to the top for a modern, eye-opening look.
16. Classic wing
A chic winged, black eyeliner in its simplest form is incredible for elongating the eyes and getting an Angelina Jolie-esque look. Lou Dartford loves using gel for this effect. "Delilah Gel Line is my kit favorite. I love it as the formula allows me to create the perfect flick without drying out too quickly. It is also super pigmented and allows for product build."
17. Outlined eyeshadow
One for the brave! Once you've applied your eyeshadow, take the look even further by outlining the lids with black liquid liner. This will make your eyeshadow stand out even more and make a colorful eye look extra modern.
18. Over the rainbow
If you don't have every shade of eyeliner at your disposal, fear not as a setting spray and an eyeshadow palette make a great alternative to liquid liners. Start slowly with this look and thoroughly clean your brush between each color.
19. Dot dot dot...
It's surprising how much attention a small dot of eyeliner under each eye can bring to your gaze - that's why we love this look. It's simple, easy to recreate and effective. Use a waterproof eyeliner pencil as these formulas shouldn't settle into lines or lose shape throughout the day.
20. Cherry red
Using eyeliner to create thick, graphic shapes on the lids makes a contemporary alternative to powder shadows. This works with any color, not just red. Try bronze for a subtle summer-friendly look.
21. Wing accents
Take a traditional winged eyeliner and add a pop of color underneath the wing. This bright turquoise shade is great for brown eyes, but blue and green eyes will suit a pop of orange.
22. Tightlined eyes
Applying black pencil to the upper and lower lashline gives the illusion of thicker lashes and looks fab with a smoky eye. Use a pigmented black kohl to draw carefully in the rim of the eyes - if you have sensitive eyes, choose a hypo-allergenic formula.
23. Neon dream
Complement a soft glam makeup look with a pop of neon on the lids. We love the vibrancy of this acid green but you could opt for yellow, pink, or orange depending on your preference.
24. Butterfleyes
Turn your eyes into art with a butterfly design at the outer corner. It's an intricate design that will need a steady hand and some creative skill, but with some practice, it should get easier. Keep a cotton bud soaked in micellar water handy to mop up any mistakes.
25. Flower power
One for your summer festivals perhaps! When you're creating a masterpiece on your lids, just like this flowery look, pare back your lips so as not to overdo your makeup. Try and find a nude lipstick to match your skin tone.
26. Minimalist lines
You don't need a runway to rock this trend, just a good liquid liner, and a steady hand. It might feel odd to draw lines away from the lash line but when the look is completed on both eyes, it'll come together into something modern and chic.
27. Sprinkle of crystals
Don't stop at the eyelids when you're adorning yourself with crystals, take things above the brows to make more of an impact. Lash glue will keep the crystals in place but make them easy to remove at the end of the day.
28. Seeing double
Wing out your lower lash line in parallel to a classic wing to create a doubled-up look. It's abstract beauty at its best and looks phenomenal with any eyeliner color. Black is classic but swapping one wing for a jewel tone could make it more vibrant.
29. 90s grunge
No need to weigh up mascara vs eyeliner when creating this look - go big on both! Dig out your black kohl pencil and rim your eyes to recreate this throwback look. It's all about keeping things smudged and not too perfect so don't worry if your liner is messy.
30. Twiggy style
Bring back the '60s with this Twiggy-inspired liner look. Use a fine liner brush and a gel to draw on doll-like eyelashes on the lower lash line and your eyes will appear bigger, wider, and runway-ready.
31. Ancient elongated style
By extending the inner corner of your eyeliner downwards and taking your flick upwards, it creates this Cleopatra-style eye look that exaggerates the eyes, giving the appearance of a sexy, feline gaze.
32. Smudged out
Grab a small smudger brush and get blending your kohl wing to recreate this ethereal look. Draw your liner at the very corners of your eyes and blend quickly before the pigment sets!
33. Sophisticated Sophia
Sophia Loren's eyeliner looks were iconic. By extending her eyeliner out and leaving the triangle blank it creates the illusion her eyes were much wider and farther apart than they actually were. Genius!
34. Two tone
Eyeliner doesn't have to be black - mix things up by using two different shades on the top and bottom lash line for a fun, party makeup look. Brown eyes look great with greens and blues while blue and green eyes look amazing with orange or red tones.
35. Disjointed dream
Go bold or go home, right? This ultra-modern eyeliner look is fantastic for bringing attention to the eyes. Use a bright shade of pink and practice drawing graphic shapes. The only tricky part is recreating the exact same shape on the other eye.
36. Hooded eye hero
If you have hooded eyes you might think eyeliner can't work on you but, think again. Recreate this makeup for hooded eyes design on your lids and the flick will look perfect when your eyes are open.
37. Barbie sparkle
A sparkly pink eyeshadow with a slick of purple eyeliner is a grown-up way to do Barbie-inspired beauty. It's incredibly feminine, very pretty, and a softer approach to girly chic. We love it on every eye colour.
38. Blunt beauty
Take inspiration from Kenzo's runway look and blunt off the edges of your eyeliner. It's edgy (excuse the pun) and striking but minimally chic too. It works on every type of eyelid but looks particularly great on mono-lids.
39. Wing span
Try something different and blend out your eyeliner to your temples. Finished off with a pair of the best false eyelashes, this look is sultry, smoky, and looks amazing with a red lip.
40. Smoke on the water
If your skin is cool-toned, forget warm browns and harsh blacks. Instead, think grey. This flattering shade is often forgotten about but it looks amazing on mature eyes as it's not quite so stark as black.
41. Doodle lids
Haven't got a steady hand? Don't worry, with this eyeliner look you don't need one. Take a fine liner brush and squiggle it on your lids to recreate this abstract look. It's not for everyone but definitely fun to play with!
42. Blue hue
If you want to experiment with your eyeliner looks then the easiest way is to add some color on your lower lash line. It's simple, effective, and very chic. We love this cobalt blue shade.
Emma North is a Beauty Writer who works for digital titles including woman&home, Woman, Woman's Weekly, Woman's Own, Chat and GoodtoKnow. Emma's career in beauty journalism began with internships at publications including Vogue, Elle, The Telegraph and Glamour. She was then taken under the wing of Funmi Fetto, Contributing Beauty Editor at Vogue where Emma assisted with Funmi's debut beauty book, Palette.

With contributions from