The 11 best eyeshadow sticks for super-speedy eye makeup looks
We've tested up the best eyeshadow sticks to create endless eye looks in a flash – with buys at every budget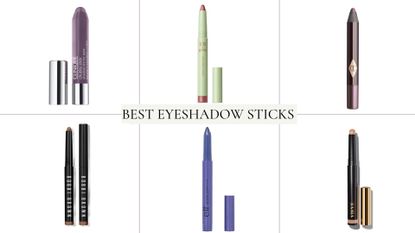 (Image credit: Future)
The best eyeshadow sticks may be just the thing to refresh your makeup routine with minimal effort. One swipe for an instant eye look? Sign me up.
While the best eyeshadow palettes are gorgeous to look at, I'd pick a stick any day. I have a need for speed – I am so not someone who wants to spend an hour doing my makeup, even when I have all day. I'm a fan of high-impact, low-effort looks that take a maximum of 15 minutes. And solid formulations like sticks, crayons, and pencils help speed up every area of your makeup routine, whether that's eyeshadow or your best cream blush.
Makeup artist Cassie Lomas (opens in new tab) swears by them too. "I love using eyeshadow sticks rather than powder, especially on mature skin." She says, "They go on quicker, need less building up, and are so much easier to blend and leave a professional finish." Who wouldn't want that? As well as testing and selecting the very best eyeshadow sticks on the market, I asked Lomas and Bobbi Brown Editorial Pro Artist Amalie Russell (opens in new tab) for their expert application tips and how to make sure you're picking the best eyeshadow sticks for you.
How we tested the best eyeshadow sticks for this guide
Why you can trust Woman & Home Our expert reviewers spend hours testing and comparing products and services so you can choose the best for you. Find out more about how we test.
Every product in this guide has been tried and tested, either by myself or a member of the w&h beauty team. We assessed the ease of application, looking for smooth, easy-gliding formulas that didn't drag on the lids. We then took into account how the shadow looks on the lids, is it sheer, opaque, sheeny, or matte? Lasting power played a part, as even the best cream eyeshadow has a tendency to sink into the eye crease after a long day's wear. Finally, we weighed up our favorites on value for money, shade range, and any extra benefits they boast.
The 11 best eyeshadow sticks, picked by our beauty editor
1. Bobbi Brown Long Wear Cream Shadow Stick
Best overall eyeshadow stick
Specifications
RRP: $32/£27
Shades available: 30
Finishes available: Matte, shimmer and glitter
Extra benefits: Non-creasing, long-wearing and waterproof
Reasons to buy
+
Loved by MUAs all over the world
+
Great shade range
+
Mix of finishes
+
Long-wearing and won't tug
Reasons to avoid
-
None, we really love this
This was the first option that came to mind when I started thinking about the best eyeshadow sticks, and having done a very official straw poll of the woman&home beauty team, these beat all the others to the top spot.
The reason why? Where to begin? Every time we use these they glide on smoothly, never tugging or pulling and they offer truly impressive staying power without smudging or smearing. The colors are highly pigmented, and the rounded nib makes for a pretty foolproof application. Personally, I couldn't live without the neutral tones - I use them almost every day.
2. Laura Mercier Caviar Stick Eye Color
Best eyeshadow stick shade range
Specifications
RRP: $32/£25
Shades available: 39
Finishes available: Shimmer, matte and chrome
Extra benefits: Smooth application, long-wearing but still comfortable
Reasons to buy
+
A mix of different finishes
+
Incredible range of shades
+
Highly pigmented
Reasons to avoid
-
None, these are brilliant
After Bobbi Brown, Laura Mercier was the second notable eyeshadow stick that each of the beauty team mentioned. Both of our top two are pretty closely matched when it comes to pigment, longevity, and ease of application – you can't really go wrong with either buy.
The advantage that this buy has over Bobbi Brown, however, is the breadth of shades in the range. They have classic neutrals that we love using for every day, sure, but they also have a great selection of more vibrant shades like turquoise, hot pink, and lilac. If you're looking for more vibrancy without sacrificing a flattering texture, and the ultimate way of creating bright eyeshadow looks with your eyeshadow stick - Laura Mercier is probably the way to go.
3. Pixi Endless Shade Stick
Best kind-to-eyes eyeshadow sticks
Specifications
RRP: $14/£12
Shades available: 6
Finishes available: Matte and shimmer
Extra benefits: Infused with green tea, aloe and chamomile
Reasons to buy
+
Infused with skincare ingredients
+
Pretty, wearable shades
+
Pointed tip for precise application
I think people often see Pixi as more of a skincare brand, thanks to the success of the cult Pixi Glow Tonic - but don't underestimate their makeup selection. They have gorgeous, skin-soothing buys, and they've actually carved out a bit of a niche in solid makeup, with their bronze and blush sticks among the brand's best-loved buys.
On to the eyeshadow sticks - they're lovely, shimmery shades that we found feel very comfy on the eyes. We love the pointy tip that makes precise application easy and the kind formula. Blended with aloe vera and chamomile, they'll also help hydrate and soften skin. More colors would be great if I'm being picky, but if you're looking for bronze and metallics, there are brilliant options here.
4. e.l.f No Budge Shadow Stick
Best eyeshadow sticks for bright shades
Specifications
RRP: $5/£6
Shades available: 19
Finishes available: Matte and metalic
Extra benefits: Long lasting, twist top with hidden sharpener
Reasons to buy
+
Excellent price
+
Vegan-friendly
+
Long-lasting color
+
Comes with a sharpener for precise application
This cruelty-free and vegan-friendly company is slowly becoming one of my most-recommended brands. Hardworking buys, smart ingredients, all at incredibly affordable prices – what could be better?
I really enjoyed using these, and I love that they have a mix of bold, out-there brights as well as useful neutrals. The staying power is also notable, as the name suggests –the color saw me through an 11-hour day without smudging or smearing. Even though it's a twist-top stick, it still comes with a hidden sharpener at the bottom, to help give you that precise point to apply. I had to double-check the price of these twice - I just couldn't believe how affordable they are for the quality, and staying power they offer. These are without a doubt the best eyeshadow sticks I tried under $10/£10. Top marks to e.l.f.
5. Charlotte Tilbury Colour Chameleon
Best eyeshadow sticks to create a smokey eye
Specifications
RRP: $29/£22
Shades available: 9
Finishes available: Metallics
Extra benefits: 10 hours of wear, easy glide formula
Reasons to buy
+
Blends like a dream
+
Glides on easily without tugging
+
Flattering shades
Reasons to avoid
-
You'll need a pencil sharpener
Charlotte Tilbury is the queen of date night makeup, so it's no surprise that these are the ultimate tool that makes siren eyes, doe eyes or any sultry smoky eye so effortless. Buttery-soft, and available in nine pretty, suit-all shades, these work just as well blended together as they do on their own.
We love how easily these glide onto the lids and are very smudgeable if you want to create more of a sooty smoky effect than a sharp precise one. The only slight downside is that these are traditional pencils, that you have to sharpen with a sharpener. But to be honest, it's quite a fun, wholesome little chore to have to do. An IRL pencil sharpener? How quaint.
6. Barry M Dazzle & Define Crayons
Best drugstore eyeshadow pencil
Specifications
RRP: $24/£14.99
Shades available : 6
Finishes available: Shimmer
Extra benefits: Long-lasting formula, tin for the trios
Reasons to buy
+
Vegan
+
Comes in a set of three shades
+
High-shine shimmery finish
+
Great price
Reasons to avoid
-
Can only be bought as part of a set
A new launch from the drugstore brand, I was impressed by the color payoff from this affordable option. Not surprising, considering that the brands' dazzle dust has been a mainstay for glitzy christmas makeup looks of mine for years.
Unusually, they're only available as a set of three, but that's not necessarily a bad thing, as they're two sets of three complimenting shades. Plus, they're still cheaper as a trio than many other single pencils. Once applied, I found that they have an iridescent, metallic finish on the skin that's lovely and shimmery without looking too glittery. A great affordable option if you're looking to overhaul your makeup kit.
7. Jones Road The Best Pencil
Best precise eyeshadow stick
Specifications
RRP: $22/£22
Shades available: 6
Finishes available: Matte
Extra benefits: Easily bendable, can also be used as a liner
Reasons to buy
+
Precise application
+
Can also be used as an eyeliner
+
Flattering, wearable shades
Reasons to avoid
-
Some might prefer a chunkier pencil
Another one of legendary makeup artist Bobbi Brown's creations on this list. She's the ultimate champion of fuss-free, easy makeup application, so it makes sense that she's such a fan of crayons, sticks, and pencils. These aptly-named sticks are clever little multitaskers - although they're eyeliner-sized, they still work as well as any of the other best eyeshadow sticks on this list.
I particularly love the navy shade, which works well with my blue eyes but would also be a great eyeshadow for brown eyes. They smudge just the right amount without smearing, so they're a great alternative to kohl too. If you have minimal space in your makeup bag, this pencil will really earn its spot.
8. Clinique Chubby Stick Shadow Tint for Eyes
Best eyeshadow stick for extra speedy application
Specifications
RRP: $21/£20
Shades available: 9
Finishes available: Mattes
Extra benefits: Vitamin E, lightweight
Reasons to buy
+
Infused with Vitamin E to soothe skin
+
A subtle, wearable color
+
Chunky crayon for speeding up application
Reasons to avoid
-
Quite sheer, so may not be high-impact enough for some
I'm a fan of all forms of the chubby sticks – the pleasingly named crayons are available as blush, eye, and lip colors, and are one of the first products that taught me how to contour without looking like a cyborg. So, it makes sense that this style of product also functions really well as an eyeshadow stick.
Some may find the chunkiness off-putting, but I think that's part of the appeal. If you're not looking to create a particularly detailed look, they're great for speeding up your routine even further. The colors are great too – a mix of elevated neutrals including a charcoal grey, a pretty lilac, and a stylish emerald. It's worth mentioning that these are labeled as eyeshadow tints and I find the color does go on a bit sheerer than many other sticks on this list. But if you're looking for mega-speedy, wearable color - look no further.
9. IT Cosmetics Superhero No-Tug Shadow Stick
Best gentle eyeshadow stick
Specifications
RRP: $24/£21
Shades available: 12
Finishes available: Matte and shimmer
Extra benefits: All-day wear, water-resistant, crease-free, includes caffeine and ceramides
Reasons to buy
+
Includes skin-boosting ceramides, caffeine, and peptides
+
Impressive staying power without drying out
+
Won't crease or pull
Reasons to avoid
-
Brighter shades would be great
IT Cosmetics' makeup range isn't massive, but it is perfectly formed. The Superhero mascara is often touted as one of the best mascaras out there, and I'm always raving about their cult CC cream.
As with the rest of the brands' range, this is an incredibly hardworking, efficient product. Not only is it formulated to prevent tugging at the delicate eyelids (which is one of the reasons why we get wrinkles around the eyes), but it's also impressively long-wearing. I applied the Tenacious Tawny shade at 7am, and it still looked pristine when I left the office 11 hours later. Impressive.
10. Vieve Eye Wand
Best eyeshadow sticks for neutrals
Specifications
RRP: $28/£21
Shades available: 8
Finishes available: Matte
Extra benefits: Long-lasting
Reasons to buy
+
Gorgeous, wearable tones
+
Fuss-free and easy to wear
+
Wear on their own or blended together
Reasons to avoid
-
If you're looking for bold bright eyes, you won't find these colors here
I'm always slightly wary of beauty products launched by influencers. Call it pessimism, call it jealousy for those mega-bucks paydays, but there's always an air of unease when someone with a humongous social media platform launches a brand.
The thing that sets Vieve aside, is that it was launched by a genuine makeup artist, Jamie Genevive (who also happens to also have a casual 1.3 million followers on Instagram). I've particularly been impressed by the makeup brushes and concealer, but the eyeshadow sticks are also worth a mention. I find the texture silky-soft and they blend like a dream, with or without a makeup brush. The shades look beautiful on the skin too. If you're looking for easy eyeshadow for blue eyes, you can't go wrong with warm browns and beiges, and these are the perfect, fuss-free way of wearing the shade.
11. Stila Trifecta Metallica
Best metallic eyeshadow sticks
Specifications
RRP: $26/£23
Shades available: 5
Finishes available: Glitter and metallics
Extra benefits: Emolients to soothe skin
Reasons to buy
+
Incredibly long-lasting
+
Gorgeous, glittery shades
+
Built-in sharpener for precise tip
Reasons to avoid
-
Very shimmery, which may put some off
I'm an enthusiastic fan of Stila's Magnificent Metals, which are one of the best cream eyeshadows in my kit. I reach for them constantly for an everyday, pretty hit of glitter, so I had high hopes for these pencils.
I was most wowed by the staying power – I swatched a couple of colors onto my hand and noticed hours later that the lines were still sharp and the color vibrant. Stila's Stay All Day Liquid Lipsticks are also brilliant long-lasting lipsticks, so actually staying power really is something the brand excels at. They do go on very shimmery, so that might not be right for you. But if you're looking for fuss-free, high-impact glitter that really won't budge – these are the best eyeshadow sticks for the job.
---
How do you use eyeshadow sticks?
No matter what makeup trends you're channelling, this is all down to how concentrated you want the eyeshadow color to be. According to Russell, "You can opt to apply the shadow stick directly onto the eyelid for more pigment or swipe the colour onto the finger then apply to eyelid for a sheer finish."
Lomas likes to apply her best eyeshadow sticks, "onto a closed lid, drawing the cream all over the lower lid taking it up to the socket line." She continues, "After that, I use a blending brush to soften the product in the socket line, making the colour blend seamlessly into the skin."
Where do you put eyeshadow sticks?
Russell confirms, "Placement is everything. Depending on texture you may opt for a matte shade in the crease or smudged in the water line for soft definition." She continues, "Any shimmering shade should be placed where you want the light to catch and open the eyes."
Using eyeshadow sticks are also a great way of applying color on the lower lash line, which is an especially useful beauty trick for makeup for hooded eyes.
How do you blend eyeshadow sticks?
You don't technically need to reach for your best makeup brushes to use alongside your crayons and pencils, but it can help give a more elevated finish. According to Russell, "Blending with a brush will always give a seamless finish. The magic behind cream shadow sticks is that you can get away with mistakes. Blending with fingers is just as good - even if it's your first time using them!"
Lomas explains that the type of brush you use makes all the difference too, if you do decide to use one. "It's important that your brushes are the right texture to blend your eyeshadow without pulling the cream away from the skin", she says. "Go for something soft and fluffy."