The best cream eyeshadows for long-lasting, crease-free color
Our beauty team selects the best cream eyeshadows, from bargain buys to luxe splurges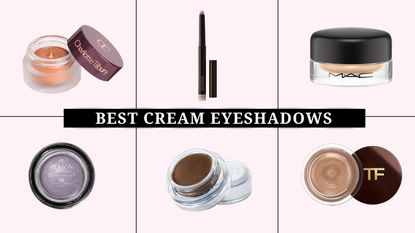 (Image credit: Future)
The best cream eyeshadows should have staying power, give phenomenal color and be easy to blend.
Add a cream eyeshadow into your makeup bag and easy makeup looks become even easier! Forget the endless blending of their powder counterparts, cream eyeshadows are incredibly forgiving and apply seamlessly with just a fingertip. So, if you're unsure of how to apply eyeshadow, cream-based alternatives might be for you.
Just like the best cream blush, cream eyeshadows can be used on any skin type but work particularly well on dry skin as they tend to be more hydrating. They're also great if you like to apply your base first as they won't fall out onto cheeks like some powder shadows. But, how do you know which ones will give the best color, won't crease, and last all day? Look no further than our guide to the best cream eyeshadows money can buy.
How to choose the best cream eyeshadows for you
Why you can trust Woman & Home Our expert reviewers spend hours testing and comparing products and services so you can choose the best for you. Find out more about how we test.
There are a few things to look for when picking the best cream eyeshadows:
Texture: Formulas vary greatly when it comes to cream eyeshadows, from dip-in pots to the best eyeshadow sticks in creamy formulas. Look for smooth, mousse-like textures as these will apply and blend more easily. If possible, avoid cream eyeshadows that feel dry to the touch (test in-store if you can) as these will accentuate fine lines and be trickier to apply on lined lids.
Pigment: If you're a fan of bright eyeshadow looks, choose a highly pigmented cream eyeshadow as these will mean you use less product over time and it's generally a lot more cost-effective. Strong pigment means your cream eyeshadow can also double up as an eyeliner.
Blending power: If you like a smoky eye, go for cream eyeshadows that don't immediately set as this gives you more time to play with it and blend out harsh lines. The best cream eyeshadows should be easy to blend with just your finger.
Longevity: A long-lasting formula is your best option as these won't need touching up throughout the day. When prepped correctly, cream eyeshadows can actually last longer than powders and don't settle into fine lines or creases. Using an eyeshadow primer can help if your eyelids are less firm, or particularly lined.
The best cream eyeshadows, chosen by our beauty team
1. Charlotte Tilbury Eyes To Mesmerise
Best cream eyeshadow overall
Specifications
RRP: £22 / $34
Shades: 14
Texture: Mousse
Reasons to buy
+
Highly pigmented
+
Easy to blend
+
Great range of matte/shimmer shades
+
Hydrating formula
Reasons to avoid
-
Not for those on tight budgets
Charlotte Tilbury's makeup line has delivered some of the best lip liners on the market as well as top-rated mascaras but her chart-topping doesn't stop there. Her ultra-pigmented range of cream eyeshadows is our overall winner thanks to a number of reasons.
These creamy, mousse-like shadows, seen here in the color Star Gold, give incredible color payoff and are so easy to apply you don't even need a brush. Now in an extra five matte shades, they give great staying power and don't settle into fine lines. If you're looking for a cream eyeshadow that doesn't immediately dry out as soon as its open, these will be your winner too. They stay creamy once opened, giving you enough time to use the entire pot.
2. Trinny London Eye2Eye
Best long wearing cream eyeshadow
Specifications
RRP: £18 / $24
Shades: 28
Texture: Cream
Reasons to buy
+
Huge color range
+
Great longevity
+
Easy to blend
The Trinny London Miracle Blur Lip and Line Filler has become one of Trinny Woodall's biggest sellers of her eponymous beauty line and her cream eyeshadows are also proving popular.
These hydrating pots of pigment, shown here in Chariot, are easy to apply and go on with a swipe of a finger (all nodding towards Trinny's love of no-nonsense, anyone-can-do-it beauty.) They blend out incredibly well and last all day. With strong pigment, a single layer is enough to give a smoky eye but you can build up a few different shades to add definition.
The huge range of colors means you can play around with natural makeup looks or try something a bit more dramatic, depending on your mood.
3. MAC Pro Longwear Paint Pot
Best matte cream eyeshadow
Specifications
RRP: £17.50 / $23
Shades: 17
Texture: Cream/gel
Reasons to buy
+
Great selection of matte shades
+
Easy to blend
+
Very long-wearing
Dubbed the original cream eyeshadow, MAC's Pro Longwear Paint Pots paved the way for other brands to release similar products. In a range of shades (seen here in Soft Ochre) including matte and shimmers, they're easy to blend and great for creating subtle or more dramatic eyeshadow looks.
As the name suggests, these pigments are very long-wearing and will go the distance. They don't fade, crease or dry out your eyelids and make a great base for powder eyeshadows or for use on their own. The only downside is the lack of really sparkly, bright colors. A few subtle shimmers are available but if you want your makeup to pack a punch, then you might find better elsewhere.
4. Smashbox Always On Cream Eyeshadow
Best cream eyeshadow for intense color
Specifications
RRP: £18 / $22
Shades: 15
Texture: Cream
Reasons to buy
+
Intense pigment
+
Long-lasting
+
Doesn't crease
Reasons to avoid
-
You may waste product with the squeezable tube
Bring the drama to your makeup with these intense, color-rich cream eyeshadows from Smashbox, seen here in the shade Ultramarine. They're packed with pigment and deliver opaque color with the tiniest amount of product—fantastic if you love creating a rich, smoky eye.
The range of shades is brilliant, from bright turquoise to olive green, and will suit every skin tone and eye color. With a crease-free formula, they won't settle into fine lines around the eyes and blend out easily with a fluffy brush.
We recommend applying them with your finger for precision then blending out the edges with one of the best makeup brushes you've got to get rid of harsh lines. The result? An incredibly intense look that will beat any powder eyeshadow. The only drawback is the squeezable tube. Too vigorous and you may end up with more product than needed but the plus side of this is that your cream eyeshadow won't dry out.
5. Laura Mercier Caviar Stick Eye Color
Best cream eyeshadow stick
Specifications
RRP: £26 / $29
Shades: 49
Texture: Solid cream
Reasons to buy
+
Easy to apply with the stick
+
Great shade range
+
Easy to blend
As this Laura Mercier cream eyeshadow is a stick (shown here in Grey Pearl), it's one of the easiest to apply. Just swipe across lids straight from the bullet than take a fluffy brush to blend out the lines and voila! A perfect smoky eye.
Not only does this one beat the rest in terms of ease of application, but it also has a great shade range. From sparkly soft pinks to intense matte cobalt blues, you can really create any makeup look you want.
The transfer-resistant formula doesn't fade, won't smudge all over the place, and doesn't settle into lines or creases making it a lovely option for more mature eyes.
6. Revlon Colorstay Creme Eyeshadow
Best budget cream eyeshadow
Specifications
RRP: £6.99 / $8.99
Shades: 16
Texture: Gel/cream
Reasons to buy
+
Affordable price
+
Creamy texture
+
Long-lasting pigment
This great value cream eyeshadow is one of the most long-lasting formulas we've come across. It has a decent range of colors (shown here in Blackcurrant) and applies to the lids with a creamy, gel-like texture.
Its crease-proof formula won't sink into lines around the eyes and makes a great base layer for additional powder shadows or on its own.
The only downside we can find is that the pot tends to dry out quite quickly once opened. But, if you're sure to tighten the lid after each use, this will extend the usage time.
7. Tom Ford Cream Color For Eyes
Best luxury cream eyeshadow
Specifications
RRP: £32 / $46
Shades: 5
Texture: Mousse/cream
Reasons to buy
+
Intense pigment
+
Hydrating mousse-like formula
+
Easy to blend
Reasons to avoid
-
Expensive
-
Limited shades
A luxury splurge this might be, but if you're willing to part with the cash, this cream eyeshadow (shown here in Opale) is the most buttery, easy-to-blend formula on the market. It applies like a dream and with a single swipe you get an incredible color payoff.
Although it has a limited shade range, it's 100% crease-resistant, transfer-proof, and a must-have if you love glowing, enhanced eyes. Free from chunky glitter but rich in delicate shimmer, these are the cream eyeshadows to choose from for a special occasion.
Although these shadows are lovely they are expensive: even when you're talking about the best cream eyeshadows going, £33 / $46 is still an eye-watering sum to pay for a single color. But, if you have the funds, you're sure to be pleased with this product's performance.
8. Maybelline Color Tattoo 24 Hour Eyeshadow
Best natural-looking cream eyeshadow
Specifications
RRP: £4.99 / $7.99
Shades: 12
Texture: Gel/cream
Reasons to buy
+
Buildable pigment
+
Affordable
+
Easy to blend
A true multi-tasking product, this cream eyeshadow can be used as eyeshadow, highlighter, and gel liner in one (depending on the color you choose, of course.) It's soft, creamy, and completely transfer-resistant allowing you to create just about any eye look you want without the fear of it sliding off your lids.
But, like with other budget cream eyeshadows, if you're not tightening the lid after every use the formula can dry out very quickly. Frustrating yes, but entirely preventable with a little extra care.
The shade shown here is Risk Maker and this inky black color makes a great base for a smoky eye or to use as a liner. Its buildable pigment gives you good control over how intense your look is so opt for one layer for a wash of color or two to three layers for an opaque payoff. We suggest finishing off your makeup with one of the best Maybelline mascaras to really tie it all together.
9. 3INA Cream Eyeshadow
Best cream eyeshadow for colorful makeup looks
Specifications
RRP: £14.95 / $17
Shades: 18
Texture: Gel/cream
Reasons to buy
+
Huge shade range
+
Strong pigment
+
Affordable
If you're in the market for a bright cream eyeshadow then look no further. 3INA has some of the most pigmented formulas in a rainbow of colors. The shade shown here, Burgundy, is a particularly great eyeshadow for brown eyes but if you have green or blue eyes, take a look at the shades Brown and Pink Nude to really make your peepers pop.
The formula itself does blend out well but feels a little dry when compared with more expensive alternatives but, if you apply an eyeshadow primer to smooth the eyelids, this shouldn't be much of a problem. The vibrant shade range is unbeatable in terms of variety and the color payoff is strong so if more intense makeup looks are your style, look no further.
10. Too Faced Melted Chocolate Matte Eyeshadow
Best cream eyeshadow for neutral makeup looks
Specifications
RRP: £19 / $21
Shades: 7
Texture: Liquid/cream
Reasons to buy
+
Easy to apply with wand
+
Hydrating formula
+
Easy to blend
+
Pigmented
If vibrant shades of neon on your eyelids aren't really your thing, then opt for matte browns to create a more natural makeup look. These pigmented, liquid-cream eyeshadows from Too Faced, shown here in the shade Amaretto, are some of the most hydrating you can buy so if your eyelids tend to flake or become chalky with powder eyeshadows, you're sure to love these. The velveteen finish doesn't cake, crease, or transfer and feels featherlight on the skin.
The wand applicator means your product won't dry out over time and you're able to apply directly to the eye without messing up your fingers. We simply suggest blending out with a fluffy brush to create a diffused look. If scent is important to you, you'll love the chocolatey aroma these give but, if you'd rather avoid any type of fragrance near your eyes, you may want to stay away from these.
---