The best eyeshadow palettes to create every eye look you can dream of
Our expert edit of the best eyeshadow palettes to suit every eye color and skin tone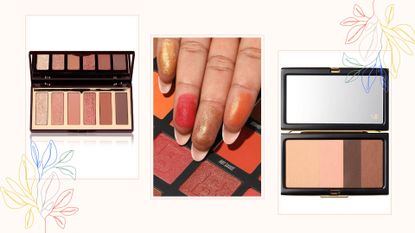 (Image credit: Future/Beauty Bay)
What makes the best eyeshadow palette, much like any color cosmetics, is highly subjective. One person's rainbow-hued dream is another's intimidating, unwearable nightmare.
Similarly, that ultra-useful 50 shades of taupe palette you've used down to the pan may look, to some eyes, as dull as dishwater. But the good news is, many of the best eyeshadow palettes can cater to various tastes in eyeshadow looks – so it is possible to find common ground. "The most important consideration is product quality," says makeup artist Lo Dias (opens in new tab) "You want mattes to blend and shimmers to glow. Being able to complete a few different looks with one palette is key."
Kerry Hatton, Bridal Makeup Artist at Mii Cosmetics, agrees versatility is crucial, "Make sure you're buying a palette where you'll get use out of most, if not all of the shades," she advises."Go for a palette with soft and strong colors. Strong is great for a bold look. Soft shades are perfect to give depth and shape to the eye." Knowing how to apply eyeshadow for the look you want is as important as the shadow itself. So as well as revealing our favorite palettes for all tastes and budgets we've answered your eyeshadow palette FAQs, with a little help from expert makeup artists.
The best eyeshadow palettes for every look and budget
1. Fenty Beauty Bomb Posse Mega Mix & Match Eyeshadow Palette
The best nude eyeshadow palette
Specifications
RRP: $33.50 /£39
No. of colors included: 12
Reasons to buy
+
Wide variety of shades
+
Crease-resistant
+
Cruelty free
You don't always need to wear bold colors to make your eyes shine. This palette from Fenty Beauty has 12 reimagined nude shades that are inspired by some of the brand's best-selling glossy lip products. From shimmery pinks to soft browns to glittery oranges, each shade is great for those who want to experiment with makeup with a more natural look in mind.
We rate the range of shimmery corals which could work across all skin tones and will make blue eyes particularly stand out. For those who want a more dramatic look, you can mix and match with similarly-colored shades. You may have to use a damp eyeshadow brush to create an intense color payoff as the shades aren't very pigmented, but for the price and the amazing selection of shades on offer, it would be a welcome addition to your makeup kit.
2. Anastasia Beverly Hills Norvina Palette
The best bold eyeshadow palette
Specifications
RRP: $45/£46
No. of colors included: 14
Reasons to buy
+
Wide variety of shades
+
Highly-pigmented
+
Brush included
Although Anastasia Beverly Hills is renowned for creating some of the best eyebrow gels and pencils in the business, this brand has also garnered a reputation for producing covet-worthy eye palettes. This one is inspired by the favorite shades of Norvina, Anastasia's daughter, and includes a delightful array of shimmery shades that would be perfect for the upcoming party season.
We rate the uniqueness of each shade - no hue is the same. It's also super easy to apply and you won't have to worry about building up the color as a little bit goes a very long way with this gem. From glamorous metallics to soft neutrals, there's something for everyone, shade-wise, in this clever collection. The palette comes with a makeup brush, so you won't need to worry if you aren't particularly sure about what the best makeup brushes are to use with this eyeshadow.
3. Barry M Mini Cream Eyeshadow in The Berries
The best budget eyeshadow palette
Specifications
RRP: £6.99 (UK only)
No. of colors included: 5
Reasons to buy
+
Variety in shade offering
+
Value for money
+
Long-lasting
+
Easy cream texture
Barry M's iconic budget nail polish will remind many of us of our teenage years, but the brand is also known for its fashion-forward color cosmetics. This mini cream eyeshadow palette would be a great addition to any makeup collection and would particularly suit brown eyed beauties.
We love that there are five completely different shades to choose from so you'll definitely be able to find something that works for you. It doesn't have a base shade, which could be a downside depending on your preference, but every shade is blendable and buildable - the intensity of the colors is on a whole other level! Like any of the best cream eyeshadows, these can be blended together. But If you aren't confident when it comes to mixing different shades, we would recommend applying an eyeshadow primer first. You could also use the same colors on your lower lash line to draw attention to your eyes and create a 'halo' look.
4. Charlotte Tilbury Charlotte Darling Palette
The best day to night eyeshadow palette
Specifications
RRP: $57/£45
No. of colors included: 6
Reasons to buy
+
Blendable
+
Lightweight formula
+
Great for travel
This palette from makeup artist extraordinaire Charlotte Tilbury is an absolute dream. From warm peachy pinks, chocolate browns, and golden coppers, each universal shade enhances and highlights blue and green eyes particularly well. If you tend to play it safe with a smaller selection of shades, this palette is worth a try.
We love the chocolate browns which can be worn dry and blended across the lids or used wet for a smoother finish and the packaging is stunning too. If you like to go all out with bright eyeshadow looks and experiment with different shades, use the matte shades to create a daytime look and the shimmery shades when transitioning to a night look. For maximum impact, we recommend priming your eyes before application.
4. By Beauty Bay Fiery 42 Colour Palette
The best highly-pigmented eyeshadow palette
Specifications
RRP: $25/£24
No. of colors included: 42
Reasons to buy
+
Long-lasting
+
Vegan friendly
+
Value for money
Reasons to avoid
-
Will need oil-based makeup remover to take off
With a collection of 42 fiery warm-toned shades, this palette is perfect for anyone who wants to make a statement and accentuate their eye color. We recommend the shades Showmance and Tango for blue eyes, Apply and blend either over primed eyelids as a nighttime shadow that will make baby blues stand out for all the right reasons.
We love the intense pigment payoff across all shades as well as the variety of buttery mattes and soft shimmers. Whether you like to keep things sweet or simple or bold and glamorous, you'll be spoilt for choice. The shades are really easy to blend but do keep in mind that you'll need an oil-based makeup remover to take the eyeshadow off.
6. Sigma Beauty Ambiance Eyeshadow Palette
The best shimmery eyeshadow palette
Specifications
RRP: $49/£37.25
No. of colors included: 14
Reasons to buy
+
Perfect for natural makeup looks
+
A mixture of matte and shimmery shades
+
Dual-ended brush included
Reasons to avoid
-
Fairly neutral, not for making a statement
One of the best makeup tips for anyone with blue eyes is to opt for brown and dusky rose colors, as they will give a softer finish and bring a bit of shape to your look. It's easy to think of black, white, and cream shades but softer tones will look a lot more flattering.
We rate this 14-piece palette from Sigma, particularly the shades Luster and Oasis. When applied across the lids, the soft brown and shimmery pink hue will create the most flawless of looks - we loved wearing a combination of the two. Blend it out with a flat eye brush and then use a loose brush to soften and blend any harsh color lines. Finish with one of the best volumizing mascaras to keep the focus on your eyes.
6. Morphe 350 Supernatural Glow Artistry Palette
The best eyeshadow palette for artistic looks
Specifications
RRP: $27/£25
No. of colors included: 35
Reasons to buy
+
Wide variety of shades
+
Perfect for creating day looks
+
Highly-pigmented
We love a brand that gives the people what they want. Morphe has done just that with this palette by using customer reviews to re-formulate the modern and timeless shades their beauty-savvy fans know and love. You'll be able to take your look from day to night in an instant with this glorious selection of matte and shimmery shades.
If you are still figuring out how to best enhance your eyes, start with a matte, neutral shade with a warm base for an elegant day look - you'll have many to choose from. We love the selection of colors as well as the pigment and depth each shade offers. If you are looking to experiment with lots of bright shades, this palette doesn't really have them, but you can mix and match some of the darker browns to intensify your look accordingly.
7. Victoria Beckham Beauty Smoky Eye Brick in Silk
The best luxury eyeshadow palette
Specifications
RRP: $56/£50
No of colors: 4
Reasons to buy
+
Long-lasting
+
Safe for sensitive skin
+
Buildable
Reasons to avoid
-
Limited choice of shades
This combination of shimmery golden and brown shades are perfect for creating party looks. Inspired by Beckham's womenswear collection, this palette comes in plastic-free packaging and each shade is pigmented and really easy to blend. Although it's on the pricey side, it's totally worth the investment and would make a special beauty gift idea, too.
An inner eye corner highlight will brighten up the face and draw attention to the gold specks in your eyes. Try using linen (light champagne) across your lids and the inner corner of your eyes for some glimmer. For an extra highlight, apply a small amount to the arch of your brow. Next, apply sunbeam (golden) across your lid and blend in. Finally, apply sandal (dark brown) on your lash line and along the eye socket. Be sure to use individual brushes when creating this look so the product doesn't get transferred and the transition between shades is smooth. To amplify the color and precision, lightly wet the brush beforehand.
8. Code8 Iconoclast Eyeshadow Palette in Burnt Sienna
Best innovative eyeshadow palette
Specifications
RRP: $59/£45
No. of colors included: 6
Reasons to buy
+
Primer included
+
Skin-friendly ingredients
+
Crease-resistant
This eyeshadow palette from Code8 offers a long-lasting formula with the help of revolutionary Knead Technology, an ingredient mixing method that combines pre-baked pigments with natural oils such as jojoba oil and sweet almond oil. As well as containing skin-friendly ingredients, you can create a stunning combination of eye looks with matte and shimmery shades that are perfect for brown eyes.
Although the shades aren't highly-pigmented, they do work really well together and separately, so it's worth using a wet brush to get the best of what this palette has to offer. The brand has also kindly considered makeup novices (let's be real, we're not all pros) by including three suggested looks at the back of the compact - natural, polished, and dramatic. So if you want to learn how to apply eyeshadow like a pro, this palette is well worth it.
9. Juvia's Place The Chocolates Eyeshadow Palette
The best Black-owned eyeshadow for brown eyes
Specifications
RRP: $15/£14
No. of colors included: 6
Reasons to buy
+
Rich formula
+
Universally friendly
+
Easy to blend
Reasons to avoid
-
Doesn't have a secure lock
You can always rely on Juvia's Place to create highly pigmented, universally friendly palettes, and this one has everything you need to create a variety of looks that suit a wide spectrum of skin tones. With a combination of four matte shades and two shimmery shades, it's been formulated with day and night looks in mind. The rich orange shade would make the perfect base while the darker and shimmery shades provide the finishing touch.
Although the palette doesn't have a secure mechanism to stop it from opening if you were to pop it in your handbag, although you could keep it in the packaging, which is just as stunning as the palette. We have used a few Juvia's place palettes through the years and we can confirm that a little bit of product goes a really long way - just wet your eyeshadow brush before applying for a look that lasts all day (and all night) long.
11. Mii Cosmetics Molten Luxe Baked Palette
The best glow enhancing eyeshadow palette
Specifications
RRP: $35/£29.95
No. of colors included: 4
Reasons to buy
+
Light reflecting
+
Buildable
+
Skin-friendly ingredients
Reasons to avoid
-
No matte shades, if you prefer those
We all desire a 'lit from within' glow from time to time and the Molten Luxe Baked Palette from Mii Cosmetics does not disappoint. With rich, velvety colors that reflect the light and provide a radiant finish like no other, you can expect nothing less than a glowing soft glam makeup look after using this. It's also multi-purpose, so you can apply it on the high points of the face as one of the best highlighters, around the brow bone, cheekbones, and cupid's bow.
Although this palette doesn't have a base shade or any matte shades, we like that there's still room for experimentation as they can be mixed and matched. We used Gilded (champagne) as our base shade and applied it across the lid and finished off the look with Burnish (dark brown), blending it in for a gorgeous, radiant look. For a daytime look, we recommend using less product because this palette is all about the glow.
12. Milani Cosmetics Gilded Flora Eyeshadow Palette
The best multidimensional eyeshadow palette
Specifications
RRP: $19.99 /£28.25
No. of colors included: 15
Reasons to buy
+
Wide variety of shades
+
Good color payoff
+
Blendable
Reasons to avoid
-
If you prefer sheer pigment
If you're looking for a go-to palette then Milani Cosmetics have got you covered with Gilded Flora. With 15 gorgeous, vibrant shades, you'll be spoilt for choice when deciding what type of look to create. The selection of colors is definitely this palette's biggest selling point - each shade is so pigmented and the color payoff is exceptional.
We love Take Root, a deep, rich brown shade that instantly amplifies brown or green eyes. If rich brown hues aren't your thing, then going for an all-nude neutral look with a shade like Salt of the Earth will accentuate the contrast and show off your eye's rich hues.
---
What eyeshadow palettes are best for beginners?
If you're fairly new to eye makeup and want to find the best eyeshadow palette for beginners, both of our experts advise that less is more. "Keep it really simple, a few neutral shades so you can practice blending with depth before making it too complicated," says Dias.
Hatton agrees that a curated, focused shade selection is best while you learn, "A palette with four shades is a good starting point. You'll usually use at least two of them and once you get more confident, you can build up an eye look using more colors." In terms of shade, you can of course pick whatever colors appeal the most, but some undertones are more flattering than others. "Warm colors are a good starting point as they suit most complexions/eye colors. And they usually have a shade that could double up as a bronzer," advises Hatton.
How do you use eyeshadow palettes?
It feels a bit joyless to apply too many rules to makeup application, it's supposed to be fun and creative after all! But if you really don't know where to start, Hatton explains that "Blending is your best friend. It is always better to build coverage up than to apply too much and try and take it away."
If you're feeling confident enough to work with several shades, consider placement, advises Dias, "Think about each shade having its own zone and then doing a little blend in between each. If you layer and over blend it can become slightly muddy."
Ready to take on the famous smokey eye? Follow Hatton's simple step-by-step:
Step 1: "Take a darker color in the palette and work that into the crease of the eye. Blend to soften.
Step 2: Then take a slightly lighter shade and work on the outer half of the eyelid and blend into the dark color on the crease.
Step 3: Then on the inner corner, use the lightest color and blend it into the darker shade. You can then bring it under the eye as close to the lash line as possible.
Step 4: Go darker on the outer half and lighter on the inner half and gently blend and soften. This will create a smokey look and frame the eyes softly."
Finally, make sure you have the right tools for the job. A mixture of small, firm brushes for laying down opaque color as well as larger fluffier ones for blending will keep you right. Going for an iridescent look? Dias advises, "make sure to apply shimmers with your finger or a damp brush as it makes the pigment really pop!"
What is the best eyeshadow palette for my eye color?
If you want to enhance your eye color you should always go for a contrasting tone on the color wheel. In a nutshell, blue eyes contrast beautifully with peach and apricot tones and warm metallics, green eyes suit purples, rich browns, and oranges while golden tones, deep reds, and aubergine shades work beautifully for brown peepers. Want to know more?
Our in-depth guides to eyeshadow for green eyes, eyeshadow for blue eyes, and eyeshadow for brown eyes have all the inspiring looks and more of the best eyeshadow palettes that will enhance your eye color to perfection.