16 gorgeous purple eyeshadow looks to inspire your new-season style
Lilac, periwinkle and purple eyeshadow looks are having a moment – feast your eyes on our favorite looks, with expert tips on how to wear them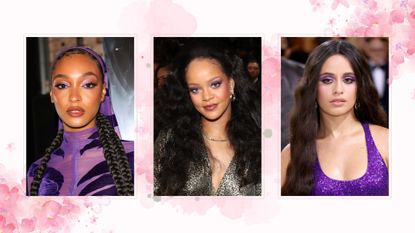 (Image credit: Future)
Purple eyeshadow looks have been spotted everywhere recently. From Hollywood red carpets to designer runways, ultraviolet eyes are having a major moment.
While pastel tones for spring are nothing revolutionary, lilac lids are taking center stage for 2023 and we've curated the ultimate mood board of wearable purple eyeshadow looks to inspire you. Whether you're a loyal smokey eye lover or someone who loves to play around with bold shades, purple peepers are set to be one of the spring makeup looks this season.
According to NARS National Senior Artist Cherelle Lazarus, there's a version of the trend to suit even color-shy types. "Purple is a beautiful color for everyone," she says. "The lighter shades and pastel hues make it easy to create a playful look for spring, while the deeper hues are great for any special occasion looks, to add depth." Along with Lazarus' go-to tips and tricks, we share a gorgeous selection of our favorite purple eyeshadow looks, to spark inspiration to try something new this season.
HOW TO MAKE PURPLE EYESHADOW LOOKS WORK FOR YOU
Not sure if purple eyeshadow suits you? Lazarus shares how to recreate these on-trend purple eyeshadow looks in a flattering and subtle way:
Start subtly: "The way you apply it is the most important. You don't have to wear it all over the lid. It could be applied as eyeliner or a pop of sparkle in the inner corner of the eye. Purple eyeshadow really will suit everyone, but work especially well for brown eyes and green eyes."
Balance your tones: "Makeup is all about balance. If you're creating a soft monochromatic look, staying in the same color family and playing with texture would give you a fun, playful aesthetic. Muting the blusher and lip will ensure the eyes are the focus and will create a perfectly balanced makeup look."
Learn your lines: "The golden rule is to ensure the pigment is the most intense at the lash line. Once you're happy with the intensity along the upper and lower lash, use a blending brush to soften the edges in circular motions to create a soft cloud effect. The application should look saturated along the lash line and gradually blend out around the eye."
16 purple eyeshadow looks we love
1. Color Contrast
When gorgeous violet tones are mixed with rusty reds and oranges, something magical happens. Makeup artist Katie Jane Hughes is the master of intricate eye looks, and this stunning design is an example of just one of the many ways you can incorporate purple eyeshadow looks into your life. A subtle slick pink gloss compliments the eyes perfectly.
2. Lilac Lines
Eye makeup doesn't have to just mean bold eyeshadow and smokey eyes, you can play around with liner shapes to create an equally impressive look. If you're using eyeshadow, wet your flat eyeliner brush before dabbing it into your desired shade, and then work along the upper and lower lash lines. If you dare, create a graphic shape at the top of your lid like this gorgeous example, which is one of the most impressive eyeliner looks we've seen.
3. Pastel Play
Keep things simple with a generous serving of a 90's makeup Parma Violet-inspired lid. If you're someone that struggles to create a smokey eye, then this is a great way to tap into the purple eyeshadow trend with complete ease. After selecting an amethyst-toned shadow, dab it onto your lids with your fingers for a more vivid look. Sweep the shadow under your eyes with a brush to add dramatic flair.
4. Shimmery Shadow
We love this gorgeous purple eyeshadow look on Kerry Washington. It keeps her violet eyes the main focus of her makeup, paired it with subtle blush and a classic pink lip. Sometimes less is more and this is definitely the case with this simple mauve shadow.
5. Soft Ombre
For a subtle daytime ombre look, look no further than this example of one of the chicest purple eyeshadow looks. Featuring a wash of iridescent indigo tones, this 70s makeup creation is so easy to replicate. Work your lavender tone eyeshadow into the inner corner of your eye and blend out to about halfway on your eyelid. Then with either a lighter purple metallic shade or a pearlescent white, blend the edges out. Don't forget to pop some of the lighter shadow into the corner of your eyes to really make them stand out.
6. Subtle Shimmer
If you're an eyeshadow novice or just someone who prefers a soft glam makeup look, then copy Charlize Theron's delicate lilac shimmer. Apply a generous amount of eyeshadow primer onto naked eyelids to ensure the purple pigments stay all day. Then, coat your eyeshadow brush in your selected shimmer of choice and work into the lid and blend. It's a simple look, but it's so effective.
7. Galaxy Glam
This subtle shimmer is the perfect example of how well purple eyeshadow looks complement darker skin tones particularly well. Teamed with a lashing of glossy lips and subtle rosy blusher, this wine tone is one to emulate. If you're after a dramatic eyeshadow look, then tap the eyeshadow pigment into your lids with your finger instead of blending with a brush.
8. Irridescent Indigo
A way of making your eyeshadow look extra impactful is to take it all the way to the brow bone. This works best when you have a slightly sheer shade, like this light lilac. The blend of pink and silver tones makes this extra striking - and extra gorgeous. A barely-there base and a slick of mascara are the perfect accompaniment.
9. Smokey Violet
We love a twist on the classic smokey eye look and this mauve shimmer is totally gorgeous. Letting the pearlescent lavender take center stage, this is metallic makeup at its best. Take the shadow under the eyes to recreate this dramatic feline effect, or stick with the top lid to keep it subtle.
10. Iris Outline
Helen Mirren can do no wrong in our eyes and we love this red carpet look. A chic display of soft orchid shades on her top and bottom lash lines keeps the attention on her eyes at all times. To replicate, simply outline your eyes with a generous wash of color and finish off with some of your favorite mascara.
11. Galactic Dew
High-shine drama mixed with galactic purple shimmer is the new eye makeup look you didn't know you needed. Everything from the delicious plum pigment to the placement of the iridescent shimmer has us lusting after this look. Finish off the makeup look with nude lipstick, the eyes are taking center stage here.
12. Disco Takeover
An iridescent, jewel-toned indigo lid and lip combo is the ultimate night-out glam that we're rushing to recreate. Blended with a gorgeous orangey-pink shimmer, this eyeshadow packs a powerful punch. Lightly tap some of the ultra-violet pigment into the corners of your eyes and over your lips for a dreamy disco-inspired makeup look, ideal for a night out on the tiles.
13. Reverse Shadow
Make your under eyes the focal point of your makeup look by mimicking Zendaya's stunning reverse shadow makeup. Sweep a subtle matte heather hue all over your upper eyelid to coat it in an understated shadow, then take an iridescent indigo metallic, tap it into the corner of your eye and then sweep underneath your lower lash line.
14. Metallic Midnight
If any purple eyeshadow look could inspire you to try the trend, then surely it would be this showstopper. This violet moment deserves all the attention it can get thanks to the stunning combination of matte lilac shadow and pearlescent mauves. Keep your majestic eyes the focal point of your face by teaming with some subtle blush and a natural lip.
15. Pastel Pigments
Nobody does it better than Jodie Turner-Smith's glam squad and this matte mauve look is a proper joy-sparking makeup moment. Making sure her eyes are center stage, the 80s makeup-inspired indigo tones look stunning against her brown eyes. Replicate this look yourself by dressing your eyes in some matte purple eyeshadow with a blending brush. Make sure to keep building up the color until you achieve your desired look.
16. Dramatic Ombre
Mixing metallic and matte eyeshadows together never fails to impress and we adore this indigo take on the classic eye look. This purple-toned eyeshadow look promises to be one of the best options for eyeshadow for green eyes as well as an enhancing eyeshadow for brown eyes. Taking your desired mauve shadow, sweep across your lids until you have a vivid pop of color. Then outline with a metallic shimmer shade.
Annie Milroy is the Beauty Writer for Woman & Home and other publications.
She spent three years studying Journalism and English Language at the University of Portsmouth before starting her career in magazines in 2017.
After 5 years working as a Fashion & Beauty Writer, she refined her career and is now working at Future as a Beauty Writer.