Eyeshadow for green eyes – the colors to buy and celeb looks to try
Makeup artists reveal the best eyeshadow for green eyes, with new-season palettes and looks to inspire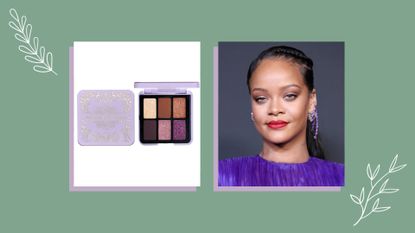 (Image credit: Future/Getty images)
Finding the right eyeshadow for green eyes will make those beautiful emerald tones stand out even more.
Green eyes are the rarest eye color, with an estimated 2% of the population lucky enough to have them. They are naturally striking, so it would be easy for green-eyed beauties to keep their eyeshadow looks minimal, but learning which eyeshadow shades will enhance your eye color can elevate your makeup game to the next level.
"When choosing a shade to compliment green eyes, look for anything that will serve as a contrast to the green. Lilacs, purples, browns, and gold tones compliment green eyes and enhance the little glints in them," says global makeup artist Ruby Hammer. If you're stuck in a makeup rut, we've selected the most flattering colors and easy-to-achieve looks that will make your eyes stand out in a whole new way.
How to choose the right eyeshadow for green eyes
With so many palettes, textures, and colors to choose from, It can be difficult to know where to begin. That's where color theory comes in.
Color theory is how humans perceive colors in our world. To make green eyes stand out, avoid matching colors and opt for a contrasting color on the color wheel. "The contrast will bring your eye color to life and is often opposite each other on the color wheel. If you match your eye color, it simply doesn't have the same effect," explains Caroline Barnes, Max Factor UK Makeup Artist Ambassador.
As a simple guide, the best eyeshadow shades for green eyes will be:
Purples, from plum to lilac to violet
Rich browns, from terracotta to amber
Oranges, from copper to gold
Something else to keep in mind is the type of look you are going for. "For a more dramatic look, pick contrasting purple eyeshadow looks such as burgundy and lilacs, and for a more natural look, khaki and soft brown shades are best," says Hammer.
The best eyeshadows for green eyes
1. Max Factor Masterpiece Nude Eyeshadow Palette
The best affordable palette for green eyes
Specifications
RRP: $17/ £14.99
No of colors: 8
Reasons to buy
+
Affordable
+
Easy to blend
+
Mix of mattes and shimmers
The best makeup palettes aren't always expensive, this affordable option is packed with purple-based shades that are fantastic for blending across the lids and making green eyes pop. (Its price tag also makes it one of the best beauty gift ideas too)
While the formula may not be as pigmented as some high-end alternatives, it is easy to build up in layers for more color pay-off if you need it. We love the mix of shimmers and matte plum shades for creating pretty daytime looks and more sultry evening eyes. If you're nervous about the punchier shades, apply one light layer and create a sheer wash across the lids instead.
2. Viseart Paris Minxette Etendu
The best multitasking eyeshadow for green eyes
Specifications
RRP: $44/£33
No of colors: 12
Reasons to buy
+
Incredible pigment
+
Lightweight
+
Mix of shimmers and mattes
Reasons to avoid
-
Bold shades not for everyone
Not only is this palette from Viseart Paris incredibly pigmented and easy to blend, but it's also great for travel as the packaging is light enough to throw into a bag. The shades are generally copper and bronze-hued, which is a perfect combination for emphasizing green eyes or bringing out jade flecks in hazel eyes.
For daytime, stick with shades from the top row in a single layer. For evening, layer up two tonal colors from the middle and bottom row, using the deeper one as an accent around the socket line. All you need is the best lengthening mascara to complete your eye look and you'll be set!
3. Tom Ford Eye Shadow Quad Palette
The best luxury eyeshadow for green eyes
Specifications
RRP: $89/£68
No of colors: 4
Reasons to buy
+
Intense pigment
+
Limited colors
+
Easy to blend
Tom Ford always serves up the most luxurious versions of staple products, and this quad eyeshadow palette in Visionaire is no exception. The packaging is beautifully made and will last you years. The lovely mixture of copper, bronze, and plums truly has everything you need to bring out emerald tones, making it a must for green eyes.
Learn how to apply eyeshadow in layers and you'll be able to create a soft smoky look or something a bit more natural. Nervous about color? Draw a little of the deeper brown shade along your lash line then smoke it gently out with a cotton bud for a flattering, soft eyeliner effect.
4. Nars Cosmetics Eyeshadow Quad
The best curated eyeshadow for green eyes
Specifications
RRP: $52/£41
No of colors: 4
Reasons to buy
+
Mix of mattes and shimmers
+
Intense pigment
+
Easy to blend
If you like to keep your makeup simple this eyeshadow quad, in the shade Singapore might be for you. You can create a plethora of bright eyeshadow looks with this orange, bronze, and plum palette, from smoky and intense to soft and shimmery. Try one shade at a time for a color-block look or all at once for a statement eye.
Despite having fewer shades than some other palettes on this list, NARS values quality over quantity. The intensely pigmented formula lasts all night on the lids and produces minimal fall-out onto cheeks as you apply.
6. VIEVE THE MUSE EYESHADOW PALETTE
The best vegan eyeshadow for green eyes
Specifications
RRP: $55/£43
No of colors : 10
Reasons to buy
+
Highly pigmented
+
Skin-friendly ingredients
+
Buildable
Reasons to avoid
-
Not a lot of darker shades
This palette from VIEVE has been curated with 10 pigmented shades that can be worn separately or together depending on the type of look you're going for. The palette includes gold, purple and brown hues that are smooth, creamy, and easily buildable.
While the palette doesn't feature a lot of darker shades, it does include a variety of matte and shimmery purple-based tones shades that are perfect for green-eyed beauties. We liked how easy it was to customize our own shades and experiment with a variety of combinations from soft and sultry to bold and vibrant. If combining different shades isn't your thing, these are pigmented enough to create one color-pop sweep.
7. Makeup By Mario Glam Quad In Bronzey
The best long-wearing eyeshadow for green eyes
Specifications
RRP: £12.35/$25
No of colors : 4
Reasons to buy
+
Long-wearing
+
Buildable
+
Skin-friendly ingredients
This palette from Makeup By Mario includes a selection of universally friendly, shimmery shades that are super buildable thanks to its creamy formula. With brown, gold, and peach hues, you'll be spoilt for choice with the variety of looks you can create with this artistry-led gem.
We like that all of the shades are long-wearing and the formula contains skin-friendly ingredients such as rice extract. To accentuate green eyes, we recommend the shades BG2 and BG4 - use the matte shades in the crease for definition and the lighter shades to highlight the area.
8. Luvia Forever Matt Shades Eyeshadow Palette
The best all-matte eyeshadow for green eyes
Specifications
RRP: £24.90/$34.40
No of colors: 12
Reasons to buy
+
Highly pigmented
+
Vegan
+
Versatile
Luvia Cosmetics is known for beautiful matte eyeshadow shades and this palette is no exception. The combination of 12 brown, purple, and golden hues are guaranteed to give green eyes drama and definition.
When it comes to applying eyeshadow, some of us are pros while some of us are just winging it, so if you fall into the latter, don't worry because matte shades tend to be more forgiving if something goes wrong. Eyeshadow palettes with mostly matte shades will give you more freedom to tap into your creative side and have fun with makeup. To intensify the pigment, use an eyelid primer or put a bit of setting spray on your brush (a soft or fluffy one ideally) prior to application.
Inspiring eyeshadow looks for green eyes
Bronze beauty
Emma Stone's auburn hair, porcelain skin, and emerald eyes are perfectly emphasized with a bronze, copper eyeshadow across the lids.
The winged-out eyeshadow and glossy lips make for an easy Christmas makeup look you can recreate at home.
Recreate the look with...
Lilac Eyes
Rihanna is known for experimenting with her look and this purple eyeshadow look is particularly fabulous. Teamed with huge false lashes and a deep berry lip, this isn't a look for the faint of heart but makes a real statement for a special occasion.
If it's too much for you, try a smaller pop of purple on the inner corner of the eyes, rather than all over the lids.
Recreate the look with...
Glimmer and shimmer
A mix of brown and bronze shades makes actress Jenna Dewan's green eyes look striking. This natural makeup look suits anyone looking to highlight their best feature without going mad on color.
To create this look, keep your eyeshadows warm-toned and team with black mascara and gel liner.
Recreate the look with...
Golden girl
Mila Kunis is known for her amazing eyes but the way her makeup artist has utilized gold tones and a black gel liner, makes her natural eye color really pop.
A true gold looks amazing on all eye colors but especially fabulous on green eyes as it brings out the honey tones within the green iris.
Recreate the look with...
Pared-back purple
A pale lilac isn't the only option for making green eyes stand out, a deep, more natural muted mauve can be just as effective (plus, it's a little more wearable!)
This look on Drew Barrymore makes her green eyes glisten without looking too much. To get the look smoke out a rosy-hued brown on lids and underneath the bottom lash line then complete the look with the best mascara in your makeup arsenal.
Recreate the look with...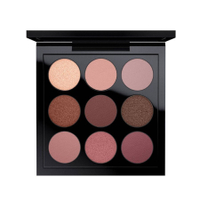 MAC Eyeshadow X 9 in Burgundy | RRP: $33/£28
This purple-hued palette contains a lovely mix of shimmers and mattes. Use the best makeup brushes you have to blend out the powder on lids, then finish with mascara.
Timeless Terracota
Tyra's pale green hazel-flecked eyes complement her rusty terracotta eyeshadow and black eyeliner, which has been blended for a smoky finish.
The high shine glitter in the center of the eyelid helps draw attention to her eyes, without looking too heavy or goth-like. If you're not usually a fan of such high-impact eye makeup you can create a more subtle version with a smudgy eyeliner on the lash line only, then take the terracotta color up to the crease of the lid.
Recreate the look with…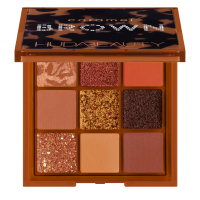 HUDA Beauty Brown Obsessions Eyeshadow Palette | RRP: $32/£22
Inspired by brown sugar and spice, this palette from HUDA Beauty features a variety of shades for green eyes. With nine highly-pigmented matte, shimmery and metallic textures, this travel-friendly palette is sure to make your eyes sparkle! Use the lightest matte brown shade to create Tyra's look.
Powerful Purple
Bold and shimmery purple hues can also compliment green eyes. Lady Gaga is wearing a stunning purple eyeshadow across the lid and on the bottom lashes that really intensify her feline eye look. The singer's eyes have also been framed with black liner inside the eye and around the lash line with high-end glitter and gold above the eye for that added wow factor.
Recreate the look with…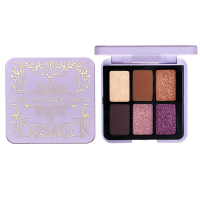 Pat McGrath Labs Mini Eye Shadow Palette in Midnight Voyage | RRP: $29/£27
With five iconic 'mothership' shades inspired by makeup artist McGrath's runway looks, this palette contains a variety of shimmery and matte hues. Each shade is ultra-pigmented which guarantees lasting power and the creamy, buildable texture will provide the hold you need to replicate Lady Gaga's look.