The best makeup palettes, selected by our beauty team
Our pick of the best makeup palettes—from everyday eyeshadow to contouring kits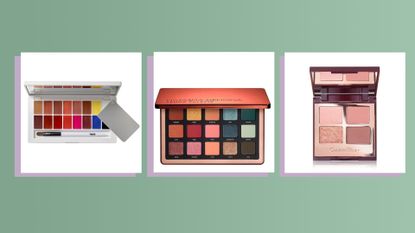 (Image credit: Future)
There's no right or wrong time to shop for the best makeup palettes. It's always a thrill to see what new offerings the world of makeup has put out there. There's something about seeing fabulous color curations in equally pretty packaging that sparks our inner makeup artist.
Whether you're looking to create easy makeup looks or want to try out intricate multi-tonal eyeshadow looks, picking up a palette is a great way to change up your routine and try out the latest makeup trends. The best thing about a makeup palette is that the shades have already been curated, and are guaranteed to work together. The other draw is that you have all of the shades you could possibly need for eyes, cheeks, and lips—all in one convenient place, taking up less space in your kit.
The marketplace is saturated with makeup palette offerings created by everyone from celebrities to makeup artists and cult brands, which means it can be overwhelming and hard to know where to begin. That's where our expertly curated list of brilliant palettes for every eventuality can help.
The best makeup palettes, chosen by our senior beauty editor
Why you can trust Woman & Home Our expert reviewers spend hours testing and comparing products and services so you can choose the best for you. Find out more about how we test.
1. Charlotte Tilbury Luxury Palette Pillow Talk
Best neutral eyeshadow palette
Specifications
RRP: $53/£40
Palette Type: Eyeshadow
Texture: Powder
Shades: 4
Brush included?: No
Mirror: Yes
Outer casing: Maroon
Reasons to buy
+
Wearable shades
+
Travel-friendly
+
Velvet texture
+
Easy to blend
Reasons to avoid
-
Expensive for only four shades
-
Not very versatile
Bigger isn't always better. It's so easy to get overwhelmed by massive makeup palettes. Where do you even begin? Do you really need 30 shades?
We say no. Sometimes simplicity really is key, which is why we've picked this as one of the best makeup palettes for creating a soft glam makeup look. Based on Charlotte Tilbury's iconic Pillow Talk lipstick, these four shades are wearable, versatile, and just so easy. They're velvety soft and easy to blend, working just as well as standalone shades as they do together. Ok, so it's expensive for just four colors—but the daily use you'll get out of this will really balance out the cost-per-wear.
It'll suit all, but offers an especially good shade selection of eyeshadow for green eyes. For the evening, pair with a flick of liquid eyeliner and the best mascara you own. You can wear it with nude lipstick for a chic, monotone look, or go all out with a bold lip shade.
2. Makeup By Mario Master Mattes Pro Lip Palette
Best lip makeup palette
Specifications
RRP: $60/£51
Palette type: Lip color
Texture: Cream
Shades: 16
Brush included: Yes
Mirror: Yes
Outer casing: White
Reasons to buy
+
Professional-level palette
+
16 versatile shades
+
Blending plate for custom color
+
Made to suit all skin tones
Reasons to avoid
-
Not great for top-ups on the go
-
Expensive
Kim Kardashian's Makeup Artist Mario Dedivanovic—also known as the man who taught the world how to contour makeup now has a best-selling beauty range. We were skeptical at first, but it's brilliant and includes one of the best makeup palettes we've tried in a long time. At first glance, this lip palette may seem a bit overcomplicated, especially if you're not sure how to apply lipstick. If you're more of a 'swipe on and go' person, this may not be for you. But, if you're a lipstick fanatic like we are, you'll love this professional-level palette.
It includes 16 shades and comes with a fold-out mixing plate. This means you can mix and match and blend the best lipstick to suit you. Specially formulated with inclusivity in mind, these colors are made to suit everyone on a base level—but you can really tailor them to your exact coloring too. Whether you want to match your ideal nude lipstick for your skin tone or create a perfect pink, this palette gives you true MUA-level control and artistry. Truly, it's hours of fun. The formulas are soft without being smudgy, are offer long lasting lipstick color. In a word—fantastic.
3. Too Faced Natural Face Palette
Best face makeup palette
Specifications
RRP: $44/£36
Palette type: Whole face
Formulation: Powder
Shades: 6
Mirror: Yes
Brush included: No
Outer casing: Gold with lace design
Reasons to buy
+
Great for travel
+
Multipurpose
+
Highly pigmented
+
Easy to blend
Reasons to avoid
-
Individual shades a little small
If you like to keep your makeup kit minimal, this is the best makeup palette for your stash. It includes two shades of three products—bronzer, blusher, and highlighter. When you're really stuck for space, you can use them as eyeshadow shades, and even use the pink tones on your lips. Think of this as the Swiss army knife of the palette world. We love a multitasker.
Even if your kit is more on the maximalist side, think how handy this will be on long weekends away with those tiny hand-luggage allowances. No more overspill or broken zips on your makeup bags. The colors themselves are really wearable, beautifully shimmery without being glittery (a pet peeve of ours). You can wear them alone or combine all shades for a fresh, dewy makeup look.
This doesn't come with a brush included, but to be honest when was the last time you used the tiny brush that came with a face palette? Our only slight gripe is that the size of the individual shades is quite small, so they are not ideal for the big fluffy brush you normally need to master how to apply bronzer and how to apply blush. But you can make it work with a bit of dabbing.
4. e.l.f Powder Blush Palette
Best blush palette
Specifications
RRP: $8/£9
Palette type: Blush
Formulation: Powder
Shades: 4
Brush included?: No
Mirror: Yes
Outer casing: Black matte
Reasons to buy
+
Great price
+
Beautiful shades
+
A color to suit everyone
+
Easy to blend
You may think it's pretty 'extra' to require more than one blush shade. Ok, maybe it is a tiny bit OTT—but the finish you'll achieve is genuinely beautiful. Mixing blush up for a multi-tonal look creates a lovely rosy-cheeked finish and helps cheat that youthful flush. It makes for especially flattering makeup for older women.
This look is all about blending. Take a fluffy brush and swirl it into the shades you'd like—feel free to mix and match. Then sweep onto the apples of your cheeks and blend. You can also use the shades on your eyes and lips. To make the color brighter and more pigmented, apply with a wet makeup brush. We really love e.l.f's makeup—they have some of the best makeup palettes for smaller budgets. They're brilliantly priced and work without any faff. Even better, their entire line is vegan and cruelty-free.
5. MAC Studio Fix Conceal and Correct Palette
Best concealer makeup palette
Specifications
RRP: $37/£30
Palette Type: Concealer
Formulation: Cream
Shades: 6
Brush included?: No
Mirror: No
Outer casing: Black with window at front
Reasons to buy
+
The only concealer you'll need
+
Multipurpose
+
Easy to blend and hide imperfections
+
MUAs love it
Reasons to avoid
-
Takes up more space than just one do-all concealer
Not all concealers are created equal. If you know how to apply concealer correctly you'll know that you'll need a different one for different needs. Concealer for dark circles should be a shade lighter than your complexion, to brighten up the area. To hide blemishes and other imperfections like scarring, you'll need one the exact shade as your foundation or skin tone, to help it vanish.
That's why this is the best makeup palette for perfecting your complexion. Each palette comes with four concealer shades and two color correctors, to achieve flawless skin in just a few dabs. The textures are light and creamy, and easy to blend. You can apply with a concealer brush, or dab in with your fingers to help warm the product up.
It's available in six tones, ranging from the palest to match the deepest shades from the MAC range—so you're sure to find your perfect match. Makeup artists swear by this palette to help imperfections vanish on photoshoots—we always see it peeking out of their makeup kits.
6. Hourglass Ambient Lighting Palette
Best highlight palette
Specifications
RRP: $68/61
Palette Type: Highlighter
Formulation: Powder
Shades: 3
Brush included: No
Mirror: Yes
Outer casing: A rich glossy chocolate
Reasons to buy
+
Luxurious
+
Beautiful shimmer
+
Super soft, fine-milled powder
+
Velvet finish
There's a reason that Hourglass products are often rated as some of the best makeup palettes ever. Just one swipe gives a flattering, glowing glimmer. No matter how dull your skin is, you can cheat a bit of radiance with just a few sweeps. They've also produced some of the best highlighters we've ever tried. Seriously—they need to be seen to be believed.
It's down to the super-soft, fine-milled powder. It feels velvety to the touch and applies like a dream. A little bit goes a long way—to be honest it would have to for the price. We admit it's expensive, but consider it the ultimate 'treat yourself' buy.
Three shades make this bestseller quite versatile too. You can layer them on top of your blusher and bronzer to add a beautiful iridescent shimmer and warmth. It's shimmer, not glitter you're after with a highlighter. Apply to the tops of your cheekbones for that fresh back from vacation glow.
7. Natasha Denona Zendo Palette
Best bright makeup palette
Specifications
RRP: $72/£60
Palette Type: Eyeshadow
Formulation: Powder
Shades: 15
Brush included: No
Mirror: Yes
Outer Casing: Vibrant orange
Reasons to buy
+
Gorgeous shades
+
Easy to apply
+
Encourages creativity
+
Mix of mattes and shimmer
+
High pigment
Reasons to avoid
-
Expensive
-
Brights not for everyone
Sometimes we don't want the everyday, easy makeup look. Sometimes we want to go bold in an all-out party makeup look—even if we're not going anywhere particularly exciting! Blame the pandemic or blame influencer Katie Jane Hughes (the queen of bold eyeshadow looks) but we've loved experimenting with bolder eyes colors lately. It helps spark some joy on grey mornings and gives a bright, fun feel.
We're obsessed with Natasha Denona's palettes—they're the best makeup palettes for creating bold and beautiful looks. With such bright shades, they can appear quite intimidating but once you start playing and swatching, the real magic kicks in. They're so highly pigmented that the tiniest amount creates the most vibrant color. We particularly love the Zendo palette as it's surprisingly wearable. The browns on the left-hand side create the perfect neutral tones, and they also pair beautifully with the more vibrant pinks and blues.
If you're intimidated by bright makeup—start small. Use a liner brush dipped into a bright color and swap your eyeliner flicks. It's a fuss-free, graphic look that's highly effective.
8. Benefit Brow Zings Pro Palette
Best brow makeup palette
Specifications
RRP: $39/£33.50
Palette type: Eyebrow
Formulation: Powders & waxes
Shades: 7
Brush included: Yes, 2
Mirror: Yes
Outer casing: Silver
Reasons to buy
+
Everything you need for eyebrows in one kit
+
Great for travel
+
Big mirror for optimal shaping
+
Two double end tools
Reasons to avoid
-
Potentially too many steps for some
Learning how to shape eyebrows depends on a few things. Firstly, the eyebrow shape you naturally have and how thick they are. The 90s skinny brow trend has a lot to answer for! The best shaping technique also depends on the look you're after. Do you want brushed-up brows, or a slimmer, more defined look?
No matter what look you're after, this palette will do it all. Four powders and three waxes offer far more options than even the best eyebrow pencil. You can customize tone, help add definition and add strong hold. Plus, there are two double-sided tools, so it's the equivalent of four brow brushes. It's a one-stop shop for all things brow, by arguably the best brow brand in the makeup world.
If you have a more low-maintenance brow routine—choosing to master how to pluck your eyebrows or eyebrow tinting at home, this may not be for you. But if you like an intensive brow overhaul, look no further.
---