How to apply bronzer for a natural glow
This is your masterclass in how to apply bronzer like a pro - from picking a product to perfect placement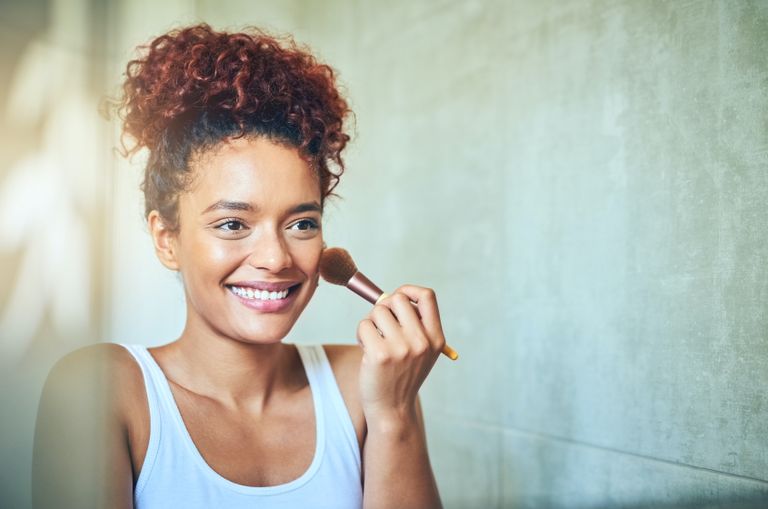 (Image credit: Getty Images)
Welcome to bronzer bootcamp. You're here because you want to know how to apply bronzer, so let's kick off by addressing the various schools of thought on what this product is even for.
You've got your hardcore "wake and bake" types who wear bronzer all over the face, all day, all year round. You've got the summer fling crew who dip in from May-September to enhance the sun's golden gifts or lack thereof. If you'd asked 21-year-old me I'd have told you it was for painting sparkly stripes from chin to ear for an evening prising cork wedges on and off a Gorilla Glue-like dancefloor to Come on Eileen. That one's more of a right of passage than school of thought per say, but the point is there are as many ways to wear bronzer as there are faces to bronze.
That's not to say we can't all agree on the fundamental technique though. Whatever your relationship with bronzer, learning how to use it properly is a basic makeup skill, like choosing the best foundation or learning how to fix uneven eyebrows. Here, the experts reveal every tip you need to apply bronzer like a pro, which begins with picking the right product for your skin.
How to apply bronzer - shade matching
First things first. It's no good knowing how to apply bronzer if you've chosen entirely the wrong shade. And as with finding a perfect foundation match, this comes down to both your skin tone and it's undertone.
"Choosing the correct bronzer shade makes all the difference and will look more authentic and real rather than overly bronzed and made up," agrees Pro Make-up Artist Cher Webb. "Check your skin undertone and select a bronzer that is a few shades darker than your natural skin tone and one that will blend naturally with your skin undertone."
Not sure what your undertone is? "The best way to check is to look at the veins around your wrists," advises Cher."If they appear blue you will have a cooler undertone, if they look green you are more likely to have a warm undertone. If you have a mix of both you will be neutral toned."
Once you've worked out your undertone, you can shade match. Sandy beige bronzers will look great on lighter skin with cool undertones, while peachy hues and pale rose-toned will work on medium skin with cool or neutral tones.
Golden-based bronzers work well for anyone with an olive skin tone or more yellow undertones, while a shimmery deep bronze looks great on darker skin tones, gently warming up and evening out the skin and giving it a flattering sheen.
As with finding a perfect foundation match, Cher advises against simply checking it on the face, or back of the hand. "Always bring your bronzer down your neck and through to the décolletage, this is a good part of the body to test if the bronzer is the correct fit for you."
Iconic London Ultimate Bronzing Powder
RRP: £25
With an unusually large shade selection in a variety of undertones, almost anyone should find a natural match with this. The matte finish and ultra-fine pigment keep it natural-looking, which will be welcomed by most. Those who crave high impact shimmery glamour should look elsewhere however.
Picking a texture - cream vs powder
The method you use to apply bronzer will depend on the type of product you are working with. There are several options out there in terms of texture, most commonly powder, cream, and even loose watery liquids, each with their own benefits.
For beginners, a powder bronzer applied with a brush offers the most control and staying power. We hear about certain makeup powders being 'finely milled' which essentially means the individual pigment particles are smaller. This is advantageous for smooth application as it means the pigment will 'melt' into the skin and blend easily so your bronzer is far less likely to look patchy or obvious. Powders also suit oily or combination skin types as they are more resilient.
Cream bronzers have grown in popularity in recent years, thanks to some seriously sophisticated and - let's be real here - show-it-off glamorous products like Chanel Les Beiges Bronzing Cream. Creams generally require a little bit more effort in application and some careful blending but they also tend to be far more hydrating therefore more flattering on very dry skin or textural irregularities like scars, acne or large pores.
Creams and liquids also suit bronzing larger areas, so if your plan is to use bronzer for an all over 'just back from holiday ' glow rather to strategically highlight this texture can suit. Although you will need a transparent, matte product to keep this looking natural.
Many liquid bronzers are pleasingly versatile and double up as highlighters with light reflecting elements, which can be very flattering on the body. For bronzing legs and arms look for oil based formulas that give a gorgeous sheen.
How to apply bronzer - the pro method
"The most effective way to apply bronzer is to be strategic with your placement and lightly sculpt the face and define the cheekbones and jawline," advises Cher.
"Use a large brush - The bareMinerals Seamless Shaping & Finish is the perfect shape to fit into the face natural contours - and start at the top of the forehead, this is where the sun would naturally hit the skin first and make sure you keep the brush close to the hair line."
BareMinerals Seamless Shaping & Finish brush
RRP: £29
"Sweep around to under the cheekbone and then sweep back and around to under the jawline, think of the number three as a guide and do the same on both sides. Take whatever is left on the brush and sweep across the cheeks and nose panel."
If you're applying a liquid bronzer, make the most of the product's buildable texture, suggests make-up artist Emma Kotch, "For a super highlighted look, build liquid bronzer up on collarbones, shoulders and shins - this is my favourite trick for my celebrity clients as it picks up so beautifully under flash photography."
Our favourite powder, cream and liquid bronzers
Estée Lauder Bronze Goddess Powder Bronzer
RRP: £34
Sponsored
This silky formula glides onto skin to leave a subtle glow without any chalky residue or over-the-top glitter. With an oil-free formula, it's perfect for those who are prone to oily skin but want a touch of bronze. This will give you a natural just-off-the-beach look at the sweep of a brush.
Chanel Les Beiges Bronzing Cream
RRP: £42
Ultra creamy and blendable. Hydrates skin as well as bronzing it, and comes in a super glamorous pot - which is important, too.
Bareminerals Endless Summer Bronzer
RRP: £26
Pro make-Up Artist Cher Webb's top choice, and with good reason. This mineral based powder is ultra finely milled so can be built up slowly for a natural glow.
Lancome Custom Drops
RRP: £27
A customisable, glamorous option for face and body, Add a couple of drops of the Bronze Glow shade to your makeup or body lotion for subtle golden shimmer, or use it neat to highlight specific areas.
It Cosmetics Bye Bye Pores Bronzer
RRP: £27
The kind to skin formula not only adds healthy colour, it contains soft focus particles to diffuse light over skin, leaving it glowing and silky-smooth looking.
Hourglass Vanish Flash Highlighting Stick
RRP: £41
Seductive yet practical, this twist up stick of solid bronzing and highlighting cream allows you to apply with precision just about anywhere. It's perfectly portable and the texture is creamy and luxurious.
Lumene Invisible Illumination Watercolor Bronzer
RRP: £23
Watery-light and refreshing on the skin, this makes a great all-over face base either instead of or mixed into tinted moisturiser or foundation. A lightly pearly finish ensures a flattering glow.