Crow's feet causes, treatments to try, and the best products for a youthful complexion
Not all wrinkles are created equal!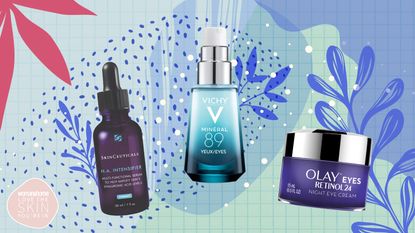 (Image credit: Future)
woman&home newsletter
Sign up to our free daily email for the latest royal and entertainment news, interesting opinion, expert advice on styling and beauty trends, and no-nonsense guides to the health and wellness questions you want answered.
Thank you for signing up to . You will receive a verification email shortly.
There was a problem. Please refresh the page and try again.
Not all wrinkles (opens in new tab) are created equal. In fact as lines go, the ones that spread from the outer corners of our eyes – aka crow's feet – are far from the most bothersome (I'd say that accolade goes to the aptly squirm-inducingly named nasolabial folds, that's laughter lines to you or me)
Crow's feet are associated with expressions of joy and empathy, rather than looking grumpy or tired as frown lines can, but that's not to say you shouldn't pay these wrinkles some attention. Fixating over specific lines is foolish, but wanting the skin around your eyes to look fresh, plump and as perky as possible is human, particularly if you've noticed dramatic changes in the area and you're not really sure why.
Looking for advice on the best ways to work with your crow's feet? Read on to discover everything you need to know and all the best products and treatments that will keep them looking soft and feeling comfortable.
What causes crow's feet?
Physiological factors have a lot to answer for here. The muscle around our eyes, called orbicularis oculi, is a hard worker that contracts involuntarily when you laugh, smile, concentrate, soften your eyes in empathy, and so on. This motion naturally leads to expression lines and crinkles, which initially disappear quickly, but as collagen levels in our skin deplete with age so does skin's ability to bounce back so eventually the lines stick around to become crow's feet. There's that, plus the fact that the skin around our eyes is thin, lacks sebaceous glands, and can't produce hydrating natural oils so has a tougher time staying soft, supple and protected from the elements.
"Crow's feet are caused by over-activity of the muscle just below the skin," confirms aesthetic & plastic surgeon Dr Aoife Turner (opens in new tab). "This, combined with age-related loosening of the skin, leads to crow's feet. One of the biggest causes is too much sun exposure. Wearing a high factor suncream around the delicate eye area is the first step in combatting them. Hydration is also key to improving the appearance of the eye area, so drink a lot of water and apply an eye cream rich in hyaluronic acid to help diminish the appearance of lines around the eyes."
How can I prevent crow's feet?
On one hand, you can't entirely and nor should you want to prevent crow's feet. Those lines are inevitable to some degree and also important in our ability to emotionally express ourselves.
On the other hand, you can definitely ensure they aren't deeper or dryer than they need to be. I won't even go down the road of suggesting you don't emote, how unrealistic and how boring.
Instead let's talk about protection; SPF (opens in new tab) is crucial to prevent line causing and collagen-degrading sun damage.
Really, we should all wear it all over our faces every day. If that sounds like a huge chore, then you haven't found the right one yet.
Decree Day Shield SPF30
RRP: £75
My current favourite is Decree Daily Shield, an ultra-light mist that can be applied on top of makeup and genuinely doesn't look or feel as if its there.
Slip Silk Pillowcase
£85
How you sleep is another biggie – in fact, dermatologists can usually predict which side you sleep on based on eye crumples and crow's feet. Scary. Use a silk pillowcase to help prevent the skin dragging or getting roughed up, I rate Slip, from £85 (opens in new tab), which are made with top drawer hypoallergenic silk and come in chic colours to match your other bed linen.
What products are best on crow's feet?
Retinol
An all-round skin superstar. It works by speeding up cell turnover and works on lines, texture and tone. Old-school rules used to advise against using retinol products on the eye area, but if you're careful and your skin can tolerate it, this ingredient works wonders on crow's feet. Start every second night and build up the frequency, dabbing the tiniest amount on the bony semi circular ridge that runs from your outer brow to under eye, avoiding the eyelid. A little flaking is normal as your skin adjusts but if you experience any major irritation cease and desist until everything calms down.
Olay Retinol24 Night Eye Cream With Retinol & Vitamin B3
RRP: £34.99
A cleverly formulated, light and easily absorbed cream from the brand's first retinol range (there's also a serum and night cream that are very much worth trying too). The active ingredients are a blend of pure retinol and 0.3% retinyl propionate, known to be less irritating so it's a good option for crow's feet.
Hyaluronic Acid
Not really an acid, this sugar is present in our skin naturally but depletes with age. One HA molecule can hold up to 1000 times it's weight in water, so makes an excellent injectable filler, but is also works well when applied topically in creams and serums on problem areas like crow's feet. It strengthens the skin's barrier to keep hold of hydration, effectively plumps and smooths out lines.
SkinCeuticals H.A. Intensifier
RRP: £90
The SkinCeuticals H.A. intensifier can be used all over the face as well as the eye area. Smooth it on day and night to instantly plump as well as increasing your skin's natural HA production.
Vichy Minéral 89 Eyes
RRP: £20
If you don't like the feeling of rich creams around your eyes, try this gel-like serum on your crow's feet instead. It feels ultra light and sinks in instantly, but punches well above its weight in terms of hydration and line plumping thanks to hyaluronic acid and Vichy's own soothing mineralising water.
Peptides
These are great all rounders that work in many different ways to ease lines and have the additional benefit being non-irritating. Generally speaking peptides are absorbed into the skin and communicate with other cells to get them to do their jobs more efficiently. This means speeding up collagen production, which in turn plumps lines and supports firmness, peptides can also have an anti-inflammatory effect and protect the skin from environmental ageing, which can be a contributing factor to crow's feet.
RéVive Moisturizing Renewal Eye Cream
RRP: £110
A pricey eye cream, but everything about it – from the luxurious buttery texture, ultra luxe packaging and active ingredients list including several peptides – makes it worth the investment for crow's feet.
Which professional treatments can help with crow's feet?
Facial filler
A light touch with filler can work wonders in the area, plumping from within. Juvederm Volite is a great choice as it works on overall skin texture rather than augmenting specific bits. The treatment itself involves lots of tiny injections of Hyaluronic Acid, as well as an anesthetic to ease the ouch factor. Results last around nine months, especially if you go for a 30-day top-up, plus the treatment can stimulate collagen production for long-term plumping. Expect to pay from £350.
Botox
"The gold standard to treating crow's feet professionally is to use Botox injections," says Dr Turner. "It involves small injections, usually given in a half moon shape around the eye, which gently reduce the wrinkling. You'll still have movement and be able to express yourself; however, the lines will be reduced." The treatment is quick (about ten minutes) and the lines eerily vanish over the next three days. So where to find good Botox? Always go to a medical professional, not a beautician. Personal recommendations are crucial. If a friend's tried and loved it, ask for a name and always have an in-depth consultation. Expect to pay from £100.
Microneedling
This works by creating tiny 'injuries' on the skin's surface so that healing new collagen is created and works well for plumping and general texture improvements. Top dermatologists love the SkinPen, an ultra-precise mechanical device that stamps needles 0.25-2.5mm needles into skin and takes about 30 minutes. Downtime includes some redness, which should clear after two days. Results begin from 3-6 weeks later and improvements can keep coming for months afterwards.Expect to pay from £300.
How to treat crow's feet naturally
"What we ideally want is for the collagen and elastin to be really strong in thearea around the eyes, so the skin is nice and elastic and springs easily back into place, as it did when we were younger," says Katie Brindle, Chinese medicine practitioner and founder of theHayo'u Method (opens in new tab). Kate highly recommends facial gua sha (opens in new tab) to resolve crow'sfeet naturally, by using a tool such as the Hayo'u Beauty Restorer Rose Precision (opens in new tab). "Because it has a lovely slim rounded edge, it lends itself to the delicate areas of the face and can easily work into specifictarget areas," she explains. "As well as boosting collagen and elastin and minimisingthe appearance of fine lines, regular gua sha to the face also supports lymphatic drainage and gives a radiant, glowing complexion."
Katie recommends using the tool at night time and says you shouldn't be alarmed if the scraping effect reddens the skin. "The ideal is to get a little bit of sha (redness) on the skin before you go to sleep because the body heals itself during the night.After applying oil to the face gently press-stroke the face with your gua sha tool, using a series of tiny little 'flick-like' strokes from the orbit of the eye, gliding it along the skin out towards the temples. Do this daily and you'll soon notice the fine lines starting to recede."
What make-up is best for crow's feet?
Concealer sinking into crow's feet is a commonplace, and an irritating problem, so use a primer that acts in a pollyfilla-ish way, sitting in the line so your makeup doesn't. You could take your face primer right up to the eyes.
If your lines sit right in the corners of your eyes, shadow might creep in there too. The best way to avoid this is use a powder formulation (creams and liquids just don't have the 'grip') use a neutral base shade all over on top of your primer, then your chosen colour over that.
If you have a question about crow's feet that we've not answered let us know on Facebook and we'll update the article.
Beauty Editor, womanandhome.com
As woman&home's Beauty Channel Editor, Fiona Mckim has tried more products than she's had hot dinners and nothing makes her happier than raving about brilliant finds on womanandhome.com or her instagram grid (@fionamckim if you like hair experiments and cute shih-tzus). Fiona joined woman&home as Assistant Beauty Editor in 2013 under industry legend Jo GB, who taught her everything she needed to know (learn about ingredients and employ extreme cynicism). She has since covered every corner of the industry, from interviewing dermatologists and celebrities to reporting backstage at Fashion Week and judging the w&h Beauty Awards.