The best tweakments for amazing results without cosmetic surgery—including celeb secret EmSculpt
From injectibles to laser to fat burning, these tweakments prove there's no need to go under the knife to get incredible results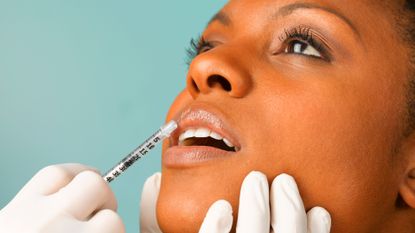 (Image credit: Getty Images)
Have you ever considered a tweakment, a.k.a. having a bit of 'work' done? We're talking about small, minimally invasive refreshment procedures rather than surgical intervention. This beauty buzzword is a growing interest across the professional aesthetic industry and covers treatments including Botox, LED, laser, facial fillers, body tightening services, and more.
Tweakments are often seen as a stepping stone between products and surgery—when even the best eye cream or cellulite creams aren't hitting the spot for results, but eye lift surgery or liposuction aren't things you are keen to explore. Think more than a facial, less than a scalpel and you're on the right track. Compared to surgeries, tweakments like the VI Peel, Ultherapy and EMSculpt Neo are relatively affordable, with no anesthetic or scars, and boast of minimal to no downtime.
As skin tweakments continue to become more effective and popular, there has been a resulting drop in demand for cosmetic surgeries. Data released by the British Association of Aesthetic Plastic Surgeons (BAPPS) annual audit showed that cosmetic operations dropped by 7.5% in 2020, continuing a downward trend we have seen for several years now. This makes sense—why accept the risks, costs, pain, and permanence of rhinoplasty (down 14% year on year) when a 15-minute non-surgical nose job using facial filler could bring equally satisfying results?
Small face and body tweakments are the next step on for skincare, according to the experts. "A new term that's been coined is pre-juvenation," says Dr. Nick Lowe, Consultant Dermatologist at Cranley Clinic. "You start relatively mild, so [that involves] sun protection, retinoids, fillers, botulins, and gentle lasers. You want to stimulate the skin with small amounts of treatment and maintain it over time."
Raffi Eghiayan, Founder of the Facial Aesthetic Conference and Exhibition, predicts tweakments are the future. "We've seen a distinct growth in the demand for treatments with little or no downtime, like gentle peels. Treatments that can be speedily performed post-work without sacrificing on results are key."
The best face and body tweakments for every concern
EmSculpt for body contouring
Hailed as the future of body contouring, EmSculpt is the latest in fat-burning, muscle-building, non-invasive procedures set to turn our perceptions on core strengthening on its head. Primarily used on areas such as the abdomen and the buttocks, it's a well-kept celeb and influencer secret to boosting and expediting fitness efforts for truly impressive results—one 30-minute session is the equivalent to doing 20,000 to 30,000 sit-ups (because, sometimes, even with the strongest will in the world, it's just not happening without help). And no, you won't feel 30,000 times sore, either.
There are two available EmSculpt devices: The EmSculpt Neo, which has a core-sculpting frequency and a fat-burning frequency making it best for abs, and EmSculpt Classic, which only has an electromagnetic frequency (and no fat-burning component), making it ideal to use to shape and tone the buttocks in addition to the abs. Sessions for the EmSculpt Neo can be spaced out every five to ten days, while EmSculpt Classic clients can go more frequently, as often as twice a week. Visible results can typically be seen as early as the third session for the Neo and almost immediately for the Classic, especially on the glutes. Light soreness is expected the next day, and clients are heavily advised to stay hydrated.
The EmSculpt Neo has an electromagnetic frequency for muscle-toning, muscle-sculpting, and core strengthening, and a radiofrequency, which burns fat. Its ideal clients are those who already espouse a healthy intake/healthy lifestyle regimen looking for a push, as well as those looking to visibly tone up for big events. New moms at least three months post-partum have also been said to benefit from sessions with the Neo.
"With these combined two frequencies, it does provide a circumference reduction in the waistline," says Richie Perez, Medical Assistant and resident EmSculpt consultant at Neinstein Plastic Surgery (opens in new tab). "The goal is to get to 100% on both frequencies when clients first come in, so they achieve full benefits—but everything's done slowly for the first five minutes, and initially I always start from 1%, as the device prepares your muscles for what to expect," he adds. "Some first-timers get to 100% on their first try; some usually get to 80 to 85, and that's okay, as four sessions is the recommended amount to obtain full results."
Pain-wise, Richie says it's "definitely not painful—it's a sensation, but it is not painful. The radiofrequency, which is the fat burning component, does feel warm—similar to what a heating pad would feel like when applied to the abdominal area. The electromagnetic frequency pretty much feels like a deep, vibrating, stimulating electricity, basically like a sensation that forces you to contract and flex your muscles. Your muscles will absolutely contract involuntarily, no matter how hard you try to fight it!"
But before you book your session, take careful note that EmSculpt is contraindicated for anyone with a metal implant due to its electromagnetic frequency, something that can potentially lodge the implant elsewhere. Those with copper IUDs, pacemakers, insulin pumps, seizure disorders, or any metal or iron rods in their lower backs are advised against this treatment.
If you're one of those who can't try the EmSculpt, however, don't be discouraged as soon enough, you too can partake: One targeting the arms and the inner and outer thighs is in the works. How's that for bio-hacking your way to your dream body?
The cost: EmSculpt Classic: $750/session; Emsculpt Neo: $1000/session
Lumecca IPL for skin tone
If you're fed up with spending a fortune on the best foundations and concealers to cover up uneven skin tone, age spots or rosacea, consider investing in Intense Pulsed Light (IPL) therapy instead. Using a collection of different wavelengths of light to remove specific pigments in the skin, it's a quick and easy way to tackle pigmentation. Lumecca IPL therapy uses photothermolysis, a method of applying intense pulsed lights to target pigmentation and redness created by sun damage, and it's one of the most powerful treatments for this purpose. It doesn't hurt, but it does feel warm and as though a rubber band was being snapped gently on your face. Your face may feel a little sunburnt for around 20 minutes. Expect some results after one session and, for those wondering how often should you get a facial like this one, it's advised that you can expect a noticeably more even skin tone in two to three sessions, spaced six weeks or so apart.
The cost: From approx. $200/£250 per session, per area
Botox for smoothing lines
We've all seen dodgy Botox, but the good stuff is undetectable, temporarily relaxing line-forming muscles for up to six months. The treatment is quick, about ten minutes; you'll feel a little nip from the needle then carry on as normal as wrinkles eerily vanish over the next three days. So where to find this "good" Botox? A great doctor. Personal recommendations are crucial. If a friend's tried and loved it, ask for a name and an in-depth consultation. We rate Dr. Jules Nabet (opens in new tab), the Beauty Editor's go-to doc, who has launched the Botox Pen, a tiny motorized syringe that promises half the pain and better accuracy.
The cost: Expect to pay at least approx. $250/£100 per area; Botox Pen from approx. $325/£280
Fractional lasers for fresh skin texture
Fractional lasers cause mini "injuries" to skin's upper and lower layers using heat, so it repairs itself by producing new collagen. It's more targeted than traditional laser meaning less downtime, and feels somewhere between nicely warm and "ouch, a bit prickly!" Expect a week's worth of minor sunburn-like flakiness in exchange for fresh bouncy texture that keeps improving for up to a year. New and exciting is Lynton Lasers 3Juve, a pick and mix bespoke course of fractional laser, brightening intense pulsed light (IPL), and firming radio frequency.
The cost: Around approx. $450 a treatment/£300 for fractional laser; 3Juve (opens in new tab) from £1200 for six sessions
Injectible filler for a smooth profile
First things first: No nose is perfectly straight—and this is 100% normal, but if you are unhappy with your profile, a non-surgical nose job using injectable fillers can be used to reshape it. By adding volume into certain areas, a good practitioner can help bumps, dips, and wonky bridges to become less visible. It's a quick and pain-free treatment—and a lot cheaper and less scary than undergoing surgery. You'll see results straightaway, but it does only last about one year, so it could become a rather expensive habit. A numbing cream will be applied for minimal discomfort, there is no downtime, and you'll see results Immediately.
The cost: From approx. $699/£500 per session
LED for fresh texture
When LED light penetrates your skin, it can tackle a variety of issues determined by wavelength. So the shallowest, blue light, blitzes bacteria; red goes deeper, stimulating collagen; invisible infrared goes further still, for an anti-inflammatory healing response. Some results, like a glow, are immediate, while some, like plumped skin or acne-clearing, take a few sessions.
w&h Deputy Beauty Editor Jess Beech says
"After months of limited daylight (does working at my laptop by a window count?) and comfort-eating biscuits, my skin was looking pretty lackluster. My main gripes were congestion around my T-zone, uneven texture, and a gray and gloomy appearance. In the hope of rectifying my skin woes, I booked an appointment at The Light Salon (opens in new tab) for their Peel & Heal facial. The treatment takes a two-pronged approach, combining light therapy with a chemical peel. This sounds like a potentially painful experience, but trust me when I say I emerged feeling relaxed and restored with a far glowier complexion.
The treatment started, as all good ones do, with a chat with my therapist Sofia about my skin concerns. After my skin was cleansed and enjoyed an exfoliating mask applied to nibble away at dead skin cells, Sofia got stuck-in with extractions. Using her fingertips and just enough pressure, she expertly manipulated deep-down gunk and grime from my pores. Now for the high-tech part. As my skin was dry, Sofia applied a hydrating sheet mask to my face and goggles to my eyes before placing the brand's signature 830nm light above me. It emits red light, and works to strengthen the skin. I found the rhythmic flicker of the light quite soothing, and can confirm the experience was neither hot nor painful.
Next up, the peel. It contained potent alpha-hydroxy acids (the concentrations are higher in the salon than at home) and the aim of the game was to exfoliate away dead, dulling skin cells. Again, it wasn't painful, nor did it sting. Post treatment, I was thrilled with the appearance of my skin. Immediately after I looked fresh and glowing with no redness and by the next morning I found I appeared more awake than I had in months. It's worth noting that aftercare is really important here, as shiny new skin is more prone to irritation and burning. Keep your skincare simple and gentle for the first few days, and slather up with a daily SPF50 going forwards."
The cost: Approx. $118/£85 for 40 minutes. Available in selected Harvey Nichols stores and Cowshed Spas
Profhilo for deep hydration
The latest injectable skin boosters promise brighter, bouncier and more even-textured skin—a supercharged facial working its magic from the inside out, thus boosting moisture and luminosity. The result is younger, plumper-looking skin. Profhilo works by injecting tiny amounts of hyaluronic acid (which is a naturally occurring substance in the body) superficially into your skin to help with skin tone and dramatically boost moisture and luminosity. It also has the added benefit of helping to firm and tighten too. Two to three treatments (five injections on either side of your face) are administered one month apart, followed by a treatment every three to six months to maintain results. It may feel a little uncomfortable during the process, but the treatment is tolerable as very fine needles are used. Redness, swelling and pin-prick bruising could take 48 hours to settle. Wait two months to see the final effects.
The cost: Around £450 for your face, £850 for your face and neck
Rejuvalift facial for muscle tone
So much more than a traditional facial, the RejuvaLIFT facial is an intense medical grade treatment that really gets under the skin. After cleansing and an enzymatic exfoliation, micro and nanocurrent technology is stroked over the muscle tissues to improve the skin tone and lift the eyes, jawline and neck. It might sound scary, but it's totally painless. This gentle pressure applied to the face also works to release the toxins in your face–a process known as lymphatic drainage - which reduces puffiness. This non-invasive requires no recovery time and the results last between one and three months.
w&h tester Anna Bailey says
"This has an immediate effect, and instantly lifted the skin, especially around the eyelids and jowls. My skin also felt smoother and brighter. It's the perfect treatment ahead of a big event or party."
The Cost: Approx. $350/£250 for 60 minutes, which includes a skin consultation
Morpheus8 for skin firming
Morpheous8 non-surgical facelift and skin rejuvenation is perfect for those who want the results of a facelift, without having a facelift. This innovative treatment targets deep layers of a patient's skin to remodel collagen. After the treatment, the effects won't be seen for four to six weeks, as that's how long it takes for the skin to rebuild and tighten. Expect to see significantly lifted skin, especially around the jaw and eye area. Morpheus8 is a favorite with the Hollywood set thanks to its impressive results and zero downtime (the most you can expect to experience is a little redness). Treatments generally take 15- 20 minutes after numbing, which takes about 20- 25 minutes.
Morpheous8 expert Dr. Tatiana says
"The Morpheus 8 is a highly effective, evidence-based and minimally invasive way to treat fine-lines, skin laxity, wrinkles and acne scarring. We particularly love using it for excess skin that builds up under the eyes during the aging process."
The cost: Approx. $1100-1400/£800-£1000 per treatment
Coolsculpting for targeted fat reduction
An extra layer fat around the middle can be difficult to shift, but this non-invasive tweakment promises 'miracle' results with no needles. Two Harvard doctors discovered when fat cells are subjected to precisely controlled cooling for a sustained period of time they can undergo cell death. The body then excretes the fat cells naturally through our waste system, leading to a gradual reduction in the fat layer. Following their three hour-long suction cup treatment, Coolsculpting claims a patient can expect to see a 20-24% reduction in fat. Though some discomfort may be felt and skin may redden, this calms down after a while.
w&h tester, Rosie Green says
"After a few weeks I notice my tummy is tighter and firmer. And over time it only gets more so. The little pouch disappears and it (almost) regains its pre-kids flatness. I am delighted and astounded in equal measure."
The cost: Approx. $1100/£800 for a single area. Visit Coolsculpting.com (opens in new tab) to locate a clinic.
Laser for hair reduction
If you crave permanent hairlessness, nothing can rival laser treatment. The laser device emits a concentrated beam of light that converts to heat energy as it passes through the skin. This is absorbed by the dark pigment in the hair, which damages the follicle enough that hair growth slows and eventually stops altogether. De-fuzzing with this level of permanence can be a truly life-changing tweakment, and give you the confidence to bare your legs, underarms (and wherever else) without a care.
w&h Beauty Editor Steph Maylor says
"I went to Sk:n Clinics. They have 50 clinics dotted all over the country, and use the long-pulsed Nd YAG laser, which is safe to use on darker skin tones. I am fair-skinned with dark hair so a good candidate for successful hair reduction. After an initial consultation, the treatment itself was really not that painful. Promise. At its very worst, it feels a little like being pinged with a rubber band. But the machine blasts you with a cool shot of air during the treatment, which lessens the immediate impact on skin, and can, at times feel almost relaxing.
Obviously this depends on the area being treated, parts of the legs were fairly pain-free; the bikini-line however, was a lot more tender, shall we say. I saw results a couple of weeks after the first treatment, and after the full course any stragglers were few and far between, so a quick tweeze here and there is all that is needed to maintain silky-smooth skin. You might experience a little dryness on the area being treated—for me, my legs felt a little on the parched side but a regular dose of no-frills moisturizer sorted that."
The cost: Laser hair removal starts approx. $35/£25. Prices at Sk:n Clinics start at approx. $64/£47, or $33/£23.50 for eight sessions at sknclinics.co.uk
Juvederm filler for youthful volume
Like Botox these tweakments have a bit of a rep, but in the right hands will keep everyone guessing—those in the know visit Dr. Tapan at PHI and Dr. Jonquille at Cheshire's Expert Aesthetics for Juvederm. It's made with hyaluronic acid (HA) a skin-plumping sugar that's already in your body, which instantly juices up hollow cheeks and deep nose-to-mouth lines. Most jabs contain an anesthetic, the whole procedure takes minutes and you'll see an immediate plumping (maybe more than you want but that's only initial swelling). Once the results settle, they last up to a year.
The cost: From approx. $415/£300 per treatment, visit www.juvederm.co.uk (opens in new tab)for clinics
Alexandrite laser for pigmentation
A precise fix for that age spot you always notice in photos (and wish you could airbrush out), Alexandrite lasers work by blasting intense light into skin to break up the pigment, you'll see noticeable fading after one session but might need up to three for complete clarity.
w&h tester Sue James says
"I found it fast and comfortable: pop on a pair of goggles, hear a beep, see a blast of light from a little pen-like device then feel a little pinprick as the laser enters your skin. You'll need to avoid the sun afterwards and might feel a little flushed but there's no real downtime. I visited Dr. Lowe at The Cranley Clinic, but nationwide seek out Pro Skin Clinics (opens in new tab), which specializes in laser treatments."
The cost: Expect to pay around £250-400 per area, with courses of treatments available at a reduced cost per treatment
PRP therapy for bright eyes
This sounds icky, but bear with us. A small amount of your blood is "spun" to separate the platelet-rich plasma (PRP), which is then re-injected so natural growth factors create brighter, smoother new tissue underneath.

w&h tester says
"I visited Eye guru Dr. Maryam Zamani at Cadogan Clinic (opens in new tab) for Triple Boost HydraBright, a combination of HA fillers, PRP and Mesotherapy vitamin injections. It's a little nippy, as you'd expect in the eye area, and any spare plasma is massaged in after the jab - not one for the squeamish. The results are great though, an instant improvement in dark circles and lines with even better results showing a fortnight later."
The cost: From approx. $699/£500 per treatment; Triple Boost Hydrabright, approx. $2350/£1700 for three treatments
The smart way to have tweakments
Only have a tweakment by a medical professional, ideally a physician who specialises in skin and never a beauty therapist or a salon worker.
Do your research. There is never any emergency cosmetic treatment, take your time and investigate who you're going to see, go to several people or several clinics.
Be wary of special offers, chains with two-for-one deals, or persuasive staff. If you feel under any pressure at all, walk away.

For more information, and to search for GMC registered doctors and dermatologists, visit gmc-uk.org (opens in new tab)
woman&home thanks Dr. Nick Lowe of Cranley Clinic (opens in new tab), Raffi Eghiayan of the Facial Aesthetic Conference and Exhibition, and Dr. Ryan Neinstein (opens in new tab) and Richie Perez of Neinstein Plastic Surgery (opens in new tab) for their time and expertise.
Beauty Editor, womanandhome.com
As woman&home's Beauty Channel Editor, Fiona Mckim has tried more products than she's had hot dinners and nothing makes her happier than raving about brilliant finds on womanandhome.com or her instagram grid (@fionamckim if you like hair experiments and cute shih-tzus). Fiona joined woman&home as Assistant Beauty Editor in 2013 under industry legend Jo GB, who taught her everything she needed to know (learn about ingredients and employ extreme cynicism). She has since covered every corner of the industry, from interviewing dermatologists and celebrities to reporting backstage at Fashion Week and judging the w&h Beauty Awards.