Why eye lift surgery is booming post-lockdown, plus the surgeon-approved injectable that beats the knife
The 'Zoom Boom' is fuelling a rise in eye lift surgery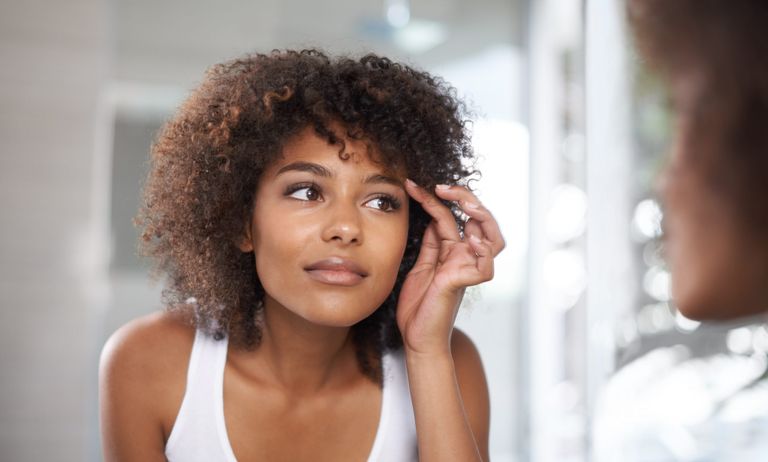 (Image credit: Getty Images)
Would it surprise you if I said cosmetic surgery is on the rise after lockdown?
Eye lift surgery in particular is booming, with Pall Mall Cosmetics reporting a 167% increase in enquiries for the procedure.
It seems despite knowing the best eye creams,causes of puffy eyesand the best under-eye concealers, a rising number of women are turning to the scalpel to sort their eye woes.
Why is eye lift surgery spiking right now? According to the experts this comes down to two things: The mandatory wearing of face masks and seeing our faces on screens more than ever before.
Some are calling it the 'Zoom Boom', which sounds a bit flippant and a flimsy reason to go under the knife. But then again, think about it: Never before have we spent social conversations and work meetings looking at the people we're talking and staring back at our own faces.
Add to this the fact that video calls are notoriously unflattering (bad angles and even worse lighting) It's no wonder so many of us are getting a complex about our features.
Eye Lift surgery Zoom Boom - A surgeon weighs in
"With endless self-reflection over recent months and the introduction offacemasks, the emphasis has moved away from the mouth and the eyes have taken on a new importance," saysDr Jana Vogt, Plastic Surgeon atMallucci London.
"We have seen a significant increase in calls from potential clients enquiring about treatments for the eye area. Specifically to combat dark circles and puffiness. Their cause is linked to a multitude of factors, from tiredness to thinning skin due to a loss of collagen. But in the winter they often become more obvious in part due to lack of Vitamin D."
What are the alternatives to eye lift surgery?
To say going under the knife is a big deal is a colossal understatement. If you are considering eye lift surgery, do exhaustive amounts of research. Look at before and after photos and read reviews (Real Self is a great resource for this) Ensure you have several consultations - ideally with several different doctors - before committing.
If you don't want to go down that road, there are alternatives. It's true skincare can only do so much, although it can certainly improve things like crow's feet. There are plenty of happy medium 'tweakments' out there. These involve things like laser, injectibles, LEDand ultrasound and can achieve impressive results on the eye area.
The best non-invasive tweakments for the eye
At Malluci London they recommend Light Eyes Ultra, a course of injectable treatments. "Light Eyes Ultra is a great alternative to anti-wrinkle injections or dermal fillers," explains Dr Vogt. "It's a special injectable cocktail of potent ingredients that can improve microcirculation, skin elasticity and drainage around the eye. It leaves you deeply hydrated, can smooth lines, brighten your skin and de-puff.This treatment is good for anyone that wants to look more rested and refreshed."
Light Eyes Ultra costs £350 per session, or £1000 for four, and the Mallucci clinic recommend one to four sessions with two weeks in between each for the best results.
Alternatively at Cheshire Clinic, KLINIK. Medical DirectorDr Rosh has introduced the Bright Eye Lift, a series of three treatments combining Botox, injectable fillers and laser therapy. Expect results on hollow undereyes, a raising of the brow and reduction in pigmentation.
"By mask wearing we are removing the mouth area and the focus is drawn to the eye area. The eyes have become our best tool for communication, so it is no surprise that the trend for eye treatments has risen," explains Dr Rosh.
"We are addressing the effects that time spent indoors has had on our face, the eye area especially. All of those video calls means we've had to look at our faces on screen every day, so clients are looking for brighter, wider, eyes."
Want to know more about the best tweakments?
If all these needles and knives sound a bit much for you, try own personal pain-free cost-free video call beauty trick: Go into your video settings on Zoom and tick the little box called 'touch up my appearance.' Job done.
As woman&home's Senior Beauty Editor, Fiona Mckim has tried more products than she's had hot dinners and nothing makes her happier than raving about a brilliant beauty find on womanandhome.com or her instagram grid (@fionamckim if you like hair dye experiments and cute shih-tzus)

Fiona joined woman&home as Assistant Beauty Editor in 2013, working under legend Jo GB, who taught her everything she needed to know about the industry (clue: learn about ingredients and employ extreme cynicism).
In a previous life, Fiona studied journalism back home in bonnie Scotland and honed her skills as a magazine features writer, with a brief and terrifying stint on the showbiz gossip pages of a tabloid newspaper in between. She's a skincare fanatic who can't resist adding an extra step to her routine if it's all the rage in Japan, loves fragrance, has fun with makeup and never turns down the chance to test a new hair tool. Basically, she loves it all.

When not slathering herself in self tan or squinting at a tiny ingredients list on a moisturiser, you'll probably find Fiona enjoying something to do with food - cooking it, eating it, cajoling her friends into trekking across London to try a hyped pop-up in a dirty car park.