The Best Under-Eye Concealers For Dark Circles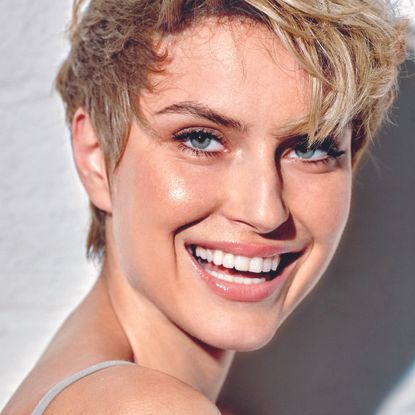 Hide those dark circles with our pick of the most effective under-eye concealers
Dark under-eye circles sit in the 'unwelcome yet inevitable' category of skin niggles, alongside pores, cellulite and those random chin hairs that wait until you're in the loo at a party to show themselves. You know the ones. Some suffer more than most, usually thanks to genetics, but as the already delicate skin under our eyes thins further with age, blue-tinged oxygenated blood shows through giving our faces a knackered or, worse, mildly haunted quality.
That's the bad news, the good is this gradual darkening has been happening since the dawn of time and make-up itself, so there are tons of great concealers out there that not only cover dark circles with hard-wearing pigment, but de-puff, correct sallow undertones and hydrate the area for an altogether perkier look. Generally speaking water-based loose formulations in long wands are best suited to using under the eyes, while more rigid textures in little pots are the ticket for blemishes, pigmentation, veins or anything else that requires hardcore coverage.
Whether you prefer a robust going-nowhere cream or looser, liquid formula for easy spreading, there is an under-eye concealer out there that is the perfect foil to your dark circles. Read on to discover a selection of my personal favourites, from new innovations to cult classics and cheap-as-chips steals.
Laura Mercier Flawless Fusion Ultra Longwear Concealer, £24
Putting the word flawless in the name of your product is a bold move, but Laura Mercier has got a point, I can't imagine anyone not getting on with this concealer. This loose, silky formula applies with ease, hugging into undereye crevices thanks to the doe-foot applicator, yet has the coverage and staying powder of something far thicker and tricker to apply. The finish is fantastic too, all moist and light-reflecting, despite robustly covering everything you'd want it to. I patted it on at about 8am and enjoyed even under-eyes well into the afternoon, and while it sits at the upper end of the concealer price spectrum, you get so much bang for that buck I'd give it a ten for value too. Laura Mercier Flawless Fusion Ultra Longwear Concealer, £24 (opens in new tab)
NARS Soft Matte Concealer, £24
NARS Already have one universally adored concealer in their line-up, the stellar Radiant Creamy Concealer, so I did wonder what this new cover-up would bring to the party. Quite a lot, as it turns out. The thick, buttery texture not only covers dark circles and blemishes with ease, but creates a nice even layer that smooths over fine lines, pores and those weird little flakes of skin that surround particularly stubborn blemishes. It dries down to a matte finish, particularly helpful if oil is a problem around your T-Zone, and thanks to that rich texture pretty well stays put without settling into lines throughout the day. Buy NARS Soft Matte Concealer, £24, Spacenk.com (opens in new tab)
It Cosmetics Bye Bye Undereye, £22.50
Already a player in the US market, this brand recently arrived in the UK much to the delight of British beauty fans keen to try this much-hyped undereye concealer. The formula is pretty hardcore. It's thick and highly pigmented and requires a little strong-arming out of the tube, but that effort will be bountifully rewarded with brilliant, robust coverage that magically combines rock-solid staying power with an easy texture that melts into skin. You'll find skincare ingredients like hyaluronic acid and peptides to plump, and while the six shades do seem to come up on the light side, there should be a colour to suit most skintones. Buy It Cosmetics Bye Bye Undereye Concealer, £22.50, Selfridges.com (opens in new tab)
Maybelline The Eraser Eye, £8.99
Part treatment, part make up, this sponge-topped tube contains a lotion-like liquid with a mixture of de-puffing ingredients, brightening antioxidants and pigment to brighten and cover simultaneously. Cleverly you can choose from colour correcting and more traditional concealer shades, although these will only cover light-medium skin tones, which is a shame. Buy Maybelline The Eraser Eye, £8.99 at Boots.com (opens in new tab)
Clinique Even Better Eyes Dark Circles Corrector, £31
The first thing you'll notice about this is the lovely cool metal tip, which instantly calms and de-puffs angry eyes, next the optically brightening ingredients perk up and blur over dark circles, and clever skincare fades pigmentation over ime - just remember a little goes a long way. Buy Clinique Even Better Eyes Dark Circles Corrector, £31, at Clinique.co.uk (opens in new tab)
MAC Select Moisture Cover Concealer, £16
The problem with concealers is the ones with decent enough coverage to be worth using tend to dry out and sink into lines by the end of the day - a worse look than a few dark circles by my estimation, Well, not this. It's by famously pigment-packed MAC, so as you'd expect the concealing benefits are top drawer, but the formula is juicy, light and hydrating, and stays that way all day long. Great to see a nice selection of shades for every skin tone too. Buy MAC Select Moisturecover Concealer, £16 at Maccosmetics.co.uk (opens in new tab)
YSL Touche Eclat Radiant Touch Concealer, £25
If you're into make-up, chances are you've used YSL Touche Eclat before. This iconic click stick has been brightening tired eyes for two decades hanks to the cleverly-crafted, easy-wearing formula (illuminating undertones tailored to different skin types) and handbag friendly, sleek design. It's worth noting this is more of a brightener than an actual concealer, so it won't cover very dark circles or pigmentation, but as an illuminator that gives skin the most beautiful finish, it's well worth the splurge. Buy YSL Touche Eclat Radiant Touch Concealer, £25, YSLBeauty.co.uk (opens in new tab)
Dior Skinflash Flash Luminizer, £29
Aside from being the most glamorous little silver tube ever to grace your handbag, Dior Skinflash is brilliant at perking up eyes, fast. The 'white light' pigments refract light to blur, dazzle and distract from shadows, plus hyaluronic acid plumps up lines and makes skin look juicy, fresh and new. This can also be used as a handy highlighter on cheekbones, brow bones and the cupid's bow for lovely glowy effect. Buy Dior Skinflash Flash Luminizer, £29, Dior.com (opens in new tab)