How often should you get a facial? Aesthetic doctors reveal the 'sweet spot' for your best ever skin
How often should you get a facial? (spoiler alert: it's less than you think)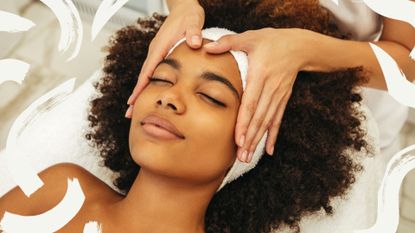 (Image credit: Future/Getty images)
Pro facials are your best bet for skincare results. But how often should you get a facial in order to maximize those results without aggravating your skin? According to the experts, there is a sweet spot when it comes to facial frequency. And while many of us would love to book in every week (if money were no object) this may actually not be in the best interest of our skin.
From spa-style pampering to high-tech treatments, there are so many beauty treatment options available for the face – each with its own benefits. While some focus on lymphatic drainage via facial massage, others, including hydrafacials, microneedling, and red light therapy, rely on tools and gadgets to truly transform skin. Whatever your facial preference is, know that there is a recommended timeframe to really reap the best results. Here, the experts explain all.
How often should you get a facial, answered by the experts
How often should you get a facial?
The experts agree that the ideal facial frequency is once a month. "This is an optimum time frame because most people have a skin life cycle of 28 days," says Dr John Quinn, cosmetic doctor. During this cycle, "skin cells move up from the deep subcutaneous layer to the epidermis, gradually hardening as they go and eventually dying and shedding," explains Dr Baldeep Farmah, aesthetic doctor at Dr Aesthetica. This skin-shedding cycle means that many beauty treatments are best performed on a monthly basis, so if you were wondering how often should you get a pedicure, there's your answer.
What a monthly facial does is coincide with cell turnover to "aid the exfoliation of dead skin cells and help maintain healthy, glowing skin," says Dr Quinn. And while once a month is a general recommendation, there are exceptions to this rule. "Those with oily skin who experience regular breakouts may benefit from fortnightly facials," says Dr Farmah. And how often should you get a facial on a reactive skin type? "Sensitive skin may well be advised to have a facial every couple of months to avoid inflammation," Dr Farmah advises.
Can you get a facial too often?
There's no denying the glow-enhancing benefits of a professional facial. But can you have too much of a good thing? "Given the time it takes for skin to regenerate itself, it's not always advantageous to have too many professional facial treatments too close together," says Dr Quinn.
Too many treatments can, in some cases, do more harm than good. "You run the risk of aggravating the skin," continues Dr Quinn, "which can cause a number of skincare complaints including sensitivity, redness and inflammation." It's important to note that no two people's skin is the same, thus how often you should get a facial varies from person to person. "In order to achieve healthy, glowing skin through facials, it's essential that you are guided by your skin professional to establish an effective treatment plan timeline for your particular skin," advises Dr Quinn.
What type of professional facial should I have?
"We live in an age where there are a number of different facial options available to suit all skin types and complaints," says Dr Quinn. "Personalised facials have increasingly become the norm," adds Dr Farmah, "whereby a combination of formulas, techniques and technology are used to achieve the best results for that specific individual's skincare needs." Here, the experts break down the main facial categories:
Chemical peels: "One of the oldest methods of skin resurfacing. These vary from superficial to deep, with superficial forms generally being included as part of a facial. They can be effective in learning how to get rid of acne and for general skin improvements but are quite operator-dependent," says Dr Quinn.
Microdermabrasion: "Another method of superficial exfoliation, this time physical, typically using crystals," says Dr Quinn. "By removing the upper layer of the skin, this treatment improves cell turnover and reduces the appearance of fine lines and large pores," adds Dr Farmah.
Hydradermabrasion: "Essentially an updated version of microdermabrasion, this treatment is commonly known as a Hydrafacial. It combines a light chemical peel with the benefits of microdermabrasion," says Dr Quinn.
LED light therapy: "This treatment uses different wavelengths to treat various skincare concerns, such as acne or fine lines," says Dr Farmah. It's often used in conjunction with other treatments to help calm skin.
Laser skin resurfacing: "The gold standard of skin resurfacing has traditionally been limited by pain and downtime. But new and exciting technologies, such as LaseMD, use effective wavelengths both for gentle resurfacing and to introduce effective ingredients into the skin."
Can you achieve similar results at home?
Treating yourself to a facial at home is a great way to carve out some me time while pampering your skin. With that said, it doesn't quite compare to the skilled touch of a trained professional. "Even the best skincare products and tools don't come close to the efficacy and effectiveness of in-clinic facial treatments," says Dr Quinn.
"This is not only due to the sophistication of the technology that is used in the clinic, but also the fact that this is combined with the expertise and experience of a medical practitioner. These experts understand the anatomy of the skin and how to achieve optimum results for your particular skin type and condition," he continues.
However, professional facials are often very expensive and for many, once a month is not financially viable. Thankfully, by locking down a great skincare routine, there are several ways to give your skin an effective facial at home without breaking the bank.
Our beauty editor recommends...,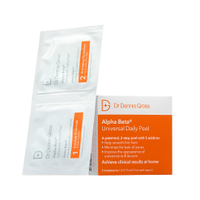 Dr Dennis Gross Skincare Alpha Beta Extra Strength Daily Peel | RRP: $88/£89
Suitable for all skin types, these two-step pads are a great way to brighten and smooth skin while minimizing the appearance of pores (thanks to a potent cocktail of AHAs and BHAs). Sweep on step 1, wait two minutes, then apply step 2.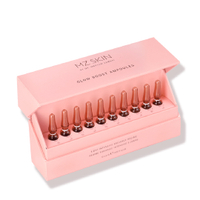 MZ Skin Glow Boost Ampoules | RRP: $174/£155
Expensive, yes. But this five-day 'radiance regime' will visibly brighten, hydrate, and smooth skin with its impressive concoction of antioxidants (think vitamin C, lactic acid, glycolic acid, and ascorbic acid). With 10 ampoules in total, apply one every morning and every night for five days.
Emma Stoddart is a freelance beauty journalist and self-confessed skincare aficionado with over five years' industry experience. Emma has worked for some of the UK's top women's titles including Net-A-Porter, Stylist and Grazia. Her experience spans online and print as well as producing editorial shoots with some of the industry's biggest artists, including Val Garland. Asides from working with them behind the scenes, she's also had the chance to interview the likes of Patrick Ta, Pat McGrath, and Sam McKnight for all their insider tips and tricks.