Hydrafacial review: w&h Beauty Ed reveals all after trying the cult treatment
The Hydrafacial is known as the ultimate glow-giver – but does it justify the hype?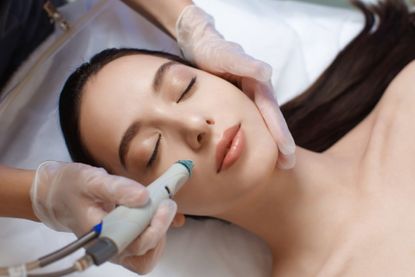 (Image credit: Getty Images)
The Hydrafacial has been called an MOT for your skin, the ultimate glow-giving facial, and like a deep peel and microdermabrasion in one–minus the downtime. Confirmed celebrity fans include supermodels, business moguls, and Spice Girls (Suki Waterhouse, Karren Brady, and Emma Bunton, no less).
It's also known in the industry as something of an intermediary treatment. One to try when even the best eye creams, skincare acids et al aren't doing what they used to but you either aren't ready to get into the world of needles and knives or are sure you'll never go down an invasive facial tweakment route. But what exactly is this non-invasive, no-downtime treatment, and what happens during a Hydrafacial appointment?
Everything you need to know about Hydrafacials
What is a hydrafacial?
The Hydrafacial is a branded facial you will spot in aesthetic clinics across the world. It can be customised to suit almost any skin type, but the main schtick, according to the official literature, is using a "patented handheld Hydrafacial Vortex-Fusion serum delivery system and Hydropeel to cleanse, exfoliate and extract impurities and dead skin cells, while at the same time replenishing vital nutrients."
In layman's terms, your therapist uses a little handheld device to deeply clarify the skin, flush a lot of bad stuff out and push highly active ingredients into it again. The treatment also includes plenty of other steps you would expect from a results-driven facial, including peels, hydrating masks, massage and LED light.
How much do hydrafacials cost?
The Hydrafacial is an action packed treatment, so of course all this action comes at a price. The staring price is £120, you can expect to pay up to £200 depending on where you visit and how many additional boosters you have. It's not a cheap treatment but considering how many distinctly average facials ring in at around £100, and Botox three times that, this does represent good value if you're looking to invest in serious skin improvements.
What are the benefits of hydrafacials?
The Hydrafacial can be done in as little as 30 minutes, although most treatments take about an hour, and it can be tailored to address any specific concerns with extra boosters (more on those later). There's no downtime or side effects other than a nice glow, and you can expect impressive, lasting radiance and smooth texture within a few days.
It's this combination of high-impact results and non-invasive protocol that makes the Hydrafacial so appealing. "It's a great starter treatment," agrees Rowena Jackson, Nurse Aesthetic Practitioner at Mallucci London. "The Hydrafacial removes the build-up of pollution and dead skin cells across the face but also nourishes the skin with hyaluronic acid, peptides, and antioxidants. Everyone seems to want the Hydrafacial right now."
Another benefit of the Hydrafacial is how widely available it is. There's a strong likelihood a licensed practitioner will be within easy reach of wherever you live. That said, I am also a big believer that a treatment is only ever as good as the person who administers it, so I booked in at Skin & Sanctuary, where the hydrafacial costs £160. This discreet, boutique aesthetic and wellbeing clinic is where you'll find expert Senior Therapist Fatma Gunduz, who has over 20 years of experience in aesthetics and is known in the industry as something of a Hydrafacial guru.
w&h's hydrafacial review
To begin by stating the obvious, Beauty Eds are completely spoilt when it comes to treatments–trying out facials is legitimately in the job description. A side effect of this abundance of aesthetic options is that it's easy to get carried away. When you receive a daily barrage of emails offering everything from lip filler to eye lift surgery and body sculpting via EMSculpt Neo, the mind does tend to start meandering down the "could I, would I, should I?" road of cosmetic tinkering.
Let's add to that the fact I now tick the aged 35-40 box when filling in forms, so things are a little more lined and a little less radiant. I'm not ready to submit to the siren song of Baby Botox just yet, but I definitely need something more than your average pampering facial can offer. I want a treatment with muscle, one that gives my skin a kick up the proverbial but without needles, downtime, or the risk of taking on that unmistakable 'worked on' veneer. Enter Hydrafacial.
"This is like an MOT for your face," Skin & Sanctuary's Fatma begins by telling me. And after running through my detailed consultation form and a visual skin assessment, she decides to give me the Super Hydrafacial, which is the classic treatment boosted with extra serums and masks customized to my skin. Yes, please.
We began with a lovely oil cleanser to rid my skin of makeup and pollution particles–a must when you've travelled to your treatment on the 277 bus. Thanks to Fatma's expert hands, the tastefully decorated, blissfully quiet room, and comfier-than-usual treatment bed, the vibe was so far, so spa-like.
Vortex exfoliation
As you know, the reason the Hydrafacial is known as a serious glow giver is because the process is just that, serious. So out came the machines. First up was lymphatic drainage, which, you guessed it, helps your lymph nodes drain excess fluid and is administered via a device that I can only describe as a tiny hoover nozzle. Not that there's anything unpleasant about having said nozzle gently tug your face like an oddly satisfying reverse massage. We moved on to exfoliation using the Vortex. This little pen-like gadget sounds very 'villain in Avengers 12' (or whatever number they're on now) and feels mildly abrasive and cooling at once, physically nudging away dead skin, flushing debris out, and pushing gentle chemical exfoliant, lactic acid in.
Facial peel and extraction
Some peeling acids followed, which can be customised to your skin type. Fatma chose a mixture of glycolic and salicylic for me, warning that it could tingle and asking me to rate my discomfort out of ten. My honest answer was a two. I've had far more prickly experiences using home acid products, which probably indicates they were too punchy for my reactive skin and proves the importance of putting your face in expert hands.
A cooling, minty gel cleanse came next, then we moved on to extraction. The Vortex was once again employed, this time in extract mode around my nose and chin which was the only but of the treatment, I found in the slightest uncomfortable. Not painful, I would add, just an irritating scratchy feeling for a few minutes. Fatma added some manual extraction into the bargain to get every last scrap of congestion out in satisfying style.
Masks and LED
Next came masks, again tailored to your skin, which meant ZO Skin Health Complexion Clearing Masque on my oily chin and nose, plus a hydrating sheet mask over my cheeks and forehead. I was also treated to a bonus arm, neck, and shoulder massage while they worked–ultra-firm on the knots, expert flowing movements everywhere else, just how I like it. Finally, my skin was bathed in soothing and anti-inflammatory red LED light and liberally slathered in hydrating skincare and SPF to see me on my way.
Hydrafacial results
Results that day
A look in the mirror confirmed what I already knew–a pink ever-so-slightly blotchy face. As a pale Scot with reactive skin, this is standard stuff, but by the time I emerged on the other side of my tube journey, any flushing had completely disappeared, leaving only smooth skin in its wake. Skin so ridiculously smooth I had stuffed my hands in my pockets to stop myself stroking it. Paws that have been in contact with London public transport should be kept well away from baby-fresh skin cells.
Two days later
I avoided my usual retinols and acids for a couple of days, simply hydrating my peachy new complexion, and noticed that my makeup wasn't settling into little dry patches and pores anymore. A week later, I experienced the famed 'Hydrafacial glow'–so much so that I went out to lunch to meet an old friend's new baby entirely foundation-free. This is very unlike me.
Two weeks later
As my skin cells begin to turn over, that indefinable freshness remained, and the little under-the-skin breakouts I was experiencing pre-Hydra hadn't returned. The results get cumulatively better, so a course would be a brilliant idea in the run-up to a big event. I'm already thinking about when I can book my next appointment (and if you're wondering how often should you get a facial such as the Hydrafacial, every six weeks or so is grand) And, on the basis of my glowing reports, a couple of girlfriends are too.
Hydrafacials near me
For more information visit SkinandSanctuary.com
To find your nearest Hydrafacial practitioner, visit Hydrafacial.co.uk and click Find A Provider.
Beauty Editor, womanandhome.com
As woman&home's Beauty Channel Editor, Fiona Mckim has tried more products than she's had hot dinners and nothing makes her happier than raving about brilliant finds on womanandhome.com or her instagram grid (@fionamckim if you like hair experiments and cute shih-tzus). Fiona joined woman&home as Assistant Beauty Editor in 2013 under industry legend Jo GB, who taught her everything she needed to know (learn about ingredients and employ extreme cynicism). She has since covered every corner of the industry, from interviewing dermatologists and celebrities to reporting backstage at Fashion Week and judging the w&h Beauty Awards.