"Clearly, it's had an effect" – an honest Profhilo review with all the juicy details on this injectable treatment
Our in-depth Profhilo review with before and after pictures: the results, costs and does it hurt?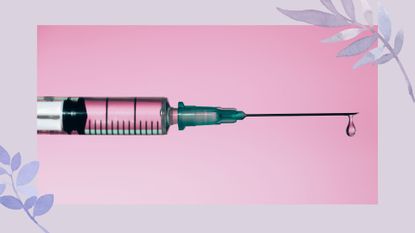 (Image credit: Future/Getty images)
Searching for a Profhilo review? We're not surprised. On TikTok (the barometer of what's hot or not) Profhilo reviews have racked up 1.4 million views and counting. Dubbed the injectable moisturizer, it's fast eclipsing the likes of Botox as the go-to treatment for skin rejuvenation. So what's it all about?
Profhilo is a tweakment that injects the skin with hyaluronic acid to hydrate from within, and can be used on the face, neck, hands, and even areas of the body such as the stomach. Despite both containing hyaluronic acid, Profhilo is not the same as filler. It won't add volume or alter the structure of your face in the same way as dermal fillers. Nor will it provide the wrinkle-relaxing effects of Botox.
Rather, this injectable skin booster is an extension of your skincare routine, offering a surge of hydration that translates to juicier, plumper, and firmer-looking skin. If your trusty tub of moisturizer isn't hitting the spot, it could be the answer. Intrigued? Our Profhilo review with before and after photos dives deeper into what this treatment involves, including costs, pain and who it's best for, as well as what it actually does for your skin.
An honest, in-depth Profhilo review
What is Profhilo?
Profhilo is a treatment that works to remodel and moisturize. The skin is injected with tiny amounts of naturally-occuring hydrating molecule hyaluronic acid (HA) strategically placed at key points, which then disperse evenly across the face. It's formulated with high and low molecular weight HA molecules that work at different depths to boost moisture and has one of the highest concentrations of HA on the market (64mg per 2ml).
This surface skin booster gives dehydrated skin a big slurp of moisture, the glow-giving effects of which last for months, and goes some way to firm up sagging tissue. "We start losing our collagen from the age of 25, and it's amazing to see what the collagen stimulation of Profhilo does for the skin," explains Dr. Preema Vig, advanced aesthetic doctor, owner and medical director of Dr Preema London Clinic and a leading practitioner in Profhilo.
What happens during the treatment?
As with any tweakment, you'll be asked to fill out various medical and consent forms. If you arrive with makeup on, it will need to be removed, then photographs are taken of the treatment area. Patients are offered numbing cream beforehand, which usually takes full effect after about 30 minutes then the skin is carefully cleaned.
Now the treatment is ready to begin. The ultra-pure hyaluronic acid is precisely injected into the skin, and administered with a very-fine needle into five injection sites across each side of the face - these are in front of the ear, top of the cheek, nasal base, jawline and chin. This makes 10 injections in total, which only takes around a minute. "It's a two-part treatment," explains Dr. Preema, "with a follow-up in about three to four weeks." Think of the first treatment as the initial stimulation, and the second one as the turbo boost that locks in longevity.
Does Profhilo hurt?
Dr Preema, who not only performs Profhilo, but has it herself, assures us it is not painful, just a little "pinchy" as the solution goes into the skin. "I have one patient who is able to carry on a full conversation during the treatment," says Dr Preema. But as with any procedure, the amount of discomfort will depend on the area being treated, how long it takes, and most crucially, your own pain threshold. And what about the downtime? Some people may experience a little redness, swelling or pin-prick bruising, but this should settle within 48 hours.
Our Profhilo review, with before and after photos
Our Profhilo review tester, Anne Maylor, had never tried an injectable skin booster, so was intrigued to see what results could be achieved when she visited Dr Preema's clinic.
For the initial treatment, numbing cream was applied. "I felt a sharp sting as the solution went in, but it was gone in a second. I felt it a little bit more on the sides of my face, rather than the chin area," says Anne. "The next day I was a little tender on one side of my face and I felt a slight lump on the top of my left cheekbone but everything was back to normal after 24 hours."
For the second follow-up treatment, Dr Preema performed the treatment without numbing cream on Anne's request. "Weirdly, I found the second appointment less stingy than the first," says Anne. "My face felt absolutely fine after the treatment, with no bruising at all."
As for the results, "I noticed my skin didn't feel as tight or dry about a week after the first treatment," says Anne. "By the time I went for the follow-up treatment, my skin looked brighter and less dull. My daughters all commented on how fresh I looked, and someone at work said my skin looked clearer, so clearly it's had an effect."
"I wasn't sure how much it would really do for my lines but I'm impressed. The biggest improvement for me has been how much more hydrated my skin feels. I would class myself as a dry skin type but since Profhilo, my skin feels much softer, and my skin quality has definitely improved. Everything just looks healthier. If you want to freshen up your face, I'd definitely recommend it."
How does Profhilo work?
Profhilo is championed for having a lasting effect, stimulating four types of collagen, and increasing elastin. "The hyaluronic acid component goes after about a month," explains Dr. Preema, "but the cascade of events continues." This process, known as neocollagenesis, is the body's reaction to injury and stimulates repair whereby fibroblasts (a connective tissue cell) go into overdrive and generate collagen. This collagen stimulation is said to continue for six to eight months for improved skin quality and a reduction in the appearance of fine lines and wrinkles.
It's worth noting that Profhilo will not add volume or change facial structure as fillers do. The way the hyaluronic acid chains are formulated means that Profhilo spreads like a gel and becomes integrated into the skin.
Who should have this treatment?
As with any injectable, it pays to have a comprehensive consultation with your doctor beforehand to see if Profhilo is right for you and will give you the results you're looking for. The good news is Profhilo works for everyone, at any age, with any skin type. "I've got patients of all different ages having Profhilo," says Dr. Preema, who advises that starting in your mid-thirties is advantageous.
For many, Profhilo offers a less scary youth boost than dermal fillers or Botox. "Profhilo is more natural, and that's what many of my patients are steering towards, and with it, you may actually realize you do not need as many traditional fillers," says Dr. Preema. But it doesn't have to be either/or as Profhilo can be used in tandem with other aesthetic treatments. In fact, combining Profhilo with Botox or filler treatments may mean those other injectable results last longer.
How long does Profhilo take to work?
"Everyone's skin is different so some people may notice an improvement after the first part but normally, after the second session is when you'll start to see results," says Dr. Preema. This visible difference happens around three to four weeks after the second treatment - when that initial collagen and elastin stimulation starts to show at the surface. It's then that you may notice plumper skin, increased firmness, and softer lines and wrinkles.
"My patients report back in different ways," says Dr Preema. "Some say 'my under-eyes look better,' others say 'my nose-to-mouth line looks better', or 'I just look tighter.'" Another of Dr. Preema's patients noted how quenched her skin felt while visiting a hot, dry country, where she would normally experience dryness.
How long do the results last?
As with any tweakment, the results will vary from patient to patient, dependent on factors including age, lifestyle, and skin quality. But, generally speaking, you'll see the benefits for up to six months. Top-up treatments are advised every 6-12 months to maintain the results, but your medical practitioner will be able to advise you on the frequency that's right for you.
As Dr. Preema says, "I have patients who come in for maintenance once every three months, and others who only come in once a year." If you leave it longer than that, your skin will revert back to its pre-treatment state, and should you want to try Profhilo again, you'll need to book the two parts to start from scratch.
Is Profhilo better than Botox?
Profhilo may come under the injectable umbrella but it serves a different function and isn't really comparable to Botox, baby Botox or fillers. Botox constricts muscle movement to soften expression lines, and is useful across the forehead and around the eyes. Its effects can last up to six months. Dermal fillers are usually composed of hyaluronic acid and are injected into deep wrinkles to plump out furrows, with results lasting between six and 18 months, depending on the type of filler used.
Profhilo, on the other hand, is produced in a different way, which allows the hyaluronic acid to disperse evenly throughout the skin. "Profhilo has opened up a new injectable category called, bioremodeling," says Dr. Preema. "It is not a wrinkle-relaxing treatment or dermal filler – it is more than a surface skin booster, stimulating and regenerating from within."
Is Profhilo the ultimate alternative to Botox, then? In a word – no. If you're looking to lift sunken cheeks, then stick with fillers. If you've got deep laughter lines or frown lines, Botox may be your best bet. If you want your skin to look healthy, glowy and fresh, as if you've been moisturizing twenty times a day, then Profhilo could be for you.
How much does Profhilo cost?
Prices will vary nationally based on location and the practitioner, but you can expect to pay around £300-500 per treatment. At Dr Preema London Clinic, a two-part Profhilo face treatment costs from £650 a two-part Profhilo Body treatment costs from £850. Profhilo is not currently available in the US as it is not FDA-approved.
Stephanie Maylor is a Beauty Editor working across five national magazine titles, with almost 15 years' experience in the industry. She has written for many brands, including woman&home, Grazia, Now, More!, Fabulous, NW, Woman, Woman's Own, Woman's Weekly, Essentials, Best, Chat, and OK! online.
In 2010 she launched her own beauty blog, which was shortlisted for Best Beauty Blog in the 2011 and 2012 Johnson & Johnson Beauty Journalism Awards. She has interviewed many high profile industry experts and celebrities including Alesha Dixon, Twiggy and Christina Hendricks.