What are injectible skin boosters and what happened when our beauty ed tried them?
Aesthetic experts explain everything you need to know about skin boosters – the buzziest injectible tweak of 2023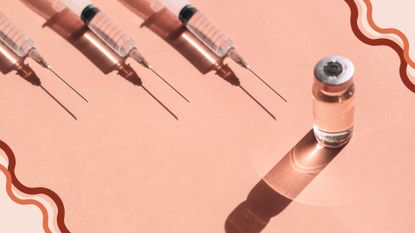 (Image credit: Future/Getty images)
woman&home newsletter
Sign up to our free daily email for the latest royal and entertainment news, interesting opinion, expert advice on styling and beauty trends, and no-nonsense guides to the health and wellness questions you want answered.
Thank you for signing up to . You will receive a verification email shortly.
There was a problem. Please refresh the page and try again.
Injectible skin booster is a real 'say what you see' umbrella term. This group of injectable aesthetic treatments floods the skin with beneficial ingredients in order to boost certain facets of it's appearance – primarily, hydration and glow.
You may have heard of some of the tweakments in this category – Profhilo is probably the most well-known. But even if you are in the dark about boosters, I'll bet you've seen countless faces that have been boosted because they are big business. "In our practice, I've seen a rise in people wanting skin boosters as they become more interested in the health of the skin." explains Dr Christine Hall (opens in new tab) of the Taktouk Clinic. "We've seen a move towards minimalist makeup and people wanting to go bare-faced, so skin boosters such as Teoxane Redensity 1 are one of my favorite treatments to help give skin that healthy, hydrated glow."
Much like the equally buzzy Ultherapy or Aquagold facial, boosters hit the sweet spot of doing the work yet not looking like work. This is hugely appealing for anyone (myself included) who is intrigued by the idea of injectables but terrified of looking frozen or overstuffed. So I asked the experts for the lowdown and tried the treatment myself to bring you this guide.
Skin boosters: our complete guide
What does a skin booster do?
Skin boosters are designed to replenish the skin, and are primarily focused on hydration. "They don't change the structure of your face, or the movement, they just make the skin look fresh and glowing," says Dr Hall, who explains that this outperforms even the best skincare products. "Because we are injecting the ingredients into the skin, they can go much deeper, which means it can draw water into the deeper layers of the skin to promote collagen production."
The best-known boosters – Teoxane Redensity 1, Juvederm Volite, and Profhilo – are all formulated with the hydration molecule hyaluronic acid (HA), which is also found in facial fillers. However, each treatment has its own key benefits:
Profhilo: "Profhilo uses a unique stabilized hyaluronic acid which lasts in the skin for around 28 days," explains consultant aesthetic and plastic surgeon, Professor Ali Ghanem (opens in new tab). "During this time the stimulation of four types of collagen and elastin takes place. It's also effective for the rejuvenation of difficult areas such as the neck, the forehead, or the hands."
Teoxane Redensity 1: "Redensity 1 is hyaluronic acid plus a cocktail of eight amino acids , three antioxidants, two minerals and vitamin B6, which are all key to a brighter, glowing complexion," explains Dr Hall. "Not all skin boosters can be used across the full face but Teoxane Redensity 1 is licensed to be used all over the face as well as the neck."
Juvederm Volite: "During Volite treatment we administer around 50 micro-droplets of HA deep into the dermis, which gives the skin a plump, hydrated and smoother look whilst also targeting lines and wrinkles," explains Dr Edris Farahbod, aesthetic doctor at Beverly Hills Wellness & Aesthetics. "In addition, Volite stimulates fibroblasts in the skin, which also improves elastin and collagen production."
What happens during a skin booster appointment
After deciding that my skin could indeed use a boost, I booked a course of three Teoxane Redensity 1 treatments with Dr Pamela Benito (opens in new tab) at The Cosmetic Skin Clinic. Teoxane's skin booster option appealed to me as it contains those 'secret sauce' antioxidants and amino acids as well as HA, and I was hoping for glow as well as juicy hydration. After a detailed consultation and thorough cleanse, Dr Benito sat me back, squeezy stress ball in hand, to begin the injections.
And good god, what a lot of injections there were. I'd say somewhere between 30 and 40 all over my face, which in Dr Benito's deft hands took 20 minutes tops. It was scratchy in places but I didn't find it intolerable. Although (humblebrag!) I have been complimented on my pain threshold by several skin pros. You can arrive early for numbing cream if you'd rather feel nothing, but I didn't bother on any of my visits, which demonstrates how completely fine the whole thing felt to me.
What did sting a bit was, for a 'no downtime' treatment, there is actually a bit of downtime. After each session I went home with little raised bumps at the injection sites (and as you remember, there were a lot of those) There wasn't any blood or bruising though, I just looked vaguely insect-bitten until the next morning. You could definitely commute home without attracting stares after having Redensity 1, but probably don't make big evening plans. Bumps aside, you can crack on as usual, with the classic post-tweak caveats of avoiding harsh skincare and overheating for a couple of days. No saunas or spin classes? Fine by me!
Are skin boosters effective?
In a word, yes. They definitely are as long as what you want is a general improvement in the condition and quality of your skin, rather than an obvious change such as freezing crow's feet or re-contouring.
This is exactly what I was looking for – a refreshed appearance, glow and bags of hydration. To that end, I found Teoxane Redensity 1 very effective. The results grew cumulatively with each session. After one my skin felt softer and plumper within days (I couldn't stop touching it) This, in turn decreased the depth of dehydration lines around my eyes and mouth. It wasn't a dramatic change, I just looked fresh, as if I'd been getting my eight hours and drinking my two liters (not always the case.)
You could stop there if you just wanted to have one treatment, maybe for a big event. By the time I'd had all three I noticed other effects such as an improved texture and clarity. My skin was flooded with natural goodness and I was chuffed. But, if I wasn't telling anyone who threw a nice comment my way about my injectable aventures nobody would have suspected I'd had any 'work' done.
How long do skin booster injections last?
Skin boosters can last for up to a year, although this varies depending on which skin booster you opt for, and also how many treatments you choose to have. With Redensity 1, the most noticeable effects on skin texture last about three months, or if you have a course of 2-3 treatments, three weeks apart, this keeps bumping itself up and can last a year. Because of the preventative and skin-strengthening powers of the amino acids and antioxidants, you'll also enjoy fringe benefits on skin health for years.
With Profhilo, Ghanem's recommended protocol is "two sessions, one month apart" with the best results showing four weeks after treatment, which can last for up to a year. Juvederm Volite is a speedier option in terms of protocol and lasting power. "The treatment takes around 10-15 minutes, has no downtime, and lasts up to nine months – you'll also only need one treatment to see a visible result," explains Dr Farahbod.
Are skin booster injections better than Botox or filler?
Hey, I don't like to pick favorites. But if what you are interested in is a natural rejuvenation without changing anything, per se, then, yes, skin boosters may be better for you. However, if you are looking for dramatic results, to regain lost volume, or to tackle specific lines that really bother you, then traditional toxin injections – AKA Botox – or facial filler will still be the best choice.
As always, the best thing you can do is ask an expert. Just as you don't go to the GP and tell them what medication you need (even when you think you know because you've already asked Dr. Google) it's best to approach any consultation with an aesthetic doctor with an open mind, ready to have a chat about your skin goals.
How much do skin boosters cost?
Starting prices for Teoxane Redensity 1 are from $650 / £550, and you can expect to pay between $300-$750 / £250-600 for most booster treatments, depending on where you go. Many clinics will create packages if you wish to have a course, which can offer better value as well as reduced prices for maintenance treatments.
While skin boosters are not a cheap and cheerful treatment, it goes without saying that no injectable should be. Always visit a skilled practitioner, definitely a medical professional and ideally a doctor with knowledge of facial anatomy. Be wary of offers and deals that are designed to encourage impulsive decisions. Research your practitioner, always have a thorough consultation and if you feel under pressure at all, walk away
To find an approved clinic for one of the skin booster treatments mentioned in this article, visit Teoxane (opens in new tab), Profhilo (opens in new tab)or Juvederm (opens in new tab)
Beauty Editor, womanandhome.com
As woman&home's Beauty Channel Editor, Fiona Mckim has tried more products than she's had hot dinners and nothing makes her happier than raving about brilliant finds on womanandhome.com or her instagram grid (@fionamckim if you like hair experiments and cute shih-tzus). Fiona joined woman&home as Assistant Beauty Editor in 2013 under industry legend Jo GB, who taught her everything she needed to know (learn about ingredients and employ extreme cynicism). She has since covered every corner of the industry, from interviewing dermatologists and celebrities to reporting backstage at Fashion Week and judging the w&h Beauty Awards.