The beauty treatments you need to try
Our beauty team picks the best beauty treatments across the UK—for skin, body and hair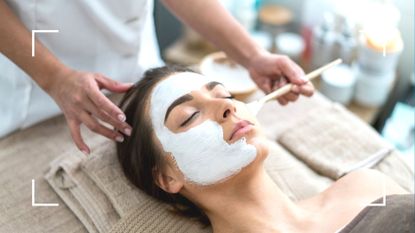 (Image credit: Future / Getty Images )
There's no denying the feel-good power of beauty treatments. Be it an LED facial to bestow your skin with glow, a bouncy blow-dry that lasts all night, or a hot stone massage to melt away tension—nothing compares to that pampered feeling. And while of course treatments can be carried out at home, it's the expert hands that really make all the difference.
Health is the new wealth and that applies to our skin, hair, and nails, too. Many of us have stepped up our skincare routine in the last year, mastering the at-home facial or learning how to do a blow dry to create salon-style results. But if you want to take it one step further in 2023, these are the professional in-salon treatment that our experts predict a surge in demand for.
From body treats using the best body exfoliators to microneedling treatments for skin smoothing benefits, picking the right beauty treatments isn't always easy. As well as feeling confused by the sheer amount of choice out there, and wondering how often should you get a facial, the high price tag of visiting a salon or spa can put more pressure on finding a treatment that's actually worth it. To help, we've curated an edit of the best beauty treatments to try in 2022—these are the ones that really do work.
The best beauty treatments to try in 2022
Beauty treatments for skin
"Having good skin and a filter-free appearance on social media will be the goal in 2022," says Dr David Jack, InMode Key Opinion Leader, and Aesthetic Doctor. To achieve this, treatments and products that focus on the glow (as well as the best highlighters) are likely to be in demand. Pick from our tried-and-tested treatment list below:
1. Hydrafacial
It's not exactly cheap, but if you're looking for results the HydraFacial ticks every imaginable box. Congestion-clearing? Tick. Texture-smoothing? Tick. Plumping, hydrating, collagen-boosting? Tick, tick tick. A must-try treatment, one HydraFacial is carried out globally every 15 seconds—making it one of the most popular beauty treatments worldwide.
The steps of this exfoliating facial typically include lymphatic drainage, a chemical peel, basking under a red light therapy device, and the use of a pressurized hydra dermabrasion pen that pushes the good stuff in and flushes the bad stuff out (you can see the gunk that's exited your skin if you wish). The results? Your most radiant glow yet.
From £200 at Mallucci London and £145 at The Prager Clinic or find a clinic near you at Hydrafacial
2. Sunday Riley Ice Clear Facial
Three words: Best extraction ever. There are lots of other reasons to love this instant-results facial, too. It combines a high-tech cryotherapy machine (rumor has it J-Lo has the same one in her house) with antibacterial and anti-inflammatory LED plus plenty of manual skin rejuvenation—that's the aforementioned extraction)
The treatment finishes with a generous slathering of Sunday Riley's peerless skincare products. Skin is left clearer, calmer, and instantly radiant. This is a must-try for anyone will oily skin who wants to know how to get rid of acne. For those who don't want to splurge or don't live near a clinic never fear—there are ways you can learn how to get rid of whiteheads at home too.
From £145 for hour at Hershesons Berners Street and Liberty London
3. The Light Salon LED Treatment
Yes, it's lovely to lounge around in a robe for hours drinking herbal tea before being slathered in the best face masks and massaged, but do you know what else is lovely? Achieving the same heavenly glow in just 15 minutes under an LED light in your own clothes and makeup. That's what the light salon is all about: fast, effective, skin-improving treatments for the lunch hour crowd.
Nip in for a radiance-inducing 20 minute ExpressLED Skin Health & Rejuvenation, then supercharge it with as many add-ons as you fancy. We love the Advanced Exfoliation Peel and Lifting 10 Minute Facial Massage. Prices for express beauty treatments hover around the very reasonable £35 mark. New and exciting in salons is microneedling, with 60-minute treatments from £160.
Available at Harvey Nichols, Hershesons and Cowshed Spas nationwide thelight-salon.com
4. Signature Strum Glow Treatment
If you're a fan of Dr Barbara Sturm's skincare products (seriously, who isn't?), you will adore the Signature SturmGlow Facial. Expensive, yes. But worth it? 100%. This is the sort of glow-bestowing facial that's worthy of saving up for ahead of a major event.
It combines thorough cleansing and exfoliation with extractions to help refresh and clear skin. Then, there's Dr. Sturm's signature anti-aging massage, which increases blood and oxygen flow while sculpting the facial muscles using several massage techniques. Afterward, skin feels and looks incredible, boasting the sort of glow that comes with weeks of rest.
Oh, and the best part? You can add on a choice of three booster treatments for supercharged results: microdermabrasion, £50, micro-needling, £100, or microcurrent, £150.
From £225 at Dr Barbara Sturm London Boutique & Spa
5. Dr Michael Prager The Lower Lift Facial
After a hi-tech facial that targets the lower third of the face? "While loss of volume happens throughout the face, it really is at the lower third that it initially becomes noticeable," points out Dr Michael Prager, who has devised an innovative treatment to combat this. Using a combination of non-invasive technology, the advanced facial delivers visible results that last an impressive eight to twelve weeks. So, what exactly does it entail?
As well as hydra-dermabrasion (as used in the Hydrafacial), facial massage and LED light therapy, the treatment incorporates something called transderm. Using electrical pulses, transderm temporarily breaks down the bonds within the skin, delivering hyaluronic acid to the deepest layers. When applied to the lower third of the face, this treatment tightens, smooths, and lifts.
£315 for 90 minutes at The Prager Clinic
Beauty treatments for body
Body treatments are expected to continue to increase in popularity for 2022, from pampering pedicures to involved sculpting treatments such as EMSculpt Neo. "Likewise, more advanced at-home treatments and gadgets will come to market to help augment in-clinic results," says Dr David Jack.
From luxury manicures to body-boosting treatments, here are our top recommendations for 2022:
6. High-end manicure
Our hands get a rough deal, don't they? They work all day, they're exposed to the elements and the most attention they get is with not-so-nail-friendly gel manicures (or nibbling if you're that way inclined). Why not give your mitts some genuine TLC with The Jessica Deluxe Manicure with LeRemedi.
This many-stepped 'facial for your hands' packs in a full nail analysis, alpha hydroxy acid exfoliation, an elbows-deep slathering in a restorative mask, various oils and concentrates, heated mittens if you wish and that's before we get to the expert mani using Jessica Nails' beautiful, gentle polishes.
From £27 for 60 minutes at Jessica Salons nationwide
7. Gaia Raindrop Therapy
A luxury haven tucked away in Notting Hill; Cloud Twelve spa boasts an extensive body treatment menu. Spanning everything from Himalayan salt scrubs to thermal mud treatments—there really is a treatment to suit everyone.
Promising to replicate a lush island experience, this raindrop healing ritual involves various massage techniques for the body and scalp to release toxins and boost the immune system. Only 100% pure essential oils are used, and a face cleanse is included for skin that glows as well as a full-body wellness boost. To continue the chill vibes at home, try an expert pampering routine to soothe mind, body, and soul.
£275 for 120 minutes at Cloud Twelve, Notting Hill
8. Icelandic Luxury Pedicure
STILL London is a non-toxic, vegan, environmentally-friendly salon in London that boasts an impressive treatment menu for nails and toes. If it's the latter you're after, they have just the thing: the Iceland Luxury Pedicure.
The treatment begins with a soak to melt away aches and pains in pure Icelandic sea salts. Next, enjoy an exfoliating salt scrub and heavenly foot massage complete with cold-pressed rosehip oil with sea buckthorn. Finally, get those toes all spruced up with a full file, buff, and cuticle work pedicure plus a lick of color by non-toxic polish brand Kure Bazaar. Expect to leave with the very definition of happy feet.
From £45 for an hour at STILL London
9. ELEMIS Frangipani Cleansing Salt Scrub
Sometimes you need a hardcore deep tissue elbows-in-the-back type of massage, and sometimes you just need a good old-fashioned exfoliation and moment of pure pampering, in which case visit Elemis for the Frangipani Intensely Cleansing Salt Scrub.
The heavenly scented salt gently sloughs away dulling dead skin cells, encouraging the regeneration of new cells. Ideal for post-winter skin, this treatment creates a new, silk-smooth canvas that you'll want to show off. Oh, and after the exfoliation, enjoy a massage using a luxury body oil. Divine!
From £39.50 for 60 minutes at Elemis Spas nationwide
10. Blow At-Home Pedicure
There is something deeply cheering about a softened heel and freshly painted toenail, even if it's only you who sees them. That said, sometimes the journey home from the nail bar in flip flops has all the appeal of a cold shower, so why not have the salon come to you?
Blow Ltd is are pioneers of luxury at-home beauty treatments, with a crack team of expert nail technicians, organized and paid for via an app that's as easy as booking an Uber. Go for the OPI Classic pedicure and your therapist will arrive armed with everything you need for a salon pedi experience from, spa-style nail care to glossy, perfect painting, all from the comfort of your couch.
From £40, available in London, Birmingham and Manchester. Visit blowltd.com
11. The Body Lab Float Tank
New to the wellness scene is The Body Lab, with a fusing the power of modern science with world-class wellness facilities. The Float Tank allows guests to let go during a 45-minute session, where sensory deprivation alongside being submerged in warm water with half a ton of Epsom salts results in a deeply relaxing experience. The Dreampod removes all sensory stimuli, which account for 90% of neuromuscular activity, meaning conserve and redirect vast amounts of physical and mental energy during the session. Dry flotation is also said to reduce anxiety and improves sleep, with celebrities like Elle Macpherson and Jennifer Lawrence championing the calming effects and skin benefits.
Other facilities at the swish wellness centre include the Hyperbaric Hydroxy AirPod, which speeds up the body's healing process and the coldest whole body Cryotherapy Dual Chamber in Europe, to aid recovery and boost immunity.
Membership at The Body Lab starts at £5,000 per year
12. Radiance x Decléor Exclusive Ultimate Glow Treatment
This decadent treatment for both the body and the face is designed to boost an all-over glow, so it's perfect prep before a special occasion. A workout for the skin, the treatment includes a 30-minute expert sculpting massage to help contour the body, while essential oils lemon, peppermint and May Chang firm and detoxify the skin. The treatment concludes with a targeted 60-minute facial massage, combining flow and rhythm to leave skin sculpted and glowing.
This signature treatment marks the salon's collaboration with Decléor, who specialise in sumptuous products that harness the relaxing and mood-boosting properties of essential oils.
£105 for 90 minutes at Radiance London
Beauty treatments for hair & lashes
After a few years of on-and-off salon appointments, hair health is set to be a big priority for many in 2022 especially as color treatments (including balayage and highlights in hair) are on the rise.
Over on lashes, natural-looking results are key. Here are our top treatment picks for eyelashes, brows and hair:
13. BBLondon Lash Extensions
On the hunt for extra flutter and fullness that even the best lengthening mascara can't provide? Turn to the lash and brow experts at BBB London for next-level results on lash extensions. From flirty lashes to full-on drama, the pro team will help you achieve your desired lash look and carefully apply your lash extensions for flutter that lasts up to six weeks.
The treatment takes a while, anywhere between one and two hours, but if you think about the time you'll be saving on applying mascara or the best false eyelashes—it's so worth it. During the treatment, you can sit back and relax while your lash expert attaches each individual flare with tweezers. Thanks to comfy chairs and trustworthy technicians, this is as relaxing as lash extensions get.
From £70 at BBBLondon
14. Kerastatse Fusio-Dose Treatment
Kerastase Fusio-Dose is a speedy in-salon treatment available at Kerastase salons nationwide. The stylist will start by giving your hair a diagnosis, discovering what your hair and scalp needs are, before selecting your bespoke treatment to deliver at the backwash.
The treatment combines a concentrate (there are four options, each packed with actives) with one of five boosters and both are applied to the hair for five to ten minutes before rinsing. It's a super easy add-on that delivers impressive results that go beyond what the best hair masks can do—your hair will and feel healthier immediately afterwards and will continue to do so for weeks.
From £15 at Kerastase salons nationwide
15. Lash Perfect Lift
Whether you've got short, straight, or forward-facing lashes, or just fancy a break from the best mascaras, Lash Perfect Lift may just be the perfect eyelash treatment. In one 40 minute session the LPL lifts, curls, and tints natural lashes for a lengthening and thickening effect that lasts up to eight weeks.
Essentially you lie down and relax for just over half an hour while various solutions and bits of apparatus are applied to create either a "C" or a "J" curl. The Lash Perfect technicians are experts in helping you pick, based on your eye shape and desired look. This is a great holiday treatment as it gives naked lashes a little boost without looking fake or being remotely high maintenance.
From £35 for 40 minutes, available nationwide at Lash Perfect trained salons and spas
16. Benefit Brow Mapping
Looking for a treatment to knock a few years (or late nights) off? For absolute ease, speed, and bang for your buck, we reckon nothing beats a brow tidy.
Benefits are number one in the UK for brow services. It's no wonder really, as their wax service includes brow mapping to find your perfect shape, a makeup touch-up if you like, to hide any redness, and the option of adding on a tint to pick up all those tiny hairs you never knew existed. If you're tempted to try eyebrow tinting at home, we'd advise putting it in the hands of a pro the first time around while you get used to the look.
From £16 at Benefit Boutiques nationwide
17. Elleebana Profusion Lash Color Boost Tint
Beauty treatments in 2022 aim to work with what we have, rather than changing our look entirely, with many salon owners offering a more natural look. Emmy Creates, based in London, is a lash and brow stylist for celebrities and models and uses Elleplex's Re-Gen System to nourish and strengthen your existing lashes for thicker, glossy lashes. Team with a lash lift for a complete lash makeover.
Emmy is an expert in how to grow eyelashes, as well, and is currently developing her own eyelash serum for naturally longer and fuller lashes, so you'll also leave with some lash care advice after the treatment.
From £15 at Emmy Creates London
---
woman&home thanks Dr David Jack of Dr David Jack Clinic
Sign up to our free daily email for the latest royal and entertainment news, interesting opinion, expert advice on styling and beauty trends, and no-nonsense guides to the health and wellness questions you want answered.
Emma Stoddart is a freelance beauty journalist and self-confessed skincare aficionado with over five years' industry experience. Emma has worked for some of the UK's top women's titles including Net-A-Porter, Stylist and Grazia. Her experience spans online and print as well as producing editorial shoots with some of the industry's biggest artists, including Val Garland. Asides from working with them behind the scenes, she's also had the chance to interview the likes of Patrick Ta, Pat McGrath, and Sam McKnight for all their insider tips and tricks.