The best highlighters in every texture for a perfect, glitter-free glow
Our experts reveal the best highlighters for all skin tones in cream, powder and liquid form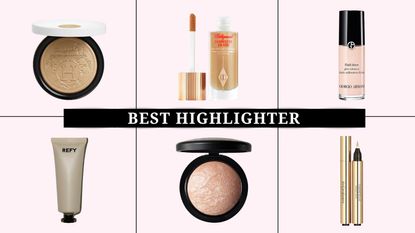 (Image credit: Future)
Finding the best highlighters to achieve a radiant gleam without looking like a disco ball can be tricky. But don't worry, with so many products on offer, glow doesn't have to mean glitter! We've tracked down the most flattering highlighting formulas to suit all skin tones that will leave you with a subtle, beautiful shimmer.
Once you find the perfect highlighter, it can help you achieve all sorts of easy makeup looks. Much like the best foundation it will subtly enhance your skin, help you look more awake, and add a finishing touch to your makeup. While nailing your skincare routine is key to achieving a healthy glow, using a dedicated highlighter can ramp up the lit-from-within radiance, taking your look from good to great.
But, how do highlighters work? Much like darker shades of makeup can make areas of the face appear less pronounced, highlighters do the reverse. They draw attention to certain areas of your face by pulling them into the light. All you need to do is grab your best makeup brushes, sweep your highlighter over the highest points of your cheeks and down the center of your nose, across your cupid's bow and brow bones to achieve an illuminated, sculpted silhouette.
HOW TO CHOOSE THE BEST HIGHLIGHTERS FOR YOU
Why you can trust Woman & Home Our expert reviewers spend hours testing and comparing products and services so you can choose the best for you. Find out more about how we test.
When narrowing down the best highlighters to include in your makeup kit, consider these factors:
Shade: Remember, highlighter's job is not to create a tanned post-holiday glow (for that learn how to apply bronzer). To get it right, those with pale skin should steer clear of warm, yellow-based tones and go for cool shades with a pinky, silvery base. Olive and deeper skin tones should opt for more golden tones to recreate a candlelit look without any chalky or greyish undertones.
Texture: The best highlighters come in various formulas, so you can pick what's best for your skin and desired finish. Cream and liquid highlighters can be mixed with your best face moisturizer or foundation and applied all over your face for a dewy finish. This makes them best for dry or dehydrated skin. Powders are more traditional and boast better lasting power and control. Just remember to use a brush to buff powders into your skin to prevent any tell-tale stripes.
THE BEST HIGHLIGHTERS, AS CHOSEN BY OUR EXPERTS
1. Charlotte Tilbury Hollywood Flawless Filter
Best highlighter for an all-over glow
Specifications
RRP: $44/£34
Shades : 12
Formula: Liquid
Reasons to buy
+
Subtle shimmer
+
Hydrating
+
Easy to mix into foundation
+
Great shade range
Makeup Artist Charlotte Tilbury and her eponymous beauty line have become known for glow-getting products and this highlighter is an absolute gem for bringing ethereal radiance to the skin. We love that it's available in 12 shades meaning everyone can find one to suit.
If you know how to apply foundation properly but your skin is looking a little flat, try mixing a pump of this into your base before applying it all over. It's free from glitter but gives subtle shimmer that recreates a beautiful sun-kissed glow. Alternatively, use it on bare skin if you want to achieve a more natural makeup look. The incredible formula contains blurring pigments that smooth over pores recreating a film star, photo-filter effect. It is fairly loose, so you may need to watch out for spills, but that's a small price to pay for an otherwise pretty perfect product.
2. Refy Gloss Highlighter
Best highlighter for all skin tones
Specifications
RRP: $26/£18
Shades: One universal
Formula: Liquid
Reasons to buy
+
Universal color
+
Hydrating
+
Glitter free
This super-dewy highlighter is fantastic for all skin tones as the universal color blends out to a translucent sheen on the skin. Containing no glitter whatsoever, this shine-rich liquid is great for dabbing onto the tops of cheekbones and under brows then smudged out with fingers to create the look of fresh, dewy skin.
We suggest using it with the best cream blush to enhance your skin's luminosity and make your cheekbones pop. The formula does feel a tiny bit tacky when you first apply it but then settles down into nice, comfortable all-day wear. Essentially, think of this as being like glass skin, bottled.
3. MAC Mineralize Skinfinish
Best highlighter for oily skin
Specifications
RRP: $37/£27
Shades: 5
Formula: Powder
Reasons to buy
+
Easy to blend
+
Subtle shimmer
+
Long lasting
Reasons to avoid
-
Powders not for very dry skin
When your skin overproduces sebum, using the best foundation for oily skin can really help to reduce and control shine. This means that adding shine back in with even the best highlighters can seem a little nonsensical. But, oily-skinned people want a glow too! Just not a greasy-looking one.
That's why we rate this highlighter from MAC for anyone who wants radiance without going OTT. It's finely milled, with zero chunks of glitter and leaves a subtle glow without making your skin look too slick. We suggest applying it with a small fan brush for extra diffusion of the pigment and to keep the product where you want it.
4. Yves Saint Laurent Touche Eclat Illuminating Pen
Best highlighter for dry skin
Specifications
RRP: $38/£27
Shades: 13
Formula: Liquid
Reasons to buy
+
Hydrating on dry skin
+
Suitable for all skin tones
+
No glitter
One of the original and best highlighters has to be the iconic Touche Éclat from YSL. This creamy liquid pen has often been misconstrued as a concealer but is actually intended to brighten the complexion and create dimension, just as a modern highlighter does.
Free from shimmer and glitter, it's described as eight hours of beauty sleep in a pen, and we can't disagree. We love that it comes in 13 shades, meaning everyone can find one that works for them. The clicking mechanism dispenses the right amount every time, while the creamy formula and small built-in brush make it easy to control and build, bringing lightness and luminosity to dull skin.
5. Fenty Beauty Killawatt Freestyle Highlighter
Best highlighter for deep skin tones
Specifications
RRP: $36/£28
Shades: 9
Formula: Powder
Reasons to buy
+
Great range of shades
+
Highly pigmented
+
Two shades in one
Reasons to avoid
-
May be too statement for some
If you're after a killer highlight rather than a subtle shimmer, this should be top of your list. It comes in a range of shades to suit all skin tones, pleasingly including punchier warm tones that work best on skin that's right at the very deepest end of the spectrum. It also has a highly concentrated formula that will transform dull skin into something altogether more glamorous.
Killawatt isn't your subtle daytime highlighter and definitely makes a statement. But with that said, it steers clear of chunky disco-style glitter thanks to a sophisticated ultra-fine powder texture that blends very nicely into the skin. A makeup kit must-have for lackluster days and dullness, we suggest sweeping it over the high points of the face to get unrivalled glow.
6. Hermés Poudre d'Orfevre Face & Eye Illuminating Powder
Best luxury highlighter
Specifications
RRP: $95/£75
Shades: 1
Formula: Powder
Reasons to buy
+
Luxury packaging
+
Buildable formula
+
Subtle shimmer
The Hermés beauty range oozes luxury and this highlighter is no exception. Delicately embossed with the French brand's signature stamp, this finely-milled formula creates the illusion of light with no chunky glitter in sight.
It only comes in one shade, which in fairness is a very forgiving champagne hue that would work across a multitude of skin tones. It's certainly expensive, but the sleek, luxe packaging and expertly crafted formula make this product an investment piece. It feels luxurious on the skin and would definitely bring joy to your makeup bag, plus the long-lasting glow it imparts would be ideal as part of any party makeup look.
7. Sleek MakeUP Highlighting Palette
Best affordable highlighter
Specifications
RRP: $14.99/£9.99
Shades: 5
Formula: Creams and powders
Reasons to buy
+
Mix of cream and powder finishes
+
Affordable
+
Highly pigmented
A lot of the best highlighters are very expensive and often seem disproportionately pricey compared to blushers. But, you don't have to drop a lot of dollars to get a great highlighting product if you know where to look.
This winning strobe set comes with two cream and two powder shades which you can mix, match and blend together for a full face of glow. It comes in five possible shades, then of course offers more variety within the compact so is certainly an inclusive option. The creams are easy and blendable so feel great for daytime, while the powders give more of a statement finish. Whichever you choose to use they would make the perfect finishing touch to plenty of easy makeup looks.
8. Iconic London Illuminator
Best long lasting highlighter
Specifications
RRP: $40/£30
Shades: 4
Formula : Liquid
Reasons to buy
+
Long lasting formula
+
Intense pigment
+
Easy to blend
Introducing the longest-lasting highlighter you'll ever come across. This intensely pigmented, glow-getting liquid only requires a few drops to deliver a brilliant gleam to the skin. It blends out easily with fingers, but you'll need to work quickly as once it sets down it is there for the day.
It even survives a long day on oily skin types, where most liquid highlighters struggle, making this one of the best all-rounders on our best highlighters list. Just dab a few dots to the high points of the face and the skin looks instantly healthy and dewy, it also works beautifully under the eyebrows or mixed into the best lightweight foundation for 'I woke up like this' radiance.
9. Armani Beauty Fluid Sheer Glow Enhancer Highlighter
Best highlighter for a subtle glow
Specifications
RRP: $38/£30
Shades: 7
Formula: Liquid
Reasons to buy
+
Subtle shimmer
+
Hydrating
+
Easy to blend
Giorgio Armani's Luminous Silk foundation is known in the industry as one of the best bases of all time and judging from this liquid highlighter, the brand's brilliance with radiance-boosting products just keeps on coming.
Either mix the silky liquid highlighter into your foundation or apply it to specific areas of the face to get a natural-looking glow. It comes in seven shades, in a mixture of pink and warm undertones, and all with a subtle radiance that feels grown-up and polished, not blingy. Pair it with glossy lips for a juicy, luminous look.
10. Hourglass Vanish Flash Highlighting Stick
Best highlighter for precision
Specifications
RRP: $46/£45
Shades: 5
Formula : Cream
Reasons to buy
+
Highly pigmented
+
Buildable formula
+
Hydrating
Reasons to avoid
-
A little trickier to blend
The stick applicator of this highlighter makes it super quick and easy to apply—its triangular shape offers wide, flat sides for covering large surfaces then pointy corners for adding accents to small areas like the cupid's bow and inner corner of the eye. We suggest swiping this on then blending it in with your fingers, as the extra warmth from your hands will help to distribute the sheen without harsh lines.
The cream formula is fairly firm, making it long-lasting and easy to control. It comes in a very respectable five shades, with the pale pink particularly flattering on cooler-toned pale skin. If you have a darker skin tone, the gold shade will look absolutely gorgeous.
---