Make-up kit must-haves: the 7 things you need, according to celebrity make-up artists
What goes into a daily make-up kit? Beloved make-up mogul Bobbi Brown and backstage fixture Nina Park on the essentials you should have on hand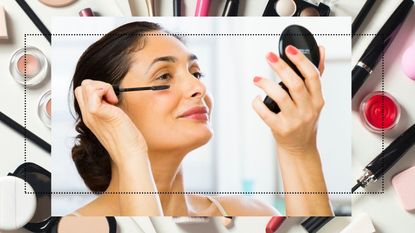 (Image credit: Future/Getty Images)
What goes into a daily makeup kit? Consider it the modern-day version of everyone's favorite "desert island" question, but tweaked for everyday reality. What beauty items should you always have handy while out and about, and perhaps equally relevant, which products can you leave for your vanity or even do without entirely?
The answer can, and will, obviously vary person to person, but seemingly universal is the sentiment that it can feel impossible—even downright overwhelming—to condense your wide stash of favorites into a well-curated, foolproof makeup kit of products that deliver each time, on every occasion.
For women on the go, whittling this list down can get even more challenging. There are countless of books and guides out there for all sorts of space organization, teaching us to discard anything that doesn't "spark joy" in our closets and homes alike. But what of our cosmetic essentials? Do we just set aside the hours we've spent finding the best foundation out there yet simply bring dupes with us on the road? How does one categorize need vs want vs have to have, and then streamline that further into what we should be carrying with us on the daily?
Lugging around products you don't need can really weigh down your purse (and in some cases, crucial prep time), so you always want to make sure you're only taking the bare necessities—with perhaps a few extras for emergencies. Luckily, there are so many products out there that check all those boxes and function in more ways than one, so you can get multiple uses out of just one piece.
Makeup kit must-haves, according to the experts
We spoke with world-famous beauty mogul Bobbi Brown, CEO of newest cool-girl staple Jones Road Beauty (and certified ageless cool girl herself) on what constitutes a well-stocked, practical yet fun everyday makeup kit.
Basic makeup kit products
"A great moisturizer, something to conceal redness and blemishes on the face and lighten dark circles (I use Jones Road Beauty Face Pencils), a balm to add moisture and tint to the skin (I use Jones Road Beauty Miracle Balm in Tawny), black mascara, brown pencil or shadow to do up your eyes and brows, a lip gloss or stick, and at least one compact with a mirror," she says of the essentials.
---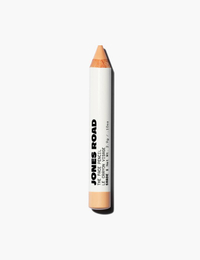 Jones Road Beauty The Face Pencil
Pencil concealers are a handy, spill-proof alternative to liquid concealers, and are easy and maneuverable to use while on-the-go even for beginners. This super blendable stick is formulated with a clear base (no chalkiness!) and comes in 25 undertone-friendly shades to seamlessly tackle both spots and dark circles.
---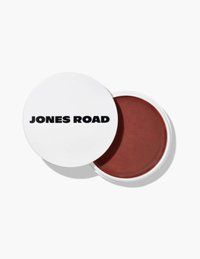 Jones Road Beauty Miracle Balm
It's not surprising why this wear-anywhere (and we mean anywhere —eyes, lips, or cheeks) sheer balm is the hero of the brand, as its literally the all-rounder we always wished we had, desert island or otherwise. Break the seal with some well-intentioned rubbing with your fingers, then tap-tap-tap on the face and it acts as a complexion highlight or foundation booster, however way you wish to glow. The Tawny shade in particular (shown here) leaves a warmer tint perfect for summer.
---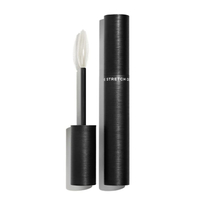 Chanel Le Volume Stretch Mascara
Not to gild the lily, but the new 3D-printed brush that comes with Le Volume Stretch brings this iconic formula to, quite literally, new heights: Lashes are lengthened and separated, resulting in a doe-eyed look that as we all know, already majorly delivers in the French-sex-appeal lash department.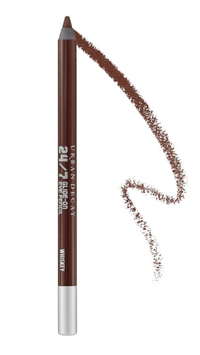 Urban Decay 24/7 Glide-On Waterproof Eye Pencil in Whiskey
Decades on and we still love the wearability of Urban Decay's award-winning eye pencil, which allows you to smudge only up to a point... after which it stays on with integrity, hell or high water. Use these precious few smearable seconds to produce a kohl effect on lids, or feather in any brow gaps with this flattering medium matte brown.
---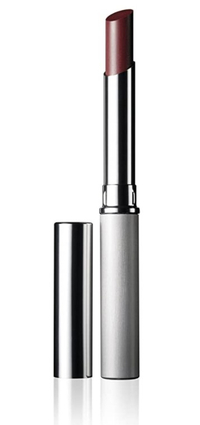 Clinique Almost Lipstick in Black Honey
A classic with teeth if there ever was one, Clinique's Black Honey is definitely a grown-up version of the mood-changing lippies of our youth. The balm-cream hybrid glides on to impart a semi-sheer, diplomatic, brownish-pink hue that's just the right midway between sexy and casual, i.e. can be worn whenever, wherever.
---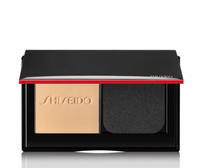 Shiseido Synchro Skin Self-Refreshing Custom Finish Powder Foundation
We love the just-applied finish we get from this intelligent (self-refreshing, as the name implies), creamy powder foundation that uses trademarked ActiveForce tech to ensure a flawless complexion that's also sweat-, movement-, and humidity-resistant. Best yet? It can be used wet and dry, and the slimline lacquered compact is equal parts chic and discreet enough for even the narrowest makeup kit.
---
Multi-tasking products for an on-the-go makeup kit
Versatile lip-and-cheek creams
Celebrity makeup sessionist and Light + Fit Collagen Antioxidants partner Nina Park explains how multi-tasking makeup can make all the difference in streamlining a makeup kit, giving you focused control over what you really need during the day. A creamy lip-and-cheek product is no exception. "It's an easy way to touch up without using too many products," explains Nina. "It's the perfect way to instantly look more awake and put together. Honestly, a few swipes of mascara plus a little cheek stain is all you need to look alive and tackle your day," she says.
A product that is condensed in a jar or stick is super easy to throw in your bag and reach for when you need it. A multi-tasker like Noto Botanics Organic Oscillate Multi-Benne Stain for Lips + Cheeks can be used on cheeks, lips, and lids to add some color with the pat of a finger or to hydrate a dry pucker.
"I really love formulas that you can use your hands to apply," adds Bobbi. "Take the Jones Road Beauty Miracle Balm (which has the easiest application), for example: You can blot on the lips as a stain, and use for color and shine on the cheeks and eyelids. I also love a pencil because you don't need a brush—just use your fingers to smudge."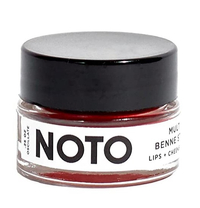 Noto Botanics Organic Oscillate Multi-Benne Stain for Lips + Cheeks
Organic and natural ingredients, including olive, coconut, jojoba, rosehip seed, and peppermint oils and shea butter and fair-trade iron oxide make this hardworking color pot a guilt-free indulgence.
---
Overachieving moisturizers
Nina loves a multi-functional moisturizer like the cult favorite Weleda Skin Food because it can be used as a hydrating spot treatment, a mask, or total moisturizer for the entire face, or on the cheekbones to add a little extra highlight. It's the perfect moisturizer if you want to pare down your makeup look and go natural.
Bobbi concurs and offers a beauty tip for women seeking to enhance a basic face for special occasions: "Make sure you apply moisturizer, which is the first step in getting a youthful appearance, and stick to formulas that are creamy, not dry. Also, don't be afraid of a little shine and shimmer, especially on high points of the cheeks and eyelids."
---
Tinted SPF
As you age, sunscreen is one of the most important ways to fight deep lines, discoloration spots, and wrinkles. Keep a thin tube of tinted moisturizer in your bag to get your SPF in and get a little color on your face as well if you're concerned with uneven skin tone or redness.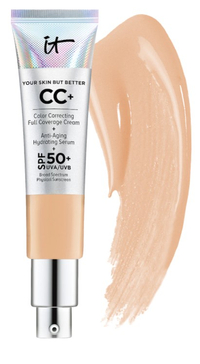 IT Cosmetics Your Skin But Better CC+ Cream with SPF 50+
In case you're not a powder foundation gal, you can hit two birds with one stone and go the tinted moisturizer route instead with a slim, non-spill tube that also comes packed with SPF for daytime. We like the easy brightening fix this provides, particularly during those post-lunch "blah" slumps, when our complexions can definitely use a boost.
---
The special add-ons to a basic makeup kit
If you have some wiggle room after you've got the basics covered, an add-on or two for special occasions or emergencies can round out your makeup kit, ensuring you're pretty much bulletproof for whatever occasion strikes.
Shimmer products
"For evening, I love shimmer and an uber-black pencil. I also love a brighter blush stick or lipstick that you can blot on your cheeks and lips," Bobbi says.
---
Gua sha tool
When you find yourself with a little extra time, like getting stuck in traffic or attached to a conference call that won't end (we feel you!), using a facial tool like gua sha is a great way to pass the time while giving yourself some TLC.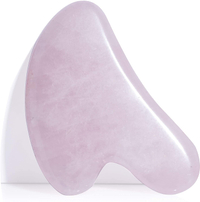 Gua sha facial scraping device
This tool has Nina's approval for depuffing the face in a flash. It also helps with lymphatic drainage and relieving jaw pain and tension, as a lot of us can unwittingly store a lot of tension in the jaw area in times of high stress.
The best makeup kit sets
There are a myriad of already-curated makeup kit options for every kind of beauty enthusiast, with some either providing a great foundation for a robust starter kit, and some being hardy enough to go the distance on their own. We rounded up our faves:
The best makeup kits
1. Jones Road Beauty Start-Up Kit
Best basic makeup kit
Specifications
RRP: $68/£49.25
Products: 4
Special call-outs: Clean; shea butter, vitamin E, peppermint oil
Reasons to buy
+
Versatile core kit with multi-tasking products
+
Paraben-, mineral oil-, and EDTA-free
+
Universally flattering shades
+
Clean, cruelty-free
If you're looking for a practical, hardworking set with an edge that ticks all the boxes for both a casual and evening-worthy glam, then the Jones Road Beauty Start-Up Kit is right up your alley. The set includes full-sized versions of her star products: Just a Sec Eye Tint in Golden Peach, The Best Eyeshadow in Dark Brown, The Best Pencil in Black, and Cool Gloss in Original (Clear). All are meant to work intuitively with your own skin tone and coloring and may be used in bespoke ways (she recommends even covering gray roots in a pinch with her highly pigmented eyeshadow). Apart from their clean—yet pro-grade and unsurprisingly appealing—approach to ingredients, minimalists and '90s fans alike will love the no-nonsense yet elevated take on beauty basics meant to enhance and flatter—signature Bobbi.
---
2. Glossier The Screen Time Set
Best customizable makeup kit
Specifications
RRP: $54/£39
Products: 4
Special call-outs: Option to customize each shade
Reasons to buy
+
Fun, best-selling basics in one set
+
Highly customizable
+
Practical bundle
Leave it to millennium fave Glossier to come up with a solution to dreaded video-call face fatigue. The Screen Time Set culls together their greatest hits—Boy Brow (brow mascara), Haloscope (stick highlighter), Cloud Paint (gel blush), and Balm Dotcom (universal skin salve)—into one practical bundle. The fact that you can pick and choose your particular shade for each item is probably its main draw; but whether you're looking to save a few coins on a package of their bestsellers as opposed to buying them a la carte, or are truly in the market for a curation to make you look alive on those 9 a.m. Zoom calls (the horror), this highly customizable set is sure to deliver.
3. Clinique Cult Classics Makeup Set
Best budget makeup set
Specifications
RRP: $20/£15
Products: 4
Special call-outs: Iconic brand bestsellers in one bundle
Reasons to buy
+
Spot-on brand curation
+
Includes a cleansing balm
+
TSA-friendly
+
Good introductory set
Come for Black Honey, stay for Take the Day Off: Whether you're a longtime Clinique fan or a complete newbie to this dermatologist-vetted brand, you'll appreciate this tiny but mighty curation of best-sellers that will easily nestle into your work drawer, glove compartment, or purse makeup kit with no issues. At $20, you're certainly getting your money's worth (good to note that the lipstick is in a plastic, travel-friendly tube in this offering) and we're definitely supplementing with some foundation picks to fill in the gap in the set, which includes a full size of their High Impact Mascara in Black (mascara), Quickliner For Eyes Intense in Intense Ebony (eyeliner); Take The Day Off Cleansing Balm (cleansing balm); and Almost Lipstick in Honey Black (sheer brownish pink stain). However, it's a great gateway to their MVP items for sure, or even if you just want to try your hand at a double cleanse cleansing balm for a fraction of what's out there.
---
4. Kosas Mini Clean Start Set
Best gym makeup kit
Specifications
RRP: $29/£21
Products: 4
Special call-outs: Clean and cruelty-free; lip oil has hyaluronic acid; AHAs
Reasons to buy
+
Everyday essentials for lips, lashes, and body
+
Ideal selection for pre- and post-workouts
+
Great intro to brand best-sellers
+
Clean, cruelty-free
Reasons to avoid
-
No complexion product
-
Marketed as a mini-set
For the purists and workout junkies out there, the Kosas Mini Clean Start Set has all you need to refresh while you do your thing: KosaSport Lip Fuel Hyaluronic Lip Balm (lip balm), Chemistry AHA Serum Deodorant (deodorant); The Big Clean Volumizing + Lash Care Mascara, and crowdpleaser Wet Lip Oil Gloss in Dip (neutral pearly nude gloss). No other makeup kit we've seen included a deodorant, which this one ticks off the list (and a clean roll-on, at that), which makes it a no-brainer for a gym locker or even an overnight tote. What it lacked in cosmetic offerings, it made up for in active-day essentials, and we wish our $29 got us something in the foundation department over a balm, but all in all a thoughtful curation to build on, particularly if you're all about clean beauty.
---
5. Milk Makeup Glossy Glow Full Face Set
Best add-on makeup kit
Specifications
RRP: $35/£25
Products: 4
Special call-outs: Vegan, clean, cruelty-free
Reasons to buy
+
Fun add-ons to a basic set
+
Vegan, clean, cruelty-free
+
Includes a makeup pouch
+
TSA-friendly
Reasons to avoid
-
No basic products
-
Pricy for mini sizes
On the other end of the Kosas spectrum lies the fun, splashy Milk Makeup Glossy Glow Full Face Makeup Set, which, despite what its name suggests, actually works much better as a supplementary makeup kit if you're already stocked up on the fundamentals and need a fun second set for your carry-on and overnighters. At nearly $40 we'd love more inclusions, but we're quick to forgive though as it does include items not normally curated for an everyday set, such as the Electric Glossy Lip Plumper in Charged (pink lip plumper); a mini version of their Hydro Grip Primer (makeup primer); a mini version of their Matte Bronzer in Baked (bronzer); and perhaps the winner of the collection, a mini Kush Mascara in Boom (black mascara)—making this a quality one-stop shop of Tier B essentials, if there ever was one.

---
6. Charlotte Tilbury The Uptown Girl Look Set
Best premium makeup kit
Specifications
RRP: $220/£159
Products: 7
Special call-outs: Comprehensive color set in a pouch
Reasons to buy
+
Comprehensive set of 7 products, for a full look
+
Great all-rounder for travel
+
Complementary lip and eye shades
Glam, trendy, reliable, and pretty much all you need color-wise, Charlotte Tilbury's The Uptown Girl set is a distilled version of nearly everything required for a full face (we're a bit salty we're not getting her best-selling foundation in the mix, but oh well). Arguably the most sophisticated of her ten iconic looks, The Uptown Girl offers a ton of makeup mileage to fit in its luxe lipstick-patterned pouch: Full Fat Lashes Mascara (mascara); The Classic Eyeliner (Eyeliner); Cheek to Chic Blush (blush); Lip Cheat Lip Liner (lip liner), KISSING Lipstick (lipstick); Lip Luster Lip Gloss (gloss); and Luxury 4-Eyeshadow Palette (eyeshadow), and all in the versatile and highly flattering The Uptown Girl palette, a combo of peachy pinks, shimmery nudes and matte neutrals. We especially love stowing this in our work desks for those crucial coffee-to-cocktail situations, as a few makeup sets can rival this one when it comes to getting a chic, professional-looking face in minutes.

---
7. Honest Beauty No Makeup Makeup Kit
Best clean makeup kit
Specifications
RRP: $99.95/£72
Products: 7
Special call-outs: Clean, award-winning, complete kit
Reasons to buy
+
A complete kit of full face essentials
+
Clean, award-winning products all in one set
+
Includes hyaluronic acid and vitamins
+
Opthalmologist- and dermatologist-tested
+
Multiple 2-in-1 products give more value
Welcome to the most comprehensive makeup kit you'll probably ever see, in your whole life, well, ever. Chock-full of clean ingredients and do-good natural and actives-infused formulations, we expected nothing less from Honest Beauty's No Makeup Makeup Kit, which is an ingenious bundle that includes everything you'll need for a full, flawlessly fresh face, and then some (really): Everything Primer, Glow +2HA (award-winning hyaluronic acid makeup primer); CCC Clean Corrective with Vitamin C Tinted Moisturizer (tinted moisturizer); Eyebrow Pencil; Lit Powder Blush in Flirty (peachy coral blush with gold shimmer); Extreme-Length Mascara with Lash Primer (dual-ended mascara + lash primer); Luminizing Glow Powder in Dusk Reflection (baked powder highlighter in shimmery beige); and Tinted Lip Balm in Summer Melon (watermelon pink stick balm). All its missing is its own pouch and an eyeliner ('cause here we are, splitting hairs!), but at under $100, really nothing more to say except add to cart immediately.
---
woman&home thanks Bobbi Brown of Jones Road Beauty and Nina Park courtesy of Light & Fit Collagen + Antioxidants for their time and expertise.
Sign up to our free daily email for the latest royal and entertainment news, interesting opinion, expert advice on styling and beauty trends, and no-nonsense guides to the health and wellness questions you want answered.
A lifelong creative writer and beautyphile, Eunice Lucero-Lee graduated from De La Salle University in 2002 and was hired a year later to front all beauty coverage for Pink Magazine. A beauty, astrology, and pop culture obsessive and insider for over 18 years, Eunice is an internationally published editor (and now certified astrologer) whose work has been featured in publications such as Cosmopolitan, Esquire, and The Numinous, among many others.