Study reveals the number one reason behind our high stress levels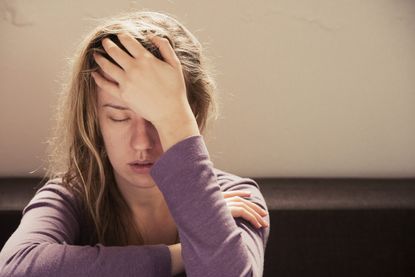 Stressed? You're not alone.
New research has revealed that a shocking 92 per cent of us suffer from stress, with one in six feeling stressed 'pretty constantly'.
The worrying statistics also show that over 45 per cent of people have experienced someone commenting on how stressed they look.
But why are we feeling the strain? The study carried out by Potter's Herbals - makers of evidence-based plant health solutions - asked participants of their biggest source in stress and a staggering 50 per cent claimed money was the biggest worry.
In addition to this, work pressure was a source of stress for 38 per cent, life in general for 44 per cent and relationship issues for 30 per cent.
But, whilst some stress can be healthy and an everyday part of normal life for most of us, it can have detrimental effects as Professor Robert Pickard explains.
'Stress, in limited amounts, can be beneficial and can facilitate a person to meet a deadline or get a task done. Studies have shown, however, that individuals who experience excessive amounts of stress may have an increased risk of developing various health issues', he said.
Professor Pickard, Neurobiologist and Potter's Herbals advisor, adds that long term, stress can lead to rapid heat beat, arrhythmias, increased blood pressure and inflammatory processes linked to atherosclerosis.
'Mental health issues related to stress include irritability, anger, depression, nervousness, anxiety and cognitive dysfunction', he added.
Other cognitive symptoms of stress include excessive anxiety, forgetfulness and disorganisation, inability to focus, poor judgement and being overly pessimistic or critical. Physically, symptoms can include poor sleep, fatigue, headaches, gastrointestinal upsets, poor immune function, dizziness and pain.
In fact, 38 per cent of the 1100 people surveyed said that stress had impacted their libido. What's more, just under half revealed that stress and anxiety was having a negative impact on their memory.
Although a large proportion of people seek no help for stress, it is important to try and tackle the problem.
Exercise, work and lifestyle changes can help, as can a healthy diet and improved relationships with those around you. Plant-based supplements can also play a role, such as those by Potter's Herbals. We love Potter's Actimind (£17.75, Amazon) to help support mental wellbeing.
Lucy Gornall is the former Health & Fitness editor at Future and a personal trainer specializing in pre and post-natal exercise.