What is glass skin and how can you achieve it?
We explain the Korean glass skin trend – and reveal the ideal routine for a dewy, smooth complexion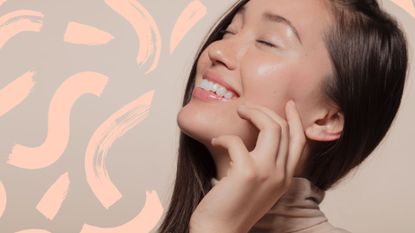 (Image credit: Future/Getty images)
When we first heard about glass skin, we assumed it was yet another skincare trend well out of our reach. The idea of a complexion so smooth and dewy that it appears as if it's behind a freshly-washed window pane doesn't feel like a particularly achievable skin goal.
But while we won't deny that working towards this Korean skincare-inspired look requires just that – work – anyone can up their skin's radiance and smoothness with the right balance of product and process. "This K-beauty trend promises a crystal clear, transparent complexion," says Lisa de-la-Plain, professional beauty therapist and Co-founder of Beauty Flash.
"Referred to as glass skin, the trend cares less about make-up and more about a series of hydrating skincare steps. It's all about cleansing and layering lightweight, hydrating products to create the appearance of glowing, dewy skin," continues de-la-Plain. And who wouldn't want that? Here's everything you need to know to get on board.
Glass skin explained, by the experts
What is glass skin?
"Glass skin is skin that's at its healthiest," says Alicia Yoon, founder of Peach & Lily and an early adopter of glass skin in the US. "It has a clarity and luminosity that comes from within. I first heard this term in Korea and I immediately thought, yes! That's what I would describe healthy skin as."
By 2018, glass skin wasn't commonly known in the US or UK, but was already a viral sensation in cosmetic circles in Korea. It became prime content for local beauty influencers looking to up their game after the 10-step regimen using the best Korean skincare products and the double cleansing boom had gone mainstream.
In the years that followed, beauty afficianados sought ways to make their best skincare products work harder, with bags of hydration and all-important exfoliation to get closer to the glass skin ideal. Which isn't actually about chasing perfection, explains Yoon. "We define it as a way to describe each person's unique healthiest skin – no matter your skin type, circumstance, and needs, and no matter where you are in your skin journey. Glass skin is not about unrealistic skincare ideals, but a healthiness that comes from within."
How do you get glass skin?
By being consistent with your skincare routine, for starters. This is the boring old truth about all skincare – a solid day-to-day routine will get you a lot further than any one-off 'miracle' mask or treatment. There are, however, a few tweaks and tricks that can help boost the health of your skin and therefore take its radiance and clarity to another level. And that doesn't necessarily mean buying 20 new products. This is about learning to work smarter not harder.
Realistically, you're looking at five steps, and how doable that feels will depend on what your routine looks like right now. The good news is that a typical glass skin regimen involves products and ingredients that will likely be familiar to you. The secret is in the light and careful layering of products with moisturizing ingredients – mostly humectants like hyaluronic acid and glycerin – with known glow-inducers and barrier strengtheners niacinamide and peptides. Here's how to get it right.
The ultimate 5-step glass skin routine
Step 1: Remove all traces of makeup
It goes without saying that glass skin should aspire to be totally clear of grime. "A clean canvas is a must when it comes to your skin and the first step should be giving your face a good wash," advises de-la-Plain. "To thoroughly cleanse without stripping, first, massage an oil-based cleanser into your skin – they can be the most effective and gentle way to remove impurities."
Not a fan of oils? You could also remove all traces of the day with your best micellar water cleanser, dabbed onto a cotton round, and swiped onto the lids, face, and lips.
Our beauty editor recommends...
Step 2: Cleanse again
"Next, it's time to decongest and clarify, with a second cleanse," says de-la-Plain, who advises you, "follow with a nourishing cream cleanser to leave your complexion glowing." Cleansers with calming and moisturizing ingredients, like rose and other power botanicals, or ceramides and peptides will also help strengthen your skin barrier - a stable barrier means clearer, even-toned skin that's less prone to redness and reactivity.
If you follow a skincare for oily skin routine, a foam cleanser may be preferable. Look for one that contains active ingredients that help fight bacteria and unclog the pores, such as salicylic acid.
Our beauty editor recommends...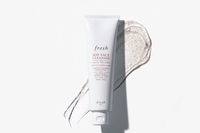 Fresh Soy Face Cleanser | RRP: $38/£31
This is a modern classic and one of our all-time best cleansers. Soy proteins balance and moisturize, and rosewater and cucumber water calm any inflammation. The best part is the satisfying, clean-rinsing lather that doesn't leave skin feeling tight.
Step 3: Tone and smooth
Aside from the removal of any last scraps of grime, using a toner that contains gentle skincare acids can boost smoothness and glow as well as reduce the appearance of pores. It is also the first leave-on step in a glass skin routine so it primes skin for hydration, and helps it return to its naturally acidic pH. "The secret to getting glass skin at home is a toner to balance the pH of your skin – and lots of it! Look for one with a light consistency to awaken the complexion," advises de-la-Plain.
The key is using an exfoliating and lightly hydrating formula to avoid any over-stripping or drying. Pour a small amount on a cotton round and dab gently onto the face, avoiding sensitive areas like the eyes.
Our beauty editor recommends...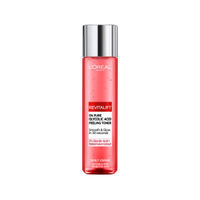 L'Oreal Paris Revitalift 5% Glycolic Acid Peeling Toner | RRP: $16.99/£10
A daily toner with a low dose of alpha hydroxy acids to loosen dead cells and give skin a lovely smooth texture. It's gentle enough to be tolerated by most skin types, but if you're sensitive then use it once a week, to begin with.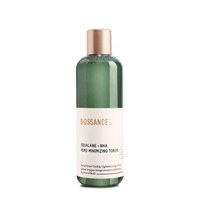 Biossance Squalane + BHA Pore Minimizing Toner | RRP: $30/£24
This alcohol-free toner has both AHAs and BHAs that unclog pores and brighten skin, plus the cult ingredient squalane to lightly moisturize and strengthen the skin barrier as it smoothes.
Step 4: Add in an essence
This might feel like the most extraneous step in this list, but it is also the one that will really elevate your basic skincare steps to a glass skin routine. Essence is foundational in both Korean and Japanese skincare, and bridges that texture gap between toner and moisturizer.
Usually water-based, essences are formulated to contain gentle amounts of active ingredients in a light easily-absorbed texture, while also offering another layer of hydration. They combine certain elements of a toner and a serum (and can even replace the latter, if desired) although if you're into layering, de-la-plain advises adding a serum that, "contains hyaluronic acid and Vitamin B5. These ingredients both work like moisture magnets, helping your cells retain as much of it as possible and keeping your skin hydrated, plump and healthy."
Our beauty editor recommends...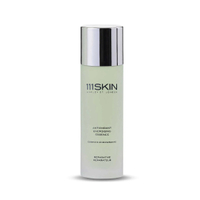 111skin Antioxidant Energising Essence | RRP: $105/£70
Antioxidants are one of the best ways to protect your skin from dulling pollution and promote a beautiful glow - and guess what? This high-tech serum is packed full of them. It's also got a gorgeous texture, plumping aloe vera and the gentlest form of retinol, retinyl palmitate.
Step 5: Seal with a moisturizer
You've clarified, smoothed, and applied light layers of hydration. All that's left to do is apply your final moisturizing seal. "To lock in the goodness of the skincare steps, look for moisturizers that include botanical extracts. Ideally, you want an oil-free lotion that offers daily protection, while smoothing the skin's surface," advises de-la-Plain.
Lighter gel creams are more popular than heavier buys such as the best face oils in glass skincare routines, as they layer so beautifully over all the other steps. If you have very dehydrated skin you may prefer something a bit richer. The good news is that you're almost certainly already doing this bit, so you very likely already know what the best face moisturizer is for your skin type.
Of course, when we're talking about skin health it's crucial to note that topical products can do a lot, but lifestyle also plays a key role. "Along with the above, ensure you drink plenty of water and eat plenty of fruit and vegetables so you can shine from the inside out," confirms de-la-Plain.
"Follow these steps and, in no time, you will be ditching the make-up and letting your complexion take the spotlight."
Sign up to our free daily email for the latest royal and entertainment news, interesting opinion, expert advice on styling and beauty trends, and no-nonsense guides to the health and wellness questions you want answered.
A lifelong creative writer and beautyphile, Eunice Lucero-Lee graduated from De La Salle University in 2002 and was hired a year later to front all beauty coverage for Pink Magazine. A beauty, astrology, and pop culture obsessive and insider for over 18 years, Eunice is an internationally published editor (and now certified astrologer) whose work has been featured in publications such as Cosmopolitan, Esquire, and The Numinous, among many others.