Japanese skincare and beauty secrets: the best products and tips for glowing, supple skin
Would your skin do better with a Japanese skincare routine? Get the best products and techniques for your most radiant skin yet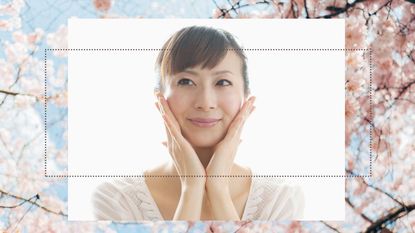 (Image credit: Future/Getty Images)
woman&home newsletter
Sign up to our free daily email for the latest royal and entertainment news, interesting opinion, expert advice on styling and beauty trends, and no-nonsense guides to the health and wellness questions you want answered.
Thank you for signing up to . You will receive a verification email shortly.
There was a problem. Please refresh the page and try again.
Over the last decade, Japanese skincare has made its way more and more into everyday Western regimens. With a focus on a multi-step routine, lighter formulations (essences, "lotions"), and an emphasis on a gentle, layered approach to hydration, J-Beauty has long taken the world by storm. These are only some of the hallmarks of their particular take on skincare, however, that a lot of us may already be familiar with in our own routines.
What makes it different from the rest? To find out what makes Japanese skincare secrets so effective, as well as how they vary from typical Western practices, woman&home spoke with Elizabeth McCarron and Kat Buckley, skincare experts and members of The Skin Collaborative. They offer insight on how to incorporate these practices into your routine, as well as why exactly a Japanese skincare approach sets itself apart from the rest.
What goes into a Japanese skincare routine?
According to Elizabeth, the Japanese skincare approach is all about caring for the skin as a whole, like the vital organ that it is—whereas the Western approach focuses on correcting a certain skin problem, like redness, oily skin, or rosacea. The Japanese "prioritize recreating the ideal conditions for its function, for example, by regulating the electrolytes in and out of the cell, making sure amino acids, microelements, or vitamin deficiencies are corrected in the first place," Elizabeth says. "And only then will they address 'local' problems, such as pigmentation or acne," she adds.
Kat agrees: "Japanese skincare takes on a luxurious but rather more simple approach to your skin, focusing on cleansing oils, gentle exfoliation, and lightweight essences to hydrate and nourish."
Japanese skincare: beauty secrets and techniques
Japanese skincare ingredients
Elizabeth points out that Japanese skincare is often a unique and happy marriage between both high-tech ingredients and natural, soothing botanicals. Botanicals are often "exposed to a fermentation process that would allow enhancing of the qualities of the ingredients to improve bioavailability," she says. Among the traditional Japanese ingredients would be the following, which you'll find in many Japanese skincare products on the market today. These ingredients are known for being rich in antioxidants and supporting the skin's function and collagen production, says Kat.
Kudzu root: an Asian botanical herb known for its healing and anti-microbial properties; used for skin detoxification, purification, and to encourage an even skin tone
Cordyceps: a rare, expensive mushroom (fungus) known in Asian medicinal circles for its powerful anti-oxidant and anti-inflammatory properties that fight premature aging and reduce free radical damage; has polysaccharides that improve and repair the skin barrier
Reishi: another mushroom used in Chinese and Japanese medicine for its anti-oxidant and anti-inflammatory benefits; helps the body synthesize ceramides for more optimum hydration and balanced skin reactivity
Chlorella (and other algae): contains omega-3 fatty acids that fight inflammation; stimulates collagen and helps prevent wrinkles
Rice bran: an anti-oxidant used for centuries in Asia to soothe, purify, and soften skin while reducing the appearance of pores and fine lines and fade dark spots; rich in vitamin B and vitamin E to help fight against hyperpigmentation and acne
Plum, cherry, and Medlar fruit and flower extracts: anti-oxidants, rich sources of vitamin C
Japanese skincare secrets
Double cleansing: We may already be double cleansing, but did you know it's a practice originally rooted in traditional Japanese skincare methods? "Double cleansing is widely used in Asia because of the climate, the typical combination skin type, and because sunscreen is used on a daily basis," Elizabeth says. "With the first balm cleanser, all the dirt, dust, makeup are 'lifted' to later be gently washed off with the second cleanser. Such an approach allows for a deep yet gentle cleansing process and greatly reduces the appearance of comedones."
Double moisturizing: Another technique is double moisturizing, which is far less prevalent in the Western world than double-cleansing. "Double moisturizing is lesser-known," says Kat. "The use of a hydrating, lightweight essence or tonic (first step) is used to enable effective penetration of serums, and then sealed in with a luxurious, hydrating moisturizer (second step), which tends to be more personalized to your skin in a similar fashion to Western skincare," she explains.
Best Japanese skincare products

(opens in new tab)
DHC Deep Cleansing Oil
Using an oil as a cleanser originated from Japanese skincare culture and dates back to 1967. This should be the first step of your double cleansing routine. Use an oil cleanser to remove sunscreen, makeup, dirt, and impurities, and follow up with a foaming cleanser to ensure a thorough wash.
---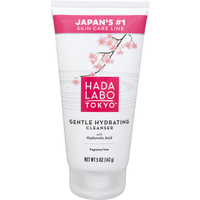 (opens in new tab)
Hada Labo Tokyo Gentle Hydrating Cleanser
This cleanser from this beloved Japanese drugstore brand is unscented and infused with super hyaluronic acid, which the brand says is twice as hydrating as regular hyaluronic acid. It's even good for sensitive skin, as it's free of alcohol, fragrances, sulfates, parabens, and dyes.
---
---
---
---
---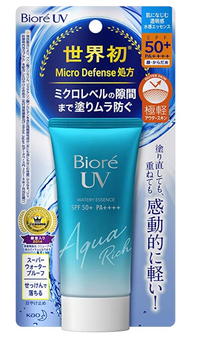 (opens in new tab)
Bioré UV Aqua Rich Watery Essence SPF 50+ PA ++++
When it comes to sunscreen, forget all others and pick up this beauty staple in J-Beauty sun protection. From the non-sticky, watery feel that settles nicely under makeup to the high SPF made for either beach or city stressors, this waterproof formula is a cult pick for good reason (did we mention it also has hyaluronic acid?).
---
Best Japanese skincare brands
A mix of elegant heritage practices and cutting-edge innovation, J-Beauty brands are known for their holistic approach steeped in tradition, while maintaining a healthy respect for new technology. A true blending of East and West, many Japanese skincare brands have risen to iconic status within the industry, becoming cult faves and must-haves amongst those in the know:
woman&home thanks Elizabeth McCarron and Kat Buckley of The Skin Collaborative (opens in new tab) for their time and expertise.
Brittany Leitner is an award winning journalist and poet whose work has been published in Palette Poetry, Bustle, Shape, Byrdie, and more. In 2019 her reporting received a Digital Health Award and poems from her book "23 Emotions" have won the Sequestrum new writer award. She has over eight years of experience working in print and digital media, and previously held senior editorial positions at Elite Daily and The Dr. Oz Show. She now specializes in health, beauty, and travel journalism. She studied magazine journalism at Syracuse University and currently lives in Brooklyn, New York.