Skincare routine for combination skin: the right care and products for a radiant, balanced complexion
Learn the proper skincare routine for combination skin via a delicate combo of both hydrating and oil-balancing care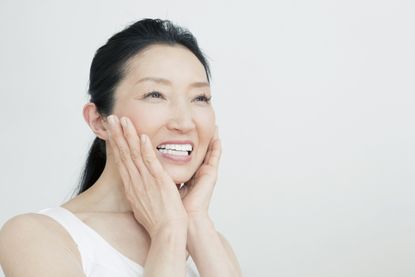 (Image credit: Getty Images)
Combination skin tends to be on the trickier side of the spectrum—it brings both oiliness and dryness to the table, and oftentimes, both at the same time. As its name suggests, it is a skin type with a mixture of areas, namely dryness in the cheeks and oiliness on the forehead, nose, and chin areas.
But despite what you may have heard, learning the correct skincare routine for combination skin doesn't have to be a royal pain, as mastering the right tips (and switching to the right products) can truly make all the difference.
To help you develop a foolproof skincare routine for combination skin, look to champion products that balance out moisture levels, particularly on the T-zone area, while spot-treating blemishes if needed.
What is combination skin?
What exactly is combination skin, and how do you know if you have it? Those with combination skin have a mixture of two skin types: normal/dry and oily. They typically experience some tightness or dryness around the cheek area but may also simultaneously notice oil or grease in the forehead, nose, and chin areas, a.k.a. the T-zone. This results in a skin type that requires products that offer more versatile care, from cleansers to moisturizers to even when scouring for the best foundation for this skin type (more on that after the jump!), as combination skin needs different levels of hydration on different areas of the face.
Products that come in lighter gel formulations are usually a favorite of those with combination skin, as they address normal/dry skin and oily skin issues seamlessly. That said, there are a slew of other products that can benefit combination skin.
The best skincare routine for combination skin
1. Use products with anti-aging ingredients
While cleansing and moisturizing are non-negotiable steps in skin care, board-certified dermatologist Dr. Debra Jaliman, MD, says it's equally important to incorporate anti-aging skin care ingredients (retinol, hyaluronic acid, peptides) into your skin care routine for combination skin. These ingredients not only keep the skin hydrated but also cut down on oiliness, giving your skin a major boost as a result.
"Retinol stimulates a faster renewal of skin cells," Dr. Jaliman tells woman&home. "Products with hyaluronic acid are also good because they are super hydrating and have anti-aging properties. You will also want to look for products containing peptides, as they firm and tighten skin while triggering the production of collagen, a protein that provides a foundation and thickness for skin."
To bring a blast of anti-aging ingredients to your skincare routine for combination skin, Dr. Jaliman recommends using a multitasking Replenix RetinolForte Treatment Serum before bedtime, as its formula is jam-packed with retinol, caffeine, green tea, and hyaluronic acid.
"When someone uses retinol, the outer layer of the skin is sloughed off, and the newer skin underneath is revealed," she adds. "Caffeine constricts blood vessels, and in the process, decreases puffiness. Hyaluronic acid is super hydrating, has anti-aging properties, and is a natural humectant, meaning it attracts and retains moisture."
Replenix RetinolForte Treatment Serum 7.5x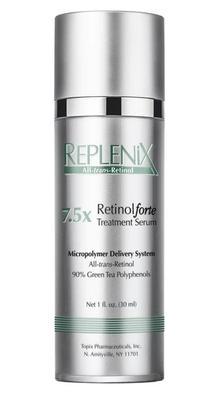 (opens in new tab)
A super efficient combo of all-trans-retinol (Vitamin A) and green tea build up the skin matrix and guard its components from the appearance of UV damage to boost anti-aging, as well as reduce acne spots and pores, while hyaluronic acid hydrates and helps barrier function. Note: This formula comes in 5 strengths: 2x, 3x, 5x, 7.5x, and 10x. Retinol newbies or those with more sensitive skin should start at the 2x strength, then gradually move up as tolerance increases over time.
---
2. Exfoliate on a regular basis
Maintaining a good skin care routine for combination skin also means exfoliating on a regular basis. Doing so helps combination skin prevent unwanted flakiness and tames down on any excess oil that can lead to breakouts, according to Dr. Jaliman.
"Exfoliation is essential in ridding the skin from flakiness, as well as rejuvenating and brightening the skin," she adds. "Additionally, exfoliating on a regular basis will also help with any sun damage (or skin discoloration) that has accumulated during the summer months."
Dermalogica Daily Microfoliant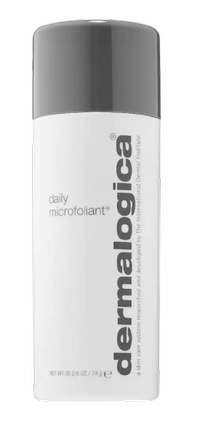 (opens in new tab)
This tried-and-tested editor must-have uses a rice-based powder to exfoliate combination to oily skin and promote a bright, even complexion. It's gentle enough to be used daily (hence the name) and, best yet, has salicylic acid AND is vegan and cruelty-free, hence its pride of place in our bathroom counter.
---
3. Use a gel moisturizer
A gel moisturizer is one of the most democratic formulas available, and it's a godsend for those with combination skin: Able to hydrate cheeks optimally, it also injects much-needed moisture into oilier areas while keeping things feeling fresh and lightweight overall.
Marc Jacobs Youthquake Hydra-full Retexturizing Gel Crème Moisturizer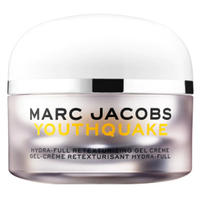 (opens in new tab)
This gel-crème is both a hydrator and a retexturizer, meaning it's a veritable one-two punch for combination skin that suffers from dry patches on the cheeks and dull, rough, uneven areas on the T-zone. Pineapple enzymes help give skin a glow—not to mention go hand in hand with a super light, tropical scent that feels like a true escape.
---
Clarins Hydra-Essentiel Cooling-Gel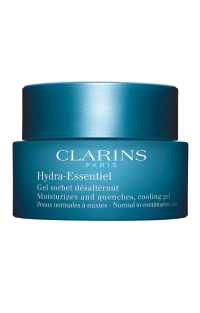 (opens in new tab)
Sponsored
This non-greasy gel moisturizer is great for adding a hit of hydration to oilier skin types without overdoing it with a layer of heavy moisture on the surface of the skin. Medicinal kalanchoe extract activates the skin's production of natural hyaluronic acid and helps the skin retain water for a fresh and hydrated feel. It also has a matte finish for a shine-free look.
---
4. Use sunscreen
Yes, you may have heard everyone under the sun (your dermatologist, your mother, even director Baz Luhrmann) recommend you start using a sunscreen product as part of a responsible skincare routine. And indeed, it's definitely for good reason, as Dr. Jaliman warns that too much sun exposure can spell out trouble for your skin.
"Avoid too much time out in the sun during peak hours [from 10 am to 4 pm], as being outdoors in excessive sun will bring on fine lines and wrinkles," she explains. "Make sure to apply sunscreen of at least SPF 30 every day, and reapply as directed."
Supergoop! Mattescreen Sunscreen SPF 40
---
5. Choose a buildable foundation product
A sound skincare routine for combination skin also includes choosing the right makeup products, especially foundation.
However, makeup artist Lisa Freshman suggests that finding the best foundation product doesn't have to be challenging, as sticking with a buildable formula allows you to opt for natural or full-coverage looks with ease.
"If combination skin is blemish-free or lacks redness, a buildable coverage foundation is best for you," Lisa explains. "Charlotte Tilbury Light Wonder Foundation is a great product, as it provides easy coverage. If you're looking for a full-coverage foundation, add Cover FX Natural Finish Foundation to your shopping cart, as it builds on the application until you reach desired coverage."
Charlotte Tilbury Light Wonder Foundation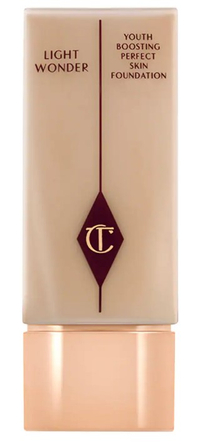 (opens in new tab)
Pseudo-ceramides give this sheer, buildable foundation an added boost of hydrating properties (up to 18 hours, in fact—just in case you need your skin to keep looking plump for the duration of, say, an entire transpacific flight), while its formula minimizes pores, lines, and wrinkles for the ultimate in natural-looking flawlessness.
---
Cover FX Natural Finish Foundation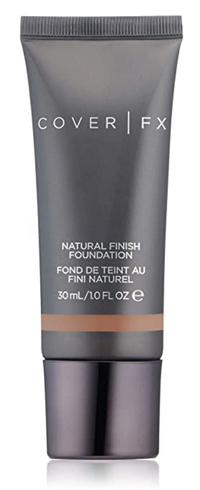 (opens in new tab)
Oil-free and jam-packed with antioxidants and squalene, we love this on both normal to dry areas; the water-based formulation makes it ideal for oily zones as well. Free-radical-fighting vitamin C, E, and F make this an ideal city-gal foundation; exposure to aging elements like stress, pollution, and the sun has met its match.
---
6. Use setting powder
Like a buildable foundation, setting powder is also an absolute must, says Lisa.
"I recommend a translucent powder—it not only maximizes the amount of time foundation stays on your skin, but it also minimizes any shine," she advises. "By minimizing shine, you also minimize the skin's imperfections (fine lines, wrinkles, large pores) by mattifying them."
To set your foundation without disrupting your combination skin, Freshman suggests investing in the cult fave Laura Mercier Translucent Loose Setting Powder, as it's available in a variety of tones and seamlessly blends into the skin.
Laura Mercier Translucent Loose Setting Powder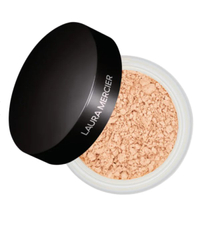 (opens in new tab)
This award-winning, oil-absorbing loose powder is perfect for those who want a soft-focus finish but with integrity: It ensures up to 16 hours of setting power with no risk of flashback in photos. We love keeping a standard size at home and a mini size for on-the-go or in our work drawers—it provides that ideal complexion refresh when you've hit the dreaded 4 p.m. oily slump.
woman&home thanks Dr. Debra Jaliman and Lisa Freshman for their time and expertise.
Courtney Leiva is a seasoned lifestyle writer with nine years of experience under her belt. She graduated from The Ramapo College of New Jersey in 2012, and since graduation, she has been actively contributing to major news outlets such as Refinery29, Women's Health, Yahoo! Lifestyle, HelloGiggles, NewBeauty, and more.
Courtney initially started off covering beauty news, but as she has grown her career over the years, her health, home, and shopping pieces can now be seen on BuzzFeed, The Daily Beast, and Huffington Post.