Korean skincare: the secret to youthful, movie star-worthy skin is based on this main principle
Want to know the secrets behind Korean skincare? We dive deep into this glow-enhancing regimen, including the famous 10-step routine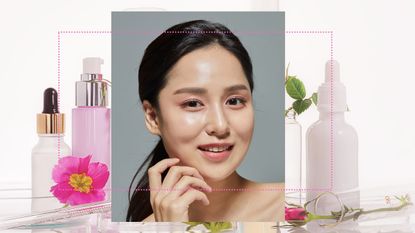 (Image credit: Future/Getty Images)
woman&home newsletter
Sign up to our free daily email for the latest royal and entertainment news, interesting opinion, expert advice on styling and beauty trends, and no-nonsense guides to the health and wellness questions you want answered.
Thank you for signing up to . You will receive a verification email shortly.
There was a problem. Please refresh the page and try again.
Over the past decade Korean skincare has made major waves in the beauty world. There's even a term called hallyu, or "Korean wave," which refers to Korean culture being adopted outside of the country, from food to music, entertainment to design.
The beauty industry is certainly no exception—far from it. In fact, K-Beauty is considered among the top 10 beauty markets around the world, with CNN clocking their facial skincare products alone at nearly $7 billion of market share in 2020.
A cursory inspection of the best Korean skincare products, however, might offer a skewed impression: Cutesy packaging (pandas, polar bears, and cartoony food mascots aren't uncommon) and quirky, novelty formulations such as the now-ubiquitous sheet mask can throw off the more conventional beauty savant. But what purists might fail to realize is that beneath any of these marketing gimmicks lies a strong, impressive foundation in bioscience and cutting-edge tech, alongside a healthy dose of heritage ingredients.
Add to that the fact that South Korea is the most wired nation in the world, and you've got a sophisticated, forward-thinking, super-savvy—and understandably picky—hotbed of consumers willing to push the envelope when it comes to the latest problem-solving beauty solutions. These solutions go way beyond simply shopping for the best foundation or moisturizer out there.
For those of us just beginning to scratch the surface of Korean skincare, face sheet masks and left-field infusions like snail mucin serums (yep) might be the extent of it. Others more in the know might have already been incorporating a double cleanse routine or have already picked up one of the best Korean eye creams out there, while advanced K-Beauty practitioners may already have their celebrated 10-step regimen down pat. We spoke with K-Beauty expert Charlotte Cho, co-founder of online one-stop-shop Soko Glam and founder of Korean skincare brand Then I Met You, to enlighten us on the ins and outs of Korean beauty, regardless of where you are in your hallyu beauty journey.
Korean skincare 101
"Korean skincare focuses on achieving that dewy, bouncy glow through deep hydration, balance, and nourishment," Charlotte says, with a healthy skin barrier being at the foundation of this focus.
"This is why Korean brands focus on the pH levels of their products, as well as constant innovation in premium ingredients such as ginseng, snail mucin, and fermented products—they're always looking for the latest and greatest ingredients that will leave the skin completely healthy and balanced."
"Korean beauty was quickly adopted by the mainstream due to its constant innovation in packaging and formula, quality products made with natural ingredients, and affordable price points," Charlotte adds. "In addition, more people are adopting a Korean "skin first" mentality: This mentality, paired with our overall turn towards self-care, has caused K-Beauty to increase in popularity."
Today's lifestyles have also fast-tracked self-care regimens, pushing ritualized skincare even further into the spotlight. "Taking 10-15 minutes a day to focus on nourishing our skin and engage in a sort of meditative practice benefits our complexion and our mind," she says.
Korean skincare ingredients
"Korean ingredients are gentle and effective—and they are finally getting the recognition they deserve," Charlotte beams. "Korea is known not only for innovation but for its ability to turn to its past to find ingredients that benefit the skin and target all of the most popular skin concerns. Something that really sets K-Beauty apart from Western beauty is its focus on balance, as well as its gentle, nourishing ingredients. For example, skincare acids aren't used in higher percentages in Korean skincare products. If they are, they're used in lower percentages and paired with hydrating and balancing compounds like antioxidants."
Hanbang and fermented ingredients are absolute staples in Korean culture and K-Beauty. She gives us the lowdown on some standout blends:
Hanbang: Hanbang ingredients come from Korea's rich tradition of holistic medicine practice. This group of herbs and plants focus on balancing the mind and body. Popular ingredients like ginseng, lotus, and peony are all hanbang. You can get a taste of hanbang with Danahan Ginseng Seed Secret Emulsion.
Fermented ingredients: These spurned a whole product category: essences. When an ingredient is fermented, it releases and creates a host of great things, like amino acids, vitamins, lactic acid, and beta-glucans. These modified goodies promote skin health, radiance, absorption, and protection. Some of our favorite fermented ingredients, galactomyces (a genus of fungi), can be found in Then I Met You's The Giving Essence.
Acids + antioxidants: Then I Met You's latest innovation, the Rosé Resurfacing Facial Mask, is a great example of the Korean attitude towards skincare acids. It pairs its 6.5% duo of AHAs and BHAs with hydrating Damask rose and resveratrol, a protective antioxidant.
Probiotics: Bifida ferment lysate, a powerhouse probiotic (Ed's note: a star ingredient in another familiar crowd-pleaser, Estée Lauder Advanced Night Repair), is also found in a lot of Korean products. A great and easy way to enjoy the benefits of bifida ferment lysate is with Neogen Real Ferment Micro Mist: It pairs the moisturizing benefits of bifida ferment lysate with a plethora of other fermented ingredients and vitamin C to boost product absorption and target hyperpigmentation.
---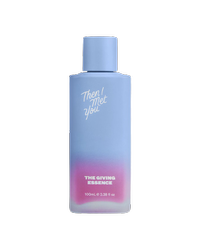 (opens in new tab)
Then I Met You The Giving Essence
You may recognize the sake-derived galactomyces in this brightening essence from yet another VIP ingredient, Pitera in SK-II, a Japanese skincare cult fave. If that isn't enough to convince, it also has 80% natural fermented ingredients, as well as niacinamide and ellagic acid, all working together for a radiant, glowing, even-toned complexion.
---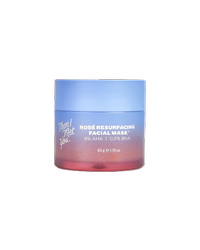 (opens in new tab)
Then I Met You Rosé Resurfacing Facial Mask
Sensitive or more reactive skin types, or those new to acids, will appreciate the gentle resurfacing action found in this AHA/BHA and antioxidant mask, which also contains powerful anti-aging ingredient resveratrol. The cooling effect upon application is also a delightful bonus.
---
---
The 10 Step Korean skincare routine
Now the $64 million question: What about the globally renowned 10-step routine? This regimen consists of (you guessed it!) ten skincare steps, which according to Soko Glam, is a reflection of "Korea's cultural obsession with healthy skin and [is] backed by decades of scientific advancement."
Charlotte explains further: "The 10-step Korean skincare routine stems from Korea's "skin first" philosophy. This philosophy is about investing in your skin as a way of prevention, skincare education, and practicing your routine as part of self-care. This philosophy frames skincare as a delight, not a chore!"
"Use the 10-step Korean skincare routine as a guideline, allowing flexibility in the number of steps you practice and products used. Just set your skin goals and listen to your skin," she adds.
How to follow the 10-step routine
Charlotte stresses why a two-part cleansing process paves the way for the routine and breaks down why it's not all bells and whistles. "The first two steps of the 10-step Korean skincare routine, a.k.a. the double cleanse, are my favorite because this prevents premature aging by, in turn, preventing free radical damage. You begin by cleansing with an oil, followed by cleansing with a water/gel/cream-based cleanser. K-Beauty strongly believes in the transformative power of double cleansing."
"After this comes exfoliating, toning, and the application of another K-Beauty product staple: the essence. Once your chosen targeted essence soaks in, you can start applying another specialized treatment to tackle wrinkles, pigmentation, and loss of elasticity: serums."
"After all that good stuff comes masking. This can be a wash-off mask or a sheet mask. After you wash off your mask, or press in the remaining serum and essences from your sheet, comes eye cream, moisturizer, and most importantly, sunscreen."
Regardless of the number of steps you decide to follow, however, she maintains that every routine should include cleansing, moisturizing, and sunscreen.
And the best part? You can certainly enjoy all the anti-aging benefits of Korean skincare, even as you get older. "Korean skincare products, with their focus on brightening skin tone and bringing back bounce and a dewy glow, can greatly benefit women and men over the age of 40. Gentle youth-promoting ingredients, like carrot seed oil and bifida ferment lysate work to protect skin from further damage from environmental factors while delivering moisture to the skin to plump it up!"
Makeup remover/oil cleanser: The first step of the double cleanse, this removes oil-based impurities such as leftover sunscreen, makeup, and excess sebum.
Water-based/foaming cleanser: This second step of the double cleanse removes any deep-seated dirt and makeup and thoroughly cleanses pores.
Exfoliator: Whether physical or enzymatic (a.k.a. chemical), exfoliating helps with skin turnover (encouraging "glow") and the efficient absorption of skincare products.
Toner: Considered by Sokoglam as the "ultimate prep product," toner swipes off any leftover residue and primes the face for the lotions that follow.
Essence: These watery, lightweight, "serum-lite" formulas hydrate and enhance the complexion and are considered the heart of the 10-step routine.
Treatments: Hero ingredients and targeted, problem-solving actives take center stage at this step in the form of serums and ampoules.
Sheet masks: Masks infuse hydration and nourishment even deeper into the skin and promote a sense of wellness and relaxation into your regimen.
Eye cream: Prevents lines, puffiness, and dark circles
Moisturizer: Seals in moisture for maximum radiance
Sun protection: Protects skin against harmful UV rays
Best Korean skincare products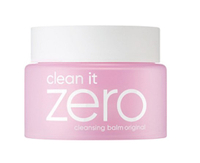 (opens in new tab)
banila co Clean It Zero Cleansing Balm Original
Launched in 2006 and one of the pioneers, if not the quintessential cleansing balm in K-Beauty circles, this product is integral to any double cleanse routine and can be seen on makeup vanities across the world. Formulated without parabens, sulfates, and alcohol, among other things, it now comes in five different formulations to cater to every skin type. Use it as the first step to remove oil-based impurities.
---

(opens in new tab)
NEOGEN Dermalogy Real Fresh Foam in Green Tea
As foams go, this is surprisingly gentle and hydrating and touts 100% real fruit benefits on the skin, making it a consistent contender in Top 10 Korean cleanser lists. The rich foaming lather also offers up a satisfyingly refreshing rinse, especially top of the morning.
---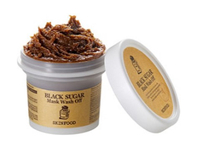 (opens in new tab)
SKINFOOD Black Sugar Mask Wash Off
Arguably one of the most popular Korean skincare products out there, this iconic facial scrub made with black sugar granules isn't stripping at all—and can even be used on the rest of the body for fresh, soft, glowing skin if you have some extra time in the shower.
---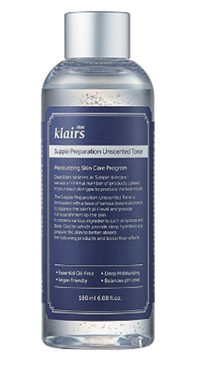 (opens in new tab)
Klairs Supple Preparation Unscented Toner
Another mainstay of K-Beauty bestseller lists, this vegan unscented version is ideal for sensitive skin as well. Formulated with hyaluronic acids and amino acids, centella, and other plant-based extracts help calm redness and irritation while priming the face for essence.
---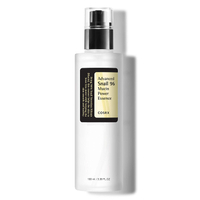 (opens in new tab)
COSRX Advanced Snail 96 Mucin Power Essence
Ah, yes—the much-buzzed-about ingredient, snail mucin, a.k.a. snail secretion filtrate (SSF), or, simply put, snail slime. Rich in hyaluronic acid, glycolic acid, zinc, allantoin, and glycoproteins, this unexpected ingredient came to the fore via SoKor beauty but was actually—and yet again, accidentally—discovered by Chilean snail breeders, whose hands were found to be inexplicably soft after handling their squiggly, slimy friends. The result is an efficient glow-enhancer and anti-inflammatory agent now ubiquitous in K-Beauty products. And before you get all squeamish, the extraction process is ethical, meaning no snails are harmed.
---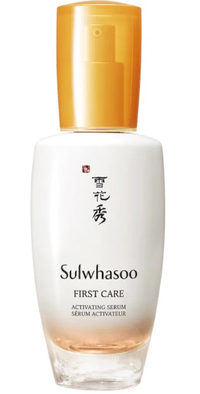 (opens in new tab)
Sulwhasoo First Care Activating Serum
Made with the brand's proprietary JAUM Activator, a blend that (deep breath) "improves skin's hydration, brightness, radiance, translucency, visible wrinkles, and moisture barrier" (!), it's also gentle and effective on all skin types and promotes a more youthful suppleness—basically, everything you look for in a treatment, no big deal.

---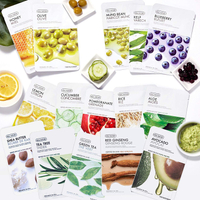 (opens in new tab)
The Face Shop Facial Mask Sheets
This fun pack of 15 masks features different naturally derived formulas (honey! cucumber! red ginseng!) that all tout anti-aging, firming, and of course, hydrating properties. At just a little over a dollar a mask, it's a cost-efficient and effective way to make sure your skincare benefits stay pleasantly sealed in each evening.
---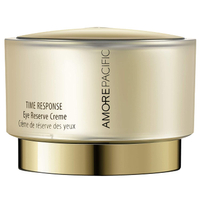 (opens in new tab)
AMOREPACIFIC TIME RESPONSE Eye Reserve Crème
The brand's most advanced and highest-grade green tea extract takes center stage in this industry darling eye cream, which works overtime to target loss of firmness and elasticity in and around the eye area. Use day and night for smoother, brighter results and to fight against lines and wrinkles.
---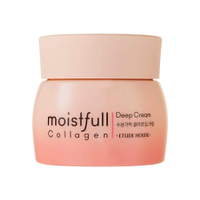 (opens in new tab)
Etude House Moistfull Collagen Deep Cream
A low-risk, checks-all-boxes entry point into Korean skincare, Etude House's super-popular Moistfull moisturizer is a staple in many K-Beauty addicts' vanities. Rich in peptides (it boasts of a Super Collagen Water complex that we can credit for that trademark bouncy, glass-skin glow), it's also lightweight yet hardworking, and best yet, very competitively priced, making for a great all-rounder.
---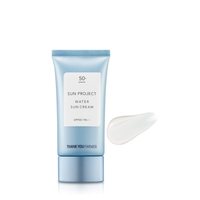 (opens in new tab)
Thank You Farmer Sun Project Water Sun Cream SPF 50+ PA+++
Come for the high SPF, stay for the hydration! This moisturizing sunblock successfully straddles the line between hydrating and light-wearing, leaving no white cast or sticky feeling. Phyto aligo oil and bamboo water also calm and strengthen the skin barrier.
---
Best Korean skincare brands
AMOREPACIFIC (opens in new tab) ($22++): 76-year-old heritage cosmetics umbrella with its own standout luxury skincare line focusing on Asian botanicals
banila co (opens in new tab) ($14+): Exploded into pop culture front-of-mind with their best-selling Clean It Zero cleansing balm; fun, trendy colors and makeup formulations
COSRX (opens in new tab) ($3+): From snail mucin to pimple patches and cica pads, they cover all the latest in Korean skincare innovation—at an unbeatable price point
Etude House (opens in new tab) ($3+): Very girly and trend-based (their super-waterproof Proof 10 Eyeliner is a smudgy-eye savior) with a loyal global fanbase due to its frequent collabs with K-Dramas and celebrities
THE FACE SHOP (opens in new tab) ($3+): A subsidiary of LG Corporation, the 74-year-old brand and Pan-Asian fave is known for elegant and ingredient-forward skincare and suncare, as well as their mens line
innisfree (opens in new tab) ($5+): Korea's #1 beauty brand ethically sources its ingredients from the storied Jeju Island, resulting in pristine skincare formulas that all tout a "youthful glow"
IOPE (opens in new tab) ($23++): High-functioning cosmetics based on sleek R&D tech are but par for the course for the inventor of the cushion compact (you're welcome!)
Klairs (opens in new tab) ($3+): Vegan, cruelty-free, gentle beauty with an apothecary bent made for sensitive skins
Laneige (opens in new tab) ($15++): It's all about hydration with this chic, sophisticated yet accessible brand, which boasts over 25 years in "Water Science"—pick up their wildly successful Water Sleeping Pack as proof
MISSHA (opens in new tab) ($8+): 10 million customers worldwide can't be wrong: their Time Revolution line and BB Creams (100 million units sold to date!) are veritable icons in K-Beauty and are must-buys for every tourist
NEOGENLAB (opens in new tab) ($6+): Nature-based but future-oriented, with affordable formulations like pads and pore foams and with a solid basis on fermented ingredients
Sulwhasoo (opens in new tab) ($38++): Takes a 55-year balanced, holistic approach to anti-aging concerns, exceptionally addressed by their best-selling First Care Activating Serum and Concentrated Ginseng Renewing Cream
TONYMOLY (opens in new tab) ($6+): PETA-certified and 100% cruelty-free, this R&D-heavy cosmetic giant trailblazed most Korean beauty trends we see today, including snail mucin: their Ferment Snail Cream and snail masks have been around since c.a. 2010
woman&home thanks Charlotte Cho (opens in new tab) of Soko Glam (opens in new tab) and Then I Met You (opens in new tab) for her time and expertise.
A lifelong creative writer and beautyphile, Eunice Lucero-Lee graduated from De La Salle University in 2002 and was hired a year later to front all beauty coverage for Pink Magazine. A beauty, astrology, and pop culture obsessive and insider for over 18 years, Eunice is an internationally published editor (and now certified astrologer) whose work has been featured in publications such as Cosmopolitan, Esquire, and The Numinous, among many others.