The easy self-care practises that will instantly boost your mood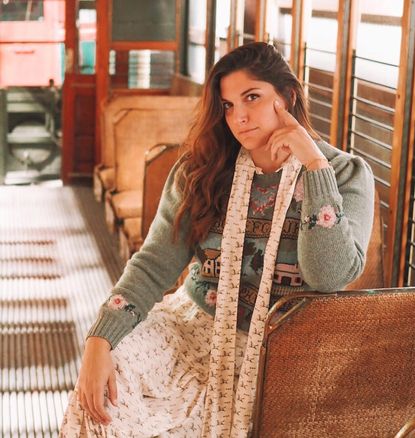 There's no denying life looks a little topsy-turvy at the moment, as we all work to adjust to the 'new normal'. But there's always a silver lining.
No commute and fewer social commitments means more time at home, which in turn frees up more time for self-care. From trying a new hair colour with Schwarzkopf Color Expert (opens in new tab) to diving into a good book, we've rounded up five ways to give your mood a boost…
Try a new look
With more time on our hands than ever before, now's the perfect time to pick up a new beauty trick – whether that's finally mastering winged eyeliner or colouring your hair at home. YouTube and Instagram are a great place to start, with plenty of step-by-step tutorials to follow. Schwarzkopf Color Expert (opens in new tab) is brilliant for first-time hair colourers, formulated with OMEGAPLEX Anti-Breakage Technology to help protect hair from damage and Hyaluronic Acid to help moisturise your hair and add a glossy finish.
Take a stroll
If you're working from home, it's easy to get caught up in emails and not take proper breaks. Try to schedule your day like you normally would in the office, taking time out to eat and enjoy a quick lunchtime stroll. Getting out and about will not only give exhausted eyes a well-deserved screen break, but it'll improve your concentration when you're back at your desk too. Win-win.
Max out your commute
Resist the urge to log on early and instead use the time you would normally have spent commuting to do something for yourself. Whether that's picking up a book you've been waiting to read, listening to a podcast or enjoying an episode of your favourite comedy show.
Unwind before bed
Increased screen time is one of the main reasons we're all finding it harder to nod off at the moment. So, instead of falling asleep to Netflix or scrolling on your phone until your eyelids start to droop, turn off your tech an hour before bed. Taking a bath, sipping on a warm, milky drink and spritzing a lavender mist onto your pillow will all help to create a feeling of calm – helping you drift into a peaceful night's sleep.
Schedule a pamper night
Nothing says 'relax' quite like a locked bathroom door, especially if your home can be a little hectic. Max out your at home spa night by multi-tasking – think slathering on a face mask before you paint your nails, or nourish your hair while you soak in the tub with Schwarzkopf Color Expert (opens in new tab) Treatment, available at Boots. If you want to banish your greys, or create a new shiny lock, try the caring Schwarzkopf Color Expert (opens in new tab) permanent hair colour for professional results with perfect grey coverage. You can choose from 16 stunning shades from deep black, rich brunettes, dark reds and blonde shades.'Consider the length of your hair before you colour,' advises Woman&Home Beauty Director Sarah Cooper-White. 'If your hair is longer than your shoulders you may need two boxes for an even finish. '
Shop the Schwarzkopf Color Expert range (opens in new tab)