The best Korean eye creams for a brighter, youthful eye area
We select the best Korean eye creams to firm, hydrate, and keep fine lines and wrinkles at bay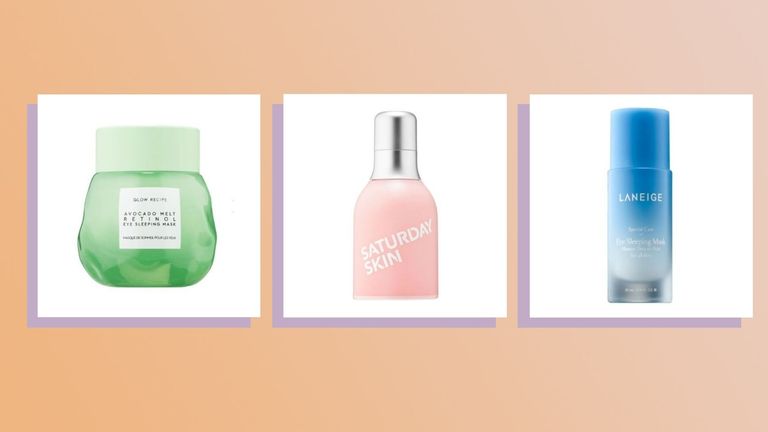 (Image credit: Future)
The best Korean eye creams are chock-full of ingredients meant to promote bright, youthful, supple skin that also seems to defy age, just like a lot of other skincare innovations we've come to know and love over the years from the East Asian beauty hub.
From BB creams to CC creams, 10-step skincare regimens, and double cleansing, Korean skincare has been at the forefront of some of the past decade's most fascinating and in-demand beauty trends. Known for its innovative, results-focused formulations, the fun-meets-functional realm of K-Beauty has seen its popularity soar in recent years. Products have proven time and again that they don't just offer style (in the form of their playful packaging); they're packed with substance too, as formulations with science-backed ingredients really do take center stage. 
One such example is K-Beauty's take on eye creams. With a bevy of glowing reviews laying testament to their fatigue-fighting prowess, these products make up a good proportion of the best eye cream offerings on the market right now. Boasting highly targeted cocktails to suit a range of different concerns and budgets, read on to find out which buzzworthy ones are a perfect fit for your skincare routine.
The best Korean eye creams, as chosen by our experts
1. Glow Recipe Avocado Melt Retinol Eye Sleeping Mask
Best Korean eye cream overall
Specifications
RRP: $42/£34
Texture: Rich cream
Target concerns: Loss of firmness, dark circles, puffiness, dryness
Ingredient callouts: Retinol, avocado, coffeeberry, HA, retinol
Reasons to buy
+Trendy+Pleasant scent+Time-release hyaluronic acid and retinol ensure anti-aging happens consistently throughout the evening
Reasons to avoid
-A bit on the thicker side
As much of a treat to look at as it is to use, shoppers have been particularly impressed by this eye mask's ability to relieve puffy eyes, as well as brighten and smooth fine lines. Nourishing yet hard-working, it contains vitamins E and C as well as the nourishing avocado oil and extract it's named for. 
In addition, on top of skin barrier-boosting niacinamide and decongesting caffeine, you'll find the star of the show—encapsulated retinol. This slow-release version of the wonder product lessens risk of irritation and ensures you get a consistent (and potent) dose of actives during your skincare night routine. 
2. Saturday Skin Wide Awake Brightening Eye Cream
Best Korean eye cream for brightening
Specifications
RRP: $46/£36
Texture: Light gel
Target concerns: Puffiness, dark circles, dryness
Ingredient callouts: Cha-7 es complex, date seed extract, avocado protein
Reasons to buy
+Skin feels brighter and more hydrated with use+Lightweight texture feels good alone or under makeup+Doesn't flake or crease+Vegan
Reasons to avoid
-Scent is off-putting to some
The morning after a late night burning the candle at both ends (or sipping one too many margaritas), our skin often needs a jumpstart. Judging by its reviews, this pink-bottled product packs a punch in that department: Combining firming peptides, illuminating date seed extract, and a veritable salad of fruit extracts all in a light gel texture, this refreshing and hydrating cream is like an energy-filled breakfast smoothie for the eyes. Best for giving eyes a refreshing jolt of brightness and staving away puffiness, it's our go-to pick when staving away tired eyes.
3. AHC Hydrating Essential Real Eye Cream for Face
Best multipurpose Korean eye cream
Specifications
RRP: $24/£26
Texture: Light cream
Target concerns: Fine lines, dryness, dullness, stressed skin
Ingredient callouts: Vitamins, peptides
Reasons to buy
+Both eye and face moisturizer; great for travel or on-the-go+Premium formulation at a reasonable price
Reasons to avoid
-Unclear ingredients
The benefits of this five-peptide-strong, vitamin-rich cream aren't just limited to the eyes—feel free to dab it anywhere on the face that you feel needs a little extra TLC (and wake up to dewier skin come morning). Rave reviews of this cream, which uses micro-emulsion technology to allow for better absorption of its active ingredients, often feature comments about its lightweight feel and multipurpose appeal. 
Rumor has it that it's also the secret to the poreless skin of Korean actresses; verdict's out on that, but seeing as one tube is purportedly sold every 3 seconds, we're betting that there's something to the hype.
4. Oh K! Chok Chok Firming Eye Cream
Best Korean eye cream for firming
Specifications
RRP: $12/£8
Texture: Thick cream
Target concerns: Dryness, dullness, loss of elasticity
Ingredient callouts: Niacinamide, vitamin E
Reasons to buy
+Very affordable+Great for hyperpigmentation too+Moisturizing and plumping
Reasons to avoid
-A bit too thick for some
This budget-friendly option has garnered high praise from customers. Particularly effective for puffy eyes, courtesy of its cooling massage applicator and lightweight texture, it also contains softening vitamin B5, brightening niacinamide, and moisturizing glycerin to leave the delicate skin around the eye area tighter, smoother, and softer. 
5. Dr. Jart+ Vital Hydra Solution Eye Cream
Best Korean eye cream for dryness
Specifications
RRP: $35/£26
Texture: Light cream
Target concerns: Dryness, dehydrated skin
Ingredient callouts: Fermented prebiotics, glycerin, niacinamide, Centella Asiatica, hyaluronic acid, Hydra-Nutrition 2x Booster
Reasons to buy
+Great for tired, stressed-out skin+Lightweight; gentle enough for sensitive skin+Strengthens and moisturizes skin's biome+Brightening; anti-wrinkle
Reasons to avoid
-A bit heavy under makeup
Dry skin can feel uncomfortable at the best of times, but especially when it occurs around the eyes. This re-balancing choice seeks to fix that, utilizing three different weights of hyaluronic acid to really rehydrate the skin's many layers. What's more, as is the norm with Korean skincare, it uses clever fermented prebiotic technology to give the skin's protective microbiome a helping hand, thereby keeping the skin barrier strong and less prone to environmental wear and tear.
6. Mizon Snail Repair Eye Cream
Best Korean eye cream for dark circles
Specifications
RRP: $28/£20
Texture: Light cream
Target concerns: Loss of elasticity, dryness, dark circles, wrinkles
Ingredient callouts: Snail secretion filtrate, glycerin, squalane, hyaluronic acid, niacinamide, meadowfoam seed oil
Reasons to buy
+Has a powerhouse blend of actives (HA, niacinamide, squalane) in addition to hero ingredient snail mucin+Lightweight, spreadable, and pleasant to wear alone or under makeup+Supremely hydrating and reparative+Reasonably priced
Reasons to avoid
-Snail secretion might be off-putting to some/cause allergic reactions to those sensitive
Yes, snail slime is a thing, and no, we're not skeeved out (at least, not anymore—the proof is in the pudding). A plethora of 4- and 5-star ratings on Amazon is demonstrative of the product's appeal, with reviewers saying it's helped with everything from their dark circles to their wrinkles. Containing 80% snail mucin, a commonly-used ingredient in Korean skincare boasting of reparative and hydrating properties, it's also cocktailed with a bunch of Old Reliables like niacinamide, squalane, and hyaluronic acid. Benefits include stand-out hydration and increased collagen production and skin regeneration. Who knew?
7. Holika Holika Prime Youth Placenta Eye Patch
Best Korean undereye patches
Specifications
RRP: $3/£4
Texture: Hydrogel eye patches
Target concerns: Wrinkles, puffiness, loss of firmness, dark circles
Ingredient callouts: Vegetable placenta, hyaluronic acid, carrageenan, rice, jojoba, sunflower, licorice
Reasons to buy
+Super affordable+Convenient and not messy+Brightens and tightens in one go
Reasons to avoid
-Slightly fussier to apply a gel patch versus dabbing on a cream
If you're a fan of sheet face masks, you'll love these jelly-like patches containing vegetable placenta (you can breathe a sigh of relief now), chosen for its ability to boost elasticity around the eye. Among the other ingredients, you'll also find hydrating and puffiness-reducing hyaluronic acid and conditioning jojoba oil. Sounds like they'll be becoming an integral part of our pre-makeup prep kit, or even just something to pop on for 20 to 30 minutes when you want to give your airplane seatmate a bit of a giggle. Either way, we're enjoying the concept of a targeted undereye mask, especially if cooled in a skincare fridge prior to application.
8. Laneige Eye Sleeping Mask
Best Korean eye treatment
Specifications
RRP: $34/£28
Texture: Light gel-cream
Target concerns: Dryness, dehydration, puffiness, dark circles, tired eyes
Ingredient callouts: Vitamin C, antioxidants
Reasons to buy
+Ceramic massage ball applicator is heat-resistant and remains cool; feels great when depuffing underye area+Moisturizing+Premium look and feel+More comfortable to use overnight versus eye patches or sheet masks
Reasons to avoid
-Some users say it doesn't absorb as well-Scent might be off-putting to some
First off, this isn't a "mask" as you would think it is; it's referred to as such since it's used as an overnight/leave-on treatment, to which we happily obliged. Light and fresh scent notwithstanding, there was something definitely therapeutic about dabbing the product around our orbital bones using a ceramic tool.
Standouts of the formula are vitamin C and antioxidants, which do their part to brighten, while consistent use of the light gel-serum definitely gave a more radiant, supple-feeling eye area. Used in tandem at nighttime, with the best eye cream for dark circles for day, we're predicting our perpetually ashen undereyes will soon be a thing of the past.
Ayesha is a freelance contributor to woman&home who often covers beauty pieces. A fan of eyeliners and one-liners, a career in beauty journalism seemed inevitable for Ayesha. Her path wasn't without its detours though. She originally planned on becoming a divorce lawyer, but decided to amicably part ways with that particular objective in her mid-twenties. It was a good decision all round and we're happy to report that both are better for it as a result.
Rather than referencing case law these days, Ayesha can be found writing about all things cosmetics, hair and self-care in her role as Senior Features Writer for Get The Gloss. As well as her daily features, she writes a monthly hair column called 'Who, What, Hair' (which combines her love of puns and buns perfectly), in addition to a column exploring the new and exciting options that are now available for women of darker skin tones called 'Not Fair'. She's also been shortlisted for a number of awards over the years - twice for Best Online Beauty Journalist at the Johnson and Johnson Journalism Awards and most recently, Best Digital at the Jasmine Awards. It seems swapping law for lipstick has been worth it (thank goodness!).