The best skincare fridge brands that'll keep your products cool and effective
If you're on the hunt for a trendy, yet functional skincare fridge, consider your search over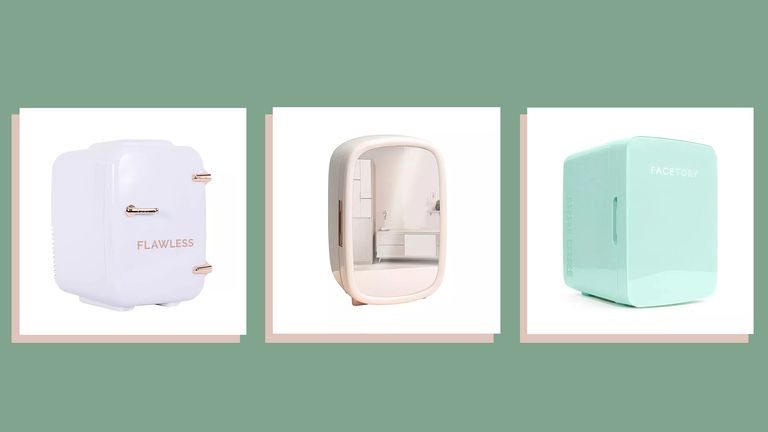 (Image credit: Future)
Ready to hop on the skincare fridge bandwagon? Our edit highlights top-tier options with practical features, unique colorways, and other perks for your beloved beauty heroes.
Whether you believe the fanfare or not, skincare fridges are vanity candy backed by a viral stampede—with curated "shelfies" and TikTok compilations sprawled across the internet.
Cool factor aside, the hype for these adorable mini chillers stems from what they have to offer. Skincare fridges are spacious for storing and organizing products, serving as a solution against clutter. More notably, chilling your skincare products may preserve the integrity and efficacy of their formulations.
Still, mini-fridges and skincare chillers aren't all cut from the same cloth. We've rounded up our favorites for every kind of user, taking size, temperature, and noise into account.
Are skincare fridges worth it?
Fervent enthusiasts—who use social media as a platform for their #minifridgeshelfie—can rejoice in the many well-documented benefits they bring. If you want a tight, firm complexion, chilled skincare products will do the trick. Cold temperatures promote vasoconstriction, a process that causes blood vessels to shrink. Vasoconstriction changes blood flow and, in effect, constricts muscles in the face. Ultimately, this will help minimize dark under-eye bags, puffiness, inflammation, and redness.
When popped in a fridge, water-based skincare products, like masks and toners, deliver a cooling effect, which may relieve dull and sunburned skin.
Another reason to invest in a skincare fridge: Extreme heat may negatively impact formulations, particularly with creams and salves. Over time, heat separates ingredients and causes formulas to melt, limiting their lifespan and effectiveness. Skincare fridges, by function, prevent this outcome as they keep products out of direct sunlight.
Nonetheless, dermatologists regularly explore this trend through a clinical lens, and some skeptics contend that it's nothing more than a marketing gimmick. They refer to the standard protocol of stability-testing as evidence, in which experts assess how a product reacts at room temperature.
Still, we'd argue it's well worth the investment—for the added skincare benefits and, of course, the social media clout.
Key features to look out for in skincare fridges
Before taking the financial plunge, it's important to consider these factors when shopping for the best skincare fridge:
Size: Invest in a skincare fridge that's deep enough to hold your favorite beauty products. A 4-liter fridge can fit six 12-ounce cans, an ideal space for serums and slimmer bottles. If you want a larger option, make sure it's not too difficult to carry or move.
Temperature: Skincare fridges work the same as mini portable fridges, so expect options to span within the 30ºF-50ºF range. The sweet spot is somewhere in the middle. Anything below 35ºF will likely freeze your skincare products.
Noise: Over time, a loud skincare fridge will affect your quality of life. For instance, if your loud skincare fridge resides on top of your bedroom vanity, it'll inevitably keep you up at night. Look out for options that release around 25dB-30dB of sound, an incredibly hushed range.
The best skincare fridges as chosen by our experts
1. Cooluli Mini Fridge Electric Cooler and Warmer
The best overall skincare fridge
Specifications
RRP: $49.99/£124.63
Size: 4 liter capacity / 7.25" W x 10.25" D x 10.75" H inches
Cooling Temperature: 40°F-149°F
Colors available: 7
Reasons to buy
+Compact and lightweight+Multiple functions and uses+Unique technology+AC and DC power cords are included, plus USB cord+Stays cool
Reasons to avoid
-Water build up at the bottom of the cooler
The Cooluli Mini Fridge offers plenty of space for your skincare collections—from petite eye cream capsules to facial cooling globes and other staples. And yet, its modern profile is conveniently lightweight, portable, and compact for tight corners. Naturally, this fridge has a barrage of loyalists, with over 18,000+ reviews on Amazon alone by beauty pedants and neophytes alike.
The Cooluli Mini Fridge leverages what the brand calls "EcoMax Technology," a unique cooling system that's built into every Cooluli thermo-electric unit. With practicality in mind, it's fully operated by an efficient semiconductor, which conserves energy and produces low-to-no noise.
Whereas most options have an internal, fluctuating temperature of 48°F, Cooluli fridges maintain a crisp, cool 35°F when powered on. Albeit a minor detail, a cooler fridge will extend the lifespan, efficacy, and integrity of your favorite products without freezing and rendering them useless. Still, it's important to note that super cold climates will more than likely alter a product's consistency, making it much more dense and difficult to spread.
For seamless organization, the Cooluli Mini Fridge includes a removable inner shelf and container basket, granting more storage options if and when necessary. Very useful if you hoard skincare.
2. FaceTory Portable Coral Beauty Fridge
The best large skincare fridge
Specifications
RRP: $89.21/From £70
Size: 10 liter capacity / 9.65 W x 11.42 D x 13.39 L inches
Cooling Temperature: Determined by the temperature outside fridge
Colors available: 2
Reasons to buy
+Adjustable temperature+AC/DC cables included+No batteries required+Large liter capacity
Reasons to avoid
-Gets a bit noisy
If your beauty collection is ever-growing, opt for FaceTory's Portable Coral Beauty Fridge: a glossy, pastel-hued darling that's impressively roomy, but not too unwieldy. Tall and sleek in stature, this skincare fridge is over 11 inches deep with adjustable shelving; and includes a narrow side basket for face masks, mini sunscreen mists, and other pocket-sized delicacies.
Temperature-wise, Facetory's Beauty Fridge self adjusts and hinges on the surrounding outside climate. This intuitive feature keeps products consistently cool and helps maintain the longevity and integrity of their formulations. What's more, it allows for temperature-sensitive skincare products to thrive, like vitamin C serum, oil- and water-based formulas. (Editor's Note: Oil- and water-based substances with different chemical compositions separate as they warm in extreme heat.)
3. AstroAI Mini Fridge
The best skincare fridge for travel
Specifications
RRP: $49.99/£39.99
Size: 4 liter capacity / 10.63 W x 9.65 D x 7.28 L inches
Cooling Temperature: 32°F-150°F
Colors available: 5
Reasons to buy
+Portable handle for easy carry during travel+Glossy, yet durable finish+Easy to set up and use+Stays at set temperature for long duration+Quiet
Reasons to avoid
-Produces condensation inside
The AstroAI Mini Fridge is an ideal travel companion, topped with a secure handle that guarantees easy carry. Given its large size and adjustable parts, this skincare fridge is capable of bundling the essentials in one place—with plenty of room leftover.
Compared to similar iterations, the AstroAI Mini includes two AC/D adapter plugs for standard wall outlets and cigarette lighters in vehicles: an especially convenient feature for those regularly in transit. Upon closer inspection, you'll also find that it emits 25dB of sound—a volume equivalent to a soft whisper. So, if you plan to snooze mid-journey, go ahead and count sheep in peace.
A sustainable option, the AstroAI Mini Fridge does not contain Freon, an odorless gas and key refrigerant known to deplete the ozone layer.
4. Cooluli Infinity 12-Liter Beauty Mini Fridge
The best splurge skincare fridge
Specifications
RRP: $179.99/From £150
Size: 12 liter capacity / 10.5 W x 10 D x 16.5 H inches
Cooling Temperature: 50ºF-149°F
Colors available: 4
Reasons to buy
+1-year limited warranty+Dual-voltage +Sleek glass front +EcoMax Technology
Reasons to avoid
-Heavy-Minimum cooling temperature could be lower
The Cooluli Infinity Beauty Mini Fridge is a useful investment, though pricey compared to its fellow contenders.
This top-rated fridge cools down products quickly, featuring the same cooling tech included in every Cooluli model. It also features dual voltage capability and other distinctive features—like a transparent mirror door, for example. Still, it embodies the kind of no-frills simplicity and practicality that evokes wistful nostalgia in non-digital natives. Case in point: The fridge operates with a simple switch and maintains consistent temperature on its own.
Additionally, the Cooluli Infinity Beauty Fridge brims with shelving, door-side containers, and slender drawers for hard-to-fit beauty items.
5. Personal Chiller LED Lighted Mini Fridge
The best budget skincare fridge
Specifications
Price: $32/From £21.21
Size: 6 liter capacity / 10.60 W x 7.70 D x 11.70 H inches
Cooling Temperature: 32° F-131° F
Colors available: 3
Reasons to buy
+Affordable+100% freon-free and low energy consumption+Includes 110v AC for household outlet and12V DC for mobile use+Features optional On/Off LED Light
Reasons to avoid
-Humming sound-May leak
Illuminating around-the-clock brightness, the Personal Chiller LED Mini Fridge provides customizable space for storing a variety of cosmetics and tools—with a two-position removable shelf and an inside door storage rack. Economical and ergonomic, it operates with an easy-to-use on/off switch, which lights up the mirrored glass door. Long over are the days of blending mishaps, foundation mismatches, and makeup blunders. Plus, shelling out wads of cash for similar, if not worse, options.
This skincare fridge streamlines the perks of a small and large fridge in one. Its 6-liter capacity is vast and practical for tall tubes and bottled formulations, but not excessively large and inconvenient for tight crannies.
Not surprisingly, it's seamless and simple to control the temperature settings. The cold setting cools to 40° F / 4° C or 32° F / 18° C below ambient room temperature, while the warm setting maintains 131° F / 55° C. Other underrated perks include AC/DC power for home and mobile use.
6. Vanity Planet Fria Skincare Fridge
The best eco-friendly skincare fridge
Specifications
RRP: $89.99/From £120
Size: 4 liter capacity / 12.48 W x 10.98 D x 8.35 H inches
Cooling Temperature: 35-40°F minimum
Colors available: 2
Reasons to buy
+Clear, transparent window display+Compact—with ample storage space+Ethical and eco-friendly supply chain
Reasons to avoid
-Only suitable for 120V US outlets-Voltage converters or plug adapters do not guarantee voltage compatibility
Vanity Planet, as a brand, is a leading authority in the sustainable beauty space: an important quality to consider in the age of unmitigated climate change. As a favorite eco-friendly beauty option, the Vanity Planet Fria fridge leverages thoughtful design features worthy of recognition: a clear window display, two removable shelves to customize product spacing, and accessible temperature settings to help preserve the efficacy and quality of preservative-free ingredients. With adjustable shelving, you can place tall serums, wide creams, and beauty tools if you wish. What's more, it sits nicely on bathroom countertops, vanities, and desks.
7. Chefman Mini Portable Eraser Board Personal Fridge
The best skincare fridge for your desk
Specifications
RRP: $44.99/From £55
Size: 4 liter capacity / 9 W x 10 D x 6.7 H inches
Cooling Temperature: 32°F-140°F
Colors available: 3
Reasons to buy
+Portable, sleek, and compact+Cooling and warming+Powers on with a simple flip of the switch+100% Freon-Free +1-year limited warranty+Easy to clean
Reasons to avoid
-A bit noisy
Bid farewell to vexing post-it notes, loose papers, and pens: Chefman's Mini Fridge includes a convenient dry-erase board—where you can outline a daily list of to-dos, sans the leftover mess.
Portable, compact, and sleek, this skincare fridge includes a nifty handle, a seamless on/off power switch, and vast depth capacity. The switch enables users to either cool or warm products to their preference.
The Chefman fridge is Freon-free and features advanced safety technology, which boasts durability and caliber performance. Not to mention, it comes with plugs suitable for standard home outlets and 12V car chargers. A win-win scenario.
8. The Beauty Spy
The best skincare fridge for liquid products
Specifications
RRP: $99/From £69
Size: Liter capacity not listed / 5.5"W x 5.5"D x 8"H inches
Cooling Temperature: 46°F-130°F
Colors available: 1
Reasons to buy
+Lightweight at less than 4 lbs+Free of refrigerants or Freon+Cruelty-free+Ships from US within 48 hours+Trendy colors with retro accents
Reasons to avoid
-Minimum cooling temperature could be lower
In a sea of sterile-looking skincare appliances, The Beauty Spy draws inspiration from bold-hued vintage and retro aesthetics akin to the iconic 1950's Northstar fridge. This skincare fridge features a portable design, which comes with a suitable handle for easy transportation. Plus, it's made without refrigerants and Freon.
Additionally, The Beauty Spy is virtually silent, which is great if you live with roommates. Or, if your bedroom is your only storage option. Included are cute stickers: a whimsical surprise we didn't expect, but certainly aren't lamenting over.
Beauty enthusiasts will come to appreciate its flexible temperature settings, spanning from 46° to 55°F. According to dermatologists, this range is ideal for chilling, not freezing, your liquid products. Consider your skincare safe and sound.
9. Finishing Touch Flawless Mini Beauty Fridge
The best customizable skincare fridge
Specifications
RRP: $59.99/From £50
Size: 4 liter capacity / 7.25"W x 10.25"D x 10.75"H inches
Cooling Temperature: Not listed
Colors available: 1
Reasons to buy
+Detachable cord measures 69" inches+Includes customizable stickers+Lightweight and compact+Features a door basket
Reasons to avoid
-Prone to condensation
With a striking white design, the Finishing Touch Flawless is a blank canvas for your collection—open to a variety of décor, stickers, magnets, and other embellishments of your preference. And if you don't have stickers in your arsenal, the fridge already comes packed with vibrant options.
Of course, this skincare fridge includes all of the beloved tech accouterments that'll keep your products chilly and effective, particularly an internal cooling system that claims to help prevent premature aging, oxidation, and discoloration of our products. It even has a warm setting, which is great if you're looking to warm up towels, hot masks, and other heat-activated skincare essentials.
Covered in rose gold accents, it's incredibly thick and hard-wearing in both size and quality. Inside, you'll find two shelves—large enough to hold your favorite skincare devices—and a slim, but handy door basket.
Products to keep in your skincare fridge
Eye creams: The fragile under-eye area warrants major tender, love, and care; and chilling your best eye creams will up the ante in de-puffing, hydrating, and soothing. As always, consider your eye cream's consistency and formula. Serum-based eye creams with active ingredients tend to be lighter in consistency and therefore, are best suited for the skincare fridge. Gels are just as effective in a skincare fridge, too.
Sheet masks: When chilled, these face masks impart a cooling sensation that feels extra-nourishing and luxurious on the complexion. As a result, they'll go the extra mile in alleviating inflamed and irritated skin.
Skincare tools: Think jade facial rollers, gua sha stones, and facial cooling globes, all of which help get rid of eye bags. Pop them in your skincare fridge, and you'll enjoy greater soothing benefits from cooling—faster.
Mists: Skin mists already deliver rich hydration sans skincare fridge. However, when you place them in one, they add a nice cooling effect and healthy glow with a spritz—ideal for warm weather and after workouts.
Facial toners: The best facial toners are formulated to tighten pores and remove impurities from the skin. When applied cold, facial toners are even more potent at reducing redness and puffiness.
Gel moisturizers: Unlike dense options, these moisturizers are perfect for any skincare fridge, given their lighter consistency and texture. When chilled, your moisturizer will reduce redness by constricting the small blood vessels in the face.
Products infused with vitamin C and SPFs (particularly vitamin c serums): These skincare ingredients are more sensitive, and thus warrant proper storage and temperature maintenance. By nature of cooling down products, skincare fridges help preserve these formulations for the long haul.
Facial serums: A great facial serum is packed with high concentrations of active nutrients, which, in order to be effective, must be preserved in optimal settings. With a skincare fridge, your facial serums will last longer and the ingredients will remain active for a longer duration of time. That being said, we suggest proceeding with caution, as some formulations will separate in cooler climates.
Liquid Makeup: When it comes to liquid makeup, clear packaging lets sunlight through and causes product to oxidize quicker. Cue: the skincare fridge, which will protect the color and efficacy of your favorite liquid cosmetics. Among them, your best mascara is a great option to store in a skincare fridge—when exposed to heat, it'll become a hot-bed for bacteria, hindering its integrity, longevity, and effectiveness.
Products to leave out from your skincare fridge
Oil-based products: Such as thick moisturizers and facial oils, for example. Water and oil separate; and more often than not, an oil-based product will change slightly in formula and texture when placed in a skincare fridge. These products should be stored in room temperature areas and away from natural sunlight especially if they come in light packaging.
Clay masks: Cool temperatures will harden clay masks. It'll take quite some time for it to soften and even so, you'll still probably need a sturdy spatula or shovel on hand.
Dominique (Dom) is a very online shopping writer at Woman & Home, where she covers products, sales/deals, and market news across categories. Before joining the team, she penned stories as an editorial fellow at Insider Reviews, the affiliate commerce team at Insider Inc./Business Insider. The bespectacled NJ transplant specializes in commerce journalism, women's lifestyle content, and hoarding makeup—much to her mother's dismay.
Her foray into storytelling began in the early aughts, the era in which she developed a passion for fiction writing and an aversion to math. This passion, along with many failed math exams, led her to Marist College, where she studied public relations, creative advertising, and English.
Aside from writing, she doodles in notebooks, crafts memes, and sleuths for homes out of her tax bracket on Zillow. Follow her adventures via the web:
Instagram: @domimcintee / @drugstoredomi
LinkedIn: https://www.linkedin.com/in/dominique-mcintee-3a32ab9a/
To connect: dominique.mcintee@futurenet.com