Facial cooling globes are the latest skincare tool that promises to revive skin
Ice globes for the face are the newest skincare tool on the scene to firm, brighten and de-puff the skin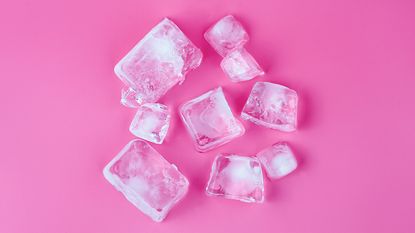 (Image credit: Getty)
Whether you're an avid beauty sleuth or somewhat of a skincare novice, chances are you will have tried one of the many facial tools that are circling the net. From gua shas to microneedling rollers to the many exfoliating gadgets, there's a whole medley of treatments to help us look after our skin without even stepping foot in a clinic.
And if you've had a scroll through Instagram, checked the New In section of your go-to beauty retailer or tuned into any daytime talk shows recently, you will have noticed that there's a new "cool tool" on the block – ice globes for the face.
The world's newest skincare obsession marries up the beauty and convenience of a jade roller with the visible benefits of cryotherapy – making the expert-led treatment more accessible for those who don't have the time or capacity to make it to a clinic or who want to save a little on professional beauty treatments.
It's an especially effective treatment for those who spend all their money scouting out the best eye creams on the market to try and tackle constantly puffy eyes. So we've spoken to the experts to find out exactly how to use ice globes on your face and eyes in the most professional way. And we've even picked out a bunch of our top picks on the market right now.
These could be set to become such a non-negotiable part of your skincare routine that you'll be willing to cut down on the Ben & Jerry's to reserve a permanent space in your freezer.
The benefits of ice globes for the face
Using ice globes on the face is essentially a DIY cryotherapy treatment. By refrigerating or freezing your tool before use and then carrying out a massage ritual on your skin, you're lapping up nearly all the benefits you would from a professional cryotherapy facial, which include:
Brightening skin
Reducing puffiness
Sculpting jawline
Constricting pores
Activating collagen production
Tightening and firming skin
"Cryotherapy means 'cold therapy' and is a technique when the face and/or body is exposed to extremely cold temperatures for a specific amount of time," explains aesthetic doctor Dr Maryam Zamani (opens in new tab).
"In the facial area it instantly sculpts and brightens the skin, encourages vasoconstriction, reducing blood vessels – promoting a firmer, more toned complexion," adds OLIVIEREWILSON (opens in new tab) founder and Cryo Ice Sticks creator Catherine Wilson. "This invigorating treatment brings the face alive, giving a refreshed, more rested appearance.
"They are great to reduce fluid retention and contour the face, prolonging that just-back-from-a-hike look," explains Catherine. "More blood flow with oxygen means that more nutrients are delivered, leaving the complexion looking healthy and plump. The cold temperature also helps to constrict the pores and bring a fresh glow to the skin, providing the perfect base before applying make-up."
And while the ritual can help to ease tension in the cheeks and jawline and tighten up the skin on your face, it works especially well when it comes to treating puffy eyes and working to get rid of eye bags.
"There are SO many reasons for puffy eyes," says Dr Maryam. "It can be from diet, lifestyle (alcohol), too much or too little sleep, hay fever, filler, being unwell and of course a bit of fat in the lower eyelids. Generally, without enough beauty sleep, the numerous arcades of blood vessels in the eyelids become dilated and tortuous, causing dark circles and engorging the area with volume, thus creating puffiness.
"Cool tools can be used to help reduce swelling and inflammation in the lower eyelids by reducing blood flow," she explains.
"They diminish puffiness, swelling, inflammation and redness by alleviating swollen tissue and broken capillaries," adds Catherine. "The cold temperature makes the blood vessels contract and increases oxygen delivery to the skin so that the eye area is more rejuvenated and awake.
"Elastin and collagen production in the dermis are also activated, encouraging the delicate skin in this area to be more firm and toned, while circulation is gently boosted to drain and relieve puffiness along with dark circles."
How to use ice globes on your face
There are a couple of different ways to use your cooling face tools, so your chosen massage will generally come down to your personal preference and also what results you're hoping to see.
"Working the tools from the centre of the face outwards will drain the lymph and detoxify," explains Catherine, adding that, "They are best used on top of a serum or cream to ensure they glide around the eye socket and across the face."
For an overall brightening and depuffing treatment, Catherine recommends you:
Start at the top of your forehead with sweeping outwards movements.
Move to the brow area and work your way around the eye area including resting the Ice Sticks on the eyebrows, eye sockets and cheekbones. The cooling temperature will freshen the entire face.
Work your way across each cheek moving from the centre of the face upwards and outwards.
Complete by working the jaw line and resting the Ice Sticks on the nape of the neck, behind the ears and on the shoulders.
However, famous ice globes brand Fraîcheur Paris offers two different techniques, recommending that you opt for upward movements to lift and tighten skin, or a downward massage if you're looking to reduce swelling.
As for when and how long to use the globes for, Dr Maryam advises to use them for "Five to ten minutes in the morning, placing on the eyes and then massaging from the inner corners of the eye outward.
"Throughout the day they can also be great to give yourself a relaxing neck massage at your desk, lifting the cheeks and tightening the skin at the same time," adds Catherine. "They will even relieve tension headaches and can be used on the body as a firming massage."
Just be sure never to press too hard and drag the skin – the cold tool will do all the hard work so just a gentle glide is all you need. Pair the tool with your favorite serum or, depending on your particular gripe, one of the best eye creams for dark circles or best eye creams for wrinkles.
Best ice globes for face
---
---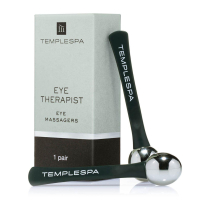 (opens in new tab)
Temple Spa Eye Therapist Eye Massagers
Sponsored
If you'd prefer to reserve the cryotherapy for your eye area then these nifty little eye massager sticks will work wonders for you. The cool material will strengthen muscle tone and reduce any tension around the eye area – and these are even small enough to pop in your bag and take on-the-go, so you can crack them out at the first sign of tension on a stressful day.
---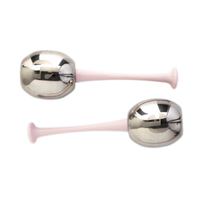 (opens in new tab)
Georgia Louise Cryo Facial Freeze Tools
If you're one who forwent the staple jade roller for its trendier pink quartz younger sibling, then this aesthetic dream will appeal to you. With cooling metal balls to depuff and brighten the skin and fabulous baby pink handles, they tick both the practical and the "this will look great on my grid" boxes.
---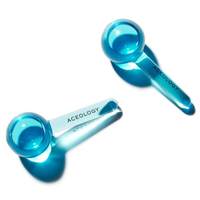 (opens in new tab)
Aceology The Original Ice Globe Facial Massager
While these are similar in appearance to the Fraîcheur Ice Globes, they are actually designed to keep in the fridge – so a perfect pick if you want to avoid the metal options but want something convenient to pop in a skincare fridge in your bedroom without having to trudge down to the kitchen every morning while you do your routine.
---
Aleesha is a digital shopping writer at woman&home—so whether you're looking for beauty, fashion, health or home buys, she knows what the best buys are at any moment. She earned an MA in Magazine Journalism from City, University of London in 2017 and has since worked with a number of brands including Women's Health, Stylist and Goodto. A year on the w&h news team gained her invaluable insight into where to get the best lifestyle releases first—as well as an AOP awards nomination.