The best body oils for glowing, nourished and silky-soft skin
Our pick of the best body oils to soothe body and mind, add shimmer and soften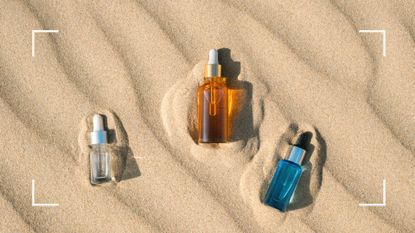 (Image credit: Future/Getty images)
The best body oil is a divisive subject. There are those that adore an oil – the silkiness of texture, the ease of application – then there are those that steer well clear, worried that it will be too greasy, or transfer onto their clothes.
So why choose oil over the more conventional option of using your best body lotion? "Oils penetrate deeper and more quickly into the skin, whereas the best body creams for dry skin are generally made up of water, emulsifier, and wax," explains therapist Joanne Rendell of The Skin Experts. "When a product contains wax, it makes the cream sit on the surface, leaving a film on the skin. Oil on the other hand is absorbed directly into the skin and delivers results more quickly."
Oils also have a pleasing slip and leave a beautiful glow on the skin that's a subtle alternative to body makeup or your best self tan. What's more, there's an oil for every purpose – whether that's adding a glam shimmer to limbs, enjoying an aromatherapy experience, or keeping a pregnant tummy supple.
The best body oils, chosen by our beauty team
Why you can trust Woman & Home Our expert reviewers spend hours testing and comparing products and services so you can choose the best for you. Find out more about how we test.
1. Elemis Frangipani Monoi Body Oil
Best body oil overall
Specifications
RRP: $58/ £42
Ingredients: frangipani, monoi, coconut oil
Reasons to buy
+
Smells like a tropical paradise
+
Super hydrating
+
Leaves a gorgeous glow
Reasons to avoid
-
Solidifies at room temperature
If you are looking to transport yourself to a tropical island with a side of serious skin nourishment (err, yes please), then this is the best body oil for you. We all need a moment of calmness and serenity when the day has been that bit too much to deal with. And we promise the combination of exotic frangipani and monoi will help you clear your mind and take you to whatever that island looks like to you.
We love that the scent is so powerful that it lingers on the skin for quite a few hours. We used it before going out and didn't even need to spritz our regular perfume. Plus, as well as being suitable for your skin, it can also be used as a deep conditioning treatment in place of your best hair mask. It does solidify at room temperature so we either take it into the shower so the steam can melt it back to a gorgeous silky liquid, or leave it in a sink of warm water until we're ready to use it.
2. De Mamiel Salvation Body Oil
Best luxury body oil
Specifications
RRP: $152/£95
Ingredients: prickly pear, frankincense, myrrh
Reasons to buy
+
A little goes a very long way
+
Completely unique scent
+
Just the right level of dryness to oiliness
Reasons to avoid
-
Not for anyone on a budget
Sometimes it sounds trite to say that scent can change the way you feel (even the best perfume for women can only do so much) But with this product, it is very, very true. Yes, this is truly transformative body oil.
It's got all the ingredients your skin needs to be hydrated, nourished, and protected from the elements, and is an absolute pleasure to use. However, where it stands apart from others is the very precise mixing and fragrance layering of essential oils and scents that made applying it to our body an absolute joy. It has the power to change your mood and made us feel calmer, stronger, and more robust – which is why we're sure it deserves the name salvation. Because it is.
3. Palmer's Coconut Oil Body Oil
Best budget body oil
Specifications
RRP: $6.95/£7.35
Ingredients: coconut, green coffee
Reasons to buy
+
Budget friendly
+
Handy pump applicator
+
Coconut scent
Nobody does purse-friendly body products like Palmer's, and this oil delivers everything you would expect from the brand. It's super hydrating, making it a great option for drier skins and the pump applicator makes it super easy to use.
When testing we did find that it has a strong coconut scent, which you'll either adore like us or might find a bit much. It is also very much an oily oil. Dry dehydrated skin will lap it up, but not-so-dry skins may find that it leaves a sheen on the skin which, again, you will either enjoy or not. As well as hydrating coconut oil it also contains green coffee, which is a great antioxidant that helps the skin protect itself from environmental damage.
4. L'Occitane Almond Supple Skin Oil
Best body oil for pregnancy
Specifications
RRP: $50/ £38
Ingredients: almond oil, camelina oil, bergamot
Reasons to buy
+
Pregnancy safe
+
Vegan formula
+
Silky texture
Reasons to avoid
-
If you don't almond scents, you won't like this
Whether you're looking for a product to see you through your own pregnancy or a gift for an expectant friend, then this iconic oil is the one. It's packed with nourishing almond oil that not only smells beautiful but soothes tired and tight skin.
On testing, we loved the luxurious marzipan-like aroma that isn't at all overpowering and how supple it made our skin feel. We also loved the rich, decadent texture of the oil, which also means that it clings to the skin and won't run onto your bathroom floor and create a hazard as some others do. One tip from us: It's best to massage onto dry skin. If your skin is too damp it will turn slightly milky which makes it take a little longer to fully absorb.
5. Liz Earle Superskin Dry Oil
Best body oil for dry skin
Specifications
RRP: £36 (UK only)
Ingredients: cranberry, rosehip seed oil, borage
Reasons to buy
+
Lovely scent
+
Dry finish
+
Sinks in quickly
There is so much we enjoyed about this while testing, and thanks to being made with beautiful botanicals it would certainly make the best body oil for anyone interested in natural skincare.
Not only does this body oil have a completely dry finish, which means we didn't experience any hint of grease or oiliness, it also has a spray applicator which makes it quick and efficient to apply all over. It is also jam-packed with aromatherapy oils and has a gorgeous aromatic scent. As you spray and massage it in, make sure to breathe all that goodness in to calm your mind and soul while the rosehip seed and avocado oil get to work on hydrating your skin.
6. Nécessaire The Body Oil
Best body oil for sensitive skin
Specifications
RRP: $35 / £40
Ingredients: sweet almond oil, hazelnut seed oil
Reasons to buy
+
Fragrance free
+
Vegan and cruelty free
+
Packaged in 85% post-consumer recycled paperboard
The whole ethos behind Nécessaire is that they only create products that you truly need. So, the fact they have created this is a testament to what a useful product the best body oils can be. This is especially true for those with sensitive skin or a reactive skin type as this one is totally unfragranced. While we usually enjoy a bit of sensorial fragrance, we appreciated that this formula is so clean and simple, as well as not interfering with our perfume.
The oils contained in it have been cold-pressed, which means they have been extracted without using any heat so their efficacy isn't compromised. We love that it also contains lots of omegas and minerals that help strengthen the skin, which sensitive skin needs to help counteract reactions.
7. Clarins Tonic Treatment Oil
Best post-pregnancy body oil
Specifications
RRP: $69/ £42
Ingredients: rosemary, sage, mint
Reasons to buy
+
Cult product
+
Strengthens skin
+
Amazing scent
Created back in 1954, this iconic body oil formula has remained unchanged ever since. Standing in testament to how great it is: how can you improve on perfection? Part of a set of three oils, it was originally created to be used in professional beauty treatments at the Clarins Institute in Paris. And it was only after huge customer demand, that they were made available to purchase.
And what's it like to use at home? Delightful. This one is aimed at improving skin suppleness – which makes it a hit for postpartum women – as it contains rosemary, which helps reduce puffiness and boosts circulation, as well as mint that provides a soothing cooling effect. We did find that this is quite a dense oil so we only needed to use a little and it's best used on damp skin so that it absorbs more easily and quickly.
8. Biossance 100% Squalane Oil
Best sustainable body oil
Specifications
RRP: $32/ £25
Ingredients: squalane oil
Reasons to buy
+
Lightweight
+
Multi-tasking
+
Ethically and sustainably sourced
Reasons to avoid
-
We honestly can't think of one!
Cleverly, this oil has been designed to use on the face, body and hair. And it delivers an instant dose of hydration to wherever is parched and dehydrated. It's got one ingredient only, squalane, which is a deeply nourishing ingredient that, unfortunately, used to be sourced from sharks' livers.
However, this clean beauty product uses squalane that has been derived from sustainable sugar cane, which also ensures it has a vegan-friendly formula. On testing, we found this super lightweight and it sank into the skin within microseconds. Biossance recommends applying it onto slightly damp skin when using it on the body but we have put it onto dry legs and it didn't leave an ounce of oily residue, just a flattering hydrated look.
9. Rituals The Ritual of Mehr Body Mousse-to-oil
Best non-oily body oil
Specifications
RRP: £14 (UK only)
Ingredients: cedar oil, sunflower seed oil, orange extract
Reasons to buy
+
Unique mousse texture
+
Great for those unsure about oil
+
Lovely scent
Reasons to avoid
-
Oil fans may not find it oily enough
For some people, there is a reticence about using body oils because they worry they will leave their skin feeling…well, oily. If that sounds familiar, this product could be the best body oil for you.
It begins as a light, airy mousse that on contact with damp skin breaks down into a silky oil that smells amazing - it's a gorgeous woody, oud-based scent - and sinks in immediately. It left our skin with a very subtle shine to it, which is in no way greasy at all. The fragrance lasted all day and our legs felt soft and supple, plus the fun mousse formula made it a pleasure to apply. Clever stuff!
11. Nuxe Shimmering Dry Oil
Best shimmer body oil
Specifications
RRP: $35/ £29.50
Ingredients: argan, macadamia, camellia oil
Reasons to buy
+
Dry finish
+
Gives skin golden shimmer
+
Smells like holidays
Reasons to avoid
-
It is most definitely shimmery
There is always a certain sophistication with French beauty products, and this shimmering oil has continental chic coming out of it in droves. It can be used on the face, hair, and body and is the product that will give you a head-to-toe summer glow, whilst also scenting you like summer holidays.
We have mentioned that it is shimmery, and it is. It is not glittery, so this is very much a product for grown-ups that want to look like they've spent a week in St Tropez. Imagine it as one of the best highlighters, but for your body. If you're looking for a product to give your skin some extra zing at a party, a wedding or simply to pop to the shops - this is that. However, on the day after wearing this to a big event, we decided we didn't want the golden particles on our skin, so we did need to wash them off.
---
How to use body oil effectively
It may seem patronising to spell out how to use a body oil, but because of their texture there are a few things you may need to switch-up in your application process compared with using a body cream.
A little goes a long way: Because you can move an oil far more easily you really do only need a small amount. Plus to avoid potential greasy overload on the skin, start small and then you can always add more if your skin needs it.
Apply on wet skin: "Oils will work better when your skin is still wet. I recommend applying when you get out of the shower. Gently pat skin dry with a towel, and after a few pumps inhale the aroma then apply with long sweeping strokes towards your heart. This way you are also encouraging the flow of lymph," advises oil expert and acclaimed integrative facialist Annee de Mamiel.
Watch out for sweat: "If you keep active and enjoy sports, I wouldn't recommend using oils just before, this is because oil when mixing with sweat is likely to cause irritation," advises Joanne.
Mind the slip: "Always make sure you're standing on a non-slip mat when using a body oil and if you are in a bit of a rush use a clean towel to pat away any excess that might be on your skin or on the floor around you," says Joanne.
Massage techniques to try with your best body oil
"Self-massage is something we can do at home to relax muscles and trigger points throughout our bodies and body oil is the perfect product to use to do it. Try and make time for some self-massage twice a day," advises Joanne Rendell, who recommends:
To massage a sore neck:
Place two–three fingers on the back of your neck at the point your neck meets your shoulders. Apply a firm but comfortable pressure and hold on the area. As the muscles relax, release pressure. Roll the shoulders forwards and then rotate them backward. Repeat three times.
To massage your shoulders:
Place the fingers of your right hand over your right shoulder – (you're now connected to your trapezius muscle). Squeeze the top of the trapezius three times – using your fingers roll them over the muscle starting from the outside and moving towards the base of the neck. Repeat this same process on the left side.
To massage your hands:
Let your hands drop, rotating from the wrist, making as full a circle as possible 10 times one way, then in the other direction. Place your fingers over your wrist as if you're taking your pulse, and apply pressure on both sides of the wrist. Move the fingers to the heel of your palm and apply pressure in small circular motions, start at your little finger and move towards your thumb. At the base of your fingers using small circular motions apply pressure. Moving up each finger using small circular strokes. Upon reaching the fingertip, gently pull the finger to stretch the joint and then switch to the other hand.
---
Freelance Beauty Director
Sarah-Jane Corfield-Smith has worked in the beauty industry for more than 15 years and, as well as woman&home, has contributed to titles such as Stylist, The Daily Mail and The Times.

As a mum of two little girls she has limited time to spend on herself, so if you're looking for hard-working multi-tasking products, she's the one in the know.

Her top three products she has on her at all times are a glow-giving tinted moisturizer, brow pencil and a tinted lip balm. Oh, and she's never far away from a hydrating face mist.