The 7 best Korean mascaras for long, voluminous lashes
After a fuller-looking flutter? Consider one of the best Korean mascaras, as tested by our beauty team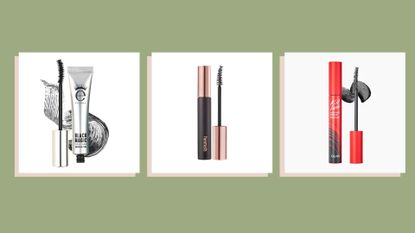 (Image credit: Future/Brand)
After a new mascara? Why not consider one of the best Korean mascaras. At the forefront of innovation, South Korea consistently delivers new, high-tech products that boast clever formulas and impressive results. And many of those formulas (including several lash-loving mascaras) have made their way from East to West so we can shop them here.
Most of us are well-versed in the powers of Korean skincare – and South Korea's makeup offering is just as impressive, with some of the best mascaras around. If you are already a fan of the best Korean skincare products, from rubber sheet masks to supercharged serums, you'll know K-Beauty is known for creating hard-working products that are kind to the skin and hair, often in innovative packaging that looks great on your vanity.
If that's what you're looking for, you're in the right place – as we have whittled down our edit of the best Korean mascaras in the business that will enhance your eye shape in seconds. So, whether it's volume, definition or length that you're after, scroll on down to find the perfect pick for you.
How we tested the best Korean mascaras
Why you can trust Woman & Home Our expert reviewers spend hours testing and comparing products and services so you can choose the best for you. Find out more about how we test.
To whittle down our edit of the best Korean mascaras, we tested several different formulas delivering various lash looks.
How well it performed: From lengthening to volumizing, we marked each mascara on how well it performed and if it lived up to its lash-boosting promises.
Formulas: We also took note of the formulations, awarding marks for any added conditioning or strengthening ingredients.
Lasting power: How well did the mascaras fare after a full day of wear? Were our lashes still long and fluttery at the end of the day?
Additional features: We looked at the colorways and sizes on offer, as well as whether or not the mascaras came in a waterproof version.
All the mascaras featured here delivered a fuller-looking flutter with some adding enough length to rival our best false eyelashes.
The best Korean mascaras, as chosen by a beauty editor
1. Eyeko Black Magic Mascara
Best Korean mascara overall
Specifications
RRP: $24 / £19
Waterproof version available: : Yes
Shades: : Black and brown
Reasons to buy
+
Conditions lashes
+
Strong curl hold
+
Adds length and volume
Love a voluminous lash look? Say 'eye do' to Eyeko's Black Magic Mascara, our best volumizing mascara on the list. Made in Korea, this must-try mascara delivers instant drama with its inky black formula (it's the brand's blackest finish yet) that really makes eyes pop. Easy to apply, the chunky curved brush pulls the hairs upwards depositing just enough pigment in one (or two, if you like lots of volume) fell swoop. We recommend wiggling the brush from side to side as you go to avoid any clumps.
In addition to adding volume and curl, this mascara is formulated with conditioning ingredients (think vitamin E, keratin and shea butter) to strengthen the hair, too. We found it super comfortable for all-day wear and didn't feel the need to top it up come evening. Our only gripe is that we did find it started to clump when we applied several layers (think three upwards). But thankfully, this is the sort of mascara that only requires one to two coats for full-bodied volume.
2. Etude House Lash Perm Curl Fix Mascara
Best Korean mascara for curl
Specifications
RRP: $15.30 / £14
Waterproof version available: Yes
Shades: Black, brown, pink and burgundy
Reasons to buy
+
Lifts and curls
+
Long-lasting
+
Water- and sweat-resistant
If your lashes are naturally straight or short, give this Curl Fix Mascara from Etude House a whirl. A best-seller in Asia, this award-winning mascara features something called a 'C Curl' brush – which is essentially a curved, tapered brush – that expertly lifts and curls the lashes from the roots for a fanned-out flutter. So impressed by the finished look, we'd say that this mascara is even more effective than using a lash curler. Easily one of the best mascaras for straight lashes.
As for the formula, it's waterproof, smudge-proof and sweat-resistant, meaning it lasts really well throughout the day (we're talking eight hours or more) without transferring or clumping. This does also mean, however, that it can be tricky to remove and will require one of the best makeup removers to gently take it off. Overall, this is a great pick for anyone after a good curl hold (and there's also a choice of four shades).
3. Peripera Ink Black Mascara
Best Korean mascara for length
Specifications
RRP: $9.80 / £9.95
Waterproof version available: Yes
Shades: Black
Reasons to buy
+
Lots of length
+
Waterproof
+
Long-lasting
If you're looking for one of the best mascaras for short lashes and are seeking lots and lots of length, invest in this Ink Black Mascara from Peripera. Specifically formulated to give short lashes a helping hand, this must-try mascara adds enough length to rival your best false eyelashes. So, instead of learning how to apply false eyelashes (which can be extremely fiddly), just apply two coats of this mascara instead. The gel formula, that's waterproof and smudge-proof, seals the lashes for long-lasting hold.
As well as next-level length and good staying power, this mascara also delivers on the volume front — bulking up each hair for a fuller-looking flutter. We found that one coat was enough for an everyday natural lash look, while two-to-three coats gave us that voluminous dramatic look we reserve for going 'out out'. The downside? As with many waterproof mascaras, this one takes a little longer to remove than other, non-waterproof formulas.
4. Tonymoly Panda's Dream Smudge Out Mascara
Best Korean mascara for strengthening lashes
Specifications
RRP: $15 / £11.92
Waterproof version available: No
Shades: Black
Reasons to buy
+
Doesn't smudge
+
Lightweight and comfortable
+
Strengthens lashes
It's no secret that certain mascaras are more prone to transferring than others. If you've had an unlucky run with said mascaras (that leave you with unwanted smudges, mimicking the appearance of dark circles) – say hello to Tonymoly Panda's Dream Smudge Out Mascara. Specifically formulated to prevent those unwanted smudges, this mascara will stay put for hours.
It's also incredibly lightweight and doesn't weigh lashes down. In fact, we'd go so far to say that it feels as though you're not wearing any mascara at all. Super comfortable, it's a great pick for everyday wear. As for ingredients, the formula is laced with bamboo sap and extracts to nourish eyelashes and strengthen them (big tick). It is worth noting, however, that it can clump when applying lots of layers – we'd suggest sticking to three max.
5. CLIO Kill Lash Superproof Mascara
Best Korean mascara for a natural look
Specifications
RRP: $18 / £18
Waterproof version available: Yes
Shades: Black, choco brown, rose brown
Reasons to buy
+
Long-lasting
+
Smudge-proof
+
Curls lashes
By now, you're probably noticing a theme with the best Korean mascaras. Most, if not all, focus on curling and lifting lashes for a fanned-out finish. This mascara from K-beauty brand Clio is no exception. The skinny curved brushed grips onto lashes (even those hard-to-reach corner ones), teasing them upwards for a curled, lifted look. Available in three shades (two browns and one black), we recommend experimenting with brown for a softer, more natural effect, especially if you're a fan of more natural-looking mascaras.
Or why not apply black to your top lashes and brown to your lower lashes for a touch of added drama? In terms of formula, it's water-resistant and smudge-proof – staying intact for several hours without smudging. As with many of the other mascaras listed here, it also has a gel coat that separates lashes and fixes them in place. Because it's water-resistant, it takes a little longer to remove than other non-water-resistant mascaras. We suggest using one of the best cleansing oils, specifically formulated for the delicate eye area, to take it off.
6. Mizon Collagen Curling Fix Mascara
Best hydrating Korean mascara
Specifications
RRP: $10 / £9.72
Waterproof version available: Yes
Shades: Black
Reasons to buy
+
Affordable
+
Conditioning ingredients
+
Good curl hold
One of the best drugstore mascaras out there, this Collagen Curl Fix Mascara from Mizon combines inky black pigment with kind-to-lash ingredients to condition and define lashes – all for $10 / £10. A total steal, this purse-friendly pick is great for anyone who wants to boost lash health while adding drama on a budget. Blended with hydrating marine collagen, the formula strengthens and hydrates lashes to prevent breakage.
It's also sweat-, smudge- and water-resistant which makes it ideal for the summer months when temperatures (hopefully) rise. The brush is small and slightly curved with flexible bristles that coat each lash with ease. Adding length and curl, this mascara gives you a softly defined lash look. If it's full-on drama you're after, we'd suggest opting for one of the other mascaras listed here.
7. Heimish Dailism Smudge Stop Mascara
Best Korean mascara for volume
Specifications
RRP: $14 / £12.50
Waterproof version available: No
Shades: Black
Reasons to buy
+
Cruelty-free
+
Suitable for sensitive skin
+
Great curl
Curl is the aim of the game with this Smudge Stop Mascara from Heimish. The soft C-Curl wand is designed to separate the hairs while also lifting them upwards for a pushed-up effect. While we were impressed with the curl, we also appreciated how much volume this mascara lent our lashes. Expect a full fringe of sooty black lashes that will instantly add drama to any natural makeup look.
If you want to elongate the natural shape of your eyes, we recommend focusing this mascara on the outer corner lashes. Use the curved brush to really shape and pull the lashes outwards. Pair with your best eyeliner to create the ultimate feline look. Curl asides, the formula is water-resistant and smudge-proof – we also found it didn't clump or flake throughout the day. Our only gripe is that it feels slightly heavier (and more noticeable) than other mascaras we tried.
How to choose the best Korean mascara for you
The criteria you'd use to choose the right Korean mascara are the same as any other mascara:
Wand: Think about the mascara brush type that suits your lash need. Looking for volumized lashes? You'll want a fluffy wand. Curved lashes are best for lift, while hourglass wands will catch every lash
Formula: The consistency of any mascara can make or break the product, but just like choosing the best wand type for you, the formula you opt for will depend on your own needs. If you have hooded eyes or oily eyelids, you'll want a drier formula. If you have dry eyelids, you'll want something wetter and more movable.
Lasting power: There's nothing worse than your mascara smudging or flaking away throughout the day. If you find this happens regularly, you may want to opt for a tubing or waterproof formula.
Your lash type: Understanding your lash type and desired look is important when choosing a mascara. If you have straight lashes, you'll want to pick a product that has been specifically created to curl your lashes. If you have short lashes, you'll want a product that uses a formula and wand designed to lengthen them.
Emma Stoddart is a freelance beauty journalist and self-confessed skincare aficionado with over five years' industry experience. Emma has worked for some of the UK's top women's titles including Net-A-Porter, Stylist and Grazia. Her experience spans online and print as well as producing editorial shoots with some of the industry's biggest artists, including Val Garland. Asides from working with them behind the scenes, she's also had the chance to interview the likes of Patrick Ta, Pat McGrath, and Sam McKnight for all their insider tips and tricks.