Party makeup—easy and glamorous eye, lip and nail ideas for your next big event
Party makeup doesn't have to be difficult to master, take it from the experts and nail your look for your next big night out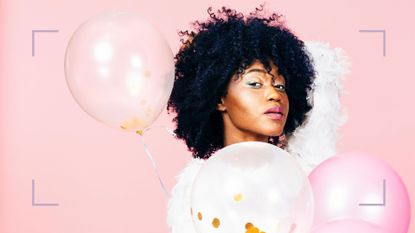 (Image credit: Getty Images)
Party makeup is our cosmetic collection's time to shine. Whether you have a fancy event to attend or have planned quality time with the girls, this is your chance to dig out those beauty products that show the world you mean business.
Even easy makeup looks for a night out require a core stash of reliable products and skills. We're talking, having the best foundation and learning how to use face primer to make it stick around, or knowing how to fake wide awake eyes and pinning down the best mascara for flutter, volume and length.
Of course all that research and skill-gathering takes time, and you've got places to be and people to see, right? Luckily, we've got a direct line to the latest beauty launches, trends and tips from the pros.
Give us just a few minutes of your time to peruse some party makeup inspiration, and we'll give you all the intel you need to nail your going out beauty look for this season and beyond.
Party makeup inspiration—tips and tricks from the experts
1. For dewy skin, try the sandwich technique
In theory, all of our faces look better veiled in the best lightweight foundation rather than smothered in a flat, full-cover one. In practice, light bases can't be trusted to make it to the end of a long night (or even a long taxi ride) but the sandwich technique can help with that.
Begin with a thin spreading of your best primer - it should be something grippy yet invisible. Use your hands to apply it and focus on oil-prone areas like the nose and chin. Next buff in a coat of lightweight base then top it off with a smattering of soft-focus loose powder. Yes, that's three products instead of one, but those extra workhorse layers allow you to wear a skin-like, dewy base and have it last.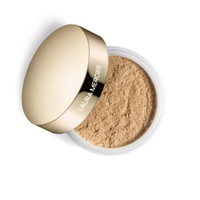 (opens in new tab)
Laura Mercier Light Catcher Setting Powder | RRP: $39/£33
Hardworking yet weightless, this loose powder will seal your makeup in and give skin a gentle soft-focus glow. There are three sheer shades with neutral, warm or cool undertones to choose from. All have been specially formulated to avoid 'flashback' if you'll be having your photo taken.
2. Conceal and set for a flawless finish
If light foundation won't cut it for you because of pigmentation or those angry blemishes that have a habit of emerging on big, exciting days, knowing how to apply concealer like a pro is key for nailing perfect party makeup.
Try something high coverage yet creamy that can be topped up if needed. It'll look better than heavy pan-stik style formulas that sink into lines.
Finish with a glow-boosting setting spray and fix everything in place for the night. Again, think light layers and seek out iridescent particles for a fresh, glowing look.
3. Be a dream in green eyeshadow
Have you got an aversion to colorful eyeshadow? Neutral shades probably get the most action in all the best makeup palettes, but we are talking special makeup for special moments here. As well as being on-trend, green is quietly glamorous, brings out golden flecks in brown or hazel eyes and contrasts strikingly with baby blues.
You don't have to go full Emerald City. Seek out cream shadows in shimmering moss or cool-girl khaki, which is basically a neutral. If you know how to apply eyeshadow as a light wash (clue: back and forth in windscreen wiper motion, keep it below the socket line) then that's the way to go. If you don't, the very risk-averse could start with eyeliner in a green so intensely dark it's practically black.
If you already have an old, intimidatingly green powder eyeshadow lurking around, try using a wash of clear balm or a high-shine eye primer underneath to transform it into a loose, reflective wash that's easier to wear than trad powders.
4. Perfect a polished brow
Defined eyebrows with n'er a wayward hair mean business. They add subliminal polish to any look and sit happily alongside statement makeup without diverting attention from the main event.
Start by learning how to shape eyebrows for a neat look - pluck, wax or thread - up to you. Then grab a pot of a thick, pomade style brow product and use a firm small brush to flick it upwards through hairs and fill in gaps.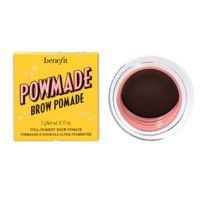 (opens in new tab)
Benefit Brow POWmade | RRP: $20/£19.50
Highly concentrated with a sharply-angled brush to create a strong, groomed-looking shape and fix every strand right where you paint it.The finished look is definitely more evening than everyday, but the pleasingly natural shades balance things out.
5. Master red lipstick
When we talk about the best red lipstick, words like "timeless" and "effortless" invariably arise. In reality, many of us would no sooner bowl out of the house with scarlet lips than we would in that other apparently-classic style choice, the fedora.
Why? Self-consciousness. Red lipstick is a scene-stealer, when it goes well it's glorious. If it goes wrong we want to scrub it all off and not bother again. Still, it only takes one great lippie to unlock the easiest party look in the book forever, so it's worth another crack at nailing makeup with red lipstick. There are three stages to finding the one:
Stage 1: Reconsider texture
There is no reason your signature red has to be a traditional full-pigment lipstick. "If you are new to a red lip I would stay away from matte colors until you feel more confident applying and wearing," says A-LIst makeup artist Zoë Taylor. "Try softer, sheerer textures,' agrees Dominic Skinner, Global Senior Artist at M·A·C Cosmetics, "Even a red lip balm can be a good first step." The sliding scale of lightweight lippies runs from sheer balms through glossy crayons to satin lipsticks. The slippier you go, the easier it will be to apply and wear. Anything with a bit of a sheen will make lips appear plumper, feel softer and won't drag or settle into lines.
Stage 2: Fear no shade
Choosing a shade of red lipstick can often seem off-puttingly rule-laden. It's true that skin with warmer tones tends to suit hot shades and ditto for cooler skins and blue-toned reds (which also make your teeth look whiter—result) But honestly the best, and only, way to know if a shade works is by trying it on and deciding for yourself. "Anyone can carry any red lipstick off if it makes them feel good," agrees Caroline Barnes. "Think about what look you're trying to achieve. You might think the shade is wrong but maybe it's because of your outfit or the way you've curled your hair that day. Wear a black dress and a ponytail then try the red lipstick and you'll really see whether it works."
Stage 3: Wear it with attitude
Received wisdom suggests you need to wear red lipstick three times before you feel truly confident, so accept that you might be a bit self-conscious at first. Try wearing your red lip around the house, or test the waters with softly-softly application by dabbing it on with a finger rather than slathering straight from the bullet. Ready to take your red pout out? Put a trusted friend on lipstick-on-the-teeth watch and resist the urge to keep dashing to the loo to check for smudges. With a bit of practice you too can become a signature red lip woman, and that's where the "effortless" part begins.
6. For a smooth lip look, prep like a pro
Counterintuitively, the more pigmented the lippie the more it reveals about the condition of your lips—so prep is everything. "Prepping not only makes lipstick look incredible but helps keep it on much longer," says Zoë. "Starting with a lip scrub, buff off dry skin. This also encourages blood flow to the area which gives an instant plump."
Next, hydrate with a hit of skincare. "Rather than applying balm to your lips before lipstick application, add a touch of hyaluronic acid," recommends Max Factor UK Makeup Artist Ambassador, Caroline Barnes. "This gives a nice matte surface for the lip color to adhere to."
7. Try nude nails with a twist
Can a nude nail be a party nail? Subtle polish doesn't exactly bleed pizazz, but if glitter isn't your thing this could be your year because neutrals are the new sparkles. Or rather, sparkly neutrals, frosted toffee talons, Christmas nail designs and arty finishes on top of pared-back hues are the nail trends to try now. This jazzy-chic combination says "party time" wrapped around a glass of fizz at 8pm but won't look a bit much for doing the big shop the next day.
woman&home thanks Dominic Skinner, Caroline Barnes and Zoë Taylor for their time and expertise