Makeup with red lipstick – ideas that suit everyone
Need inspiration on how to wear makeup with red lipstick? These celebrities will have you reaching for the rouge in no time at all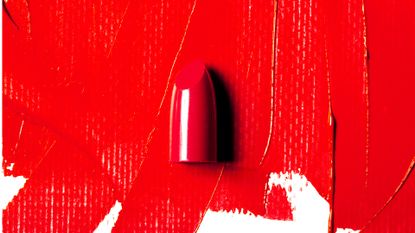 (Image credit: Getty Images)
Feeling a bit bored with your everyday beauty look? Yep. Same. It's so easy to get stuck in a beauty rut, whether that's the best foundation (opens in new tab) you can't be without, an easy lipstick you know suits your skin tone or the no makeup makeup (opens in new tab) look you've perfected over the years.
It's hard to try out something new, especially when you're not sure if it will suit you. But what if we told you that we've managed to find some makeup with red lipstick styles that suit everyone. And they are also really easy to do.
Sound good? Scroll down and see.
Makeup with red lipstick looks that suit everyone
Makeup with red lipstick is easier than you might think. Whether you want to know how to wear your classic pillar-box red at Christmas or how to style out a burgundy by day, we've got a beauty solution for all.
Red lipstick and glowing skin
Keeping the focus on her stunning lip stain, Helen Mirren pairs it with a seamless base and a natural matching flush on the cheek. Copy the look entirely by sweeping a metallic cream eyeshadow all around your eyes. Take it below the lash line, around the inner corners, and then up across the lid. Doing so will open up your eyes and make them appear wider and brighter.
(opens in new tab)
Smoky eyes and classic red lips
This is precisely how we want our make-up to look at every special occasion. Jessica Chastain's glowing skin leads the way for a statement lip and the most delicious brown smoky eyes, and we just love how she's pulled back her hair to keep her face as the focus.
Granted, creating a smoky eye this perfect does take some practice. But if you want to cheat your way to a professional finish, grab yourself a creamy shimmering shadow for the win. Simply take your fingertip and glide the colour over your lids and blend out with a brush. It's as easy as that.
(opens in new tab)
Red lipstick looks for Christmas and NYE
If you've spent forever and a day finding the right lip shade to suit your skin tone, then you might be dubious about mixing things up.
So if you want a small change for the festive period, that's still going to suit your complexion, then a lip topper might be your perfect solution. Simply layer over the top for an instant update. We love how Laura Dern has paired her berry shimmer with an icy silver lid. It looks so Christmassy and is a look we're going to copy.
(opens in new tab)
How to wear red lipstick when you're over 60
Think you should switch from black to brown eyeliner when you get to 60? Well, you've been misinformed.
Black may have a reputation of being too harsh on older skins, but it doesn't have to be, and it's actually an excellent tool for creating contrast and opening up the eyes. You just need to know how to apply it.
Catherine O'Hara knows the score, as she pairs her classic red lip with a strong lined eye and lashings of mascara. She then softens the black by applying a light shimmer around the lash line. The result? Wider, brighter and more youthful-looking eyes.
(opens in new tab)
How to wear red lipstick when you're over 70
Rocking a glamorous look that would work for day and night, Maye Musk proves that you shouldn't shy away from bolder make-up as you get older.
Maye keeps her lashes and brows feathery and light, enabling her to go big with coppery gold eyes and a strong red lip, which both lift and brighten her complexion.
(opens in new tab)
Can red lipstick make you look younger?
It's incredible what a bold red lip can do for your complexion. Whatever your skin tone, it can add brightness to your face and make you look instantly younger.
Another tool for rolling back the years is building up your brows, like Zoe Kravitz. If your arches are looking a little sparse, then it's time to cheat. Use a powder pencil to fill in the tips with light feathered strokes and then apply a gel to brush your hairs up and cover any patches.
(opens in new tab)
How to wear red lipstick with bright eyes
Feeling slightly more experimental? Rusty red eyeshadow is one of the easiest ways to wear a bright lid and lip.
Especially lovely on brown eyes, the shade warms the skin and makes your eyes pop. Copy Kate Mara's flick and blend the colour out into a wing or for a more subtle effect apply a light dusting below the lash line and a touch on the lids.
(opens in new tab)
All about beauty, Lydia House has been writing about creams and complexions for over a decade. Contributing to titles such as Women's Health, Grazia, Stylist and The Evening Standard, Lydia also uses her vast knowledge of the industry to consult leading health and beauty brands like Rituals, Tisserand and The Inkey List. Spending her working life obsessing over ingredients and formulas, Lydia believes that feeding your skin from within is just, if not more important, than the lotions you slather on. And even with a busy life and work schedule, she will always find the time to fit in a pampering session (or two).